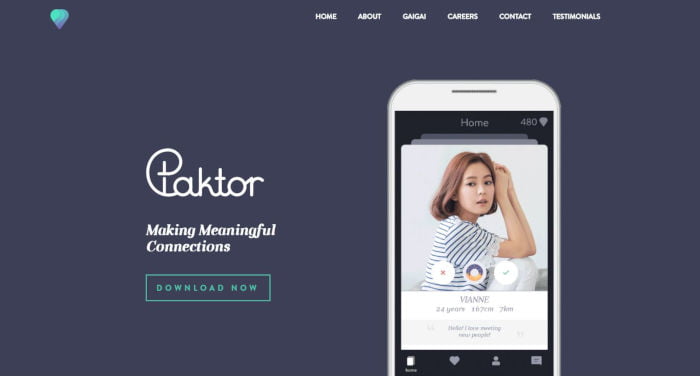 Best Dating Applications in Singapore – Index
The online dating scene has risen fast in Singapore and nowadays we see both locals and foreign brands that have penetrated the market. Singapore is well-known for being a developed nation with tech-savvy users, so it's not strange.
If you plan to move to or already live in Singapore, you might want to try out some online dating. In this article, we list some of the most popular online dating applications and how you can use them. Let's start with a local brand.
Paktor
Paktor was launched in 2013 and is a local online dating application in Singapore. On the contrary to other dating applications, you cannot only chat with persons individually but also in groups.
Paktor has more than 15 million users in the region and more than 5 billion profile reviews, which speaks for itself. The application is used among singles in Southeast Asia and Taiwan.
Since its inception, the application has been featured in several local and international newspapers, including Straits Times, CNN, Bloomberg, TechinAsia, SCMP, and more. In 2018, it raised as much as USD 34.4 with Pavilion Capital being one of the investors.
The function of the application is similar to that of Tinder as you swipe right to like a person and swipe left to pass. Besides, you can:
Send gifts and messages to any person
See who has liked and viewed your profile
Unlock special filters like age and genders
Browse invisibly
View the last active time for your matches
Get 1,000 likes everyday
You can download the application in Apple Store and Google Play. On Google Play, the application has received more than 150,000 reviews as of the moment I'm writing this article.
You should give this application a try if you will travel to or if you decide to move to Singapore.
Tinder
Tinder is the biggest dating application in the world and has become immensely popular since its launch in 2012. Tinder is easy to use, simply create your profile, write a bio, upload your photos, and start swiping.
Other peoples' profiles are shown in a card deck and if you swipe left it means you like them. If you swipe right, it means that you pass and there won't be a match (if the other person has liked you).
On top of this, Tinder offers various add-on services if you opt-in for their paid subscriptions called Tinder Plus and Tinder Gold. Below you can find what's included in each subscription:
Tinder Plus:
Unlimited Likes
Rewind (lets you take back your last swipe)
5 Super likes a day
1 boost a month (allows you to be one of the top profiles in your area for 30 minutes)
Passport (other destinations than your current city)
No ads
Tinder Gold:
See who likes you before you like or no
New top picks every day
Unlimited likes
Rewind (see above)
5 super likes a day
1 boost a month (see above)
Passport (see above)
No ads
In 2020, Tinder introduced a panic button and anti-catfishing tech to improve the safety of American users. However, these features should become available globally in the near future. Simply put,if something goes wrong during a date, you can press a panic button, which will then provide accurate location data, and call emergency services.
With billions of swipes a month, Tinder will most likely remain as the most popular dating application for a long time to come.
Mat & Minah
Mat & Minah is slang for "Young man & young woman" in Malay and is a local dating application that is targeted towards Muslim users. The prime goal of the application is to let a friendship develop in meaningful relationships.
The application was launched in September 2014 and it had around 200 active users and some 300 downloads for the app. That said, Mat & Minah is a significantly smaller application in terms of users compared to Tinder and Paktor mentioned above.
The same as it goes with Tinder and many other dating applications, you swipe left if you like a person or to the right if you want to pass. Mat & Minah offers both free and paid versions.
Referred to as Peek & Seek, this function allows you to detect users that have liked your profile. It costs SGD 6.98 per week, SGD 14.98 per month, and SGD 44.98 per year, which can seem a bit pricey to some.
Badoo
Badoo is a dating-focused social network that can be seen as a hybrid between Facebook and Tinder. It's one of the biggest and most popular dating applications in the world and was launched by a Russian entrepreneur, Andrey Andreev, in 2006.
The application has more than 360 million users in 190 countries and generates around USD 150 million every year. It rose to prominence in Europe and South America at a start but is now popular worldwide.
The application is easy to use, you can simply follow the below steps:
Download the application
Create your profile
Upload your photos and albums
Search for people nearby
Start chatting with people you find
See who liked you
Check encounters
Rate photos
One feature that makes Badoo better than Tinder and many other applications is that you can search for users in other cities and countries. To do that on Tinder, you have to opt-in for their paid subscription.
Encounters, which is one of the core-functions on Badoo, is similar to that of Tinder as you can swipe left or right depending on if you like a person or not. That said, you can also visit peoples' profiles directly and start writing to them. If they're deemed "too popular", you have to opt-in for a paid version of Badoo to write to them.
Interestingly, Badoo also launched a video-chat function in 2017. You should try this out if you decide to use the application.
Badoo is undoubtedly one of the most popular dating applications worldwide and has received numerous positive reviews since its launch. You can download the application in Apple Store and on Google Play.
Coffee Meets Bagel
Coffee Meets Bagel was launched as early as 2012 but hasn't drawn as much attention as Tinder. That said, it's grown rapidly recently. Coffee Meets Bagel was launched to help daters find long-term relations instead of just one-night-stands, focusing on quality instead of quantity.
The application will send you a few "bagels" every day, depending on your preferences and Facebook profile. If you like a person proposed, it is a match and you can now chat with each other.
With an average rating of 4.5/5.0 on Google Play and more than a hundred thousand reviews, Coffee Meets Bagel is undoubtedly one of the most popular dating applications, not only in Singapore but in the whole world.
To start using the application, simply:
Download the application
Set up an account
Customize your profile
Start sending likes
Talk to the other "Bagels"
Worth mentioning is also that Coffee Meets Bagel has both a free and a paid version. The paid version costs USD 35 and gives you some additional features and functions. You can also get a discount if you decide to use the application for 6 months or 12 months.
Are you looking for people in a different place?