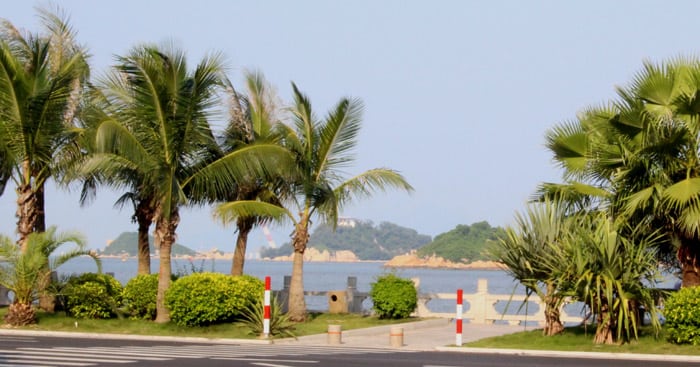 Zhuhai Lover's Road
Zhuhai is a city on the southern coast of Guangdong province in China. Situated on the Pearl River Delta, it is often referred to as "Pearl City" and is known locally for its beautiful coastline, islands and low population. It's also the gateway to Macau. The provincial capital of Guangzhou is 150 km to the north.
Like neighbouring Shenzhen, Zhuhai was until the 1970s, inhabited by fishermen, with a small population of only 100,000. In 1979 it was designated a Special Economic Zone (SEZ), and the city has expanded to around 1.5 million people. It's not nearly as large or built-up as its neighbouring cities, and it is prettier and cleaner with a feeling not dissimilar to parts of the South of France!
Zhuhai is full of green wide-open spaces and parks. The roads are wide and less oppressive than Shenzhen giving a very different feel. The air is clean and its long beach front, lined with swaying palm trees, has made it a popular Chinese tourist destination. They also come to experience its "colourful nightlife" – make of that what you will! And, according to the Chinese Academy of Social Sciences, it is also the most "liveable city in China". For leisurely walks, fresh air and a reprieve from 1st tier city life, Zhuhai is a great city to explore for a day or two.
Getting around
This is a small city by Chinese standards. There is no metro system, but there are plentiful buses that are regular, clean and extremely inexpensive at only 2-3 Yuan a journey. Taxis are also a cheap, convenient way to explore the city with a starting fare of just 10 Yuan. The official taxi colour is green and yellow, so they are easy to spot. If you arrive at the port at Jiuzhou, as we did, you can use your ferry ticket to get a free bus trip to downtown Gongbei on the Macau border.
When to visit
Zhuhai has a humid subtropical climate similar to Shenzhen and Hong Kong, so it's a great location to visit at any time of the year. Between May and September the summer sun is hot (around 30 degrees), and it rains a little more, but the cooling sea breeze makes it less oppressive than inland cities.
Visas
If you are planning to visit Zhuhai as a day trip from Hong Kong, you can pick up a three-day visa on arrival at the border. Longer visits will necessitate a tourist, business or other applicable Chinese Visa
Getting there
By air
Zhuhai Jinwan Airport has international status (but not so many flights) and it also hosts the biennial air show. Budget carrier Spring Airlines flies here daily from Shanghai. You can catch an Airport Express Bus from the airport to Xiangzhen and Gongbei for around 30 Yuan.
By rail
Zhuhai Railway Station is at the western end of Gongbei Port at the border with Macau. Here you can catch regular high speed trains to Guangzhou, where you can venture further into China, or access Shenzhen.
By sea
Most ferries arrive and depart from Jiuzhou port and there are regular ferries to Shenzhen, Hong Kong (various terminals) and Sky Pier at Hong Kong Airport (transiting passengers only). Don't get this confused with the deepwater port at Gaolan which is mainly for container shipping routes.
For timetables and more information see:
Wikipedia – Port of Zhuhai
CKSP Ferry Line
By Road
There are good highways into Zhuhai and you can get buses from Shenzhen or Guangzhou. However, we found that the bus from Shenzhen was only 10 Yuan cheaper than the ferry, which is a much more pleasant, fast and efficient journey.
An enormous new bridge is being built that links Hong Kong to Zhuhai and Macau by road. You may have seen it spanning the sea in sections as you fly into Hong Kong. It's scheduled for completion in late 2016 and the longest bridge section will be 29.6 km (18.4 miles). This should make for an interesting approach to the city when it finally opens!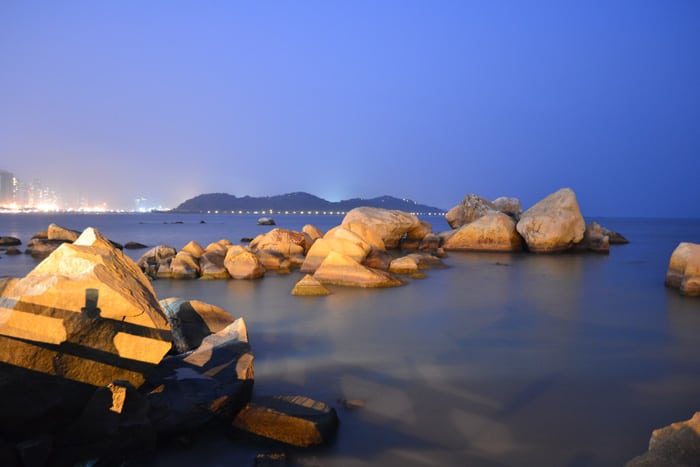 Photo Credits:

Coastal view of Zhuhai by David Boté Estrada
Zhuhai Islands
Zhuhai's territory includes a coastline of 429 miles (690 km), and some 146 small islands. You will find access to some of these by bridges or causeways (Hengqin, Qi'ao and Yeli), but many are in the open South China Sea, and are in fact closer to Hong Kong than the Zhuhai mainland.
Transport seems to be limited with only one ferry trip available from Jiuzhou port to an island aptly called "Island". We were unable to establish which of the 146 islands this refers to – so we are saving this for a future adventure!
You can get to the Wanshan Islands from Xiangzhou Northern Wharf (Xiāngzhōu Běidīmǎtóu) where you'll find the popular Dong'ao Island. Dong'ao has some lovely beaches, clear waters and diving facilities. It is also home to the newly opened (2015) luxury Club Med hotel. If you like luxury 5 star pampering, then this article is a great read "Get whisked off to a tropical paradise at Club Med Dong'ao Island."
Other islands you might like to visit, if you can find transport, are Wailingding Island, Hebao Island and Guishan Island. Hebao is more like a wilderness island and Guishan is a sleepy fishing island that apparently has exceptional seafood.
Take plenty of cash as most islands don't have ATMs.
A summary of Zhuhai's districts
The city comprises Gongbei, Jida and Xiangzhou while the other districts make up the SEZ. From north to south they are:
Jinding – a factory town where the main attraction is a large and lively outdoor BBQ. This is working-class China and you'll get a very different perspective as you wander the streets. Bus 3, 10 or Sightseeing Bus 2 will take you there.
Tangjiawan – One of Zhuhai's attractions is the city's love of KTV or karaoke. Here you'll find the Dragon Union Opera House which puts on regular live shows but also acts as an enormous karaoke venue with adult entertainment.
Xiangzhou – The government offices are located here as well as the big department stores. You'll find some bars and restaurants but essentially it's the area where the locals go shopping.
Jida – Jida is on the coast close to Gongbei. Here you'll find many offices and many luxury hotels and shopping malls.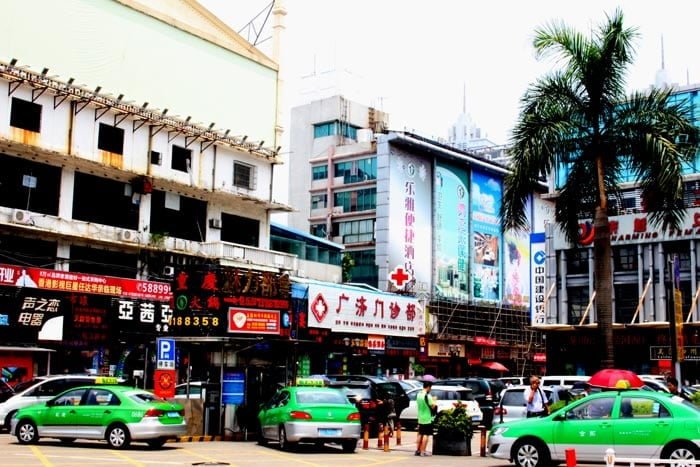 Gongbei at the Macau border
Gongbei – This is the main tourist area where any number of inexpensive hotels are located. There are also electronics shops, souvenirs, street food and drinks. It's very close to the Macau border and offers lively nighttime entertainment. Lotus Road (Lianhua Lu), is the Khao San Road of Zhuhai and is a night time must! You can watch locals playing Mahjong or dice, sample street food and observe the "working girls" going about their business.
If you want a more upmarket experience then Bar Street, aptly named, has inside and outside bars that cater for the more discerning tourist. There's also a great indoor underground shopping centre close to the Macau border where you can buy all sorts of cheap and tacky products.
Wanzai – There's a ferry station here to Macau (currently closed) and a seafood street where you can select extremely fresh produce which is then cooked for you as you enjoy a beer.
Doumen – In the Southwest of the city, this is where you'll find the airport and the 1,000-year-old, scenic Jintai Buddhist Temple – well worth a visit if you're in the area. You could also try out the Imperial Hot Springs Resort, styled in a Japanese outdoor garden with over 20 kinds of hot springs.
Top 7 places to visit in Zhuhai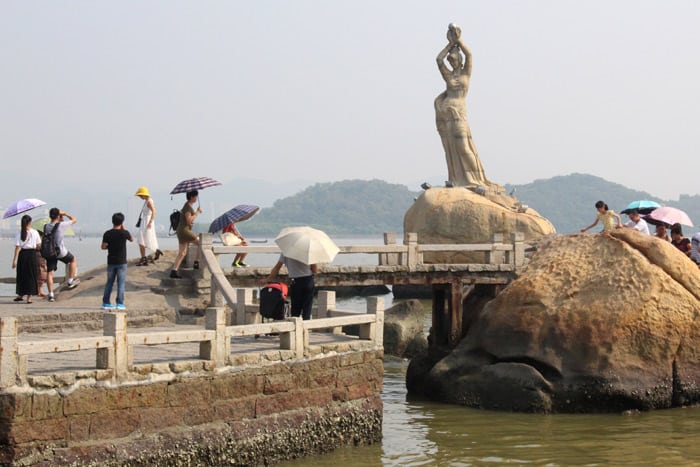 The symbol of Zhuhai – The Fishergirl holding her pearl
The Fisher Girl Statue
If you head east along the coastal road from the Port, you'll come across this famous landmark and symbol of Zhuhai. The Fisher Girl Statue stands elegantly at the edge of Xianglu Bay welcoming all who visit the city. As far as we could see, her main purpose is to provide a photo opportunity out across the bay. Chinese tourists clamber across the rocks to have their photos taken while mimicking her stance.
At night time this stretch of the bay is illuminated and couples take romantic walks along the seafront, which is why it's also earned the name of "Lover's Road".
Getting there
Buses No. 9, 99 and Sightseeing Line 2.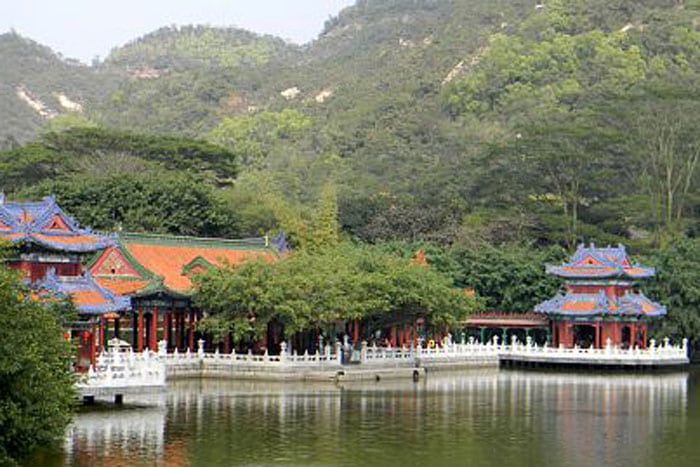 New Yuan Ming Yuan Palace, Zhuhai by Gypsy Rose aka Meigui – Zhuhai New Yuan Ming Palace – Replica of Beijing Summer Palace
New Yuan Ming Palace
This is a partial replica of the Old Summer Palace in Beijing which was burned to the ground in 1860 by the French and British troops during the Opium Wars. This reproduction in Zhuhai attracts millions of visitors every year, and is probably one of the main reasons to take a visit to this city.
It is located at the base of the Stone Forest Mountain in a large park and provides a leisurely day of walks and exploration around the palace and gardens. You can also walk up the mountain behind if you want something a little more strenuous.
There are cultural performances throughout the day and a water city providing entertainment for children and adults. It is open from 9.30am until 9.00pm.
Getting there
Buses 1, 13, 25, 30, 60, or 99.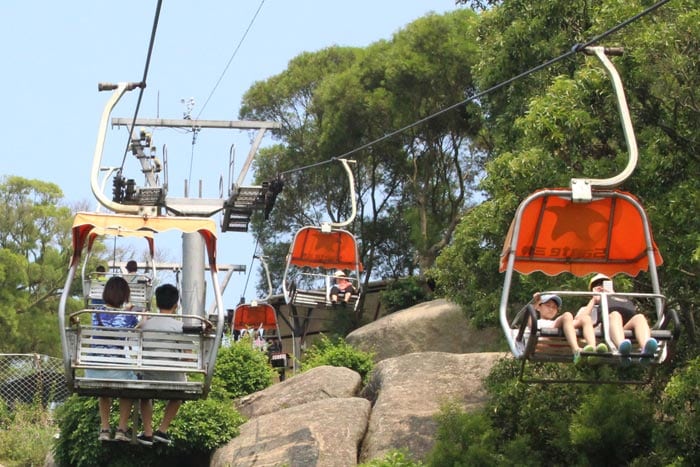 Chairlift to see the view at top of Shijing Mountain
Jinshan Park
In the middle of the city, Jinshan Park is a wonderful green space offering some of the best views across the city and sea from the top of Shijing Mountain. You can walk to the top or take the easy option – a chairlift costing 50 Yuan. It can be busy as the park is a popular stop for tourist coaches.
This really is nothing more than another photo opportunity on a clear day, but for a small extra charge on your chairlift ticket (10 Yuan), you can opt to take the toboggan back down. We did this and it was perfectly safe, with a guide leading the procession of individual toboggans back down the mountain. There's no possibility of racing out of control on this ride, although it does say that no-one over 55 is allowed access!
Getting there
Buses 2, 4, 13, 20, 206 and 605.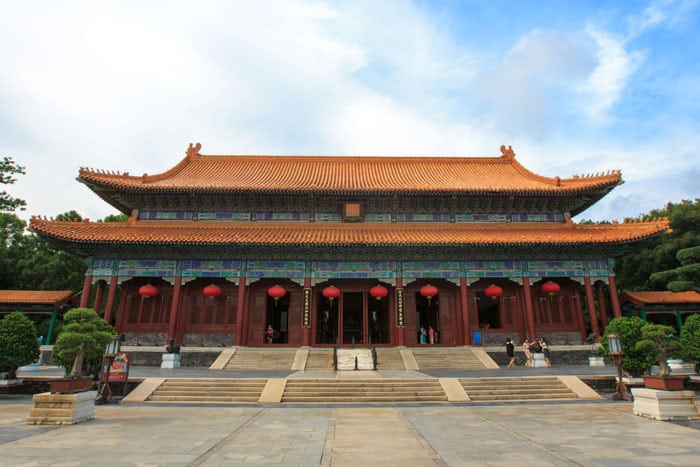 Jintai Buddhist Temple
Jintai Temple
This temple is a long way from the city centre, around 90 minutes by bus, but if you are staying for a few days then it's worth a visit. It's a working Buddhist temple, built in the late Song Dynasty, in a beautiful, tranquil environment.
You'll get to venture out into the Chinese countryside and the temple will be found close to the base of Huangyang Mountain in the Doumen province. The walk from the bus stop is around 15 minutes, but there is a restaurant for lunch serving vegetarian food. Entry is free and it's open all day.
Huangyang Mountain also has a number of attractions including green tea fields, pools and a lovely waterfall.
Getting there
Buses 402 or 609.
Meixi Royal Stone Archways
Located in MeiXi Village in Qianshan Town, these impressive stone archways, unique to China, were built in the late 19th century. As well as the archways, you can visit the former residence of Chen Fang, his gardens and the cemetery.
Chen Fang, was the first Chinese consul general in Honolulu. He was born in Meixi but travelled to Hawaii, and through his hard work became the first Chinese millionaire on the island of Oahu. He settled back in Zhuhai in 1890 where he became something of a local celebrity!
This scenic area is open from 8.30 am until 6.00 pm and there is a small entrance fee.
Getting there
Take Sightseeing Bus No 2.
Zhuhai Museum
This recently renovated museum encompasses 13 exhibition halls and also has a good photographic introduction to the history of Zhuhai. How interesting you'll find it will depend on how much you enjoy looking at antique ceramics, bronzes, and Chinese handicrafts. But, if you need to fill an hour or so, it may be worth a visit. It is free and does have air conditioning – just don't compare it to a European museum!
It's set in a four-acre park in the busy downtown area at 191 Jingshan Street, Jiuzhou.
Getting there
The closest bus stop is "Jiuzhoucheng" or takes a taxi.
Zhuhai International Circuit
We were surprised to discover that Zhuhai was the first city in China to construct a motor racing circuit. It was built in 1996 and is on the outskirts of the city at Jinding, near the border with Zhongshan. Since then it has hosted a number of race events including the Intercontinental Le Mans Cup in 2010.
Currently, you can only enjoy driving experience days if you are part of a corporate event. You can check out racing events on the English version of the website here: Zhuhai International Circuit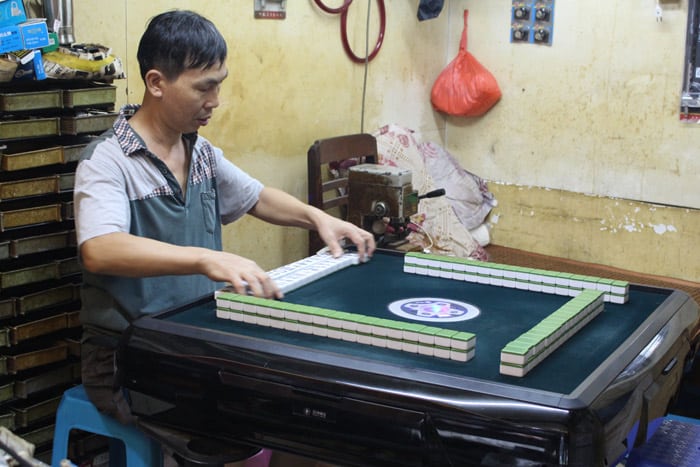 Getting ready for Mahjong in Gongbei
Conclusion
If you are staying in Shenzhen or Hong Kong, Zhuhai offers a less frantic city experience and provides the opportunity (visas permitting) to explore neighbouring Macau. There are plenty of choices for hotels at all budgets and food to suit all tastes. We live in busy Shenzhen, and so the easy ferry trip to Zhuhai with its wide-open spaces, attractive coastline and friendly, inquisitive people, was a welcome reprieve from the hustle and bustle of first-tier city life.
Photo Credits: Photos by Vanessa Anderson