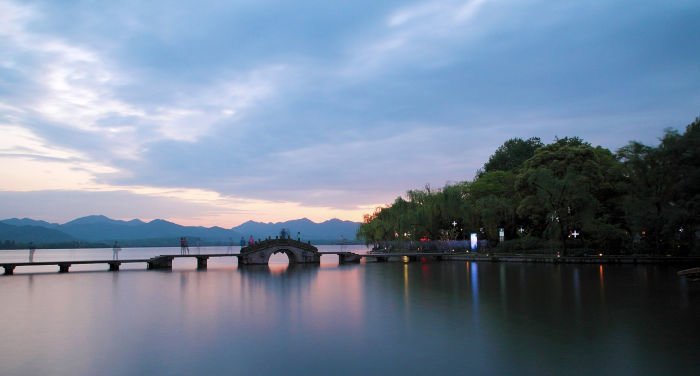 Located on the Eastern Coast of China, Zhejiang is a populous province wedged between Shanghai and four other provinces. It's the home to many historical cities, where Hangzhou and Ningbo stand out the most.
Even if Zhejiang has many lakes, mountains, ancient towns, and historical sites, travelers usually make a short trip to the province while being in Shanghai or any other provinces along the East Coast.
If you plan to visit Zhejiang, don't look any further. In this article, I'll introduce you to the province, explain how to get there, when to visit, which cities and sites to visit, and much more.
Key Information
Chinese Name: 浙江
Location: East of China
Provincial capital: Hangzhou
Area: Around 101,800 square kilometers
Population: Around 57 million
Ethnic groups: Han (99.2%), She
Famous cities: Hangzhou, Wenzhou, Ningbo, Taizhou, Yiwu
Borders to: Jiangsu, Shanghai, Fujian, Jiangxi, Anhui
Why you should travel to Zhejiang
Referred to as "Land of Fish and Rice", Zhejiang is located in the Eastern parts of China and can be reached conveniently by train from Shanghai and Suzhou. Its population has more than 99% Han-Chinese people, as such you'll not be able to indulge in ethnical minority cultures and feasts like in Xinjiang, Chengdu, and Yunnan, for example.
Zhejiang is also rather flat and people living here are comparably affluent. Much heavy industry is allocated to Zhejiang and you'll find most Fortune 500 companies having factories or offices here.
Having said that, Zhejiang has played an important role throughout China's history, mainly thanks to its strategic location along the East coast. Hangzhou, for example, used to be the biggest city in the world and the capital of China from 960 – 1279.
It's famous for its Buddhist temples, lakes, and tea plantations. You'll find many ancient and water towns in Zhejiang at the same time as you can enjoy its green landscapes and pay a visit to temples, museums, and islands.
How to get to Zhejiang?
Hangzhou, the provincial capital of Zhejiang, is a major city in China and you can reach it conveniently by air from overseas. It's most common that travelers start in Hangzhou and continue their journey in Zhejiang from there.
Yet, many people first land in Shanghai and later take the bullet train to Zhejiang. This will save you costs and you'll be able to enjoy Shanghai first as well. Keep in mind that it's significantly cheaper to take an international flight to Shanghai as it's the biggest city in China with a high number of inbound flights.
If you're already in China and on the East coast, I'd recommend you to take the bullet train to Zhejiang as it's convenient, has a short travel time, and low costs. You can take the Shanghai–Hangzhou high-speed railway, which travels at 350 kilometers per hour and you'll reach Hangzhou in just 45 – 80 minutes.
You can also reach various parts of Zhejiang by taking the train from surrounding provinces such as Anhui, Jiangsu, and Jiangxi.
What's the best time to visit Zhejiang?
From our experience, it's best to travel to Zhejiang during the Spring (March to April) and Autumn (September to October). During these months, the weather tends to be comfortably warm and neither too hot or cold. May tends to be rainier than other months, a reason why you should avoid it (unless you bring proper clothes and an umbrella).
The summers of Zhejiang are similar to that of Shanghai with high temperatures, strong sunshine, and rain. The average temperature is about 24 to 28 degrees Celsius, but can reach up to 35 degrees. Summers in China can be exhausting, a reason why you should try to avoid traveling during this season (unless you go to the Western and Southwestern parts of China).
Winters are cold in Zhejiang and the temperature can drop down to as low as 3 degrees Celsius. As this region has a humid climate, the weather can feel colder compared to dry winters in Western countries. Houses are usually heated by Air Conditioners and not radiators, as there's no central heating system like in the North.
Accommodations in Zhejiang
Zhejiang is a big province with a high density of travelers and workers. Thus, you'll have no issues to find hotels or hostels that suit your needs. If you're looking for hotels online, you should have a look at Agoda, Trip, and Booking. These are some of the biggest hotel booking websites in the world with plenty of discounts and options.
Agoda
Agoda has the best offers for hotel-bookers in Asia when compared to Booking. The main reason is that it collaborates with a wide network of hostels and hotels in the region and provides deep discounts. As mentioned in separate articles, the only real drawback of using Agoda compared to Trip is that you sometimes have difficulties to find suitable accommodation in remote areas.
Booking
Booking is also a big player in the online hotel-booking industry and has grown much since its inception. It's currently one of the leading hotel booking websites in the world. Having said that, Booking generally has a smaller coverage in Asia compared to Agoda and Trip. But, you should check their website to see what latest offers they have on display.
Trip
Trip is a local hotel-booking website in China and one of the biggest. Trip offers some benefits that are rarely found elsewhere, such as acceptance of payments through non-Chinese banks. Their website has a nice layout and design and is available in English.
Trip has the most options available among these three websites. However, just keep in mind that Trip is mainly to cater to the local Chinese population and they sometimes display hotels that don't accept foreigners.
Hotel prices in Zhejiang
As mentioned, Zhejiang is a fairly affluent province and hotel nights a bit more expensive to provinces like Xinjiang and Qinghai. Hotel nights usually start from around 40 USD and reach up to 120 USD. Of course, you can find both cheaper and more expensive options than that, but these are just some general figures.
If you want to save some money and interact with more people, you can also go for hostels. There are plenty of hostels available in cities like Hangzhou and Ningbo.
What to see in Zhejiang?
Despite not being as enriched with historical artifacts as Beijing and having fewer minority groups compared to the Western parts of China, you should pay a visit to Zhejiang and visit some of its major cities, pagodas, museums, lakes, and mountains. Let's start with the provincial capital.
Hangzhou
Hangzhou is normally the first stop for foreign travelers who fly in directly from abroad or go by train from one of China's bigger cities. Being one of the biggest cities in China, Hangzhou is a popular university town and major companies, like Alibaba, are based or operate here.
The city used to be China's capital and is famous for its lakes, green hills, temples, pagodas, and gardens.
West Lake
You cannot visit Hangzhou without going to West Lake. It was listed as a UNESCO World Heritage site in 2011 and has been mentioned in Chinese poems written more than a thousand years ago.
The lake is surrounded by mountains and green landscapes, offering a relaxed and romantic atmosphere. Many Chinese couples who get married take wedding photographs at the lake. If you go to West Lake, you should pay a visit to a handful of the following places:
Broken Bridge
Pavilion of the Autumn Moon (from 1699)
Pavilion of the Cranes (built in 1300)
Isle of the Hill of Solitude
Little Paradise Island
Bay of Flowers
West Lake Museum
I also recommend you rent a boat with a private helmsman that can take you around on the lake.
Lingyin Temple
Lingyin Temple is one of the biggest and most visited temples in China. The temple was built by the Indian Monk Huili in 328 AD and popular among pilgrims and tourists.
There's a 19-meter tall statue of the founder of Buddhism, Sakyamuni, inside the temple, sitting on a 10.5-meter high lotus flower. The temple is open from 7 AM to 6:15 PM and it costs around 30 RMB to enter.
Fei Lai Feng (Peak Flown From Afar)
Fei Lai Feng is located next to Lingyin Temple and a popular tourist attraction with high ratings. It's a 209-meter tall mountain and a historical site with 330 Buddhist stone statues from the 10th to the 14th centuries.
It's open from 7 AM until 6 PM and it costs around 40 RMB to enter. You can reach the area by bus.
Leifeng Pagoda
Leifeng Pagoda is the most colorful and oldest Pagoda in the whole of China. It was built in the late 900's but collapsed in 1924 and was rebuilt after that. The Pagoda is located at West Lake, so you should preferably visit it while there.
The view of the city is good from the Pagoda and you'll be able to take good photographs there. Not to forget, you should preferably visit the other side across the lake to watch the Pagoda in the evening. It's one of the ten scenes of West Lake and called "Leifeng Pagoda in Evening Glow".
Xitang Water Town
Xitang Water Town is located in Jiaxiang City and has thousands of years of history. It has an old architecture and a peaceful atmosphere with water running through the area. You can reach the town by train or by bus and it's located around 90 kilometers from Shanghai, 80 kilometers from Suzhou, and 100 kilometers from Hangzhou.
Xitang Water Town is famous for its many bridges, small alleys, lanes, and corridors.
Wuzhen Water Town
Wuzhen Water Town is located 80 kilometers from Hangzhou and around 140 kilometers from Shanghai. It's a historic town located in Tongxiang, northern Zhejiang province.
It's famous for its old stone pathways, stone bridges, and beautiful wood carvings.
Ningbo
Ningbo is unheard of to many foreigners, yet, it has many historical sites and beautiful scenery. It's located between the Siming and Tiantai Mountains and has a history of 7,000 years.
Ningbo is also famous for having much seafood, something that business travelers and tourists try to take advantage of when visiting the city.
Xikou Town
Xikou Town offers spectacular views of waterfalls, forests, and stones. It's the home of the popular ShangLiangGang Hill and Xuedou Mountain. As the town is the birthplace of Chiang Kai Shek (the nationalist leader who fled to Taiwan) there are many artifacts from the family.
Mount Mogan
Mount Mogan (MoganShan) is a National Park and a popular weekend getaway among people from Shanghai and Hangzhou. The park is famous for its hills, vegetation, splendid scenery, hiking treks, and historical buildings.
You'll be able to find large stone villas left behind by foreigners who used to be missionaries, among others. Chaing Kai Shek also had a villa here.
Mount Putuo
Mount Putuo is located in Zhoushan county famous for being one of the four holy Buddhist mountains in China. The area has plenty of temples and a popular site for worshippers and travelers.
One of its most famous sites is the Nanhai Guanyin Statue, a 33 meters tall golden statue surrounded by various sculptures.
You can also visit the Purple Bamboo Forest, Xitian Scenic Area, and Folding Mountain Scenic Area.
Food in Zhejiang
Zhejiang cuisine, referred to as Zhe cuisine, is divided into three parts. It's one of the Eight Culinary Traditions of Chinese cuisine. On the contrary to Sichuan, dishes are not so spicy, less oily, and has a soft and fresh flavor.
Hangzhou style: Dishes include much bamboo shoots are. The dishes are tender, light and fresh.
Shaoxing style: Has much poultry and freshwater fish.
Ningbo style: Fresh and salty seafood.
Dozens of famous dishes originates from Zhejiang. Some of the most notable ones are: