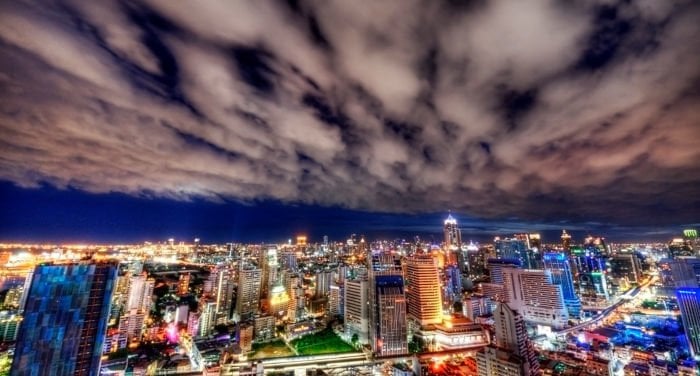 Sukhumvit Road a Bangkok – Indice
Sukhumvit Road
Unlike Ratchathewi and Pathum Wan, the area called "Sukhumvit" (in Thai: สุขุมวิท) can't be considered an actual neighborhood, but rather an area that includes several districts within it. Among the most well known are:
Watthana and Khlong Toei which are on the opposite side of the SkyTrain at Nana, Asoke, Phrom Phong, Thonglor, Ekkamai, Phra Khanong, and On Nut;
Phra Khanong, or the neighborhood where Sukhumvit Road curves and goes into the direction of Pattaya;
Suan Luang, famous for its sanctuary dedicated to the legend of the ghost of Mae Nak Phra.
With a length of nearly 500 kilometers, Sukhumvit Road is one of the longest streets in the world; just consider that from the center of Bangkok it goes as far as the border with Cambodia. Today Sukhumvit includes the area that surrounds the light green BTS line of the same name.
In this guide I will mainly speak about the area considered to be "Upper" and "Middle" Sukhumvit". These two areas represent the center of the city's business and nightlife.
The rest of Sukhumvit Road, called "Lower", isn't particularly interesting from a touristic point of view. Being located far from the center, it's also inconvenient to get to. The only positive aspect is having new lodging options at low cost.
The three areas we can divide Sukhumvit into are:
Middle: comprised of Phrom Phong, Thonglor, and Ekkamai;
Lower: covering the districts of Prakanong on down.
Besides being considered one of the most happening areas of the city, Sukhumvit also represents the area most frequented by the local expat community, as well as international tourists.
Thanks to the enormous variety of restaurants, hotels, discos and pubs, shopping centers, parks, offices, luxury condominiums, and embassies, on Sukhumvit you'll find food and entertainment 24 hours a day.
It wasn't always the case however; up until the second world war this road was surrounded by only rice fields. With the industrialization and development of the country, slowly the grounds around Sukhumvit became considered a place to invest in real estate, so middle class Thai homes were built there.
Another push toward modernity and popularity was from the construction of the SkyTrain line in 1999.
Main roads in Thailand are called "Thanon". Imagine a millipede, where the body is the main road and the legs are made up of lots of little parallel roads called "Soi". Sukhumvit Road is no exception; some of its Soi are particularly famous, but I'll talk about them in the section "What to do on Sukhumvit Road" in this article.
How to get there
Reaching and getting around along Sukhumvit Road is easy: just get on the light green BTS line and you can travel the whole way from above. Under the rails of the SkyTrain in fact, local traffic runs. But I don't recommend that you travel this route by taxi, tuk-tuk, or bus because could be jammed up or hours.
Another quick and convenient way to get to the center of Sukhumvit is the subway. Just get off at the stop called Sukhumvit and from there take the SkyTrain to the upper floor; the station is called Asoke.
Even though the Sukhumvit area, both north and south of the BTS, is quite active and easy to reach by SkyTrain, if you want to avoid spending a long time on public transportation I recommend that you stay in an area suited to what you're looking for:
Nana: the heart of the Arabic community, this area offers non-stop entertainment 24 hours a day. Lodging in this area though isn't the best, as they are frequented by fans of bars and the red light district;
Asoke: with higher prices, this area offers standard mid to high lodging and a wide choice of local and international restaurants. From here you can also take the subway and comfortably visit other parts of the city;
Phrom Phong: very popular with the expat community, this area offers luxury hotels, cutting edge malls and good restaurants;
Thonglor: this is an area popular with middle-class kids for its high concentration of discos and luxury clubs. Hotels don't cost as much as in Asoke or Phrom Phong but are only mid-range;
Ekkamai: this is the farthest area from the center compared to the others. It doesn't have any particular attractions or restaurants. Lodging is at reasonable prices.
What to do on Sukhumvit Road
There are infinite activities in Sukhumvit. Below I drafted a list of things to see and try that are both free and cost money, that range from a classic day of shopping at the mall to a visit to a dinosaur park.
Bangkok offers an immense variety of clubs, bars, and rooftops, where you can drink local beer or taste famously spicy Thai dishes. One place in particular that I recommend that you see, even just for a cocktail, is The Iron Fairies in Thonglor.

Once you enter into this club you'll feel you've been catapulted into a gothic fable, where the walls are decorated with little colored bottles with magic potions inside and its various halls are only reachable through secret doors.

You can eat there, but in my opinion what's really worth it is admiring the spectacular presentation of its cocktails. Not to be missed too is karaoke on Monday evenings, where the music is played by a small live orchestra;
One interesting experience is to have dinner completely in the dark, at Dine in the Dark at the Sheraton Hotel. After trying the menu (you can also choose a vegetarian version) and listening to good music, you'll be given a form where they'll ask you about the dishes you ate so as to see if you recognized the dishes you tried or not;
Not as big as the more famous Lumphini Park, Benjasiri is a park located near the Phrom Phong stop. Inside you'll find an artificial lake, a dedicated sports area for basketball, running, volleyball, and even a pool. I recommend that you visit it after 18 when the sun goes down and you can admire a stupendous panorama with all the skyscrapers lit up around the park;
Sukhumvit is the homeland of the most luxurious malls and night markets in the city. Besides shopping, within these enormous buildings you can go bowling, skate on a rink of artificial ice, see a movie, go to the gym and much more;
You can't visit the Land of Smiles without having a Thai massage. Walking along the main road, but even getting lost among the little soi, you'll come across lots of spa and massage centers, where you can relax for a few hours and let the stress and tiredness a city like Bangkok can cause roll away;
In recent years they have opened up ever more places where you can play team games and immerse yourself in virtual reality. The most famous is Total VR Arcade in Ekkamai. A center where, by putting on special glasses you'll enter a 4D world. For motor fans you can drive go karts on both covered and outdoor tracks.

Unlike places such as Bali, Thailand is not a great place for surfing; but if you like that sort of activity you can try the Flow House, a platform with artificial waves where you can perform aquatic acrobatics. Prices start at 750 THB an hour per person, and also includes a lesson with a surf instructor.

Another activity that is growing in recent years, are centers with trampolines of all sorts inside and climbing walls. A more particular category is the Flight Experience, which as the name suggests will give you the opportunity to simulate flying an airliner, and laser tag pistols for challenging friends or going up against strangers;
On Sukhumvit there are also museums and art galleries such as Akko Art Gallery in Thonglor, or the science museum with the planetarium in Ekkamai;
If you like cooking or are just curious to see close up how typical Thai dishes are made, along Sukhumvit Road you'll find cooking courses of different types: from preparing raw foods to decorating fruit and vegetables.
Here are some of the most famous places on Sukhumvit Road:
If you're looking for international restaurants with low prices and bars with live music, the area around the Nana BTS stop will satisfy your every desire. At number 11 you'll find clubs like Oskar, where during the weekends the percussionist (P'Num) of the famous Thai group T-Bones often plays, or the restaurant "Zanzibar", where you can eat Thai food and drink African wine on a beautiful balcony – garden decorated in a pure tropical style. In the category of bars on the upper floors of the skyscrapers (33rd and 34th floors), there's Above 11, a place with a menu dedicated to a mix between Indian and Peruvian cuisine;
The Arab neighborhood in Bangkok is found in Nana, on soi 3/1. Also called the "Arab Soi", this small street offers a variety of Egyptian, Libyan and even Yemeni restaurants;
The main Soi in Asoke is number 21. In the evening around 18 you can admire the high walkway of the SkyTrain, a mix colorful cars and motorbikes locked in traffic, with a background of imposing skyscrapers. In the same area there's also the famous Soi 23, also called the "Cowboy Soi" and known for its go go bars;
In Ekkamai the most popular soi is number 63. 65 is instead frequented by Bangkok's young and wealthy;
Also known as Thonglor Soi, soi number 55 represents the heart of the neighborhood's nightlife.
Where to eat on Sukhumvit Road
On Sukhumvit Road you can find food for all tastes and budgets: from street stalls, where you can eat Pad Thai for 30 THB, up to star-rated restaurants.
Having a really high concentration of foreign inhabitants, the majority of restaurants located on Sukhumvit offer international menus. If you want to eat dishes like pizza, paella or tacos, in this area you'll have an abundance of choices.
Starting with Italian restaurants, located in Asoke, Pala Romana, is located right under the SkyTrain stop. More than an actual restaurant, this is a good place to stop for lunch, or buy food to go. In fact it has a counter where they sell pizza by the slice as well as rice balls and homemade sweet and savory cakes.
Two slightly higher priced restaurants are Peppina (a famous place among the Italian community in Bangkok) and Bacco.
The first is located at 27/1 on Sukhumvit 33, near the Phrom Phong BTS station, it offers a good variety of uncommon Neapolitan pizzas, such as one with squash. I recommend that you reserve a few days in advance because it is very popular, especially during the weekends.
Bacco – Osteria da Sergio, is spacious and offers a really vast menu that ranges from pizza to meat and fish dishes, to a section dedicated entirely to different types of prosciutto.
You'll also find:
Indus, a beautiful Indian restaurant located right nearby the Phrom Phong station. As soon as you enter into this place you can perceive a relaxed atmosphere and spiced smells that recall India. You can also eat inside or in the outdoor garden. Prices are rather high but the quality of the food is worth it;
A restaurant with a more lively atmosphere is the Lebanese Nadimos. Also on Phrom Phong, it offers a menu with typical dishes such as a variety of hummus and grilled meat (you absolutely have to try the spicy lamb kebabs). I recommend that you eat on the balcony, because during the weekends you can listen to live music;
Considered to be one of the best three Greek restaurants in the city, Avra Restaurant offers a menu with delicious dishes at cheap prices. Very good too is their café Chicco d'Oro, originating from Switzerland;
For northern cuisine there are two German restaurants: Bei Otto and the beer hall Old German Beer House, on Sukhumvit 13. The latter offers both a Thai and German menu. Quite good is the potato salad, as well as all the meat dishes.
Bei Otto is a place that's best for dinner. Built in pure German style, this restaurant boasts more than 30 years of experience. On the menu you'll find meat and cheese dishes, typical soups, and even really good spätzle. In the local store you can also buy typical products like sausage or the famous bretzel.
A well-known Thai restaurant in the area is Cabbages and Condoms, near the Asoke stop. Prices are rather high because the proceeds are donated to a local non-government organization.
Photo Credits:

Sukhumvit Swerve by Mike Behnken