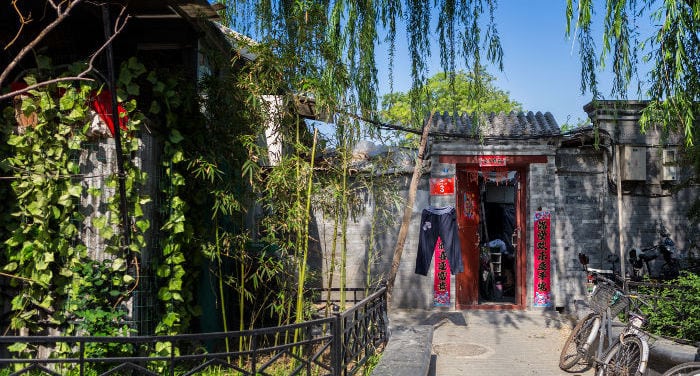 I have been living in Beijing for more than four years and aside from articles on how to rent an apartment, study Chinese and the city's best hotels, I have written practically nothing on the city which has been my home for such a long time. In this first article on the subject, I am going to suggest ten alternative plans for Beijing to you.
Today I'm not going to talk about the Forbidden City, Tiananmen Square, the Summer Palace, the Temple of Heaven, and the other typical places in the city. They are obligatory visits if it's your first time in Beijing. At that moment if you want to read about this places you can just read the Lonely Planet which give a fare and detailed information.
Today, I want to share with you a little bit of the "wisdom" which I have been accumulating during these years. This article is dedicated to those people who are looking for something more in their visit to Beijing or those who have been in the city for a while and are looking for something to do in their free time.
1. Get lost in the hutong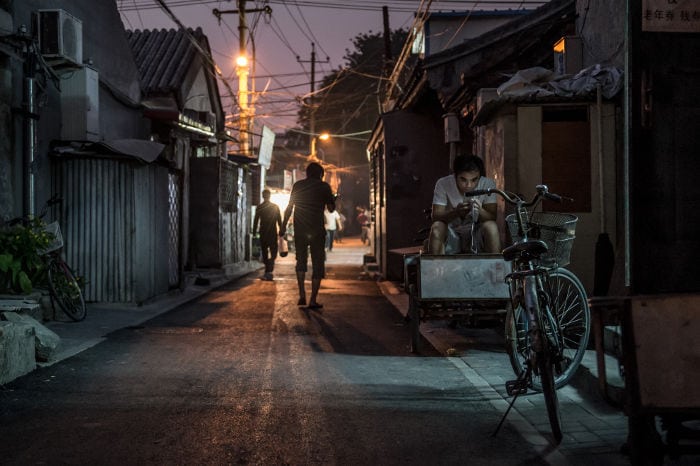 What is the alternative to this plan? The majority of tours and guides offer you visits to the hutong (or alleyways) which are located near the Drum Tower (Gulou), some of which have been converted into tourist attractions, such as Nanluoguxiang.
Even though this is one of my favorite areas, due to its combination of old Beijing and new trends, for years it has been losing its charm due to the urban pressure which is transforming what were once alleyways into residential areas for the new city elite. Yes, it's really pretty, but it's also completely artificial. If you really want to experience what city life was like decades ago, I suggest that you get lost in another area.
The area which I'm referring to is located in the southwest part of Tiananmen Square and is probably the only hutong area that has remained practically unchanged within the city.
Getting there is quite easy: take the subway to Quianmen (Line 2) and walk in the opposite direction of Tiananmen Square across a completely restored street that resembles a theme park (and even has a trolley for tourists). Afterward, follow the first street on your right (it is full of people and souvenir stores). Follow this street to the end and cross the street to enter the alley in front (still pretty touristy). Follow this street, passing a few hostels such as my beloved Leo Hostel, until you don't find any traces of tourist stores. This is where your time travel trip starts!
p.s. If you have not got how to arrive there, just go to Dazhalanxijie street (大栅栏西街) and at the west end of this alley starts the zone to which I am referring.
2. Sleep on the wild Great Wall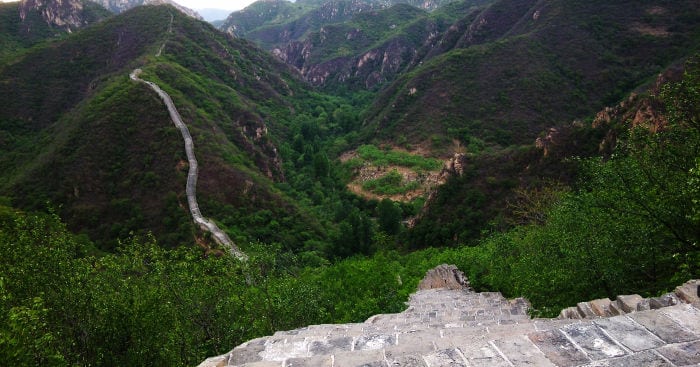 Personally, I think that this is one of the most recommendable plans. I have visited different sections of The Great Wall of China around twenty different times and I am still impressed every time I go.
Some of the sections of the Wild Great Wall (the parts which haven't been restored) are impressive, practically deserted and their stretches are relatively long. For these reasons, they are ideal for doing a two-day excursion camping on the wall.
Among all of the possible routes, the most popular is the one that starts at the Jinshanling section and ends at Simatai. It's a trip of around 12 km which starts in the rarely traveled section of Jinshanling and ends at Simatai, which is more popular, making it easy to find transportation back to Beijing. While hiring a guide isn't necessary because it's really hard to get lost (you only have to follow the wall), you should keep in mind that the route isn't exactly easy. Some of the sections require you to climb up almost vertically and rocks can become detached in your step. You should also keep in mind that you are going to be practically alone, so if you have an accident, finding help will be no easy task.
3. Admire the city from the former observatory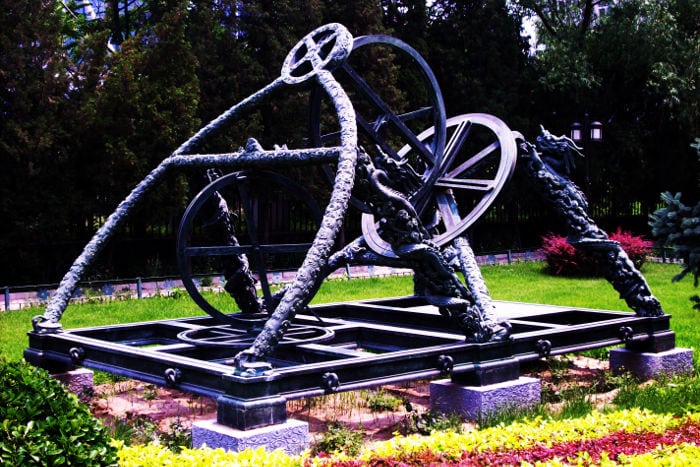 Located very close to Jianguomen subway station (Line 1 and Line 2), the former astronomical observatory is not excessively touristy and in my opinion, along with the Lama Temple, is one of the most unique tourist attractions in the city. Don't expect to find an epic monument like the Forbidden City or the Summer Palace. The observatory is a small tower surrounded by a park, where you can find an array of enormous instruments for astronomical observation displayed, which are made of bronze and which mix occidental technology (learned from the Jesuits which arrived in the 1600s) with Chinese art. The entrance is only 10 Yuan and in my opinion, this is the perfect spot to get away from the hordes of tourists which populate the city.
4. Go out at night in the university area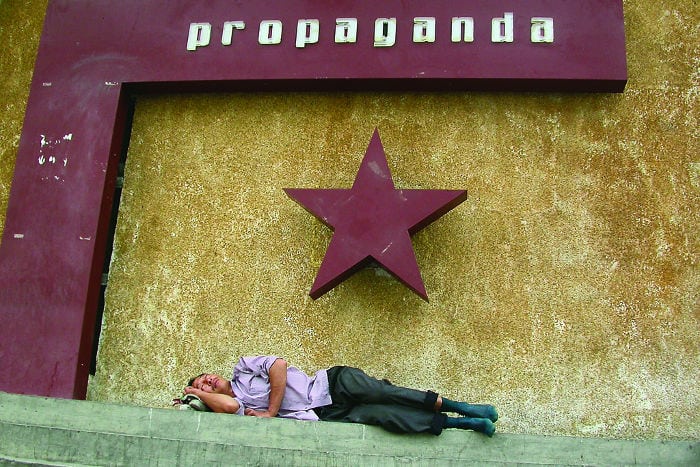 If you are thinking about going out at night in the Sanlitun area (or the village), it's certainly the most popular spot. However, this is also the place where the majority of the expat community of the city groups together. This means that the clubs and bars are mostly filled with expats. Personally, I didn't come to China to see drunken foreigners (I can stay in Barcelona for that and much more), and because of this, I don't frequent this area much.
The other popular area is where the Drum Tower, HouHai Lake, and Nanluoguxian Street are located. This area is where the majority of alternative businesses and live music are located, with bars for Chinese tourists located in HouHai (watch out for the prices of these businesses).
Nonetheless, I want to suggest to you another, less popular, area, which is the Haidan district, where the majority of the universities of the city are located. Keep in mind that the majority of Chinese university students don't go out much at night and if they do it, it's mainly to karaoke bars (KTVs), so don't expect lots of crowds in clubs and bars like in the areas which I mentioned previously. The Haidan district is enormous, and because of this, I am going to recommend two areas to you:
The first area is located around the Wudaokou subway stop (Line 13) and is the only area where there is a concentration of bars and clubs. This is a popular area among both Chinese and foreign students due to its low prices.
The second proposal doesn't have much to do with the Western idea of going out to party, but that doesn't mean that it's less interesting. One of the passions of Chinese people, especially during summertime, is night markets. These are particularly interesting near universities. Here, you can sit down on one of the temporary terraces to eat all kinds of street food, most of it on skewers, and drink a ton of cheap beer until the small hours of the morning. If it interests you, you can also buy cheap clothing or other thousands of accessories. One of my favorites is located close to Weigongcun subway station (Line 4) in an alley called Minzudaxuexilu (民族大学西路). Be aware that these night markets aren't always legal and even though it's not common, the police may decide to pay the area a visit and force them to take everything down.
5. Get to know the Metal movement of the city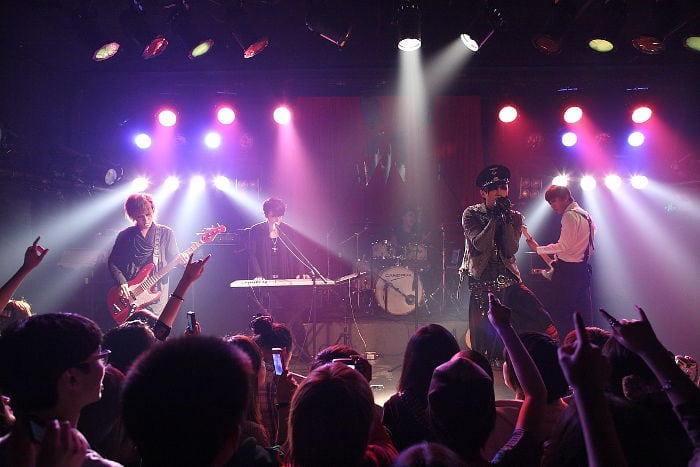 If you have ever asked yourself what the urban tribes are like in China, or are just curious about the alternative scene in China, you have to go to the Mao Livehouse.,
I think that you will get a good idea of what to expect from this place upon entering and seeing that your waiter is dressed in 80's metal style, with a cowboy hat and multiple tattoos, of which one of Alvin and the Chipmunks stands out particularly. If you still don't understand, the last time that I went, it was a "pillow fight" themed night and afterwards, a Chinese indie band played (very good in fact).
This small bar is located on the far north of Nanluoguxian street. The address is: Gulou east Street 111 (北京东城区鼓楼东大街111号). The closest subway station is Sichahai (Line 8)
6. Navigate by boat in Beijing's canals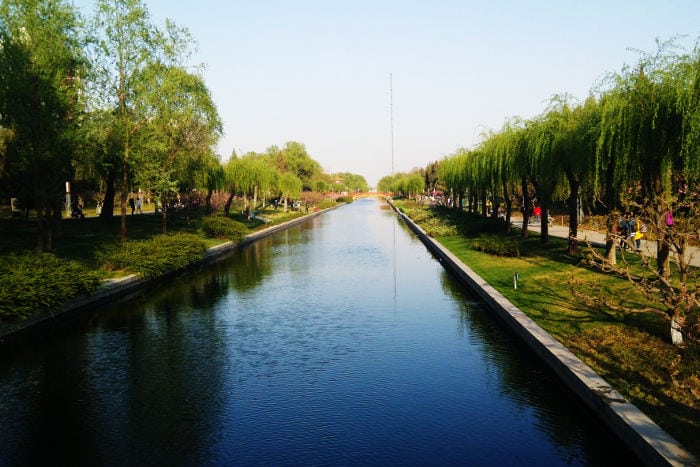 Even though it is quite a common practice among Chinese tourists, most foreign tourists don't know that you can get to the Summer Palace by boat through the city's canals. You take the boat close to the Beijing Zoo (subway Line 4), it goes through Zizhuyuan Park (one of my favorites) and in the end lets you off at the doorstep of the Summer Palace.
Like I've said, it's pretty popular among locals, so don't expect a romantic trip with your spouse, as they are normally large boats that don't leave until they fill up completely. Prepare yourself to be pushed around when getting on and for noisy tourists which take photos of every millimeter of the canal. However, I still think that this is an interesting way to arrive at the Summer Palace if you don't have a day crowded full of things to visit.
7. Take a half an hour train and relax in Tianjin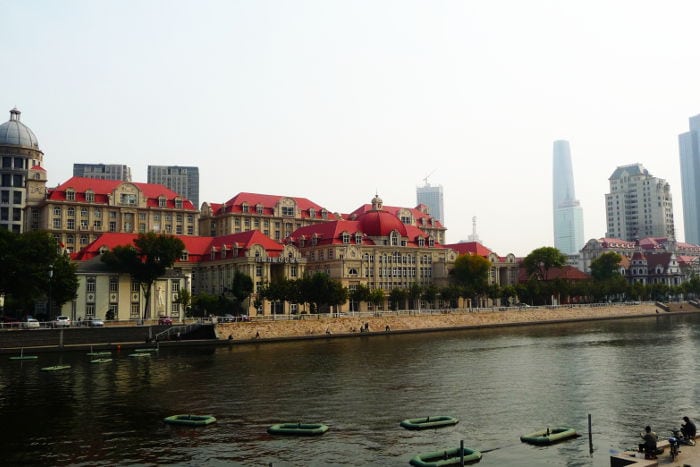 Tianjin, considered the port of Beijing, for me is one of the most recommendable escapades. It is a pretty city that is just as chaotic and jam-packed as the Chinese capital. It is located only thirty minutes away by bullet train and if you want, you can visit it in one day and come back to sleep in Beijing.
If you would like to know more about Tianjin, I recommend that you click here to read our article on the city.
8. Imitate Chinese tourists and visit Beijing's most famous universities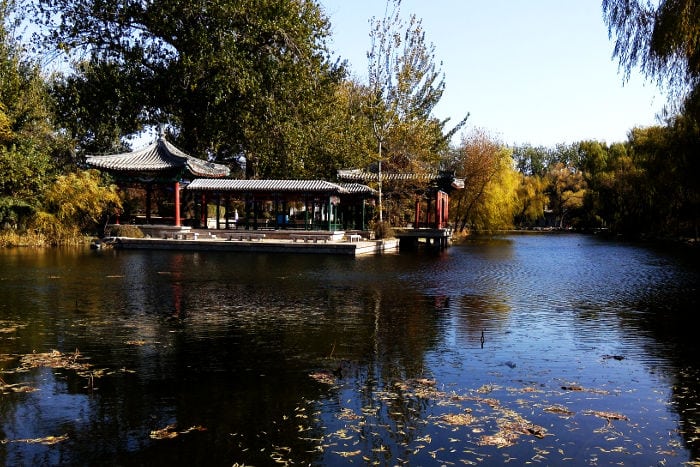 Every day when I go to work, I curse the hordes of tourists which block the entrance to my university. Only after pushing through them with my potent electric bike do I manage to enter.
Even though I still don't understand very well why local tourists are so fascinated by visiting the famous universities, I have to recognize that the Tsinghua campus (my university) is quite nice. Personally, among all of the universities in Beijing, I recommend that you visit Peking University (with a pleasant park, a lake, and an impressive pagoda), and if you have any time left, Tsinghua university might deserve a little visit as well.
To get to Peking University, just take the subway until Peking University East Gate station (Line 4) and to get to Tsinghua, get off at Yuanmingyuan Park (Line 4), where the former Summer Palace is also located.
9. Go shopping with the locals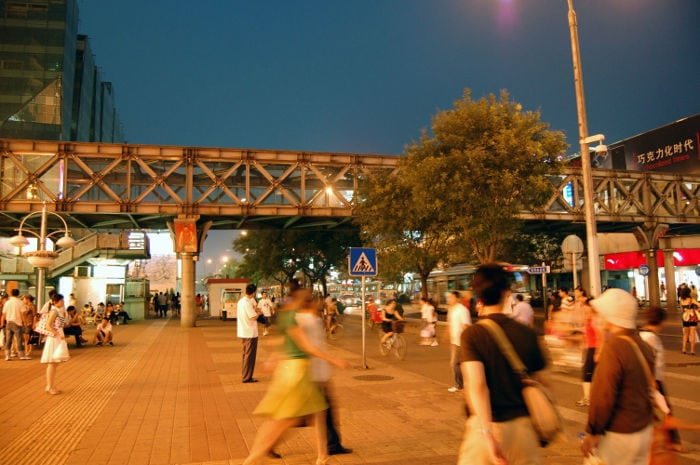 The majority of guides suggest that you go shopping in places such as the Silk Market, the Yashou, or other similar places. These "shopping malls" are basically oriented towards foreigners and preferably tourists, and sell all types of counterfeit goods, from clothing to electronics. Even though as a tourist I went to buy clothing in the Silk Market, with time I have come to hate these places. The vendors are extremely annoying and to get a reasonable price, the negotiation process is too long and tiring (but they will talk to you in the language that you want). Other areas suggested as Wangfujing where all of the international brands are grouped together also aren't to my liking, as it doesn't make sense to buy foreign products which are even more expensive than in your country in China. Personally, I recommend Xidan (Lines 4 and 2), the Beijing Zoo (Line 4), and Zhongguancun (Line 4):
Xidan is the most popular area in Beijing for buying clothing and may be full of people, especially on weekends. Here you will find numerous huge shopping malls, and on the first and top floors, you can find clothing at a good price.
Very close to the Beijing Zoo you will find a market of enormous proportions where you can buy clothing and home accessories at a very good price. Be aware that this market has been declared as being inadequate for the capital's image and may soon be moved to the outskirts of the city.
Zhonguancun is the electronics district and here you will find enormous buildings filled with all the types of electronics that you can imagine. Make sure to negotiate the price well and what you're buying works properly, as scams are common here.
10. Get a bicycle and ride around in Beijing's crazy traffic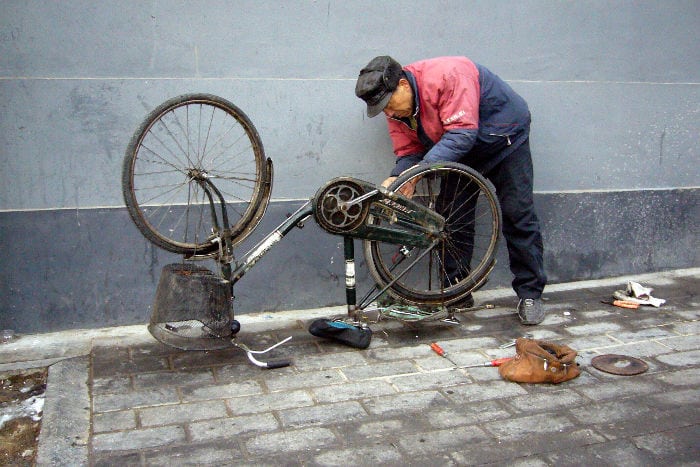 Beijing is an enormous city that has a ton of interesting corners. When you travel on foot and public transit, you can miss a lot of the city.
When I arrived in Beijing and saw the traffic, I didn't even consider the idea of getting a bicycle and went six months until my co-workers forced me to buy one. At this time, I realized that moving around Beijing on a bicycle isn't at all dangerous and became addict to going around the city on my bicycle. Later, I bought a little electric bicycle, and in addition to gaining a few kilos, my life improved significantly.
Even if you are only visiting, I recommend that you enjoy the experience of moving around on a bicycle. You can try to rent one, and if you don't know where, for around 200-400 Yuan, you can buy a simple bicycle (later, try to resell it for a part of the cost).
Even though I have said that getting around by bike isn't dangerous, there are some rules that you have to keep in mind before mounting your bicycle.
In Beijing and the majority of Chinese cities, the law of the jungle rules. That's to say that while riding a bike will give you preference over pedestrians, you still have to worry about motorcycles, cars, buses, and other vehicles.
Traffic rules don't apply to vehicles with less than four wheels; therefore, you can go against traffic, run through traffic lights, and hit pedestrians. However, keep in mind that other people will be doing this too.
Watch your speed. As you will see, most people go very slowly. There is a simple reason for this if you consider the previous points. A normal situation that you may encounter is to see a tricycle that is coming at you head-on at the same time as a car that is trying to mow you down from the side. If you are going too quickly, you won't give the car and tricycle time to dodge you. This is a very important point and is one of the reasons for which many foreigners have accidents.
Move like a beast of burden. One of the unwritten rules of Chinese traffic is that what happens behind you isn't your problem. Just look ahead of you and a little to the sides. This also means that cars, buses, or whatever else are going to cut you off, so beware.
Well, that's all for today. Do you live in Beijing or have you visited the city previously? Do you have any plans to suggest? Don't be shy! Leave a comment!
Photo Credits:

四合院的轉變 The transformation of siheyuans (historic residence) / 中國北京 Beijing, China / SML.20140503.6D.31961.P1 by See-ming Lee


Saturday Night near Beixinqiao by Jens Schott Knudsen


Xidan Beijing by kanegen


Slumber under propaganda by Sonya Sonya


Bicicle repairs by Ming Xia