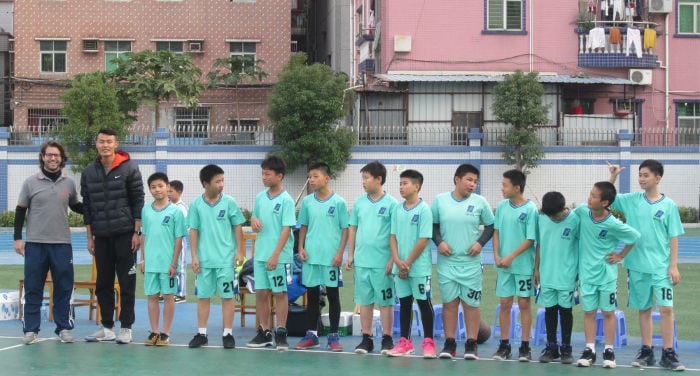 Today we'll interview Claudio Piani, who teaches physical education in the city of Shenzhen. You can follow Claudio's adventures on his blog, Piani per la Cina (?).
If you're interested in finding a job in China as a teacher (not just for physical education) I think you'll find this interview extremely interesting!
Finding work in China as a teacher
Claudio, first of all thanks for agreeing to respond to my questions. Let's get started right away: what gave you the idea to move to and work in China?
Hello to all the readers of "Taste of China" and thank you Furio for this motivating interview. I came up with the idea of moving to China to work about two years ago for various reasons. In 2014 I resigned from my job as a sporting operator in Milan to take an overland trip through Asia and Oceania.
The "pilgrimage" unexpectedly lasted for more than two years, in which I had the good fortune to cross China twice, first from north to south (Autumn 2014) and then from West to East (Summer 2016), causing me to fall in love with it.
It was actually during this period that I got the idea to move there to work, supported in part by the Chinese passion for basketball, the sport I taught in Italy.
How did you find a job? Did you use a specific website? An agency? Personal contacts?
During my travels in China I had the chance to meet various English teachers who moved there. I stayed in touch with some of them and once I decided to try something similar, I turned to them for some direction.
The most effective suggestion I got was from a Belorussian teacher I met in Beijing, who recommended that I visit a Chinese site with job offers. It was there that I found and cultivated my first contacts, and eventually I encountered the agency that hired me on behalf of the "administration" of the Shenzhen public education system.
Can you tell us about the procedure for getting a work visa?
The procedure for getting my work visa was completely handled by the agency that hired me. Much more complicated was the procedure for getting hired by the agency itself, with several "trips" to the Chinese consulate in Milan but also to the Prefecture, the Public Prosecutor and my university, where I had to get and authenticate my degree, criminal record and certificate of good health.
You had several offers. Is there a specific reason why you chose Shenzhen?
There was no lack of job offers. There's no denying that these agencies "eat up" a consistent portion of my salary (which still remains quite good). And so it's easy to find someone to hire you. More challenging is figuring out which agencies are serious and those that aren't; but after a few Skype calls and some web research you'll be able to discover everything.
Shenzhen was in my top ten but not among my most desirable destinations. On my trip I enjoyed Chengdu, Kunming I enjoyed Chengdu, Kunming and the Xinjiang region, and I was hoping to end up there. When I got a solid offer for Shenzhen, I accepted in view of the year-long mild climate, its proximity to Hong Kong (which gives me access to low cost flights for all of Asia) and the idea of starting my Chinese experience in a somewhat "softer" reality.
Teaching physical education in China
In what type of school do you teach? How old are your students?
I teach at the Bao'an public primary school, at the extreme edge of the city. One of the areas where you're the only Western face and everyone turns to look at you. My students are between the third and sixth grade. I teach motor skills and basketball.
Do you find teaching Chinese kids to be different than Europeans? And if yes, what are the greatest differences?
I expected that there would be much rigor and discipline, but really the rigor and discipline are only when the kids are in class with the "important teachers" such as math or Chinese. I'm just the physical education teacher, the one who takes them outside to "have fun" after hours of reading and military marches.
There are few differences. There's always the lively kid, the troublemaker, the preppy kid with glasses, the overweight kid that gets made fun of, but you have to double that: classes have between 45-50 kids.
In what language do you communicate with colleagues and students? Did you have problems getting adjusted?
I speak English with both the students and the few colleagues that speak it. This is basically why I was hired. The small kids begin to understand me and with the sixth graders I can have actual conversations.
Getting adjusted was easy. I'm the first foreign teacher in the school, so there was a little concern when it came to me. As soon as they saw me work seriously and consistently participate in all the scholastic activities (like the flag-raising) this deepened my relationship with my colleagues and school directors.
I was then put in the office with the English teachers so I could chat with others between classes.
Obviously I am also trying to learn some Chinese.
Can you describe to us what a typical day of work is like?
I arrive at school at 7:50 and by 8:05 start with the before school activities: the flag raising and Chinese anthem, on Monday physical exercises, dance and kung fu the other days, which go up to 8:40, when classes start. I usually only have a forty minute lesson in the morning, so I spend the rest of the time in the office reading, writing (I'm writing a book on my trip) and learning Chinese.
At 11:50 there's lunch in the teachers' cafeteria. The menu is a little repetitive but I like it. After lunch there's the rigorous "siesta" that I spend at home. At 14:30 afternoon classes start. I usually have two forty minute classes and practice with the school's basketball team, which is made up of the institution's sixteen best prospects.
What's your relationship like with your colleauges?
Fantastic. It couldn't be otherwise. I never sensed feelings of envy, jealousy or distrust. Everyone has always been very polite, helpful and generous despite the language barriers. My fellow physical education teachers always invite me to teachers' soccer and basketball games while my colleagues never fail to leave me a treat or fruit on my desk.
Of course I can't deny that it's hard to have a deep relationship because of the language and cultural barriers (a different sense of humor and a different entertainment culture), but there's a desire to do so.
Any advice for those looking to work as a teacher in China?
Since I started my blog many people have written asking me for advice on how to move to and work in China, especially basketball teachers and physical education teachers. I believe that it is important to visit China before attempting a work experience.
It's a totally different world than our own with strong contrasts that can either fascinate or "depress". I therefore think it's important to first see if you're "cut out" for living in China. Secondly, find out where you want to end up. China is big, the difference between north and south is like the difference between Oslo and Palermo, or even more.
So besides deciding whether or not to move to China, it's also good to know which city and province you want to go to.
A classic question here at SDC: What's your favorite Chinese dish?
In general the spicy cuisine of Sichuan.Here in Guangdong the cuisine is famous because people eat almost everything.
I usually eat Barbecue on the street behind my house. There's a hug fridge with skewers of all sorts that are grilled right then and there and seasoned with different spices. Delicious, cheap and always good.
Claudio, thanks for the great interview and good luck with the job and your new life in China!
Photo Credits: Photos by Claudio Piani