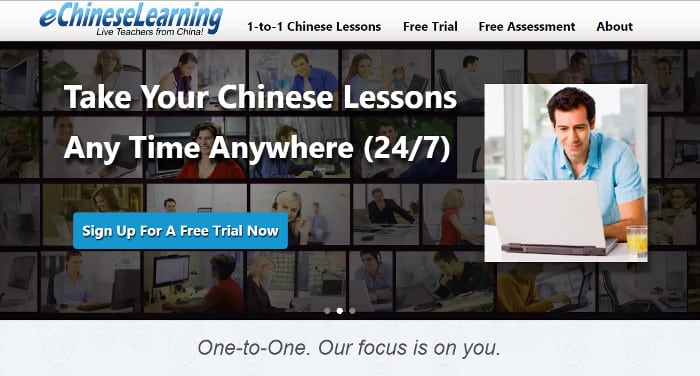 When we started this website in 2011, one of our goals was to find good resources and courses for learning Chinese online. In this article, I would like to present one of the courses that I have tried lately, eChineseLearning, which in my opinion, is one of the best products currently on the market for learning Chinese in a personalized way.
What is eChineseLearning?
eChineseLearning is an online Chinese school that offers personalized individual classes through Skype lessons with native teachers located in China.
How much does it cost?
The price for a 50-minute class varies between 8 and 25 USD depending on the type of class you choose and its duration. To get an idea, a one-year conventional course that includes training in oral comprehension, oral expression, writing and reading costs around 12-17 USD for one class.
The best things about eChineseLearning
The teachers: During the past years, I have taken many classes, both in-person and online, and because of this, I consider myself capable of distinguishing good teachers from those who aren't. When I tried eChineseLearning. the quality of its teachers greatly surprised me, and because of this, I am deciding to put it in the first place. In addition, all of its teachers are native speakers with training to teach Chinese to foreigners and with broad experience.

Finally, eChineseLearning's teachers work full time (unlike many other similar programs). This is very important because it improves the commitment of the teachers and thus the quality of their lessons;

The courses: Another aspect that I like about this platform is that it has a broad range (several dozen) of different study programs that are adapted to your particular needs, such as basic conversation courses, business courses, courses for kids, among many more;
The flexibility: The flexibility is absolute; when you choose the study program, you can decide how many hours you want to study per week and the time period. Classes are available every day of the year 24 hours of the day.
Personalized tutor: As soon as you sign up for a course, you will be assigned a personal tutor, who will follow you during the learning process. This is very important for making progress quickly and improving the effectiveness of your learning.
Trial period: Before signing up for a course, you can try the class for free. In addition, if you decide to sign up for the platform, you have 30 days guaranteed money back and because of this, you can decide if you want to continue with the course or not. In the event that you don't want to continue, your money will be refunded. However, you should keep in mind that the first month of classes will not be refunded.
The worst things about eChineseLearning
The price: eChineseLearning is definitely not the cheapest online course on the market. However, I have to recognize that given the quality of its teachers, the money is well spent. Remember that good teachers with experience are not cheap.
Skype: After living in China and seeing the connection problems that Skype has, I think that it is a good idea for online teaching companies to have their own video conference system (of course, if this system is more reliable than Skype). Despite this, I have to admit that during my class, the connection was perfect, without delays or the connection cutting out (much better than I am used to).
Who do I recommend it for?
Unless your schedule is extremely full, if you live in China, I don't recommend this course, as it is relatively easy to find qualified teachers for similar prices or private schools with flexible schedules.
I especially recommend this method for people who live outside of China, in particular in small cities, as finding quality teachers is very difficult. Even if you live in a large city, the majority of good language courses are very inflexible in terms of schedule, so if your availability is limited, this platform is a very good option to get the best out of your free time.
Suggestions for getting the most out of the course
Before going to the platform and signing up for several classes a week for a year, you should keep a few things in mind:
eLearning is not a miracle method but rather a serious method to learn Chinese: To learn any language requires effort. Keep in mind that for every hour of lessons, you will need at least another hour of personal study, so make sure you have enough time for both. If you put personal study aside, you will pay more money for a worse result.
Really keep in mind your goal for learning Chinese: Choosing the type, of course, is essential for obtaining good results. If you are only interested in business, it doesn't make sense to study to pass HSK exams. The more adapted the course is to your interests and needs, the faster you will make progress. Studying useful things is essential for maintaining motivation. There is nothing more frustrating than learning things that you are not going to use in your life.
Combine this course with other methods: For many aspects of Chinese, you don't need a personal tutor. A clear example is learning characters. The teacher can teach you the basic rules and some tricks to remember them, but at the end of the day, this depends on studying. For this, there are some programs that may be more useful to you.