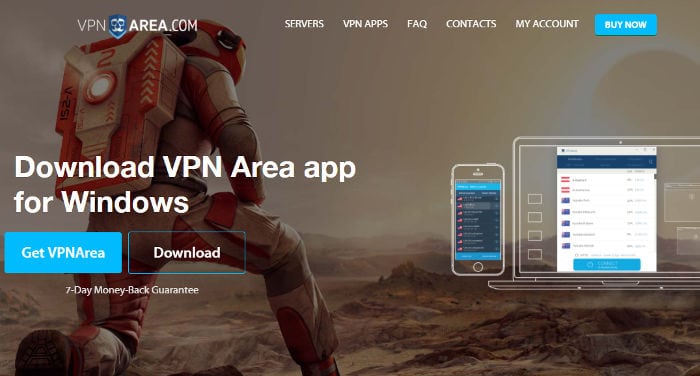 VPNArea is a VPN service provider created in 2012. Its headquarters are located in Bulgaria and it's known for its high level of service, additional options at very low prices and 100% no logging policy. Without a doubt, VPNArea is a service to keep in mind and it's worth keeping an eye on its progress in the future.
Features
Encryption protocols: VPNArea uses the main encryption protocols, such as OpenVPN, Chameleon and PPTP. By default, VPNArea uses the AES-256 bit protocol.
Simultaneous connections: VPNArea lets you have 6 simultaneous connections.
Number of countries with servers: 65 countries and 100 different locations
Server changes allowed: Unlimited
Applications: Windows, Linux, Mac, Android and iOS.
Customer service: 24/7 via Live Chat, tickets and Skype.
Guaranteed money back: 30 days.
Special functions: Stealth VPN, Double VPN, special streaming servers, Kill Switch system, server load analysis and ad blocking.
The best things about VPNArea
6 simultaneous connections: Currently, it's one of the companies that offers the most simultaneous connections on the market.
Dedicated IP: For only $20 USD per month more, VPNArea gives you the possibility of having your own unique IP address (not shared with other users). This is a huge advantage, because it's a lot more difficult to detect a unique VPN connection than one that's shared by many users at the same time.
Double VPN: VPNArea offers certain servers with double encryption, which greatly increases the security of your connection.
Stealth VPN: This is an essential tool if you want to get around Internet restrictions in countries like China.
Ad Blocking: This is a very useful tool if you're tired of having to close thousands of ads while browsing.
Streaming Servers: Offers special servers for streaming like those for Netflix in US, Canada and Italy (including SkyGo).
The worst things about VPNArea
Difficult to configure: Although the new version of the software has greatly improved the usability. The advanced configuration for the VPN to work in optimal conditions is still a bit confusing and in countries like China you may need help from the technical service.
Customer service: Despite offering customer service 24 hours a day 7 days a week and the fact that they answer your questions very quickly and efficiently, the live chat option isn't available 24 hours a day, which means that sometimes answers take a while.
Disorganized website: Some pages on their website don't provide many details, and it tends to be difficult to find information on the VPN's details.
Use recommendations
Connecting in China
To connect in China, it's possible that you will have to use obfuscated servers on certain occasions (read below), although in general, you will be able to connect by simply doing the following:
1) In the VPNArea software, click on the button "Settings".
2) Change UDP to TCP in "Protocol".
3) Change the value of "Port" to "53".
Chinese servers
Chinese servers sometimes have trouble connecting and you have to make a small modification to connect:
1) In the VPNArea software, click on the button "Settings".
2) Change UDP to TCP in "Protocol".
Obfuscated servers
While in general, I don't recommend using obfuscated servers, as they make connecting much slower, in certain countries, Internet service providers block the VPN via DPI (Deep Packet Inspection), and it's necessary to "hide" VPN traffic.
VPNArea offers a connection to obfuscated servers via Stunnel, that you can easly find in their new version of the software.
Prices and plans
VPNArea offers 3 different plans:
Monthly plan: $9.90 USD per month
6-month plan: $50 USD ($8.33 USD per month)
Annual plan: $59 USD ($4.92 USD per month)
In addition, VPNArea offers Dedicated IP (unique IP addresses). The price of this is the following:
USA: $20 USD per year
United Kingdom: $40 USD per year
Holland and Germany: $30 USD per year
Canada: $35 USD per year
Austria: $79 USD per year
Romania: $30 USD per year
When to use VPNArea
VPNArea is an excellent choice in terms of speed, quality, Internet security and privacy.
For people with ties to China, it's also an excellent option, because within China, it offers an effective way of getting around the Great Firewall and outside of China, offers the possibility of connecting to servers in mainland China and unblocking Chinese websites with geographically restricted content.
Click here to try VPNArea now!