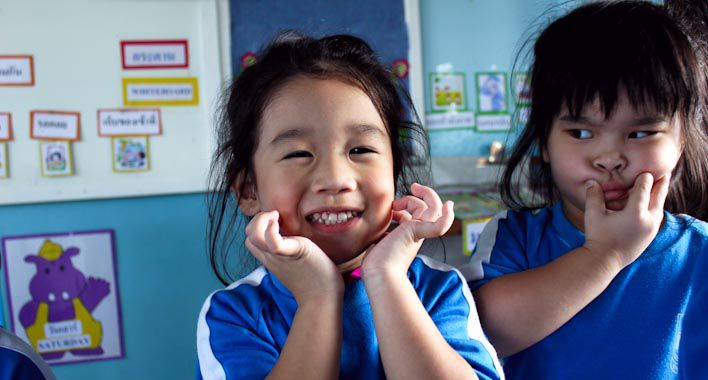 Look, this is how you smile
This article was written by Adrian Fleur, the author of Market of Eden. Make sure to check out her blog if you wish to move to Thailand or you are just curious to know more about The Land of Smiles and, in particular, Chiang Mai.
In this article I'm going to share my experience of teaching English full-time in a kindergarten in Thailand. First, let me tell you, I was pretty new to Thailand at this point (about a few months in), and at the time, I was working through an "agency". Basically, the agency were the same people I had done my TEFL course with, and then once I'd finished I stayed on with them out of convenience (or laziness).
They had sorted out my visa for me with little hassle, and offered me all kinds of jobs, from private lessons to substituting, so it made sense to me to keep up the relationship.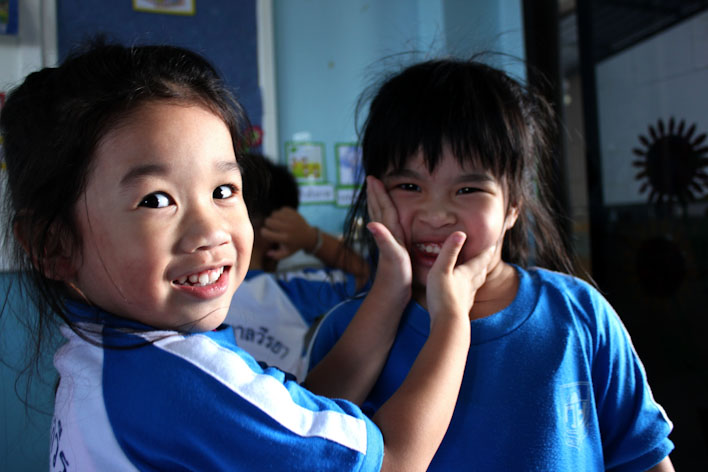 Now I'll show you how to do it!
The Kindergarten in the Countryside
One of the jobs they offered me was a part-time job at a kindergarten, about 12 km outside my city of Chiang Mai. This quickly became my favourite gig, for three hours a morning, Monday to Thursday, for a generous salary. After all, I was being paid to teach and play with gorgeous little munchkins. I didn't even mind that no one at the school spoke English, and that it was so isolated and out of the way. It was a good deal, and I was happy to keep things that way.
Unfortunately, agencies don't work that way, and during the school break, I was offered some sour news: the job no longer exists. The agency saw an opportunity to make more money out of the school, while giving a foreign teacher less money and more hours. That teacher was going to be me. Because I had little teaching work lined up for after the holidays, my obligation to The Man kicked in. I had to earn a salary, even though it was going to be a few thousand Baht more than the gig had paid before, and I would be working 7:30 – 5 every day.
On top of that, they pulled on my heartstrings a bit: "No one else is going to teach the little kids, we can't get a teacher out there!" and so on. I loved those kids. I loved all those so-polite-it's-awkward Thai teachers, that always tried to do everything for the kids, while I always tried to get the kids to do everything themselves. And most of all, I loved having the security of a visa and work permit, that I knew would be in risk if I turned down this job.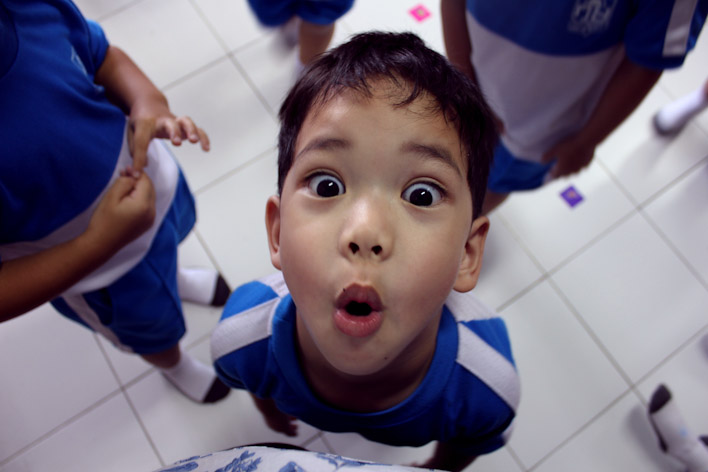 Oooooh!
From Part-time to Full-time…
So, the full-time job began. I would arrive at 7ish and stand outside to greet the parents. This wasn't so much greeting as having parents tell me I'm beautiful and stroke my skin. (If you are of the paler persuasion, with any sort of water-coloured eyes, feeling like a human show horse is another surprising experience in Thailand). This went on for an hour. Every morning.
Then it'd be time to show the kids something on the projector (I thought this was a great idea, and had an arsenal of learning programmes to show them) but then a teacher told me I wasn't doing enough while the children watched, so I was told to teach while they watched. This was difficult, as kids that small have limited streams of attention, and could never focus on me while I redundantly repeated what was being said on TV. After some research, I didn't think that's what I should be doing anyway.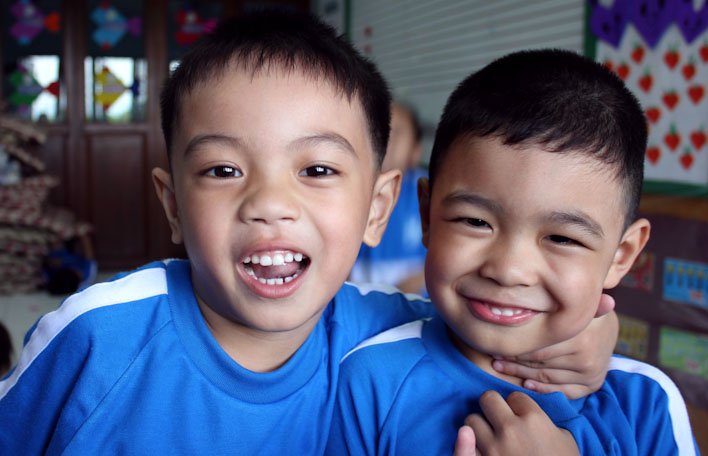 Up, strangling his best friend Parn.
Kindergarten Teaching Methods
Let's move onto the lessons. My lessons at this school were half an hour for the classes that weren't in the English Program, and an hour or more for the classes that were. (This is probably where I should mention that I taught every single kid in the entire school, including pre-Kindergarten, whether their parents had paid for it or not – probably another reason I was getting paid in pumpkin seeds).
My formula for the lessons were as follows:
1. Songs of the week, like "Hello, Hello", "ABC", "Head, Shoulder, Knees & Toes" all with actions. That should take from 10 – 15 minutes.
2. Students repeat phrases and understand context through teacher's actions combined with flashcards and modelling and drilling – a fancy way of saying I will teach them the allocated vocab through flashcards. That should take 20 or more minutes.
3. Do a creative activity like a worksheet or a craft. I would give them worksheets they could work on throughout the week, like a cut-out of a doll that they had to stick cut-out clothes onto after they had coloured everything. Of course I could only do that if the week's theme was clothes. But this would take up most the time so it was good to give them something completely engrossing.
4. Play a game, like Simon Says, or The Attention Game. There are millions online. They usually fill the rest of the lesson.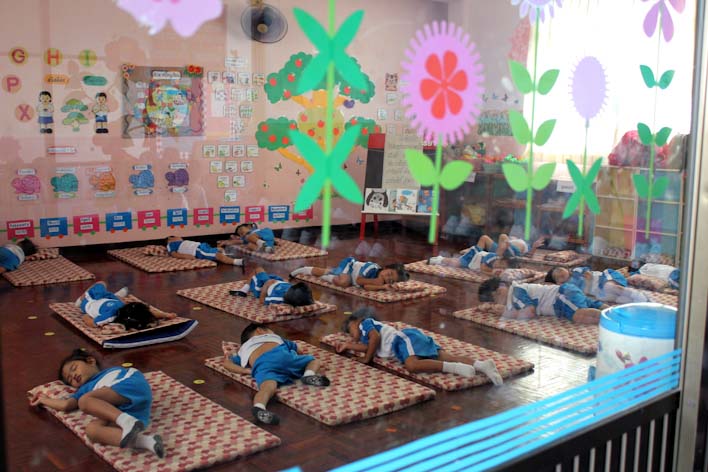 Naptime.
Why I Left the School
Eventually, as you can guess, I moved on from this job after a few months, and although I was sad to say goodbye to the kids, I wasn't sad to say goodbye to the 12 km journey there and back every day, or the fact that the school was in the middle of nowhere and it was impossible to find lunch (they didn't provide it) or the loneliness, boredom, and feeling of being cheated by my agency. On top of that, I never wanted to work full-time in the first place, as I always preferred private teaching, and I had other things to pursue, like writing, cooking, learning, and daydreaming.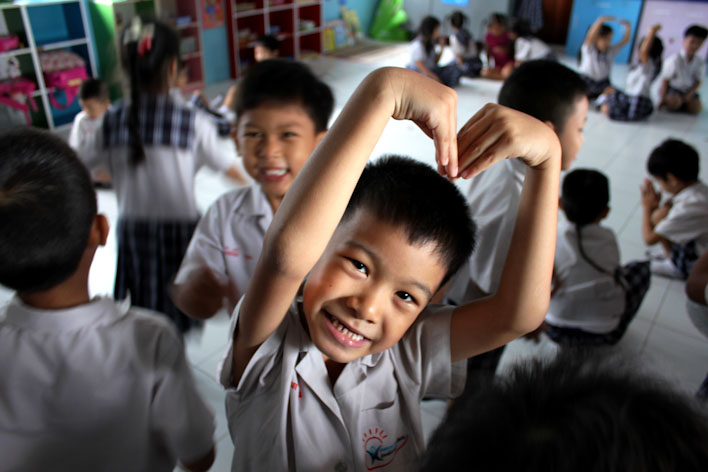 Striking a pose.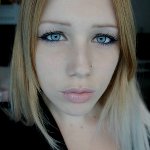 If you have any questions about working with a teaching agency in Thailand, please get in touch with me through my blog, Market of Eden, or my Facebook page.

Photo Credits: Photos by Adrian Fleur