Choosing a good hotel in Harbin, known for its Ice and Snow Sculpture Festival, can be a difficult task due to the large number of hotels that exist and because in Harbin, many of the hotels are of doubtful quality. In this article, you will find a review of the best hotels in Harbin, whatever your budget may be.
Reviews of Luxury Hotels (5 Star) in Harbin
Harbin Wanda Realm Hotel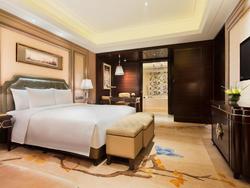 Harbin Wanda Realm Hotel is a luxury hotel offering fully serviced spa, two restaurants and a bar, indoor pool, health club and 345 well-equipped guestrooms. Located in the Harbin city center, the hotel provides convenient way in to famous attractions like Heilongjiang Provincial Museum Long Ta,Saint Sophia Church, and Harbin Amusement Park, all within 6 km from the hotel. The hotel also provides childcare or baby-sitting services along with airport shuttle and free parking. All the guest rooms and public areas have free Wi-Fi. The staff speaks English and the hotel also provides car hire services.