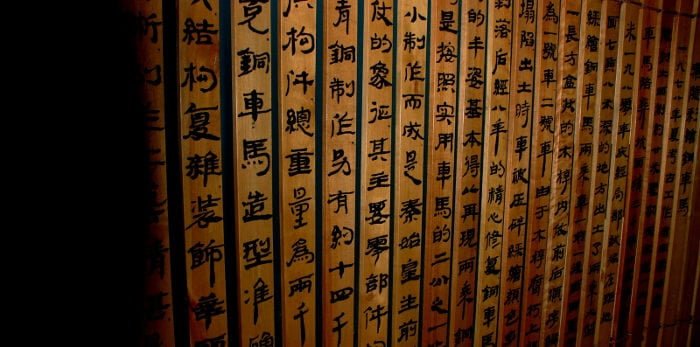 Phrases with 把 (bǎ) represent a peculiar characteristic of the Chinese language. The function of the character 把 is directly derived from classical Chinese where it had the meaning of "to take".
Now this character is used for the verb "to take" and as a classifier for objects that can be grasped or objects with a handle (两把椅子, liǎng bǎ yǐzi, "two seats").
Phrases with 把 are used to emphasize the result or consequence produced by a verbs. As an aid, think of phrases with 把 as responding to the question "what did the subject do to the object?".
When using phrases with 把bǎ, the position of the object changes: the object comes "first". Yes, usually simple phrases in Chinese go Subject + Verb + Object, but in this case it becomes Subject + Object + Verb, a formula directly derived from classical Chinese and still used in modern Japanese which, let's remember, is more similar to classical Chinese than modern Chinese.
Structures with 把, as mentioned before, serve to place emphasis on the effect that is applied to a determined object, and to do so, the verb alone is not enough. For this reason, right after the verb "other elements" must be inserted that indicate the result caused by the action.
Conditions to respect
In order to elavorate a phrase with 把 there are certain conditions to respect.
1st condition: the object must refer to something specific and definite. In this way the speaker and listener know exactly what is being spoken of.
我弟弟把鸡蛋吃了。
Wǒ dìdi bǎ jīdàn chī le.
My younger brother ate the egg.
他把桌子擦干净了。
Tā bǎ zhuōzi cā gānjìng le.
He cleaned the table.
2nd condition: the action expressed by the verb must bring about a conclusion or be completed. So usually the verbs or particles used express a change. As an example, you use the results or the particle 了 (le).
Here are some examples:
我还没把论文写完了。
Wǒ hái méi bǎ lùnwén xiěwán le.
I haven't yet finished writing the thesis.
我把重庆大学的地址忘了。
Wǒ bǎ Chóngqìng dàxué de dìzhǐ wàngle.
I forgot the address of Chongqing University.
千万,别把汉字写错!
Qiānwàn, bié bǎ Hànzì xiě cuò!
I recommend that you don't write the wrong characters!
他很快地把啤酒带走了。
Tā hěn kuài de bǎ píjiǔ dàizǒu le.
He made that beer disappear quickly.
谁把门锁了?
Sheí bǎmén suǒ le?
Who locked the door?
3rd condition: when there's a doubling of the verb or an intensity modifier (一下(yīxià), 一点(yīdiǎn), or "a little'").
我应该把房间收拾收拾。
Wǒ yīnggāi bǎ fángjiān shōushi shōushi.
I should organize my room.
4th condition: in the presence of greater degree.
请把收音机开得大声一点。
Qǐng bǎ shōuyīnjī kāi de dàshēng yīdiǎn.
Please raise the radio's volume a little bit.
5th condition: in imperative phrases when at the end there's the particle 着 (zhe) which indicates the persistence of the action.
请把灯拿着。
Qǐng bǎ dēng názhe.
Please, hold the lamp.
请把钱包拿着。
Qǐng bǎ qiánbāo názhe.
Please, hold my wallet.
6th condition: in the presence of the characters 为 (wèi), 成 (chéng), 作 (zuò) or 当作 (dàngzuò), all meaning "to become", "act like", "consider as", "use as", etc.
我想把莫言写的小说翻译成意大利文。
Wǒ xiǎng bǎ Mò Yán xiě de xiǎoshuō fānyì chéng Yìdàlì wén.
I want to translate into Italian the novels written by Mo Yan.
我把重庆看作自己的家。
Wǒ bǎ Chóngqìng kànzuò zìjǐ de jiā.
I consider Chongqing my home.
他们把我看作家里人。
Tāmen bǎ wǒ kànzuò jiālǐ rén.
They consider me one of the family.
下雨了,我忘了带雨伞。我可以把书包用作雨伞。
Xiàyǔ le, wǒ wàngle dài yǔsǎn. Wǒ kěyǐ bǎ shūbāo yòngzuò yǔsǎn.
It started to rain and I forgot to bring an umbrella. I can use my book bag as an umbrella.
7th condition: in the presence of places or additional directions.
我把桌子上的粉笔放在盒子里。
Wǒ bǎ zhuōzi shàng de fẹ̌nbǐ fàng zài hézi lǐ.
I put the chalk on the table into the box.
我把汽车开进车库去了。
Wǒ bǎ qìchē kāijìn chēkù qù le.
I put (driving) the car in the garage.
请从书架上把书拿下来吧。
Qǐng cóng shūjià shàng bǎ shū ná xiàlai ba.
Please take the book off the shelf.
韩国同学把汉字写在黑板上。
Hánguó tóngxué bǎ Hànzì xiě zài hēibǎn shàng.
My Korean classmate wrote characters on the chalkboard.
Clarifications on 把
If the phrase is negative, the negating adverb immediately precedes the 把:
我昨天没把宫保鸡丁吃完。
Wǒ zuótiān méi bǎ gōngbǎo jīdīng chīwán.
Yesterday I didn't finish eating the Gongbao Jiding.
Auxiliary modals always precede 把:
小孩子不愿意把电视关上。
Xiǎo háizi bù yuànyi bǎ diànshì guānshang.
The kids don't want to turn of the television.
You should never use the particle 过:
千万,别把学习中文的时间让给玩游戏。
Qiānwàn, bié bǎ xuéxí Zhōngwén de shíjiān rànggěi wán yóuxì.
I recommend that you don't spend your time for learning Chinese for playing around.
Important: in written language, at times you can find 将 (jiāng) in place of 把. The meaning of the phrase doesn't change, just pay attention to the use of 将.
Photo Credits:

Chinese Characters by -RS-