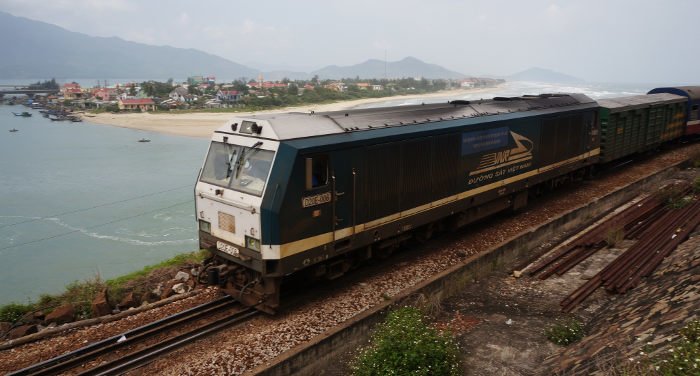 An interesting option to cross Vietnam (or just to cover a part) is to take the train: which is certainly the oldest and most famous means of transport in Vietnam. From the trains you can enjoy breathtaking views and have an authentic experience in contact with the local population.
Vietnam's shape is perfect for going from north to south, or viceversa, and you certainly won't get lost anywhere. Moreover, traveling by train has other advantages, especially if you're in a rush and want to slowly enjoy the atmosphere of the trip in order to discover the country.
How to book and buy a train ticket in Vietnam
Traveling by train within Vietnam is a different and stimulating experience, even though many young travelers prefer to cross the country seated on an old motorbike or in a bus.
After deciding how to travel and where to go, to buy a ticket you can go to one of the ticket offices found inside the station. Remember to bring your passport with you, because it will be required in order to buy your ticket or confirm your booking and information on your ticket.
Buying a ticket in a Vietnamese station could be complicated if you can't find anyone who speaks a little English. It happened to me! No reason to panic. There will be someone who'll know a few words in French and you'll certainly manage to make yourself understood with gestures and some help.
Nevertheless, if you want to avoid finding yourself in long, enigmatic situations and risk missing your train, you can opt for making your purchase online before leaving, such as on Baolau.
The other advantage of booking online is that you can buy your ticket ahead of time without having to go to the station twice!
Classes and seat types on Vietnamese trains: soft and hard seat
In Vietnam there are different types of trains, indicated by the initials SE, TN or STN. The SE1, SE2, SE3 and SE4 are the best trains. Depending on the train you choose, there could be some or all types of coaches.
As in Europe, in Vietnam too the most comfortable class is first class. The first class wagons are furnished with the most comfortable seats, air conditioning, and power outlets. For night trains running long routes, in first class there are compartments with bunk beds, a private sink, a table, bedding and covers.
Included in the price you'll also get a meal, something similar to those of the airlines. Another excellent thing about Vietnamese trains are that kids under 5 years old travel for free.
Supposing it's a 7 hour trip, the price for a journey of this type could cost you about 20 American Dollars.
Second class offers a few more comforts (such as beds, or chairs that are less comfortable than those in first class). In third class you'll instead find rigid wooden seats.
In general, in Vietnam you have to choose your seat and category. You can choose a hard seat, which as the name would suggest is a rather uncomfortable chair, usually made of wood. These seats are usually chosen by the Vietnamese since they're the cheapest ones.
Or you could choose a soft seat, or slightly more comfortable chair that might recline but not as far as a bed, which is certainly less comfortable than a bed but good for a trip that isn't too long. For short routes you can also decide to travel like a local and sit in a hard seat.
For more intensive trips choose a sleeper – bunks that vary between hard and soft depending on the number of bunks in the same compartment or carriage.
Keep in mind that they'll try to sell you bunks with 4 spots and air conditioning, or in other words, the most expensive ones. If you've read this article, you'll definitely know to ask for a different type of seat that would be cheaper.
There are also luxury trains that travel through Vietnam.
Train itineraries in Vietnam
Below I'll recommend three splendid train itineraries that start from Hanoi.
From Hanoi to Sapa: 296 km in 8 hours
Traveling from Hanoi to Sapa by train is a spectacular experience during your trip in Vietnam. You'll travel comfortably and at a low price. There are different options you could choose from, leaving Hanoi at night. The end of the line is Lao Cai, a town at the border with China, and from there you can continue on to Sapa with a minibus.
Depending on the station, the trains could be full of tourists, since Sapa is a popular mountain town. At the end of the year, for example, there shouldn't be huge crowds, while from the end of the year to March I'd recommend that you book your train ahead of time. You can do so via internet, through Baolau, for example.
You'll be surprised by the number of trains that travel the Hanoi-Sapa route: SapalyTtrain, King Express, Fanxipan, OrientalExpress and others. Really, these companies have only one or two carriages which when put together make up one single train. The offerings, both in terms of price and services onboard are more or less the same.
2. From Hanoi to Halong Bay
As I said in this article, there are many ways to get to Halong Bay, but there's only one train which is still rather unknown that connects Hanoi to the bay.
In fact, you could avoid the many agencies offering complete packages with transfers and itineraries, and leaving from Yen Vien station, get to Halong. It's a local train and count on just a few cars with wooden benches. Try it only if you want to have a fascinating experience far from the crowds.
3. From Hanoi to Ho Chi Minh City
Have you ever heard of the Reunification Express? This is the train that crosses the whole of Vietnam, from north to south or from south to north, from Ho Chi Minh to Hanoi or viceversa. The Reunification Express is the country's historic train that covers more than 1000 kilometers for a total of 34 hours of travel.
It might not be the cheapest or fastest way to cross Vietnam, but it is definitely the most fascinating way of seeing the entire country, crossing through villages, beaches, mountains, rice paddies and cities in the company of other travelers, but especially many Vietnamese who'll get on at the countless stations in between. You shouldn't make the trip all at once.
How does the Reunification Express work? You should choose which stations you want to get off at to visit, and buy tickets for those specific ones. In fact, it allows you to get off at the station you choose and get back on the train the next day for your next destination, without a time limit – except that of your visa.
Just the departure from Hanoi will already present a fascinating scene when you find yourself in the Old Quarter with your mouth open, among cramped alleyways suspended between various eras and thousands of colors.
The price of a ticket varies depending on the intermediate stops you decide to make between Hanoi and Ho Chi Minh. For example, the route between Nha Trang and Ho Chi Minh could cost about 20 Dollars and so on.
Final advices
Although Vietnam is not a dangerous country, as is the case with all of southeast Asia, I recommend that you travel safely by respecting a few small precautions. With a little good sense you can travel anywhere!
Traveling slowly by local means on unusual routes means pleasant encounters that are also often noisy. This is something to consider even depending on which seat you choose on the train. It's nothing to worry about however, traveling by train will be an experience that will remain indelible in your memory.
I also recommend that you bring along some food for long trips, even though there will certainly be Vietnamese that will come aboard the train and will offer you something to buy.
Here's a detailed map of the rail network in Southeast Asia.
Photo Credits:

Hoi An to Hue by Syromaniac