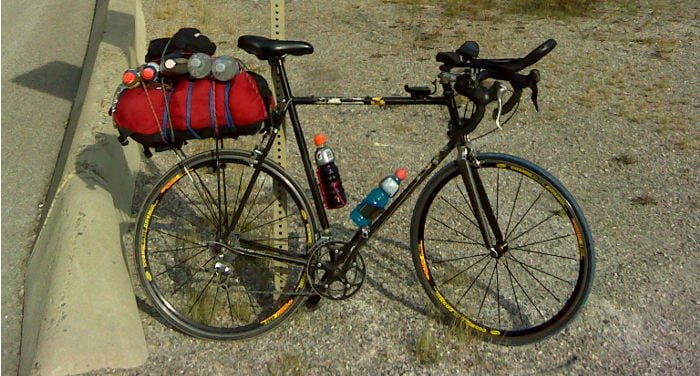 There I was. I maneuvered myself in this situation on purpose unknowingly following the first rule for starting a bicycle tour: Just tell everyone that you are going on a bicycle tour. Repeat it. Until they believe you. You don't have to believe that you are capable of doing it. You just keep telling it to your friends, your crush, your workmates, your family (last to them, they'll worry too much)… and then, all of a sudden, you are committed.
So that happened to me. I told everyone that I was going to quit my job to go on a six month bicycle tour. Now I had to go. I had a bicycle that was – as I quote a bicycle enthusiastic friend – "good enough", panniers, tent, sleeping bag and a million more things I wanted to have with.
Even though I had four panniers, I didn't have enough space. I was totally overwhelmed. And I was scared. I was totally out of my comfort zone. I would travel on a bicycle. I would wild camp. I would travel in rural China. None of this had I ever done before. I actually didn't even know yet how to fix a tire. I had a rough idea, but nothing more.
All these questions where spinning in my head. I was stressed out. How would I manage? How would I survive? I didn't speak any mandarin and realized I could not take all the things I wanted to. Like the three shampoo bottles I wanted to have with me. What if I ran out of shampoo? I wasn't able to set the right priorities. I was a mess.
Was I really going to push my bicycle out of this living room tomorrow to go cycling for six months? In rural China? Wild camping? [Read more…]