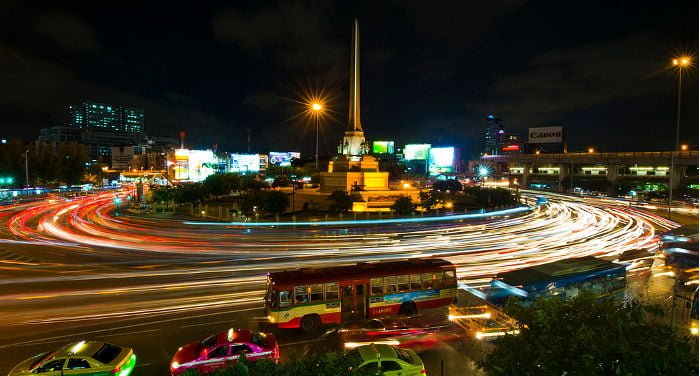 The Victory Monument Neighborhood in Bangkok – Index
One of the most stimulating areas of Bangkok is Victory Monument. As the name suggests, this area includes the area adjacent to the Victory Monument, which in Thai is called "Anu Saowari Chai Samoraphum", and is located in the northern part of the city.
The Victory Monument rotunda has Italian origins. In the middle there's an obelisk that was erected in 1941 and designed by the sculptor Corrado Feroci. During the 20's, Feroci was invited to Bangkok to teach Western sculpture at the capital university. In 1944 he was even declared a Thai citizen, and from there he changed his name to "Silpa Bhirasri".
Before the creation of the obelisk, Victory Monument was a simple rotonda with a lawn and Thai flags. The obelisk you can see today was built in the 40's to celebrate the Thai army's victory over French colonials and the later expansion of Thai rule into certain regions of Laos and Cambodia. After Thailand's defeat in the Second World War, Victory Monument became a symbol of embarrassment for its people.
Today the area adjacent to the Victory Monument is considered one of the biggest transport hubs of the city. Besides the BTS line that connects the northern part of Sukhumvit to the southern part of the city, from Anu Saowari minivans also depart for nearby cities, such as Sukhothai, Ayutthaya, Pattaya, the islands of Koh Chang and Koh Samet, and also towards the floating markets of Amphawa and Damnoen Saduak.
On the two sides opposite the rotonda (the one near the shopping malls and the one near the hospital, to be clear), you can take local buses toward almost every district of the city. For a more detailed guide on how to get around by bus and minivan in Bangkok and Thailand in general, read here.
Ratchathewi and its strengths
The Victory Monument neighborhood is part of the Ratchathewi District, one of the 50 units Bangkok is divided into. Ratchathewi's independence was decided in 1989, when it definitively "separated" from the Dusit area (which is today one of the bordering districts and the country's diplomatic center).
Ratchathewi is one of the smallest districts of the city, with a surface area of just eight square kilometers and a population of almost 100 thousand inhabitants. The neighborhood includes many interesting and enjoyable places within it, and the majority of its surface is filled by the area next to the Victory Monument.
There are many reasons to visit (or why not, even stay in) this part of Bangkok:
unlike places like Sukhumvit, this area is not heavily visited by tourists and you can fully enjoy the authentic local atmosphere;
you can relax and detach from the city traffic by entering into Santiphap Park, located along Rangnam Road
Soi Rangnam can be considered the entire neighborhood's beating heart; in fact it's along this area that you'll find some of the most renowned Thai restaurants, low cost street food stalls, shopping malls where you can buy things, as well as movie theaters, hotels, massage centers, luxury condos with affordable prices, and even the famous King Power (a duty free shopping center);
you can enjoy a breathtaking view of the city by climbing to the 83rd floor of the Baiyoke Sky Hotel skyscraper;
the city center, namely, the area adjacent to the Central World and Siam Paragon shopping centers, can be reached on foot in just 20 minutes by also passing through the famous Indian market Pratunam;
the nearby Phayathai Station connects to Suvarnabhumi Airport, reachable in a half hour with a ticket that costs just 45 THB a person;
in case you need it, there are three hospitals very close by: Mahidol University Hospital (which also has a center dedicated to tropical diseases), Rajavithi Hospital and Phayathai 1 Hospital (number 2 is instead located a little before the Sanam Pao BTS Station).
How to get to Ratchathewi and the Victory Monument area
From Suvarnabhumi Airport getting to Ratchathewi is very simple. Just go down to the first floor and buy your tickets (which are tokens) for Phayathai or the stops Makkasan or Ratchaprarop, depending on the area where you've booked your hotel.
The price of a ticket will be a maximum of 45 THB and trains are active every day from 6 in the morning to midnight. If you get off before Phayathai (which is the last stop), like Makkasan for example, you pay just 35 THB.
Once you get to the Ratchathewi District, you have two options for getting to Victory Monument. The first is to take the BTS from Phayathai Station toward Victory Monument. This is the quickest solution, since the two stations are just one stop apart (if you don't have heavy bags you can also easily walk it on foot).
In this case you'll have to buy a separate ticket since this route isn't included in the price of the ticket you bought at the airport. All tickets for the Skytrain from Phayathai to Victory Monument are sold at the counters or automatic machines for 15 THB. I recommend that you read this article to get a better idea on how to get around Bangkok by public transportation.
The second option is to get off at the Ratchaprarop stop and walk down the street of the same name, which connects the city center represented by Petchaburi Road, at the northern part of Ratchawithi Road.
I don't recommend that you take a taxi to the city center, both for the fact that traffic in Bangkok can be chaotic as well as the fact that many taxi drivers parked at the airport refuse to put on the meter so as to make you pay more than you should.
If though you decide to take a taxi, I recommend that you say "anu saowari", since most of the time taxi drivers don't understand English and even though Victory Monument is an easily recognizable name, it's happened to me many times that the driver had no idea of what I was talking about. Another option is to immediately mention Soi Rangnam, so that you'll be dropped off directly in the beating heart of the neighborhood.
If you're already in Bangkok and want to get to Victory Monument from the center, the best option is the SkyTrain. You'll have to take the light green line, called the Sukhumvit Line, which goes from Bearing to Mo Chit, and passes through all the most touristy and central stops of Sukhumvit.
There are also tons of buses that go to Victory Monument from all parts of Bangkok. To get an idea of which line number you have to take depending on the part of you're in, you can use the official internet site of Thai transportation by inserting the departure and arrival stations.
Where to stay at Victory Monument
First of all, click here to read our reviews of the best hotels in Bangkok.
In the Ratchathewi area you can find lodging options for all tastes; from backpacker hostels, to mid-range hotels, to luxury hotels.
My advice is to choose a hotel near Soi Rangnam, both to be close to all activities and restaurants that the area offers as well as public transportation for comfortably getting around to other parts of the city.
The Picnic Hotel, built just 3 years ago, is located a little more than 500 meters from the BTS station and the back part directly faces Santhipap Park. Despite having 4 stars, the Picnic Hotel offers both dorm beds for 380 THB a night and private rooms starting at 1,500 THB a night.
Even if you don't stay here, the hotel offers a Thai buffet every evening, or the choice to order dishes form the menu. In my opinion the food isn't all that great; much better is what's offered at the Biz Hotel, at 40 Soi Rangnam.
From 17 to 19, the Biz Hotel organizes an appetizer buffet (with Happy Hour, or two for one beers). Like the Picnic, this is also a new building with rooms starting from 1,800 THB.
Moving along Rajprarop Road, you can find the Century Park Hotel. This hotel is very popular with Indian tourists, probably thanks to the fact that across the street you can find an exquisite restaurant called Everest Kitchen. The place is family-run and offers Indian and Nepalese cuisine at great prices.
Though the Century Park has 4 stars, prices aren't far off from those of the Picnic and Biz Hotels: 2,100 THB for a double room. It has five restaurants (among which is "Roberto", an Italian restaurant), a pool with a panoramic garden, as well as a gym.
For a luxury category hotel there's the Pullman Bangkok King Power Hotel, next to the King Power shopping mall. The minimum price for a room starts at 4,000 THB a night and other than being very close to the Victory Monument BTS stop, it also features 6 restaurants and an enormous pool with a breathtaking view of the city.
A hostel that's located in a strategic position near the Phayathai Station is the Sleeplab Hostel. Dormitories are divided into ladies only or mixed. Each bed has a flat screen TV attached to the wall and during the night you can close the curtain so that nobody disturbs you. Prices start at 490 THB a person.
Where to eat at Victory Monument
In Ratchathewi and in Bangkok in general, you'll have a wealth of options when it comes to food. Thai cuisine is widely varied and its mix of flavors will make you love the Land of Smiles even more. If you're curious as to what are and how the primary local dishes are made, take a look at this article.
In the Victory Monument neighborhood the majority of restaurants, aside from those in the shopping malls, offer Thai or Asian food. The road with the most popular restaurants is Soi Rangnam.
Getting off at the Victory Monument Station and traveling down Phayathai Road you'll find Pla Thong Mookata. This restaurant is only open in the evening. It has an enormous balcony and on its menu there's only typical Thai barbecue, where you put your fish or meat on the grill in a special pot, while in the smaller part it cooks a vegetable soup. The price is very low: about 300 THB a person, and you'll also be able to try a buffet of side dishes.
At the corner between Soi Rangnam and the Pla Thong Mookata restaurant, there's a chain called Eat Am Are. The menu is mainly meat dishes with a choice of both Thai and American sides. Prices are very low and the portions are enormous.
For example, for 129 THB you can get a dish with two steaks, side salad and French fries and bread. When, 4 years ago they opened this restaurant for the first time, it was literally swamped and today there are a good 5 Eat Am Are restaurants near Victory Monument.
If you want to listen to live music and enjoy a nice view, I recommend the Thai Jazz Bar, on Rangnam Road, right after Eat Am Are. Being located on the last floor of a small building, to get in you have to find a small door between the two Thai restaurants that serve street food. At the Jazz Bar prices are rather high compared to the rest of the area.
Across from the Jazz Bar you'll find the restaurant Northeastern Thai, where you can try food from the north of Thailand, called Isaan. The quality to price ration is excellent and, if you like spicy food, their dishes are for you!
Near Santiphap Park there are two restaurants close to one another with a small balcony that faces the road. The first is Bean Around Cafè, which I recommend for desserts and cakes, the second is Mobile Steak, which as the name suggests, is great for those who love meat.
If you want to try good Japanese food at low prices then I recommend Ito Shokudo. This little restaurant opened up a few years ago and is very popular, especially among local students. The walls are covered in Japanese comics and there are very few tables for eating. The menu offers typical Japanese dishes that are little known to tourists.
Continuing on Soi Rangnam you'll find the restaurant Mezzazine. It's great for an appetizer or a game of pool. The food quality though is nothing special.
A very famous restaurant in Bangkok for its seafood specialties is Kuang Seafood. Prices are rather high and, personally, I don't think the quality of the food justifies the price.
Other than these restaurants I recommend that you also try street food. Every day when the sun goes down, Soi Rangnam fills with mobile vendors and restaurants. You'll find people selling fresh fruit, insects and take away desserts, as well as places to sit and eat Pad Thai or a Papaya Salad.
Two mobile restaurants serving street food that are worthy to be mentioned: one is found in front of the Tesco Lotus Express, a little before arriving at the intersection with Rajprarop Road. Here you can eat typical Thai soups, and also dishes like Pad Kra Pao Gai. Their papaya salad really deserves to be tried.
The second four-wheeled restaurant you'll see when the sun goes down. Its location is at the corner near the exit of Santiphap Park, next to the exit that faces Rangnam Road. Its specialty is Pad Thai.
If you take the Victory Monument Station exit that faces Soi Rangnam, you take the north exit and that's the one that lets you go along (what the Thais call Skywalk ) the rotonda, you'll come to a small canal. This area is very famous for its noodle restaurants.
One of the most popular places is Golden Boat Noodle. The kitchen is completely open and is located outside the restaurant. Here you can try Thai noodles in all their variations. For fans of strong flavors you can also order noodles served in a broth of fresh cow or pig blood.
What to do at Victory Monument
Near the Skytrain stop there are three malls where you can go shopping, eat, or go to the movies.
The Century The Movie Plaza directly faces Soi Rangnam. From here free shuttles leave for the King Power shopping mall. On the first floor of the Century Plaza there are various restaurants that offer Thai, Japanese, and even pizza. If you don't want to spend a lot you can instead go to the first floor of the basement, where there's the food court that only serves local dishes.
On the fifth floor there's both Eat Am Are, for which you'll usually have to wait almost 20 minutes before getting a table, and the cinema. Ticket prices are lower compared to movies shown at luxury shopping malls like Siam Paragon or Central World. On Wednesday the tickets only cost 99 THB.
Besides European stores like Boots, on the ground floor of the Century The Movie Plaza there are stalls selling clothes, technical gadgets and locally produced stationary. Prices are cheap: 100 THB for a t-shirt, 20 THB for a pair of earrings.
Every day when the sun goes down, a night market is arranged along the street connecting the Century The Movie Plaza at Center One. Together with Victory Mall, Center One is a shopping mall located near the western part of the BTS station. Inside Center One the stores are actual stalls arranged in bazaar-style where you can buy clothes, shoes, phones, computers, all at negotiable prices.
Victory Mall is in my opinion the least interesting of the three. There are few stores inside and the majority of the mall is empty. If you want to eat at Eat Are Am I instead recommend that you come to this mall, since it's less known and you won't have to wait for a table.
On Ratchawithi Road, which from Victory Mall goes up to Santiphap Park, you'll find other stalls that sell clothes, shoes, creams, bags and even food. These stores open in the afternoon and are open into the evening.
In the same style there's Victory Point, an open-air market located in the outdoor area that surrounds Victory Monument. Here too you'll find clothes and accessories at a cheap price. It's open between 8 and 21.
A mall with a totally different quality level of merchandise than what's sold at Victory Mall or street stalls, is King Power. This building was built in 1989 with the purpose of becoming the first mall selling duty-free merchandise, just like the airport.
Inside you'll find all the merchandise that you could find at Suvarnabhumi Airport: perfumes, foods, alcohol, cigarettes, clothing and even cameras. On the first floor there's also a restaurant serving Japanese dishes like sushi.
If you want to relax for a few hours, you can indulge in a Thai massage. Along Soi Rangnam there are various massage centers, from those that only offer massages, to those that have actual spas that also do beauty treatments.
Another relaxing place to spend time in is Santiphap Park, also called the Park of Peace. Inside you can find an artificial lake, a walking or running trail, benches where you can rest or read a book, a few pieces of gym equipment, and a square where every evening at 19 their are group gymnastic lessons.
Around 17, you'll also be able to practice activities like kung fu: there's a Chinese teacher that comes to the park with a small group of students each evening. The park is opened between 5 in the morning to 9 in the evening.
If you manage to get to the entrance of the park facing Soi Rangnam around 4, you can find a stall run by a Thai woman who makes awesome grilled mushrooms with a delicious mango salsa – something that you'll have to taste!
One of the best places to listen to live music by Victory Monument is Saxofone. Located under the SkyTrain stop, it's east to get to. Entrance is free and you can see not only live jazz music but also reggae and funk. It's subdivided into two floors; on the upper floor there's even a billiard table and the opportunity to eat Thai dishes.
Even though the most famous skyscraper in Bangkok is the Lebua at State Tower (thanks to the film "The Hangover 2"), in the Ratchathewi neighborhood you can also admire the colors and immensity of the city from above thanks to the Baiyoke Sky Hotel.
On the 77th floor of the building there's a large balcony where you'll have a 360 degree view. It's open from 10AM until 2AM, and the price of a ticket starts at 400 THB a person, including a drink you can get at a bar on the 83rd floor.
Even if it's not part of the Ratchathewi District, if you're staying at Victory Monument, Chatuchak is a market that's worth visiting. It's easy to get there from the Victory Monument rotunda: you can take the SkyTrain and get off at Mo Chit, or take bus number 29 going north.
Chatuchak Market is the largest market in Thailand. With more than 15,000 stores, it covers an area as large as five soccer fields. Inside you can find merchandise of all sorts, from used clothing to antiques. You can also eat there.
A market that's easily reachable by foot along Ratchaprarop Road heading south, is the Pratunam. A few years ago the stalls would start at the sidewalk right at the Ratchaprarop train station. With a new law enacted, today all vendors have had to move inside the roads that go along the Amari Watergate Hotel.
The goods for sale range from counterfeit shoes to traditional Indian dresses customized to your size. Like all other Thai markets, here too you can't try on clothes, nor return them, but you can negotiate the price.
Where to live at Victory Monument
If you're looking to move to Bangkok, Victory Monument is definitely an area with no place for boredom. Besides being an area where you can easily get to any point in the city, it is also convenient when it comes to apartment prices.
At the top of the list when it comes to position, quality, service and price, there's The Complete Ratchaprarop. This complex is formed by two buildings that face Santhipap Park. Rent for a one bedroom apartment starts from 16,000 THB and also includes use of the gym and pool. In the common area there's the option of using the library, walking through a small garden, and shopping in a grocery store until late at night.
For those looking for a higher standard, a 5 minute walk from the Skytrain station and Soi Rangnam, there's the Rhythm RangNam. Prices for one-bedroom apartments start from 29,000 THB a month. This condominium is also furnished with a gym, pool and 24 hour security available. The apartments are very nice and well-equipped. The only downside is that they're rather small: between 28 and 63 square meters, with a largest unit of two bedrooms.
If you have a budget of less than 10,000 THB a month, an option is Victory Monument Condominium. It's not as an impressive building as the other two, nor does it have a pool or gym. It's only 9 floors but you can rent a studio apartment for 7,500 THB a month.
Photo Credits:

Around & Around we Go by Mike Behnken