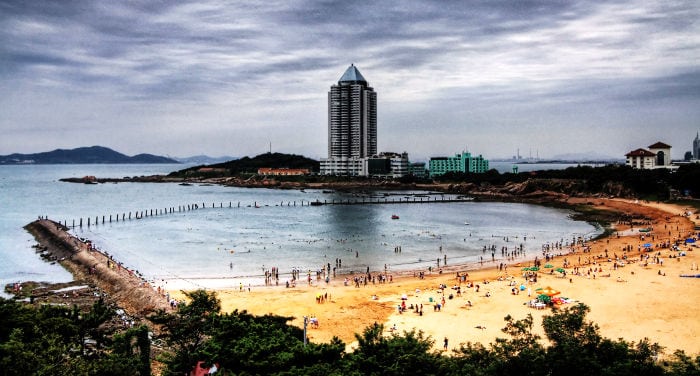 This article is a practical guide to visit Qingdao. Here what you'll learn:
Why Qingdao is one of the most famous cities in China;
Where to stay in Qingdao;
What is the best time to visit Qingdao;
What to do and visit in Qingdao.
Why Qingdao is one of the most famous cities in China?
Qingdao (青岛) is a coastal city located in the East of Shangdong province. After Shanghai and Tianjin, Qingdao is the third most important port in China and its nearly eight million inhabitants enjoy one of the highest living standards in China.
If you ask Chinese people about Qingdao most of them will say that Qingdao is the most livable city in China. The reasons are its temperate climate with mild summers and winters (still too extreme for a Mediterranean guy as me), its flourishing economy and its "relaxing" atmosphere.
However, if Qingdao is well-known outside the Chinese borders is mainly because of its beer. In fact the "Tsingtao Brewery" was founded by a German-British consortium and nowadays it's the first Chinese beer exporter.
Qingdao is also one of my favorites cities in China and you should consider a short trip here. Keep reading to discover why!
How to get to Qingdao?
By plane
Qingdao has an airport with several daily flights from the all the major cities in China and international flights, mainly from Korea and Japan. From Qingdao International airport you can reach the city center (36 Km):
By taxi: It will take more or less one hour and it will cost around 100 Chinese yuan.
By bus: There are five different lines, the most convenient is probably the line No. 2 (from 8:40 a.m. to 10:40 p.m) that will bring you to the main bus station (which is really close to the train station). The trip takes one hour and a half and the ticket costs 20 yuan.
By train
This is probably the most convenient way to reach the city as Qingdao is connected to Beijing and Shanghai by high speed train. The ride from Beijing South Station it takes around five hours and the tickets costs 250 yuan while the ride from Shangai Hongqiao Station takes six hours and a half and the ticket costs 310 yuan.
Where to stay in Qingdao?
Below you find three suggestions for staying in a hostel en Qingdao. If, however, you are looking for a luxury or mid-range hotel, click here.
Qingdao Old Observatory Youth Hostel (YHA)

This hostel is without any doubt the most popular in Qingdao. Located in the old Qingdao observatory, it offers a roof with astonishing views of the city and a warm atmosphere. If you want to stay in this hostel it's better that you to book in advance because, especially during the high season, it gets fully booked fast.
Qingdao Kaiyue International Hostel

This hostel is a good option for small budged travelers. Even if its facilities aren't the best in town, the hostel offers a cozy bar where you can meet other travelers. The other strong point of this hostel is the location as it's located in the old town (close to the train station).
Qingdao Aigo Innè>

Have you ever been in a capsule hotel? While I was looking for hostels I came across to this capsule hotel. While I was in Japan (capsule hotels are popular over there) I didn't have the opportunity to stay in one, so if I go back to Qingdao I will try it.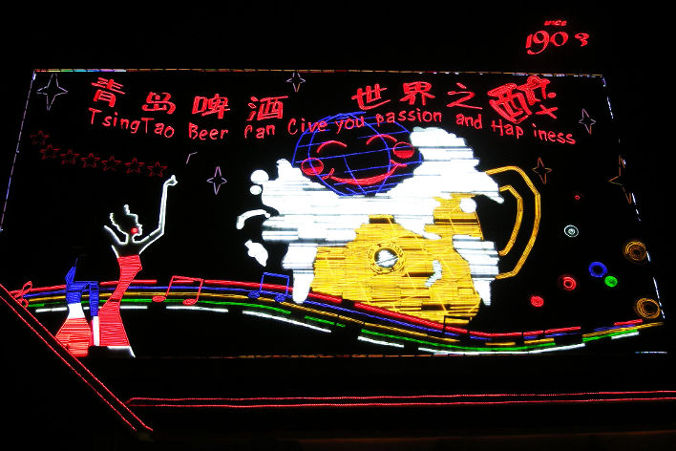 What is the best time to visit Qingdao?
As I told you before, Qingdao has a mild weather, so you can visit it at any time. However from November to March it can be a bit chilly and, considering that it's one of the few places in China where you can enjoy a bath in the sea, it's better to go there in Summer (unless you are coming from Bali or Sanya!).
Even better, try to get there during the second part of August. Why Because it's when the Qingdao International Beer Festival (国际啤酒节, guoji pijiu jie) takes place (keep reading to know more about the Festival).
What to do in Qingdao?
Although Qingdao offers several interesting touristic attractions, in my opinion the strongest point of the city is its friendly atmosphere (together with the local beer).
Qingdao's people
Qingdao is a popular summer resort among Chinese people and is the perfect place if you want to interact with them. The beer helps them to get rid of their shyness and pull from their memory all those English sentences they had learned at school.
While you have dinner at one of the many restaurants on the open air of Qingdao, don't be surprised if a bunch of Chinese people come to your table holding their jar of beer, offer you a glass and scream "GAN BEI!" (cheers, literally it means "Dry the glass"). If you are friendly with them, probably they'll end up sitting with you or asking you to seat with them. If you can speak a bit of Chinese they'll like you even more. Also don't be surprised if they try to pay your bill (or pay it before telling you)!
If you want to have a peaceful stay instead of being approached by drunk Chinese people, maybe Qingdao is not for you. Most of the tourists in Qingdao seldom see a foreigner and probably never had the opportunity to speak with one. There's no way they won't be curious about you!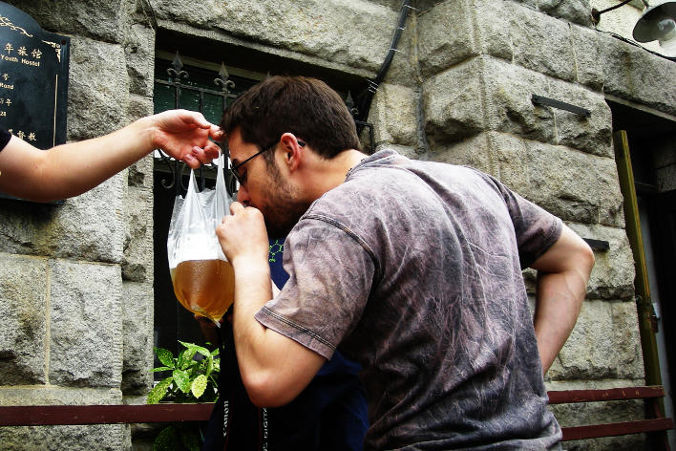 Furio enjoys a bit of Flo's Kilo beer, Qingdao's delicatessen
Beer
I know it may sound weird, but the main attraction of Qingdao is its beer. I suggest you to always go for the draft (加啤, jiapi) as here a draft of Tsingdao beer has a special taste (as for draft Guinness in Dublin). Also, here you can get dark Tsingtao beer (黑啤,heipi). I don't like it because it's a bit sweet; however you may like it!
Many small restaurants and shops, especially in the old town, showcase their beer barrels outside: the main purpose of those barrels is to serve take away beer.
How to ask for a take away beer? A liter? A gallon? Nope! You have to ask for kilos (公斤, gongjin). Thus, one kilo of beer would be: yi gongjin pijiu (一公斤啤酒).
The waitress will grab a plastic bag and pour the beer inside. Yeah, they serve it in a plastic bag (as you can see on the photo above). But don't worry, they'll give you a straw, just in case you get thirsty on the way.
Food
If you like seafood and fish, Qingdao is the right place for you. Just be careful because seafood and beer aren't the best combination for your stomach. So if you get sick don't question the restaurant's hygiene! Well, maybe just a bit…
Nightlife
Qingdao has one of the most active nightlife of China. I don't live there so I'm not going to recommend you any specific places. If you're interested you can check That's Qing Dao, a website written by Qingdao's residents that tells you everything that is going on the city.
What to visit in Qingdao?
I've been twice in Qingdao and, even if the city offers some touristic attractions, I must said I skipped most of them. In Qingdao my goal wasn't merely touristic: I was more interested on "living" the city without worrying so much about see this and that. I'm only going to talk about attractions I visited, check the links at the end of the article for more info.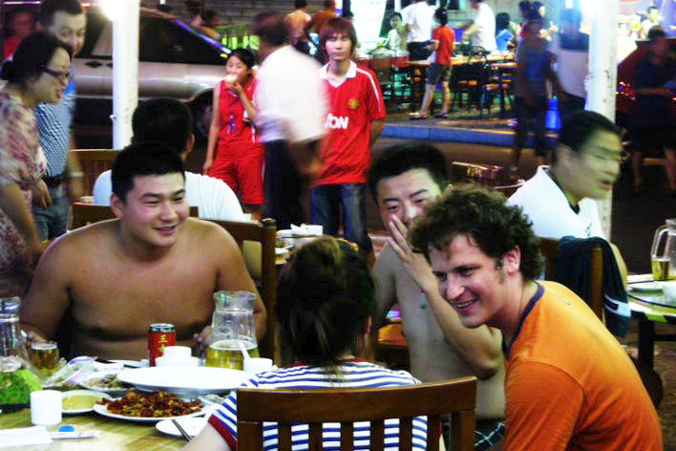 Florian, the most acknowledged guy on Saporedicina, makes new friends at the Beer Street (before to collapse)
The Beer Street (啤酒街, pijiu jie)
The Beer Street is a long road full of restaurants with terraces (during summer) and where there is more beer than water. I suggest you to go there for dinner but be aware that the Beer Street is a messy place with thousands of drunk Chinese people. Don't worry about the drunkards: Chinese people are peaceful even when they drink and it's rare to see a fight here.
Make you a favor: don't go to the toilet late at night. It's here that I saw the most disgusting toilet in my life (not the worst, just the most disgusting). Also, don't look under the tables. Sea food and alcohol isn't the best combination and Chinese people don't know when stop drinking.
You still don't get it? OK, here the reason: you'll find liters and liters of puke on the toilet floor and under the tables.
Qingdao International Beer festival (青岛国际啤酒节, Qingdao guoji pijiujie)
It starts the second week of August and lasts about two weeks (Click here to know the exact scheduling).
The festival takes place on the outskirts of the city, about half an hour by taxi from the old town (the ride will cost you around 30-40 yuan). You can also get there by public transportation.
Despite its name, the Qingdao International Beer Festival isn't that international… Most of the foreigners that hang out there are hired to perform shows or just show up there. The "international thing" doesn't get better when it comes to beer. Even if there are stands of brands from all over the world, they all taste the same, I mean, like Tsingdao. The only international touch is on the prices, that are abusive when compared to the price of a beer in Qingdao.
So why should you visit the Beer Festival?
The Festival is an extremely funny spectacle that you shouldn't miss. Every beer brand's stand has its own show, most of them incredibly kitsch, from singers completely drunk because they're forced to bottom up (Ganbei) a full pint by the public, to Brazilian girls dancing samba while some Chinese girls bit their boyfriends if they dare to glance at them.
However, the most funny thing are the visitors of the festival: if at the Beer Street is difficult to don't meet new people or be treated, at the Beer Festival is impossible.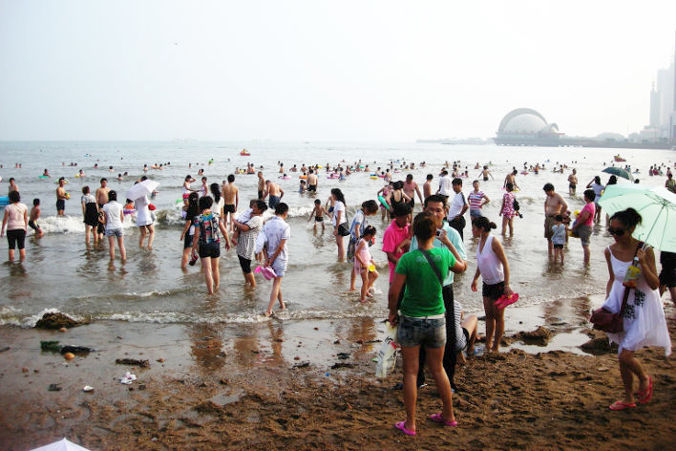 Shinan Zhan Bridge Bathing Beach
Shinan Zhan Bridge Bathing Beach (栈桥海水浴场, Zhanqia haishui yuchang)
This beach isn't a good place to have a bath: it's dirty and crowded (see photo above). However it's the perfect place to have a walk while you acquire some strange souvenirs and eat some Xinjian food (such as the kaonan, the Arab bread).
Beach number three (第三海水浴场, Di san haishui yuchang)
Located in the city's new area and quite close to the Beer Festival, this beach is clean and less crowded. Although there are better beaches in Qingdao, this one offers a good compromise as there are few people and, at the same time, is well communicated.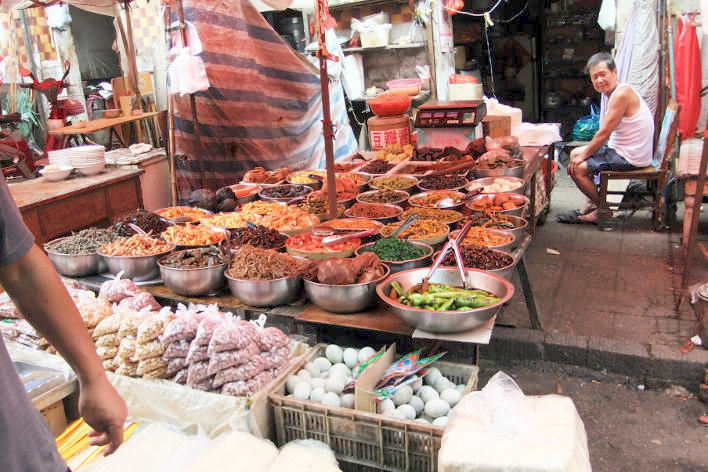 Old town street market
Old Town
Qingdao colonial architecture is beautiful and you can find plenty of peaceful parks. Getting lost within the old town is an amazing experience and a good occasion to give a rest to your liver and stomach. One of the places I like most is the street market that is close to the Qingdao Kaiyue International Hostel. This peculiar market is a clear reflex of the colonial past of the city. You'll find all kind of Chinese delicatessen mixed with German bakeries. Don't miss it!
Have you ever visited Qingdao? Please share your experience with us!
Photo Credits:

Qingdao Coast by Matthew Stinson