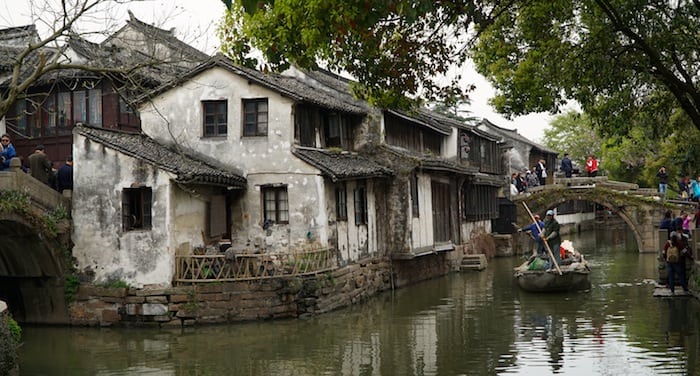 Zhouzhuang – Photo by Matteo Bosi
It would seem that Italy isn't the only country to boast about having a floating city: the Chinese enjoy pointing put that they too have a Venice, rather more than one, since neighboring cities often contend for the title. Whatever your preference may be, 100 km out of Shanghai, in Jiangsu, where there's plenty of water and lakes multiply into canals in the Yangtze delta, stand three towns that have left their mark on literature and art Suzhou (苏州), Tongli (同里) and Zhouzhuang (周庄).
The area is most famous for its silk production, which has historically been one of the greatest reasons for the blossoming of the cities. Even Marco Polo passed through these parts and he too spoke of Suzhou as a local Venice. In effect the structure of these centers, thick with canals and laced with bridges brings to mind the poetry of the Venetian city. However, forgive my ethnic bias, it doesn't quite match the architectural beauty, although Suzhou might just have the best gardens to be found in China, while its two little sisters offer a partial glimpse at traditional China.
Suzhou is a UNESCO World Heritage Site and a city that has suffered a bit due to its nearness to mighty Shanghai and the capital of Jiangsu, Nanjing; but in recent years has retaken a central role even in the local quality of life.
When to go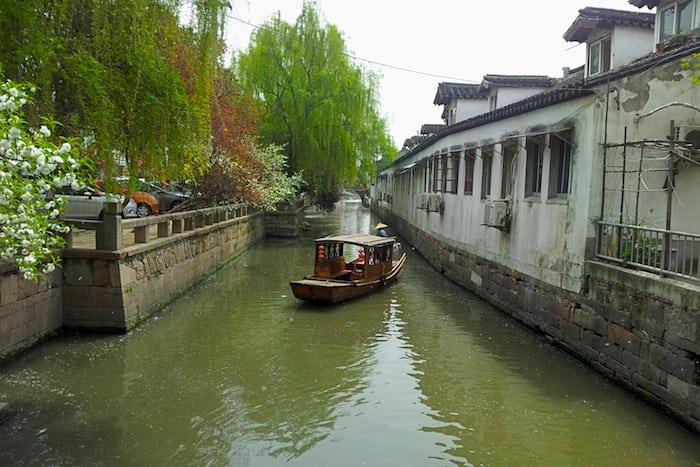 A boat in one of Suzhou's canals
As an area crossed by multiple canals, the humidity is a major travel companion. In Spring you risk the rains that are hardly appealing, especially in the gardens which become slippery and uniformly gray. Even summer can be rainy, but most of all it is hot and stuffy.
The best time to cross the Chinese wetlands is theautumn. In winter the risk isn't snow as much as the freezing cold, aggravated by its friend, humidity; especially when you consider that the majority of visitors come for the outdoor sights.
How to get there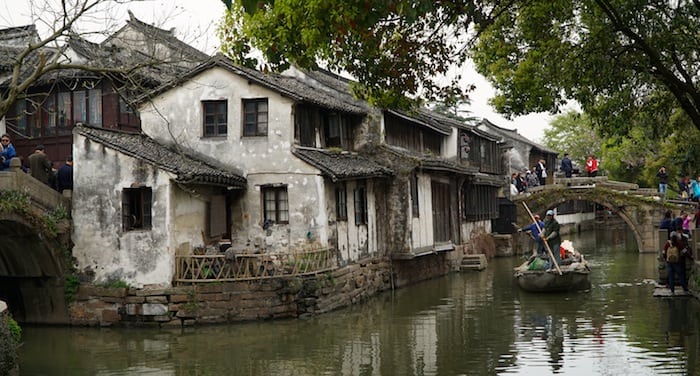 Not just boats in Zhouzhuang – Photo by Matteo Bosi
Suzhou is reachable on the high speed train line, gaotie (高铁), which connects Shanghai to Beijing, passing through Nanjing. It is absolutely the most convenient way to reach this city, which is internally furnished with a metro system and the usual efficient Chinese taxi service. The gaotie arrives in Shanghai in about half an hour; there are multiple runs, at least one every thirty minutes outside of peak times, when they are more frequent. From Nanjing, the trip takes between an hour to an hour and a half. For Beijing figure on at least five hours (depending on the train). There are about twenty fast trains for the capital each day with departures every hour. By train it is also convenient to get to Hangzhou as well which is about an hour and a half away with just as frequent train service.
Suzhou is also served by an international airport. The closest international hub is Pudong, Pudong International Airport in Shanghai. There's a direct bus connection between the airport and central Suzhou, operating every day for a trip of about three hours and a price of 84 Yuan.
As far as getting to smaller Tongli and Zhouzhuang: both are connected by long distance bus from Suzhou and Shanghai, and offer mutual service to each other by bus as well. Departures are from the North Station of Suzhou and Central Station from Shanghai. Alternately, you can arrange transport with a private driver from Suzhou, or go with a guided tour on a day trip from Shanghai.
Where to stay
Staying in Suzhou is relatively simple since the city is well stocked with lodging. Click here to read our reviews on hotels in Suzhou.
Personally, in Suzhou I twice stayed at the Hotel Soul, good also for families, which often has deals that make it just as economical as a hostel. It is located near Guanqian Jie, but off to the side enough to avoid the noise.
A nice option would be to choose Shiquan Jie (十全街) for spending the night or staying late in the small restaurants: this is a lively street that you'd come to anyway if you're interested in Suzhou's nightlife, where the city has been rebuilt as it was long ago.
For Tongli and Zhouzhuang, you'll have to decide between the accommodations inside the historic center (or inside the paid ticket area) and those outside. usually, if you decide to stay inside, you pay for the opportunity to stay inside typical structures, which at times aren't all that well kept up. Therefore, pay close attention when choosing a hotel or hostel because some are rotted from humidity and aren't worth the price asked.
On that note, my experience in Tongli wasn't the greatest: I stayed in the guest house of the Moon Shine Inn, whose main building is just fine but the guest house is the worst you could hope for. While in Zhouzhuang I strongly recommend the Pomegranate Garden Inn, in a strategic location with attentive staff and little English. You'll manage to understand one way or another!
What to see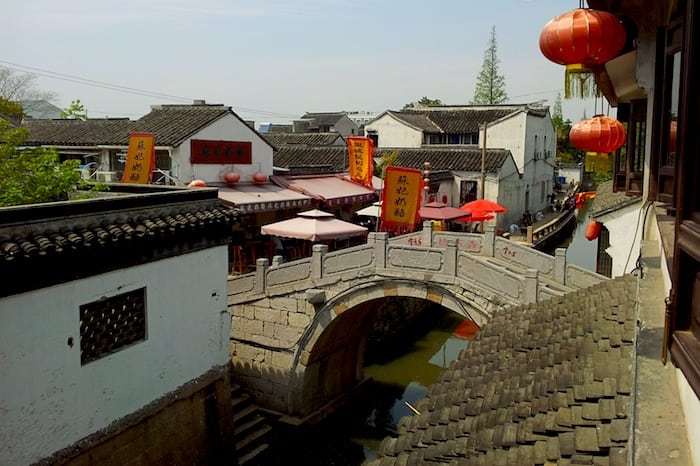 A glimpse of the canals of Suzhou
Suzhou (苏州)
Suzhou definitely requires more than a one day stay if you want to see all the sites enrolled in the World Heritage List, which are nine in total. That said, the majority of these are gardens, so if you're not a huge fan of Chinese style gardens, after the first two you'll feel like you've seen all of them.
This comment isn't meant to be simplistic, since I tried to see as much as possible, but later on, after a year… If you have to choose, I recommend that you opt for The Garden of the Humble Administrator, the busiest one, The Lion's Grove Garden and a less centralized treat,small and less visited, The Couple's Retreat Garden.
Remember though: the harmony between the atmosphere and environment of one of there other is purely subjective; what for me were breathtaking landscapes woven with bonsai and cedars and ponds full of striped koi, for you might be little parks stuffed with tourist and little charm.
This is why with Suzhou everyone has their unique memory and two days are essential to explore it calmly.
So, moving on orderly, let's start with the gardens: all open at 7.30 and the closing time depends on the season, varying from 17.00 and 17.30. The exceptions are the gardens that allow entrance at night.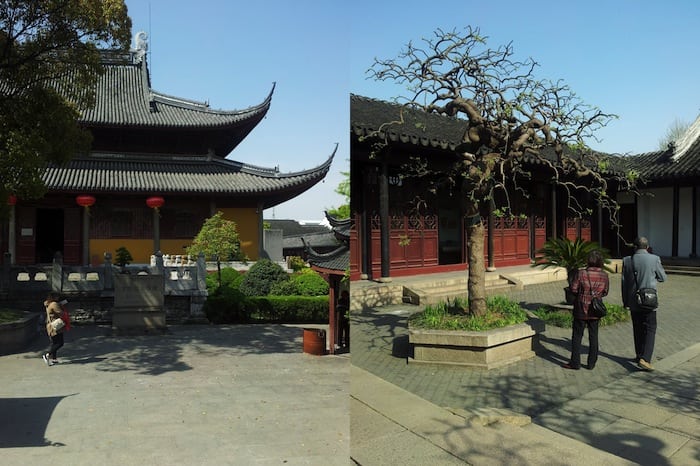 Garden of the Humble Administrator and the Temple of Confucius
Garden of the Humble Administrator (Zhuozheng Yuan, 拙政园): paid entrance with varying fees (70-90 Yuan). This is the largest garden – over 5 hectares – and the most famous and visited one as well. The best choice would be to get there as early as possible (at 7.30) to avoid the crowds and lose yourself in the maze of bridges and pavilions. It is divided into three parts, and in a slightly hidden area you can also find an evocative "bonsai garden" with a few hundred small trees in curious shapes.
The Lion's Grove Garden (Shizi Lin, 狮子林): paid entrance with varying fees (20-30 Yuan). It is close to the garden mentioned above but is much smaller; it's famous for its rocks in original formations and some extremely old trees. The Summer Palace of Emperor Qianlong in Beijing took its inspiration from this garden. If the Administrator garden seemed like a labyrinth, this will be a maze.
Master of the Nets Garden (Wangshi Yuan, 网师园): paid entrance with varying fees (20-30 Yuan). The draw of this garden is mainly that it allows for night visits with shows (100 Yuan). It was an inspiration behind the park at MoMA ini New York. It is relatively small but a stop not to miss if you have the chance or limited time because it is among the best preserved of all of Suzhou.
Great Wave Pavilion– Canglang Pavilion (Canglang Ting, 沧浪亭): paid entrance with varying fees (15-20 Yuan). It is written as a pavilion, but read it as a garden… Actually the garden surrounding this central building was a prince's residence, temple and intellectual's home. A very respectable past. Currently it isn't quite a star as the other gardens but I fondly remember the Temple of the 500 Wise Men: you can count them one by one on the walls of the building.
The Couple's Retreat Garden (Ou Yuan, 耦园): paid entrance with varying fees (15-20 Yuan). It isn't one of the most visited, so it is this tranquility that gives it an added appeal. You'll also be struck by the pavilions or access to the garden itself. But as with the other gardens in Suzhou, it's the details and little things that make it special. Personally, I have a beautiful memory of magnolias in bloom.
The Mountain Villa with Embracing Beauty, or with Beauty Embraced (Huanxiu Shanzhuang, 环秀山庄): paid entrance (15 Yuan). This garden is a little less frequented, but also listed as a World Heritage Site. In its interior the rocks are the center of attention, with references to the five sacred mountains of China (among which are, the Yellow Mountain and Huashan near Xi'An).
The Garden of Cultivation (Yipu Yuan, 艺圃园): paid entrance (10 Yuan). This garden isn't far away from the last one and is just as less frequented by organized tours though it too is protected by UNESCO. It is relatively simple and boasts a tea house inside where it is particularly pleasant and relaxing to sip a cup in this essential environment.
The Lingering Garden (Liu Yuan, 留园): paid entrance with varying fees (45-55 Yuan). This garden is a little more set apart from the city center: the metro is not the best way to get here; tourist bus line 1 is more convenient (游1) which you can catch at the train station, north plaza, stop 11. In this garden, as the name suggests, you can linger for a cup of tea and let yourself be seduced by the play of space created by the windows. Nearby you'll also find the Temple of the West Garden (Xiyuan Si, 西园寺); which also has an entrance fee, 25 Yuan. This is the most important monastery in Suzhou.
The Harmony Garden (Yi Yuan, 怡园): paid entrance (15 Yuan). Another small garden, not too memorable right in the center. There's a few unusual plants.
In Suzhou there's more than just gardens, even if these see the majority of visitors. Some of the streets trafficked by tourists and vendors can also alternate with green thumb stops together with visits to museums and temples.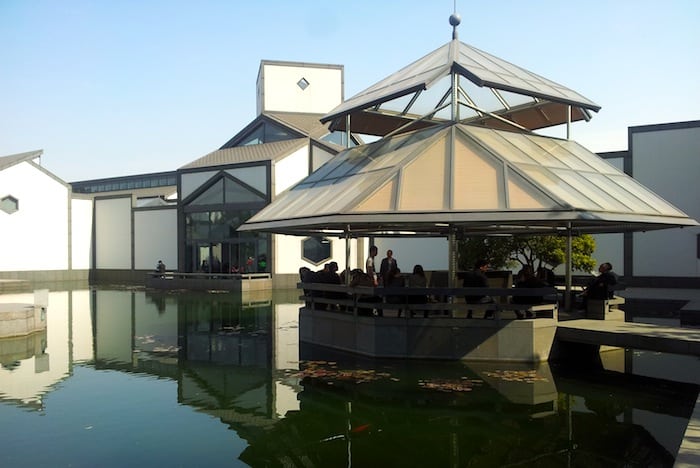 Suzhou Museum
Suzhou Museum (Suzhou Bowuguan, 苏州博物馆): free entry, though under assault from tourists (about 3000 visitors a day…!). It is one of the more interesting modern architectural creations in the region, where bamboo trees are woven with ponds full of koi, to buildings erected with a style that's half classic Chinese and deliberately modern: not surprisingly, Suzhou Museum is the work of I.M. Pei, designer of the Louvre Pyramid among other things. It's worth a visit also for the precious pieces inside, but this requires an additional dose of patience. It's not unusual to come across bad behavior and disregard, children left wild on their own and the deafening noise of voices. The museum allows entrance until 16.00, but the advice is obviously to arrive when it opens at 9.00. On Mondays it is closed.
Silk Museum (Sichou Bowuguan, 丝绸博物馆): like the other one, entrance is free and it is closed on Mondays. Opening hours are the same but the last entrance is at 16.30. It's a great spot to learn the process of creating silk that goes back 4000 years, and see products from that time or looms in action. It is even well-furnished with explanations in English which shouldn't be taken for granted in Chinese museums. When I visited I was a little dusty and sore but interested all the same.
Kunqu Opera Museum (Kunqu Bowuguan, 昆曲博物馆): free entry, but you pay to watch Sunday performances of the Kunqu Opera. This type of opera goes back several centuries and is typical of the Jiangsu region, so it isn't exclusive to Suzhou. Performances are held on the perfectly preserved stage Sundays at 14.00 and 15.30, for 30 Yuan. Just a little bit further at the Ping Tan Theater (评弹博物馆), every afternoon, less formally over a cup of tea there are performances of ping tan storytelling. Ping Tan Theater is open from 9.00 to 12.00 and 15.30 to 17.00, so performances take place during the midday break.
Pingjiang Lu and Shangtang Jie (平江路, 山塘街): are two historic roads that go along the canals of Suzhou where you can stop for a refreshing break while you appreciate the most historic atmosphere of the water city. The canals are traveled by boats that bring the tourists around; the boats are different but don't think you'll able to spend less than 100 Yuan for a tour. Shangtang Jie is away from the center, part of the feet of Tiger Hill.
Tiger Hill (Huqiu Shan ,虎丘山): paid entrance, variable prices (60-80 Yuan). This is one of the least necessary stops in Suzhou if you only have a little time since it requires a few hours to get there and tour around. It's an artificial hill to the northeast of the city that gathers swarms of Chinese tourists because it's the site of tombs and various legends. It's home to the Yunyansi Pagoda.
North Temple and Pagoda (Beisi Ta, 北寺塔): paid entrance (25 Yuan). In proximity to the Silk Museum, this is often the first thing you'll notice coming from the station. From the top of the pagoda, if there's no haze, there's a great view of the city.
Pan Gate (Pan Men, 盘门): paid entry (40 Yuan). Diametrically across from the high speed train station, to the south, you'll find the last surviving original city gate. From here you can also access a portion of the original wall. A little further on, Ruiguang Pagoda (瑞光塔).
Mystery Temple (Xuan Miao Guan, 玄妙观): paid entry (10 Yuan, with performance 35 Yuan). This is a Tao temple among the most important of its kind and still intend for worship. It has clearly adapated to the consumer evolution and offers shows by street artists. You get there via Guanqian Jie (观前街) which at night is a nice pedestrian-only section where tourists gather to have dinner and buy souvenirs.
Temple of Confucius (Wen Miao, 文庙): free entry. The temple is still in use and also hosts a museum where lots of stele of the time are preserved, many of them suggestive.
A great alternative to walking Suzhou or a boat tour is touring by bicycle. You can ask for one at your hotel, some of which provide them directly.
Tongli (同里)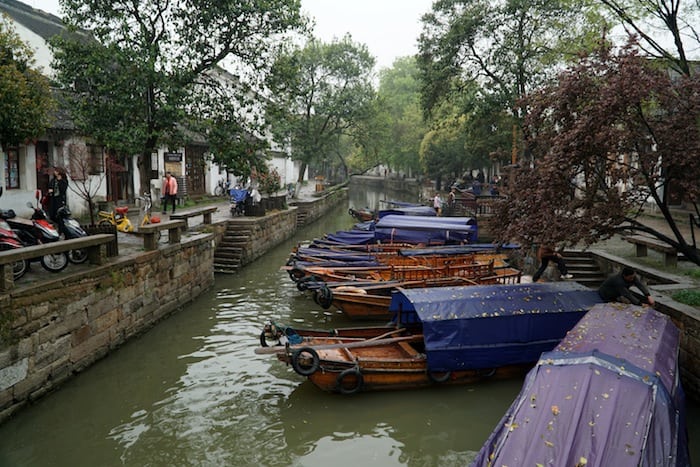 Tongli – Photo by Matteo Bosi
Often tours to Suzhou are combined with visits to the water towns, Tongli and Zhouzhuang being the most famous. You can organize a day with Suzhou as a base, or from Shanghai. Personally I wouldn't rule out the possibility of staying the night in these villages which have a lot of interesting things to share.
While in Suzhou you'll feel like you're in a city, and it's easy to come across new areas, in Tongli too the expansion of recent construction that grips the historic center seems to have maintained a suspended atmosphere, with low construction housing little shops.
Entrance to the historic part of the city has a fee of 100 Yuan, up until 17.30. There's a night entrance for the Tuisi Garden for 50 Yuan (from 18.30 to 21.00); besides this exception, at night the town is freely accessible without paying an entrance fee.
The ticket allows access to a series of sites; you might think you avoided paying it if you spend the night inside Tongli, but then, of course, you won't be able to visit the attractions on the inside. A less expensive option is to enjoy the place simply by wandering around the little streets crossed by canals; you can taste some tea in one of the many halls and look at the main buildings from outside, or freely enjoy an extract of Kunqu Opera at the stage in the central square.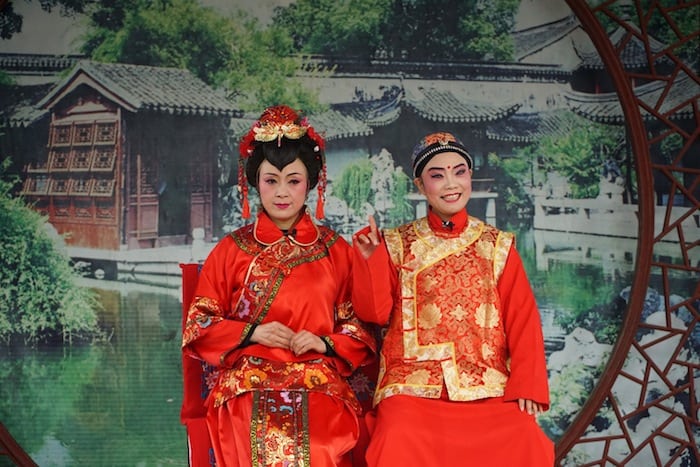 Exhibition of Kunqu Opera in the central square of Tongli – Photo by Matteo Bosi
The most important attractions that require entrance fees are the following; the ticket grants entry to other sites but they can be skipped:
Tuisi Garden (Tuisi Yuan, 退思园): it doesn't boast the awesomeness of the gardens of Suzhou, but is still a treat of Tongli and a pleasant walk especially in Spring or autumn for the colors displayed in various parts of the garden.
Perla Pagoda (Zhenzhu Ta 珍珠塔): this is actually a series of pavilions furnished with pieces of that era.
Jiayin Hall and Chongben Hall (嘉荫堂, 崇本堂): another two structures from that era splendidly refinished in wood that are worth it for the details that are still preserved.
Luoxing Island (Luoxing Zhou, 罗星洲): this little island is located to the east and outside the center; to reach it you can choose to walk or take advantage of the electric bikes until the dock. From here you take a boat to the island for a short and tranquil visit.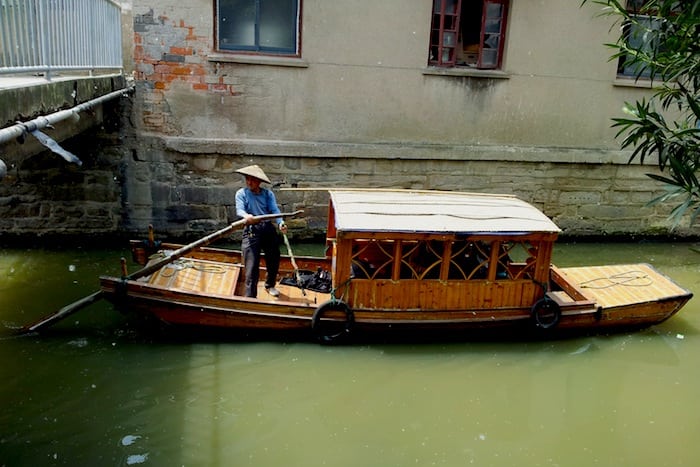 A boat driver
Dear tourist that has already heard of Tongli before: perhaps you heard of it because this tiny place in Jiangsu boasted one of the few sites in China audaciously centered on the theme of sex. I'm talking about the Sex in Ancient China Museum, a visionary collection of a passionate local, Liu Dalin, who preserved 1500 pieces boycotted by do-gooders throughout history. I won't hide behind the eye of a needle, admitting that on my visit to Tongli the main attraction would be comparing this contradictory past of Chinese sexuality, with subtitles in English.
What a disappointment when I arrived in Tongli only to discover that the museum was moved to Shanghai! The free-spirited city will probably attract more visitors, but from my point of view Tongli has forever lost its main attraction, more than the boats in canals and tea houses.
Zhouzhuang (周庄)
There are those who say Zhouzhuang is better than Tongli, some the opposite. Personally I found this village to be the best of the Venices of the East: a tangle of canals and bridges, around which are refined shops and tiny rustic restaurants. From the walks you will without a doubt remember the smell of fried tofu that they truly do sell on every corner, to the point that even the old man from his own house, opening his door and placing his seat, becomes an impromptu tofu fryer. You will also remember the silk quilts which are everywhere in this area, not just Zhouzhuang, which you can get for a good price by haggling.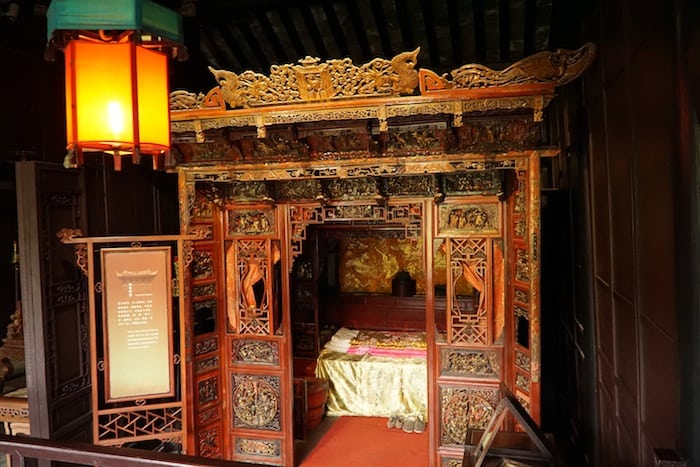 The main bedroon of the Sheng Residence – Photo by Matteo Bosi
Recently, on my own, I found two of the Zhouzhuang's attractions, the Sheng and Zhang Residences going back to the Ming and Qing Dynasties, among the best kept of all the the towns I've visited.
To get into the historic center of Zhouzhuang you'll have to pay the inevitable fee, 100 Yuan; if you come in the evening, even late, you'll still have to pay but you'll get a "photographic" ticket that will allow you to enter even the next day.
Here are some attractions (included in the ticket) I recommend:
Bridges: they are diverse and cut through the canals, connecting frequently; among the most evocative are the Double Bridge (Shuang Qiao, 双桥) and the Fu'An Bridge (福安桥). Don't forget to slow down at the top to appreciate the view of the houses crowded around the canals, at times crossed by the boats filled with tourists (even in Zhouzhuang, tour boats are still everywhere).
Zhang Residence(Zhang Ting, 张厅): this is the home of the Zhang family, built in the XV° century and composed of 70 rooms, one more beautiful than the other. The family was evidently well-off and the house still has the dock where you could enter directly from the canal.
Sheng Residence(Shen Ting, 沈厅): even this house, of more recent construction, is well preserved. The story of the owner is depicted on the walls: even though I didn't stay here long, I doubt the story of how Mister Shen got rich were depicted on the walls, with his business of rice and salt and secretly, opium. His fortune allowed him to leave us this enormous villa, whose upper level has an entrance fee of 10 Yuan: this visit is strongly recommended because at this price you avoid all the noisy tourist groups that crowd the lower level. Further, you can enter the first floor with a circular layout that's a little labyrinthine where you can peek at the night areas and the rooms dedicated to the smoking of opium.
Ye Chucang Residence (Ye Chucang Guju, 叶楚伧故居): not as great as the other ones, but equally worth a visit.
Chengxu Temple (Chengxu Daoyuan, 澄虚道院): the Taoist temple is no big deal, but if you wind up inside be careful of the worshipers across from the entrance that will involve you in a questionable Dao prayer for which, you will obviously have to pay! If you're not into the folklore, don't agree to kneel down nor take the incense at the entrance.
Nanhu Garden (Nanhu Huayuan, 南湖花园): a pleasant stroll through weeping willows and cedars that face Lake Nanhu. At the back of the garden there's Quanfu Temple and the exit is near the Ye Chucang Residence.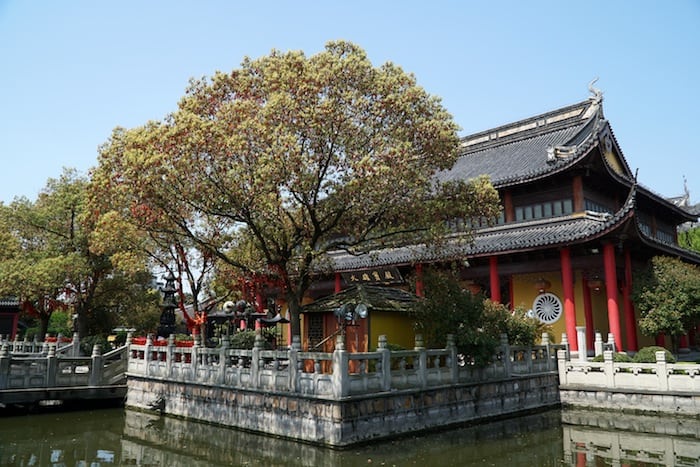 Nanhu Garden- Photo by Matteo Bosi
Even in Zhouzhuang it's possible to see performances of Kunqu Opera. The theater is slightly outside the center. Here you can also see performance of the Wuxi Opera, a typical variation of the Wuxi area, in fact. Morever, recently popular are the nightly shows on the water: you can find information about it at the gates in the new part of the city, near the boulevard that leads to the historic center.
Other tips (purchases, typical dishes and impartial advice)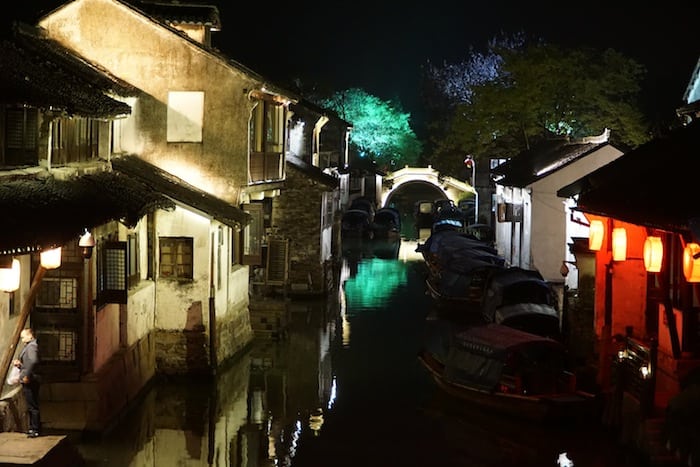 Zhouzhuang by night – Photo by Matteo Bosi
The area of Suzhou and its surroundings are historically famous for their silk. So here it is: what's the best lace to buy scarves, suits, even bedroom sets and fluffy quilts? It's hard to guarantee that it isn't the handiwork of industrialization or the pure silk is easy to find at reasonable prices. Certainly the choice varies in all three areas, especially for stores that offer "handmade" quilts.
For quilts: prices vary according to weight, 1 kg of stuffing for the summer version, 1 kg and a half for the Spring and up to 2 kg and a half for the winter ones, rigorously measured in jin 斤 which equals half a kilo. Personally, I have a foolproof strategy for distinguishing the real silk from the fake; besides touching it by hand I generally look at the condition of the store. A good price is about 100 Yuan per jin, but haggling is legal and playing the part of the disinterested foreigner to get them to follow you is permitted!
You will also run across many stores that deal in mother of pearl. Unfortunately on this count I can't help you much: all try to display the crushed shells with changing colors inside, some even through processing. The finishes are generally the part that makes the difference, so keep an eye out for glue smudges and material of low quality.
Regarding the traditional cuisine of the region, a fresh water fish Bai Yu (白鱼) is found in all restaurants and is less bony than the average fish from a lake or stream; so like the river shrimp and different types of vegetables flipped in a frying pan, they're on every corner. There's also a very famous meat dish, the knee (or elbow…?) of braised pork in Hong Shao style (红烧肉), for fans. Let's not forget the omnipresent stinky tofu (臭豆腐), which as I mentioned above is fried on every corner. There are also many other delicacies and snacks that on a walk will bring to every street corner.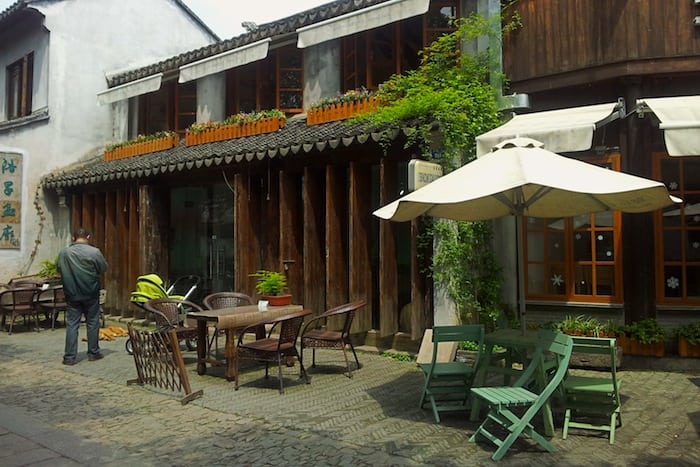 A café in Pingjiang Lu
If you're looking for a little nightlife, Suzhou is the best place for a variety of clubs and restaurants. The aforementioned Shiquan Jie is an option; the late night clubs are found in Ligongdi (李公堤) or 1912, in Chinese style. Another center for coffee or beer with friends is located near the Suzhou Science and Cultural Arts Center (苏州文化艺术中心) and is called Moon Harbour. You'll have your choice of many clubs.
Regarding Tongli and Zhouzhuang, at night these offer disco bars in the center where you can have a beer and listen to live music in an unplugged style. At times the clubs are so close to each other that the sounds mix into a large walking disco. It's rare that they'll stay open into the early hours and the area already tends to empty out toward 22.
As usual, a mother's advice for the trip: if you go in Spring, you'll have to be ready for the rain, which in the little towns can turn into a quagmire. So in addition to an umbrella, bring along good waterproof clothes and shoes that you wouldn't mind ending up in disgusting condition at the end of the trip. The cheaper hotels then can easily become damp at night – keep it in mind. Pay attention to the prices too. In very touristy areas like Tongli and Zhouzhuang, it's not unusual to pay over 200 for dinner for two.
Off the beaten path… or perhaps not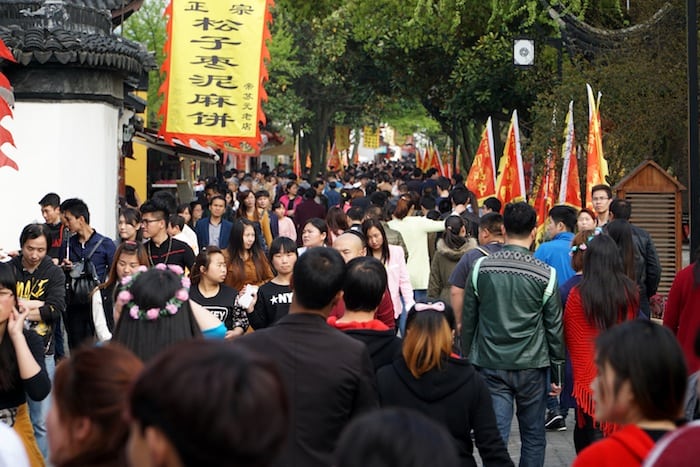 Mudu and the crowd – Photo by Matteo Bosi
If you don't have enough or the goals listed above tired you out, you can take a chance on exploring two other towns in the region that I personally sought out in the attempt to find less crowded places. In reality, even these are invaded by local tourism, so my schedule of peace and tranquillity fades together with the vapors of fried tofu…
The first is Luzhi (甪直): the village is partially rebuilt, or rather work is still ongoing. But this would not worry me too much because the old part is the one that surrounds the canals, with narrow little shops on the corridors that run along it. You pay for a cumulative ticket of 78 Yuan to get into the center, where I recommend only the Shen Residence (沈宅), the Bao Sheng Temple (保圣寺) and in part the Wansheng Rice Store (万盛米行) where it's possible to see some tools from the past for working with rice.
The other town is closer to Suzhou and is called Mudu (木读); and is known also for walks along the surrounding hills. As with Luzhi, the cumulative ticket costs 78 Yuan, but it is possible to pay for the sites individually. This town has been even more tortured than Luzhi with the advent of mass tourism, so the sights to see are truly few, among which are the Bangyan Residence (Bangyan Fudi, 榜眼府第) and the Hongyin Mountain Residence (虹饮山房). Only if you manage to walk between the crowds.
If you think I might have left something out or wish to know more about something, comment here below. I swear that I'll respond personally!