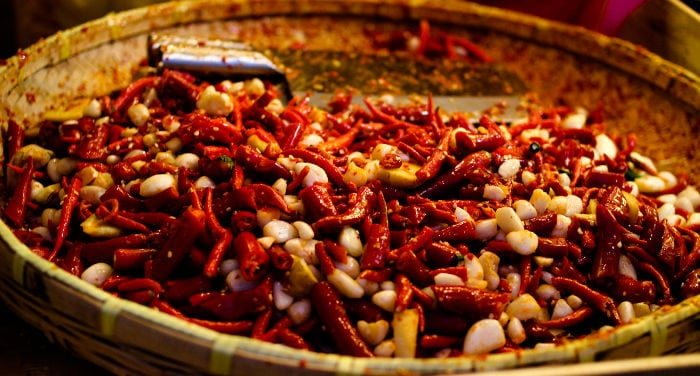 If you're about to travel or move to Shanghai and are dying to try some typical cuisine but don't know where to start, then this article is for you.
But before describing my favorite dishes, I would like to make a premise: China is larger than Europe and possesses a comparable variety of cuisines – actually, in my opinion, it's even greater than the Old Continent.
The difference is that due to the one-way immigration that has seen an enormous quantity of workers from nearly every Chinese province stream to the great coastal metropolises, in Shanghai it's possible to try any typical dish from all parts of China – prepared according to original recipes and ingredients – without leaving the historic center, or the Puxi area that extends from the Huangpu River to the east, as far as Zhongshan Park to the west.
Since it would be a sin to come to China and then limit yourself to only dishes from Shanghai, whose cuisine is known as Benbang Cai (that literally means "local cuisine"), I'll tell you about ten dishes – or styles of cooking – that you can find in Shanghai.
I lived for three years between Shanghai and the nearby province of Zhejiang. I will provide you also with the address of a good restaurant – or at least a good restaurant according to me – where you can try it.
Getting around the historic center of Shanghai by taxi or subway isn't at all complicated. See the city subway map here while here you'll find my advice for getting around China by taxi.
If you go by taxi it is important to clearly communicate the address to the driver. And by "clearly" I mean in Chinese characters. This is why for each restaurant I will include the address both in Latin letters and Chinese characters.
Finally, if you're visiting the city as a tourist, here you find our recommendations for booking an hotel in Shanghai.
Pork cutlets in sweet and sour sauce
Shanghai and neighboring provinces (Jiangsu and Zhejiang) are famous for their sweet or sweet and sour dishes. The tangzu xiaopai (糖醋小排), sweet and sour cutlets, are a typical example.
Where can you order them? One example is Di Shui Dong, a local restaurant chain. Here are two addresses
Where to find Di Shui Dong: Maoming Nan Lu 56, second floor, near Changle Lu (茂名南路56号, 近长乐路2楼, or Dongping Lu 5, near Hengshan Lu (东平路5号, 近衡山路).
p.s. If you give your Chinese taxi driver a street number the only result will be a look of disdain. They are not used to going by street numbers: this is why you have to always specify the corner between two streets so that they know where to stop.
p.p.s "Lu" (路) means "way", or "street", "hao" (号) means "number" and "jin" (近) "near".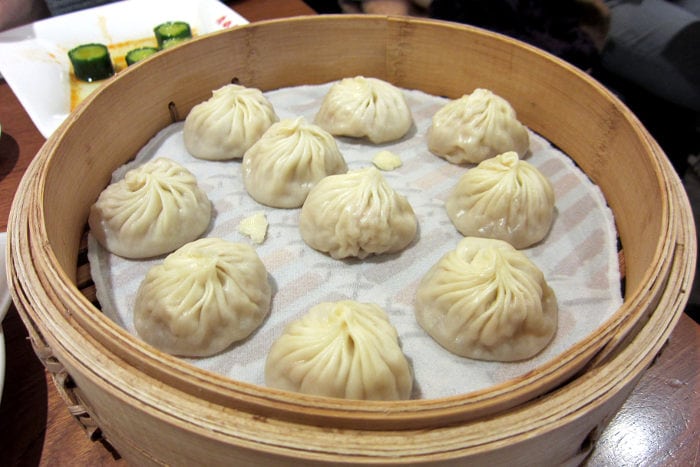 XiaoLongBao for lunch by Julio Martínez
Steamed Shanghai ravioli
The xiaolongbao (小笼包), or ravioli stuffed with pork meat or crab and steamed soup, are another typical dish of Shanghai.
I'd like to recommend two places to eat them. The first is Loushi Tangbao Guan (陋室汤包馆), that I believe I'm able to translate as "The Humble Room Where You Eat Ravioli in Soup". The name says it all: You're talking about a hole-in-the-wall two steps from my first apartment in Shanghai (well, to tell the truth, it wasn't actually mine, but a girlfriend's, but that's another story). The address is Nanchang Lu 601, at the corner of Xiangyang Lu (南昌路601号
,近襄阳路).
The other place I'd recommend to try xiaolongbao is, in contrast, quite luxurious: I'm talking about Din Tai Fung; or a Taiwanese chain of restaurants that, over time, has become the place where you "need" to go for xiaolongbao. Note that the prices rise: the same portion you could get for less than one USD in the Humble Room, will cost you 7-8 USD here.
If you're interested in this type of experience, head off to Xintiandi, one of the chicest areas of Shanghai (Xintiandi, South Block Plaza, Xingye Lu 123, second floor, corner of Madang Lu, 新天地南里广场2楼, 兴业路123弄, 近马当路) or at the Shanghai Center (Nanjing Xi Lu 1376, first floor, corner of Xikang Lu, 南京西路1376号 上海商城1楼, 近西康路).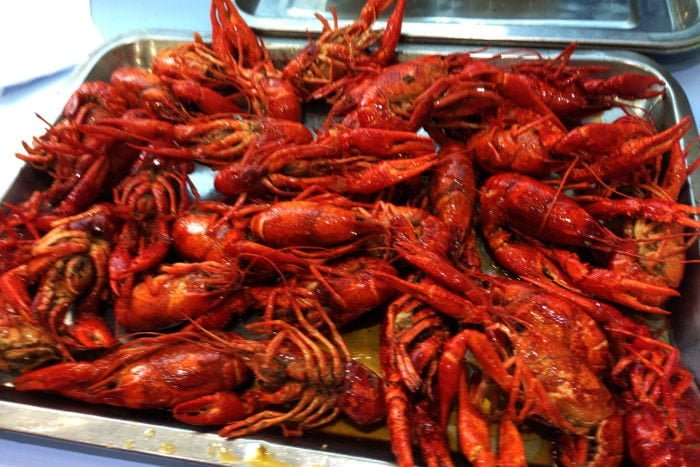 Dinner on Shouning Lu by realMaxQ
Crustaceans and seafood
While I'm no great expert on crustaceans and the like, if you talk about cuisine in Shanghai, not mentioning it would be a crime. Also in this case I'd recommend both the so-called fanguanr (饭馆儿), or little family-run eateries, and a more "traditional" restaurant.
As far as the fanguanr, I suggest taking a taxi to Shouning Lu, near Xizang Lu (寿宁路,近西藏路). I won't specify a street number because this pedestrian alley has nothing but little restaurants that specialize in crustaceans. Finding one on your own will not be difficult.
The most popular dish would probably be the xiaolongxia (小龙虾, crawfish), accompanied by a Tsingdao beer(青岛).
How do I know it's the most popular dish? Because in Shouning Lu they have no trouble tossing the empty shells directly onto the sidewalks; and the piles of xiaolongxia are always the highest (even more than a meter, towards four in the morning). Yes, because the other characteristic of Shouning Lu is that the restaurants are open until the wee hours. Tasting a plate of oysters right out of the disco will not be a problem! The only advice that I can give you is to watch out for the "trained" monkeys of the beggars because if you get too close, they'll have no scruples about jumping onto your shoulders.
If you don't feel ready to maneuver between monkeys and scallop shells, then you can always opt for a restaurant; such as the Xiao Hei Hao Qing, a Cantonese restaurant located on Dingxi Lu 794, near to Yan'an Lu (定西路794号, 近延安路).
We'll end here for today! If you found this culinary review interesting then don't miss the second part – online in the next few days – where we'll speak about central-Asian dishes from
Xinjiang, malatang from Chongqing, the cheese from Yunnan, the tagliatelle of Gansu, the spicy fish of Sichuan, braised duck from Beijing and cheese meatballs from Nepal.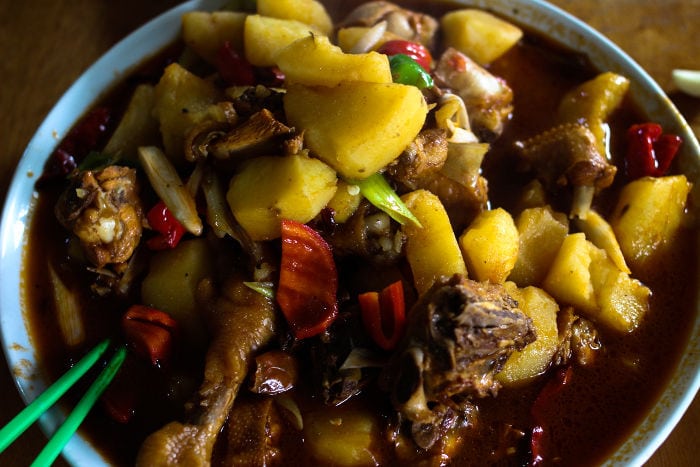 Dapanji from Xinjiang
When talking about Chinese food, the cuisine from Xinjiang is without a doubt my favorite. Actually, calling it "Chinese" isn't exactly accurate, as more than half the inhabitants of the Autonomous Province of Xinjiang are part of an ethnic minority that, both in culture and physical traits, are much closer to the central Asian population than the Han Chinese (about 92% of Chinese are of the Han ethnicity, the remaining 8% is divided among 55 ethnic minorities, each with their own culture and typical dishes).
Why the long introduction? To explain the reasons why the dishes of Xinjiang are very similar to those you can find in Turkey or Morocco rather than those of the rest of China. I've already published a long article about the cuisine of Xinjiang, you'll find it here.
One of the dishes I love most is dapanji (大盘鸡), which literally means "giant plate of chicken": as you can see from the photo above, it's a tray full of spicy chicken, potatoes, pepperoni, carrots, and onions. You can also ask for a plate of tagliatelle (lamian, 拉面) to complete the dish (be aware, they'll pour out the tagliatelle directly onto the tray of chicken – don't say I didn't warn you).
Having been born in a very poor province, the inhabitants of Xinjiang have flowed en masse to the coastal cities of China. Shanghai is no exception. You can recognize the Xinjiang restaurants by the fact that the waiters are dressed similar to Arabs, they speak a totally different language than the Chinese and often, they are cooking lamb kebabs at the entrance to the restaurant.
My favorite xinjianese restaurant is without a doubt the one at Yan'an Zhong Lu 915, close to Tongren Lu (延安中路915号, 近同仁路). If you go say hello to the owner for me: that's the one that if they're not shouting something at the waiters or patrons, will be sitting at the counter watching soap operas in the Uigur language.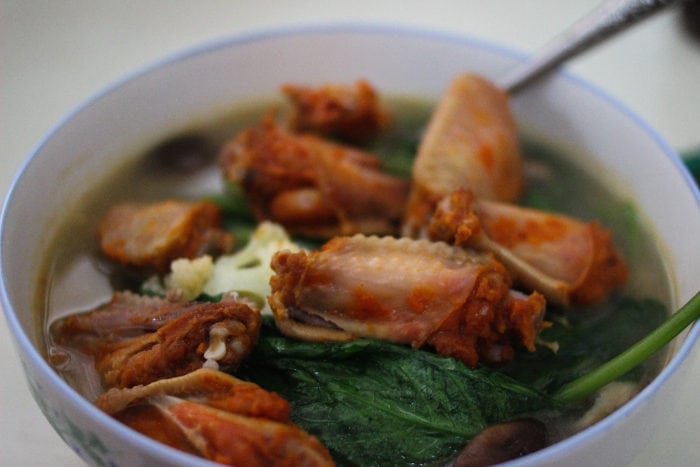 Malatang from Chongqing
Malatang (麻辣烫) is a spicy soup originally from Sichuan, a province famous for pandas, beautiful women… and pepper. To try malatang I'd recommend you stop in at one of the many fanguanr that you can find all over the place. You can recognize them because they're all tiny, have a refrigerator where you can choose your ingredients (meat, vegetables, mushrooms, etcetera) that you have to arrange in a plastic bucket then hand over to the cook.
The cook will ask you to choose the spices you'd like and will pour it all into an enormous pot before handing you a bowl of soup containing what you've chosen.
Like I already said; you'll find them everywhere and the quality is more or less the same. If you'd like to try malatang there's no need to call a taxi: lose yourself in the alleys of the old city and stop when you find a place with the characteristics I've described.
A warning for the less fearless: this is a dish for those with strong stomachs.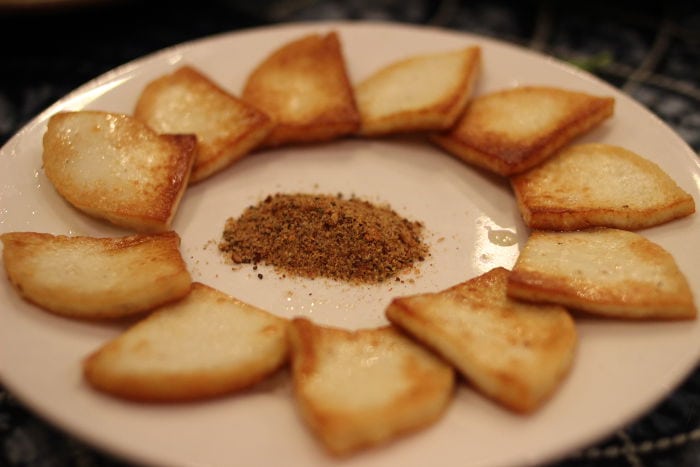 Cheese from Yunnan
Yunnan, situated in the extreme southwest of China, is another of my favorite provinces. As with Xinjiang, there's an enormous choice of typical dishes and it's hard for me to choose one in particular. In Shanghai my favorite Yunnanese restaurant is Lotus Eatery, located on Dingxi Lu 1112, at the intersection with Wuyi Lu (定西路1112号, 近武夷路).
I recommend the spicy shrimp, the purèe, the zucchini and the cheese. Why the cheese? Because Yunnan is one of the few Chinese provinces where cheese is produced; or at least resembles what we would call cheese. The interesting thing is that it has a very different flavor than what you're used to in Italy.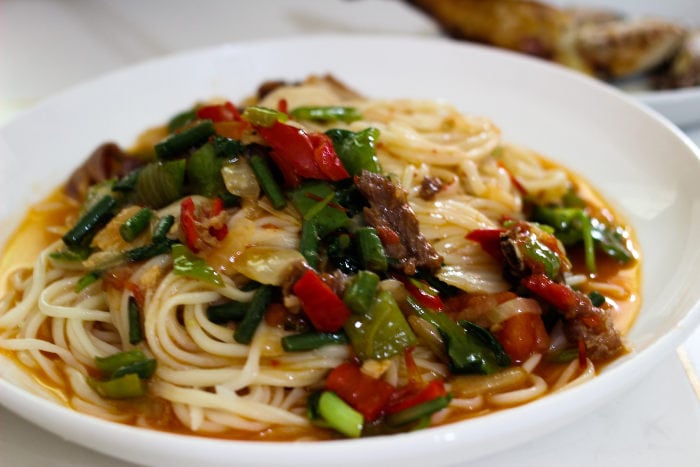 The tagliatelle from Gansu
The Lanzhou lamian (兰州拉面) are the tagliatelle of Lanzhou, capital of the province of Gansu, a desert land located between Xinjiang and Inner Mongolia. What's so special about these tagliatelle?
First of all, they are prepared right then and there, often right in front of you. Next is that the seasoning is very different than what we're used to (I love the onion, potato and beef).
Lastly, because they're fantastic.
As with malatang, there's no point in me telling you where to eat lamian since in Shanghai there's a "Lanzhou lamian" (now a brand brand) every three or four intersections. Just look for a sign with a green and blue background that has the characters "兰州拉面". To order, go up to the inevitable board hung on the wall and point to the picture of the dish you'd like to try.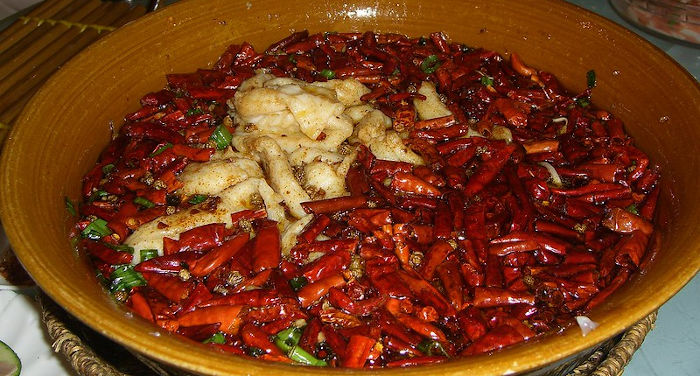 水煮鱼 Fish cooked in water – Spicy Fish Hotpot – Tooraking by Alpha
Spicy fish from Sichuan
Being used to saltwater fish – I'm Sardinian, – freshwater fish never impressed me much.
Actually, to me they have no flavor at all. It's perhaps because of this that the only way I'm able to enjoy them is when cooked Sichuan-style, or boiled in a soup that contains more pepper than water. The dish is called shuizhuyu (水煮鱼), fish boiled in water, exactly.
Where can you find it in Shanghai? In any decent Sichuan restaurant! One of the most famous is the Spicy Joint, on the third floor of the K. Wah Center, Huaihai Zhong Lu 1028, on the corner of Donghu Lu (淮海中路1028号 嘉华中心嘉华坊3楼, 近东湖路).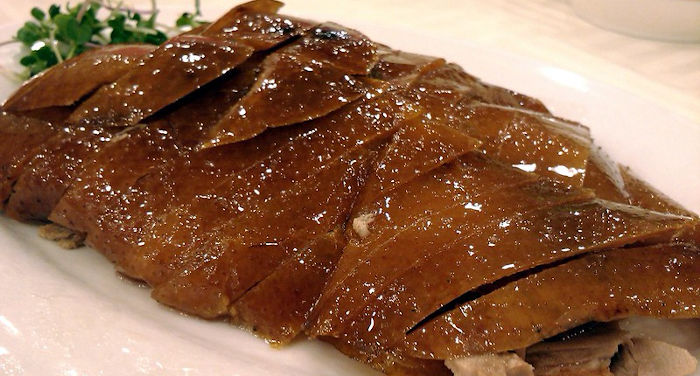 Beijing Duck @ Guo Lin by omefrans
Beijing duck
Peking duck (Beijing kaoya, 北京烤鸭) is the typical dish of Beijing and, among other things, one of the most famous dishes in all of China. Even if in the original version only the skin of the duck, cut thinly, was served, nowadays it's also served with the meat.
The duck is parboiled, covered in a layer of maltose syrup, left to dry for about 24 hours and then baked in an oven. The chef will cut it in pieces right in front of you and will serve it along with flat bread,vegetables and sauces.
I admit I've only eaten kaoya in Shanghai only once. So I'm not an expert. The restaurant was Da Dong, located on the fifth floor of the Reel Mall, in Nanjing Xi Lu 1601, near Changde Lu (南京西路1601号越洋广场5楼, 近常德路). The duck wasn't bad so I'm find recommending it.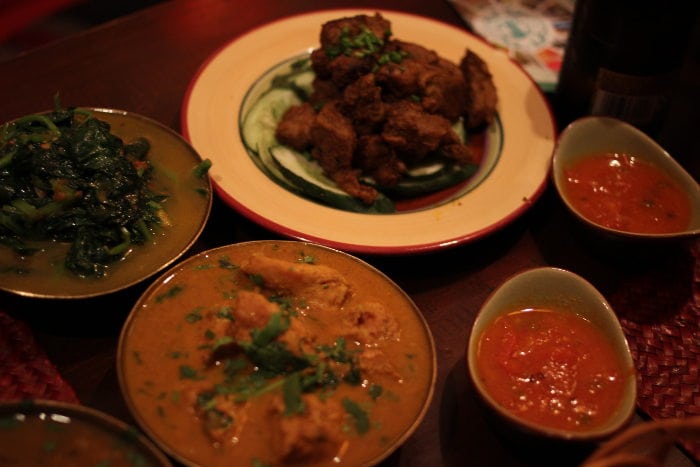 Cheese balls from Nepal
I know that Nepal is not a Chinese province, rather a sovereign nation. But, unless you have the opportunity to visit Nepal before, it seems a sin to miss the chance to "test out" Nepalese cuisine. Where? I recommend Nepali Kitchen, which is on Julu Lu 819, at the corner of Fumin Lu (巨鹿路819号,近富民路).
This is a restaurant run by Napalese immigrants who, to underscore their geographical origins, every once in a while will pretend not to understand Mandarin (you can order directly in English). Among my favorite dishes are the cheese balls and chicken curry.
Photo Credits: Photos by Sapore di Cina