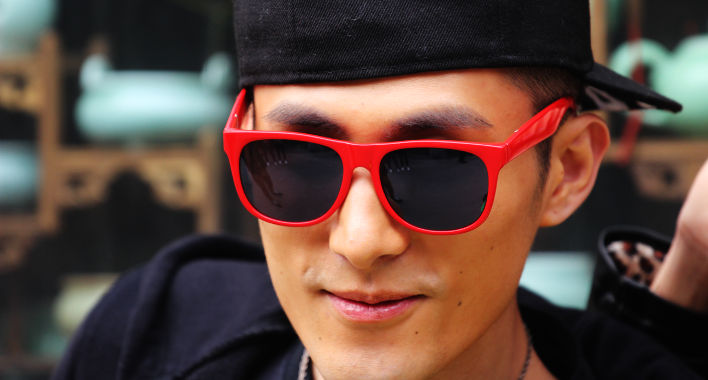 X-ray of a blind date
Everything starts when, in a rainy day, I'm talking with Luna. I can see she's not at ease while she asks me to organize one of my "famous" pizza & mojito parties and invite my coworkers.
The reason: One of her friends is helping another friend to find a fiancé.
I know, it may seem fucked up. However in the Middle Kingdom things work this way.
If you make the "mistake" of not finding a fiancé before your 25th birthday your friends – and your parents – will feel obliged to "help" you.
It's at this point that girls play the desperation card, that is ask for help to the white devil. This is how I come into the equation.
Looking for the golden bachelor
My flat isn't exactly as big as the Palace of Versailles; and my coworkers are almost twenty. Hence my question to Luna is:
"Exactly, who should I invite?"
Essential requirements:
Traditional: Bueno, this isn't going to be a problem, in my lab emancipation shines out for its absence.
Ph.D. student or Ph.D.: I work at the university so almost all my coworkers respect this essential, although weird, requirement.
Bachelor: upsss, the list is reduced to three candidates. Even if the average age is 26, almost everybody in my lab is married.
Taller than 1.75m: I see, we got a winner!
The more I think about the winner, the more I reckon he's the Asian version of Steve Urkel though.
I can't avoid to comment:
"I don't think your friend will like him."
"No worries, she's desperate!" answers Luna.
The desperate girl
"¿Why is she so desperate?" I ask, expecting for a coherent answer. The follow up is quite long, but we can summarize it on the following points:
She comes from a poor family: Being poor in China is considered as an handicap, especially when it comes down to get a "serious" boyfriend.
She's 26: After they turn 27, Chinese girls have much more difficult to find a fiancé because if you don't get married before the age of 30 you are considered old. If you take into account that at school it's forbidden to have a boyfriend, then the time plays against you. Tic Tac Tic Tac.
But let's talk about the main issue:
The girl is a Ph.D. student: My Chinese friends told me that in China there are three sexes: men, women, and women with a Ph.D. degree. Generally speaking, a Chinese man can't accept a women with an level of education superior than his; they then justify themselves saying that a girl with a Ph.D. degree has no femininity and, if this wasn't enough, is often arrogant. Therefore for this poor girl the only option is to find a guy that is at least a doctor. OK, now I understand better the second essential requirement.
But I can't avoid keep thinking that Chinese people use the same criteria of everybody else to find a partner. So, I guess, this girl must look like Amy Farrah Fowler, the nerd of The Big Bang Theory.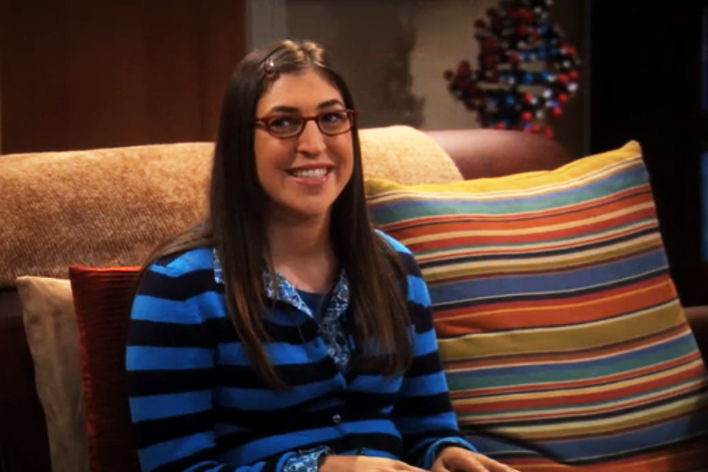 Amy Farrah Fowler from The Big Bang Theory
The party
The party, that is the blind date, is confirmed. Here Luna's instructions: I'll have to invite my three bachelor friends with the excuse of trying out my wonderful pizza. Clearly I'll have to hide the real reason of the party. At the same time, Luna will invite her friend, Amy, and other two friends, whereof one is married and the other engaged.
Amy Farrah Fowler
While I prepare my mozzarella Cupid's arrows someone knocks at the door. I open it and I recognize Luna's friend. She's with a beer barrel.
Now I understand…
But I'm wrong, the barrel wears a wedding ring, so she must be one of the married girls.
Meanwhile, the last two girls arrive. The first is a matchstick with an head as big as a Xinjiang watermelon. However I can't avoid to screen the last girl, a typical Asian goddess.
Since what I have to offer is my friend Steve, I hope that Amy is the matchstick. However the Asian goddess, who from now on I'll call Aphrodite, thanks me for organizing the party.
Shit. Aphrodite is Amy! How the hell can I tell her that her blind date is… Steve?"
The Chinese sex symbol
Finally the guys arrive too. As usual, they brought a ton of fruit. Adding it to the fruit that the girls brought, I reckon I can open a small stand on the street and make some money.
After giving me all their presents (the above mentioned fruit), they sit in a corner and start to discuss within them, openly ignoring the girls.
I keep cooking.
The approach
As soon as the dinner is on the table the first interaction among guys and girls happen. Chinese people… they can't do anything without food!
Helped by Luna and her friend, the two bachelors, that is Steve and Aphrodite, start a conversation. It seems they are talking about the weather.
It can't be more evident: my coworker are much more interested on talking among them about work and other silly stuff instead of interacting with the five beauties that are sitting on my couch (well, one is a barrel and another is a matchstick, but the last three aren't bad at all!).
It's a this point that the inconceivable arises: Aphrodite takes the lead, sits close to Steve and starts to talk with him.
I come from the Mediterranean Sea, where such a girl wouldn't certainly need to do any effort to talk with a guy. Especially with a nerd like Steve!
The approach (Phase 2)
Steve e Aphrodite discuss for about twenty minutes, even exchanging their respective QQ number (a Chinese Skype). Then the moment is gone. Luna, her friend and Aphrodite head to another room to share their impressions. I'm too curious so I enter the room with an excuse:
Hey girls, do you want another mojito?
Aphrodite's face is more red than the Chinese flag. She affirms that Steve is really cool.
Bah… I don't get it.
The result
I'd like to write about an happy ending. However it seems I'm not as good as Cupid.
Even if Steve and Aphrodite chatted a bit on QQ, Steve told her that he's engaged. Now I know that it's a dirty lie.
So in the following months I made some research on the facts that I just exposed to you. I was curious to know how it could be possible that a guy like Steve may afford the luxury to refuse a girl like Aphrodite. Ok, she's a Ph.D. and she's old by Chinese standards (almost 27… Gosh), but a goddess like her must carry an Olympus issued passport!
The investigation
Let's summarize the results of my investigation.
Steve is actually a quite popular profile among "traditional" Chinese girls:
He's tall: Apparently it's the only physical aspect that makes a difference in China.
He's a Ph.D. student of one of the best Chinese universities: Even if he doesn't come from a rich family, he'll most luckily end up with a good job. And the ability to provide stability is does carry a lot of sex appeal here in the Middle Kingdom.
He's extremely polite: Steve will always try to say what you want to hear. You may think this attitude is a bit false. However the family of the girl will love it. And in China the family has the power to accept or reject your boyfriend.
He's not shy: Ok, he's not a playboy neither. But he can talk with a girl he just met without starting to sweat like a pig and collapsing on the floor because of the embarrassment.
But why he refused Aphrodite?
During the last years I've heard a lot of weird excuses: She's too sexy, she's too smart, she's too strong, she talks too much.
What seems clear to me is that for Chinese guys the ideal girl must be childish, pure, submissive, quiet and slim. And possibly not too smart.
What does it mean for white devils?
I offer hear comments such as "In Asia all women will want you, you'll feel like Brad Pitt," which are plain bullshit. Read Mama I wanna be a playboy in Saigon to have an idea of what reality looks like (although this example is quite extreme).
The truth is that for most of Chinese girls (and let's not talk about men!) dating a foreigner brings more troubles than advantages. The biggest problem is that the girl's family and friends probably won't accept this white (or black) devil. And in China the social pressure, that is the desire to being accepted by your social circle, is much higher than in the West.
[Furio the translator: Correct. I still remember that beautiful girl from North East China that at some point told me "But dear, I need a Chinese." And that was all. And I can't claim she didn't like me as she quite enjoyed my bedroom for awhile. For her it was just not possible to take me in consideration for more than a couple of weeks. And in these case there is nothing you can do: the better the experience for her, the worse it becomes for you, cause she may fear to fall in love and leave you abruptly to avoid future troubles. It happened to me several times, and they were all "traditional" Chinese girls with little command of English language].
So the next time you'll see an ugly Western with a Asian goddess don't think too much. The explanation is, in most of the cases, that he decided to accept what the Chinese guys refused, maybe cause she's too smart or independent.
[Furio the translator: I agree. Of course there are also Chinese girls that prefer dating foreigners. As an example, my girl in Shanghai avoids Asian guys since when, ten years ago, she discovered that her boyfriend hired a private investigator to follow her everywhere. Yes, he was that insecure.
However these girls – in the case they are quality girls and not just ugly girls nobody wants to date beside some lonely old foreigner – are always quite international, they often studied abroad and won't be able anymore to fake being pure, submissive and quiet.
But the porcelain's dolls that you can admire inside the "Chinese style" clubs such as Rich Baby in Shanghai are almost always precluded to foreigners (it is possible to get them but you need great persuasive skills, good knowledge of Mandarin, the ability to deal with the guys that brought the girls and the persistence to overcome rejection over and over again).
The reason for which I claim that they are almost precluded to white devils is that these girls, which are so beautiful, submissive and don't speak a word of English, are contended by all the rich Chinese guys, who bring them to the club with their Porsche, pay for their champagne and buy them expensive stuff. Why in the hell a girl like that should destroy her life, or even only downgrade her lifestyle, by dating a laowai? It doesn't make any sense, especially in a country where stability and security are much more valued than love].
What do you think about this story and Chinese dating dynamics in general? I would like to know your opinion!
Amy Farrah Fowler Photo Credits:

Amy Farrah Fowler by SoQ錫濛譙