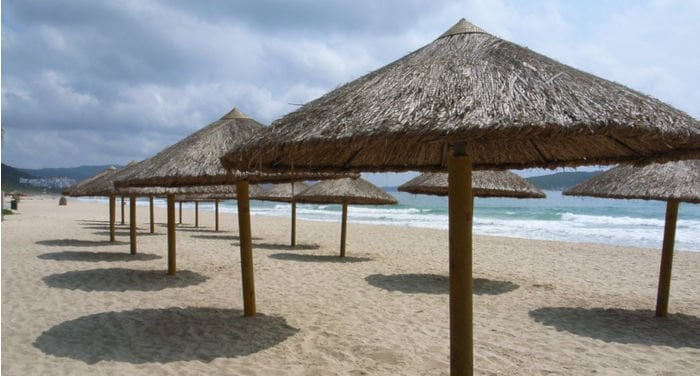 I'll start off this article with a song from Namewee: 不到海南岛不知道身体不好 bu dao Hainan dao bu zhidao shenti bu hao "if you don't go to Hainan Island, you don't know how bad off you are". Hainan Island 海南 (literally "to the south of the sea") is the largest tropical island in China, not to mention one of its most visited tourist destinations, especially in summer.
The name Hainan is also abbreviated as 琼 qiong (you'll find these characters on the license plates of cars on Hainan) which, for its part, is an abbreviation of 琼瑶 qiong yao "pure jade".
Hainan is considered a Chinese province, in the southernmost part of China; it was the final province conquered by the army of the Communist Party not too long ago in 1950.
In the past, Hainan was an area isolated from the rest of the Chinese empire, mainly used for sending into exile characters like Su Dongpo and Hai Rui.
How to get to Hainan
As a tourist island, there are two airports on Hainan: at Haikou and Sanya. From Europe there are various direct routes, but most times you'll need to have a stopover, which will also affect the costs. From China, Hainan is easily reachable via: planes, trains and ferries. It depends where you decide to leave from!
When to go to Hainan
Generally, every period has its pros and cons. Between April and October, hotels will definitely cost less (can't say what the discount will be); in this time period, it's rainier than in other months.
The period between November and March is better for biking (it shouldn't rain too much and it's the coolest time of the year).
From November to January, you can have a beautiful surf experience. Sadly, Hainan can be struck by typhoons… but these usually only happen in the period between June and the first half of November.
Hainan's city and population
The province's capital is Haikou 海口, followed in importance by Sanya 三亚 (what aspiring Sinologist studying in China has never been to Sanya to walk its famous waterfront or to stay in one of the most luxurious resorts in the whole country?), Wenchang 文昌, Qionghai 琼海, Wanning 万宁, and so on.
On Hainan there are two ethnic groups: the Miao 苗 and the Li 黎 (the latter have left behind a heritage of technical loom working that is highly prized in Asia).
This is one of the reasons why the languages of Hainan include a dozen dialects, some of which are also widely used in Guangdong; that notwithstanding, everyone can speak Chinese, and now, even English.
Besides the cities, other places that should absolutely be visited are Shimei Bay and the bay of the Sun and Moon: in these bays you can also surf the best waves in all of China and among the best in all of Asia; moreover, you can also take part in a half or full day excursion on bicycle.
Tourism on Hainan
In recent years, Hainan is a prime destination not only for tourists but for actual full streams of money: there's a growing proliferation of resorts and luxury buildings in general.
If in the 80's Hainan's economy mainly consisted of agriculture and fishing, it was also chosen as a ZES (special economic zone), thanks to the farsightedness of certain exponents of the Chinese government and a series of sensible choices. Hainan soon became an international tourist destination, especially for honeymooners.
As with the destinations of the 90's there was a tourism boom, with the arrival of another ten million tourists annually (which continues to grow!); large and famous chains also arrived on the island, such as the Ritz Carlton, Four Seasons, Starwood, Mandarin Oriental, which allow for stays all year long in splendid 5 star hotels.
Recently "ethnic minority villages" have also been created, where you can have an experiential tourist experience, reproducing traditional Chinese activity.
Hainan is most famous for having become a new destination for international golf in just a few years, with lots of well-appointed golf courses; moreover, due to the whirlwind omnipresence of globalization, tourist offerings have diversified and now it's possible to participate in modern activities such as diving, surfing or yoga.
For a greater international window, media events have been organized on Hainan: the selection of Miss World (2003, 2004, 2005, 2007, 2010, 2015), Mister World (2007) and Elite Model Look (2008), all events have been held at the aforementioned seaside locality of Sanya.
Moreover, to facilitate tourism even more, since 2018 the Chinese government has allowed access to Hainan without a visa for the first 30 days (for at least 59 nationalities!).
Haikou
Since 1998 the capital of Hainan, Haikou 海口 is the most populous city on the island with about two million inhabitants. Haikou, which literally means "mouth/source of the sea", has always been a place where maritime businesses hold a noticeable importance, even if lately there's been a building boom.
Even if this city is lacking in tourist sites, there are quite a few who decide to spend a few days relaxing in complete tranquility; a strong point of this city (and anyone who has been to China can appreciate the importance of this point) is the excellent air quality, second only to Lhasa, the capital of Tibet; for this reason, many Chinese (and not) are inclined to stay in Haikou just to ride their bikes and breathe some clean air.
In any case, in Haikou you can visit the Hainan Museum, where you can find many exhibition halls dedicated to ethnic minorities and/or the resistance of the inhabitants against the Japanese.
In Haikou you'll also find Wugong Ci 五公祠 "Temple in Memory of the Five Functionaries": a temple going back to the Ming Dynasty where its surrounding gardens are dedicated to five functionaries exiled to the island a long time ago (two of the five are the poet Su Dongpo and the functionary Hai Rui).
The volcano complex geopark
A place I recommend that you visit, especially if you're a nature and history lover, is the Haikou volcano complex geopark (in Chinese it would be 海口火山群世界地质公园 haikou huoshan qun shijie dizhi gongyuan): a park that covers more than 110 square kilometers of countryside where you'll find dozens of now inactive volcanoes, tunnels carved out of the lava and even a village abandoned for centuries, built out of lava rock (the huoshan cun 火山村 "the volcanic village).
In the park there are more than 40 volcanoes of the Quaternary, the most recent period of the earth's geological history, characterized by important climatic modifications and alternate phases of the expansion and retraction of glaciers that our planet has experienced.
The geopark, as was already said, is made up of an ecological community of thousand year old volcanoes and a landscape formed over ten thousand years of volcanic eruptions, now covered by plants and fruit trees. On the road you'll still find volcanic stones from ten thousand years ago. Going up towards the volcano's crater 222 meters above sea level, you can see the whole city of Haikou.
Mount Wuzhi
Mount Wuzhi (wuzhi shan 五指山 lett. "the mountain of five fingers"), with a height of 1867 meters, is found in the middle of Hainan and is one of its most famous tourist symbols: it was in fact classified as a Class A tourist attraction.
Its name (five fingers) derives from its five peaks and the beliefs that surround them: it is said that the five peaks represent the five divinities of the Li ethic group. In the past, Mount Wuzhi was used as a strategic base for Hainan's red army.
The famous ballet 红色娘子军 hongse niangzi jun "the red woman soldier" had Mount Wuzhi as its setting! Around Mount Wuzhi there's a reserve where two rivers originate: the Wanquan and Changhua. In this reserve you'll also find a beautiful forest that contains various typical Chinese varieties.
The mountain of the Seven Spirits
The mountain of the Seven Spirits (in Chinese qi xian liang 七仙岭), also known as Qizhiling, is called that because of its seven jagged peaks (a very lovely landscape!), and is another of Hainan's best tourist attractions, about 39 km southeast of Mount Wuzhi.
The highest peak goes up to 1100 meters above sea level and the average annual temperature goes between 27 degrees Celsius and a low of 18 degrees.
There are many legends about this mountain, but what most attracts tourists, besides the possibility of excellent climbing, are the hot springs that are found within the surrounding tropical forest.
Bo'Ao and the BFA
Bo'Ao 博鳌 is a town on the east coast of Hainan, famous as the site of the Boao Forum For Asia (BFA), an annual meeting of the most important functionaries, economists and important people from all of Asia.
This annual meeting is so important that various high ranking government officials have presented and even launched works with opening speeches: in 2019, Li Keqiang and in 2018, Xi Jiping. Topics at the BFA are focused on the economy, integration, cooperation, society, and in particular, the environment.
In the past this forum has also addressed the entrance of China into the World Organization of Commerce, as well as the economic crisis of Southeast Asia in the 90's.
The geopolitical strategy of "the Pacific ascension of China" was an extremely important discussion for the forum of 2004. Besides the annual meeting, the BFA also sponsors other forums and meetings regarding matters of principal Asian issues.
In any case, Bo'Ao is peaceful coastal town that offers comforts and relaxation thanks to its countless restaurants and luxury hotels.
If you want to visit it, you can take a trip to the residence of the Cai family: this is a beautiful and lavish ancient residence built around 1934 by the Cai brothers, two magnates from the rubber industry.
Sanya
Sanya 三亚 is a top shelf vacation destination! Some call it the Hawaii of China… you decide! Sanya is the southernmost city in China and has 650 thousand inhabitants, excluding tourists. Thanks to its tropical climate, white sand beaches and clear turquoise waters, Sanya has become one of the most famous tourist destinations in all of Asia.
Despite that, Sanya is facing some challenges as it continues to expand at a pace that is quick but unsustainable: a lack of infrastructure to sustain tourism, difficulty in getting there due to flights and airport capacity, noise pollution and traffic.
The natural reserves (which I recommend that you visit) of Yalong Bay Tropical Paradise Forest Park and Sanya Coral Reef National Nature Reserve are located near Yalong Bay, where a luxury resort has been built: the Yalong Bay National Tourism Holiday.
At Sanya, besides being able to party 24 hours a day, you can attend numerous events that are held with a certain regularity, such as fashion shows and concerts for example.
In recent years, different species of dolphin, including the Chinese white dolphin which is facing extinction, appear from time to time along Sanya's coasts. Sanya, actually, is divided into three distinct areas: Sanya Bay, Dadonghai Bay and Yalong Bay.
The monkey island of Nanwan
The monkey island of Nanwan (in Chinese, nanwan hou dao ziran baohu qu 南湾猴岛自然保护区) has been a natural reserve for monkeys covering an area of 1000 hectares since 1965.
The island, also reachable from Sanya, is a monkey paradise thanks to its weather and inviting environment rich with vegetation (in particular, fruit trees).
There are almost 2000 monkeys on the island, divided into about 30 groups; 4 of these groups have been trained to entertain visitors (something I would never endorse!).
Anyway, in view of the convenience of getting there, Nanwan Island is a place I'd recommend that you visit.
The food of Hainan
Another typical place I'd recommend, especially if you want to eat excellent fresh seafood, is the famous Banqiao Lu fish market (Banqiao lui haixian shichang 板桥路海鲜市场) in Haikou, where you can taste hearty seafood meals among all the fuss, laughter and toasts to the Chinese that we all love and hate.
Staying on the theme of food, in my opinion, you should head over to the gastronomic street of Haikou Qilou 海口骑楼: a street filled with kiosks and counters that sell typical street food of Hainan, like eastern mountain mutton (dongshan yang 东山羊), Hele steamed crab (Hele xie 和乐蟹), Qionghai roasted duck (jiaji ya 加积鸭) and Wenchang chicken (wenchang ji 文昌鸡), with rice and peanuts.
Hainan's cuisine is known for being lighter and less spicy compared with the rest of China. It goes without saying that its island location means that seafood dominates.
They eat a lot of crabs, shrimp and all types of fish taken from local waters. On the side you can eat rice or opt for noodles.
The laoba cha
The laoba cha 老爸茶 are typical taverns found on the island of Hainan where they serve different varieties of tea, steamed sandwiches and other Chinese snacks typical of the island. These three Chinese characters are very interesting: laoba 老爸 refers to old people, while cha 茶 means tea.
The laoba cha, were traditionally simple wooden tea houses (usually poor), where old people of the area would come to drink a friendly cup of tea and tell stories with their friends. Long ago, women had a very low status, so they had no time to spend at tea houses that were therefore "reserved" for men.
Usually, the laoba cha are found underneath coconut trees (which are famous in Hainan), filling the streets they face with the smell of tea; some of these tea houses are now elegantly and finely decorated, but the best remain traditional, poor, wooden, without decoration and with an old fan attached to the ceiling to vent the air during the hottest and most humid seasons: a unique trait that is slowly disappearing with globalization, even in China.
To close, you should know that the Chinese on Hainan have an unusual custom: they add milk and sugar to their tea, English-style!
Photo Credits:

HaiNan 100 by 若昔难得