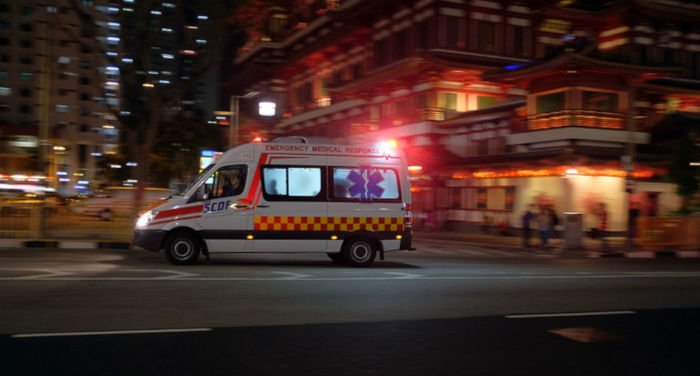 Note: If you are only interested on getting a free quotation for a travel insurance, then we recommend World Nomads (click here to get your free quotation).
Singapore is a popular destination among foreigners who want to visit friends or just plan to have a short stop-over while traveling. It's famous for being one of the most culturally diverse and developed hubs, not only in Asia but in the world.
Even if Singapore has low crime-rates and is generally safe, you must have good travel insurance as you don't know what might happen during your trip. Some foreigners faulty believes that they can get treatment at low costs or for free, but in the case of serious events, you can become bankrupt if you don't have medical coverage.
In this article, I explain why it's important to have travel insurance when visiting Singapore, which service provider we recommend, what kinds of hospitals you can visit, what you should do if you experience an accident, and more.
Why do I need health insurance when I travel to Singapore?
Getting health insurance before you travel to a foreign country should be at the top of your to-do list. It happens that foreigners travel without proper insurance, either they hope for the best or they've simply forgotten to buy one.
That said, Singapore doesn't only have one of the best healthcare systems in the world, but also one of the most expensive. If you're not a local citizen or resident, you might end up with hefty medical fees in the event of an accident or unexpected illness.
In-patient fees can cost you tens of thousands of dollars, something that ordinary people can't afford. I've heard horror stories about travelers who got problems with appendix infections and similar unexpected issues that cost them a big chunk of money.
Not to forget, you don't know if you'll get stranded in Singapore for whatever reasons or if your flight gets canceled. There are travel insurances that cover tourists for such cases and if you need to book a new flight ticket, for example.
If you don't have tens of thousands of dollars to spare for medical treatment, then I suggest you to get good travel insurance that can cover you in Singapore, and other countries that you plan to visit on your itinerary.
Hospitals in Singapore
Singapore has public, private, and international hospitals that all have a good reputation. Wealthy foreigners, particularly from China, often opt-in for private and international options, if they will undergo major or long-term treatments. Robert Mugabe, the former president of Zimbabwe, was also treated in a private hospital in Singapore before he passed away.
At the moment, there are around 30 hospitals in Singapore, both local and private. If you need to visit a hospital, the public ones are just fine as Singapore provides good medical care overall.
Just be sure to check with your insurance company which hospitals they recommend as they work with designated hospitals in different countries. Thus, the hospital might not accept you if they cannot assure you that they'll get reimbursed by your insurance company.
Unless there's an emergency, foreign residents usually have to provide their credit card and personal information before they get admitted to a hospital.
What insurance do we recommend for Singapore?
If you're not a resident and will just visit Singapore short-term, I recommend you check World Nomads, which has one of the most affordable and flexible travel insurance in the market.
First of all, you can file your application online and select the time when you want to be covered. Another benefit of using World Nomads is that they don't require that you apply for insurance before you depart, you can do it while in transit or after you arrived in Singapore.
Besides, you can include several countries that you plan to travel to, you'll be covered in all countries. If you want to travel beyond the time limit of the policy, simply go online and extend it.
It's not strange that World Nomads has got plenty of good reviews and is recommended by websites like Lonely Planet, Rough Guides, just to mention a couple. If you want, you can also choose different add-on options that cover you in the event of theft, flight delays, flight cancellations, and more.
Having said that, World Nomads should be used for traveling purposes only. If you plan to stay in Singapore long-term and take up local residency, you should look for other insurance.
What should a good insurance cover?
Preferably, your insurance should cover costs for hospitalization, medical expenses, treatments, evacuation, and medicines. At a minimum, you should at least be covered for in-patient expenses, which means that you need to stay in a hospital for more than one night and receive treatment. Outpatient coverage is a bonus, but will make the insurance more expensive.
You should also check that you'll be covered for personal liability, such expenses can arise if you hurt someone for example. You can then avoid going to jail by settling for monetary compensation, which can be high.
Keep in mind that it can be worth adding add-on services, covering you for theft, cancellations, accidents occurring if you participate in extreme sports, or lose some of your belongings. World Nomads have these add-on services and you should check your policy carefully so that you know what you're covered for.
Again, click here to check the services and prices of World Nomads health insurance!
What should I do when I need medical assistance?
[Disclaimer: We don't work for an insurance company and these are just general guidelines. You should always talk with an operator of the insurance company from whom you purchased a policy to be sure of what to do].
Before you visit Singapore, you should bring your insurance policy number and the emergency phone number to your insurance provider. This information can be saved as a new contact in your phone with the name "ICE Health Insurance", where ICE means "In Case of Emergency".
You should also keep this information on a card in your wallet together with a passport copy, so that the paramedics can find it easily if you're unconscious and they check your pockets. If you want to be extra-safe, print your insurance document that you'll receive by email after you bought the insurance.
Be sure to call your insurance provider before you visit a medical facility, if you're conscious and not in an emergency, as this is needed to assure that you'll be covered. As mentioned, hospitals sometimes require that you pay the amount by credit card upfront before receiving treatment.
Simply call the number provided on your insurance card or the number provided by email and give them your policy number, full name, and information about your problems. They should then help you and recommend a nearby hospital.
*For Canadian and US residents, unfortunately due to financial services laws, World Nomads cannot provide a discount. This promotional code cannot be used with any other discount offer, including World Nomads Members' discount for travel insurance policy holders.
Photo Credits:

Ambulance by Jnzl's Photos