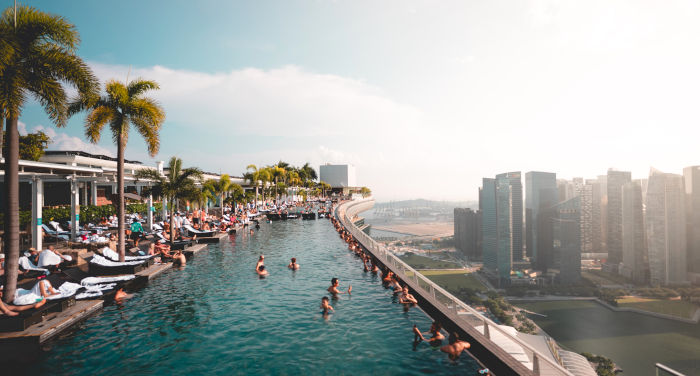 Best Hotels in Singapore – Index
Singapore is one of the most visited places in Asia and received as many as 18.5 million visitors in 2018. This developed nation is infamous for having some of the most expensive real estate markets in the world, a reason why hotel-nights aren't the cheapest here.
Yet, Singapore is a commercial hub that attracts everything from honeymoon-spenders, backpackers, and business travelers. There are a lot of hotels and hostels available, including everything from budget hostels to luxury hotels.
If you look for accommodation in Singapore, I recommend you to read this article where we list some of the most popular hotels and hostels. We start and list some of the most famous luxury hotels, continue with average hotels, and finally list capsule hotels and hostels.
Things to Consider Before Booking a Hotel in Singapore
If you plan to book hotel-nights in Singapore, we recommend you to use Agoda.com, which has the greatest selections and best prices from our experience. If you want to see all the hotels in Singapore on Agoda, you can simply visit this page.
Singapore is a small nation, it's not strange that it's referred to as "the red dot". Having said that, most travelers prefer to stay in the city center. Thus, in this article, we will review both luxury hotels, average hotels, and budget hotels in these districts.
Hotel-nights are generally expensive in Singapore. It's a popular city, not only among travelers, but also among holiday spenders and business professionals. As such, you should book a hotel earliest possible to get the best rates.
Having said that, there are plenty of hotels and hostels available in Singapore. Hotel nights can cost thousands of dollars, while you can find hostels with rates as low as 15 US dollars per night. Let's start and review some of the most popular luxury hotels in Singapore.
Luxury Hotels (5-Star) in Singapore
Raffles Hotel Singapore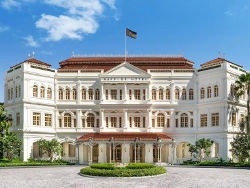 Raffles Hotel Singapore is one of Singapore's most famous landmarks.
Leaving this hotel out of the least would be a complete no-brainer. With colonial grandeur, a great location, and impeccable services, Raffles Hotel is a National monument that should at least visit if you don't stay there. It's one of the oldest hotels in the red dot, founded by the Sarkies Brothers, Armenian Hoteliers, in 1887.
Raffles Hotel is famous for its superior services, cleanliness, and room comfort. The only real drawback of staying here is that some guests find it a bit too expensive. Staying here is more to experience Singapore's colonial heritage, but with not too much extravaganza.
If you want to stay at Raffles Hotel, be sure to book this hotel well in advance as it tends to be sold out quickly.
Marina Bay Sands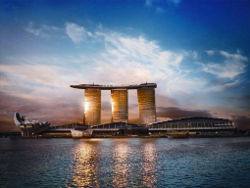 Marina Bay Sands is another famous landmark in Singapore and established in 2010. When it opened in 2010, it was the world's most expensive standalone casino property valued at SGD 8 billion (including the land cost). The hotel is famous for its unique architecture with three towers shaped as decks of cards, having an infinity pool on the top.
Marina Bay Sands offers astonishing panorama views over Marina Bay and the Central Business District. The rooms are big and the service often great. The only drawback of staying in Marina Bay Sands is that it can be crowded, especially in the lobby and at the infinity pool.
Truth be told, it's not only a hotel but also a tourist attraction. Prices are in the upper range, driven by the magnificent view and the access to Singapore's most famous infinity pool. If you're on a tight budget, you can stay in Marina Bay Sands for a night or two and spend the rest of the time at a cheaper hotel.
The Ritz-Carlton, Millenia Singapore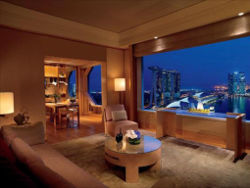 The Ritz-Carlton, Millenia Singapore, is a high-end hotel located close to Marina Bay. It's not a place to visit if you primarily want to experience Singapore's old cultural heritage. What makes it stand apart from many other hotels is its modern facilities, plenty of amenities, and superior customer service.
The hotel is located just to the right of Marina Bay Sands, but not as busy. Thus, if you want a more relaxed experience, Ritz-Carlton can be a better option. The prices are generally lower too. The hotel has a top rating above 9 for everything from cleanliness, facilities, location, room comfort, and service.
Scoring 8.4 out of 10 in terms of value for money shows that some visitors believe it's a bit overpriced. But, what can you say if you stay at one of Singapore's best hotels.
Andaz Singapore, A Concept by Hyatt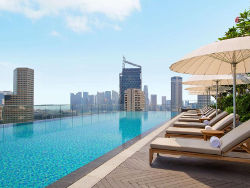 Andaz Singapore, A Concept by Hyatt, is a luxury hotel located on 5th Fraser Street, It has a modern and futuristic architecture and is one of the top-rated hotels in Singapore. The hotel is famous for its high-end facilities and amenities, including a fitness center, garden, hot tub, massage, spa, steam room, yoga room, and bar, for example.
Not to forget, it has a staff that can speak in English, Filipino, Japanese, French, Korean, Chinese, Indonesian, and Malay. Compared to Marina Bay Sands, Andaz is more relaxed and not as busy with tourists.
The only thing that a few previous guests complain about is that the queue to the breakfast can be a bit long. Having said that, Andaz is one of the best options available if you want to live in a high-end hotel in Singapore.
Average Hotels (3 to 4-Star) in Singapore
Novotel Singapore On Stevens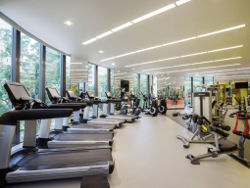 Novotel Singapore On Stevens is a top-rated 4-star hotel located in Orchard. It has a modern exterior in glass with clean facilities and top-notch service. Novotel is one of my preferred brands when booking hotel-nights overseas as they offer competitive prices, looking at what you get.
The hotel doesn't have any real drawbacks and offers surprisingly cheap prices. Two persons can stay here for as little as 130 US dollars a night. Customers are particularly happy with the location, breakfast, amenities (2 swimming pools), and more. It's suitable for both families, couples, and single persons.
Holiday Inn Express Singapore Katong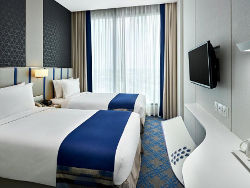 Despite not rating as high as the above-mentioned hotels, Holiday Inn Express Singapore Katong is more suitable for travelers with a lower budget, costing around 120 US dollars per night. That's a bargain compared to places like Marina Bay Sands and Raffles Hotel Singapore.
The hotel is located a bit further away from the city center, on the East Coast Road. Even if you have to take the bus or subway to reach some of the most popular sites in Singapore, the location is excellent for local eats and drinks. Prices are lower as well as it's located a bit outside of the city center.
The hotel is mainly famous for its value for money and good food. The only real drawback of staying here is that it's not in the city center. That said, many previous customers recommend the hotel.
Summer View Hotel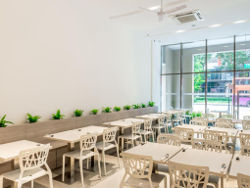 Summer View Hotel is a 3-star hotel with decent ratings. It's located in Bugis and merely 230 meters away from Bencoolen MRT. It's famous for its cleanliness, big rooms, good food, and central location. The only drawback of staying at Summer View Hotel is that it's not wheelchair-friendly, which some previous customers complained about.
It's surprisingly cheap to stay at Summer View Hotel and can cost as little as 80 US dollars for two persons, at the moment I am writing this article. Bargains like that can hardly be found in Singapore.
You should check Summer View Hotel if you don't want to spend an excessive amount of money like in Marina Bay Sands, Ritz-Carlton, and Raffles.
Lloyd's Inn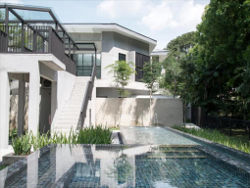 Lloyd's Inn is located in Orchard and has a unique architecture in a tranquil environment. On the contrary to most other hotels being located in high-rise buildings, Lloyd's Inn comprises of villas and with much vegetation in the area.
The rooms and facilities have a special scent and many clients appreciate its serenity and quiet environment late at night. Rooms are compact and minimalist, but with enough space. It's renowned for its customer-friendly staff and cleanliness.
The only thing people complain about is the value for money, as it can be a bit pricey. Hotel-nights here cost around 120 US dollars per night for two persons, which is still reasonable when considering the property prices and price levels in Singapore.
The only real drawback of staying here (for some people) is that it's quiet. Thus, you cannot make a lot of noise, party, or talk loudly as this might upset your neighbors. As such, it might not be the best place to live if you have small children.
Budget Hotels (2-Star) in Singapore
The Pod (Boutique Capsule Hotel)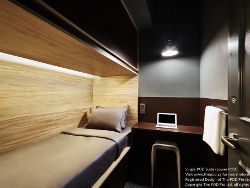 The Pod is a 2-star capsule hotel located on Beach Road, having good standards. The hotel has a fantastic location, lovely staff and great facilities. They provide shampoo, body wash, hairdryers, breakfast, and more.
Rates merely start from around 30 to 40 US dollars per night. What makes this capsule hotel a better choice than hostels is that it's cleaner and not as noisy. It's suitable for both tourists and business travelers.
The hotel has received almost 4,000 reviews on Agoda, scoring 8.5/10 in overall rating. That's not bad at all for a capsule hotel.
S Inn Chinatown (Hostel)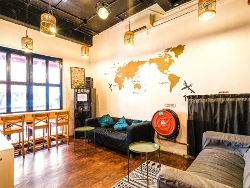 S Inn Chinatown is a 2-star hostel located, as it speaks, in Chinatown. Rates start from as little as 30 US dollars per night, a reason why this hotel has high ratings. Being located in one of the most central areas in Singapore, you'll have close access to the MRT.
The area has a high density of Chinese restaurants, travelers, and workers. Thus, if you want to indulge in Chinese culture and speak Chinese, this is a good location for you.
While the location and the rooms are great, a few travelers have complained that the toilets are a bit dirty and that it's smelly. This is not rare when staying in hostels whatsoever.
Another benefit of staying in S Inn is that they offer breakfast for free. Just keep in mind that you cannot expect a regular hotel breakfast. If you're on a restricted budget and want to interact with other people during your stay in Singapore, then S Inn can be a great choice.
Thad's Boutique Hostel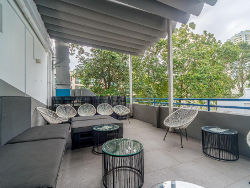 Thad's Boutique Hostel is a top-rated hostel with clean and modern facilities. The same as it goes with S Inn, it's located in Chinatown, which has a high density of hostels and tourists. Scoring 8.6 out of 10 overall, you should have a look at this place if you plan to stay in a hostel.
It's located on the edge of the city center but has a bus stop right on the opposite side of the road that can take you to the nearest MRT. Compared to many other hostels, it's a quiet hostel and you won't interact with as many people here. As such, it can be a good place to stay if you spend most of your days outside and want to relax when coming back.
The only few bad reviews we found said that the rooms can be rather small and the toilets wet on the floor. If you need more space, you might want to go to another hostel or upgrade to a 2 or 3-star hotel.
Photo Credits: Photo by Will Truettner on Unsplash