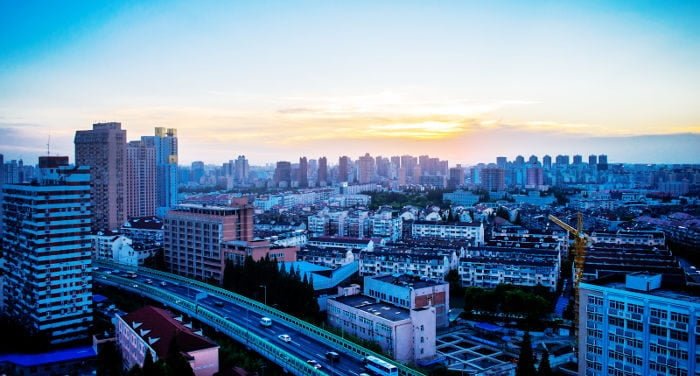 This is a complete guide to rent an apartment, or just a room in a shared flat, in Shanghai.
Looking for an apartment on the internet
If you are just landed to China and you don't know anybody, the fastest way to find an apartment is probably to check the websites in English language. I recommend Flat in China, Smart Shanghai, Craigs List and Inter Shanghai.
The pros are that you won't have to hunt for an agency on the street and most luckily you will deal with a landlord (or an agent) that can speak decent English.
Also, if you are in a tight budget (less than 3,000 RMB per month, that is about 500 USD) and you don't want to live too far away from downtown, getting a room in a shared flat will be your only choice.
In this case, since very few agencies deal with "rooms" (they usually want you to rent the whole apartment), internet is your best bet.
The cons are that the apartments and rooms are usually more expensive (this is logical because the landlord knows that he's addressing foreigners, often newcomers that can't speak Chinese) and they get rented fast.
Especially for rooms in shared apartment, you either visit and take the room straight away or someone else will. It's frustrating.
However, if you can speak Chinese or have a Chinese friend that is willing to help you, you can also check on the websites in Mandarin. Here the most popular: Sou Fun, Bai Xing (that is Chinese's Craigs List) and Hao Zu.
Also on the Chinese websites the best rooms and flats get rented fast. However you will have much more choice and the prices will be way cheaper.
Another option for getting a room in a shared apartment
There are several active Couchsurfing groups that focus on Shanghai. You could sign up and see if there is anybody looking for a room.
In this case you could propose to him/her to join you and look together for a flat. If there isn't any people that already posted a message, you can still post a message yourself saying "Hey, I'm looking for a roommate. Anybody interested?"
Why? The reason is that, if you team up with one or two other guys that are also looking for a room, you guys can rent a whole apartment.
This has three advantages:
You will have much more choice because Shanghai is full of empty apartments (while empty room in a shared apartment are rare).
You can address an agency (they usually only deals with empty apartments) so that you don't have to rely solely on the internet.
You will get a better deal as renting a whole apartment is usually cheaper (if you find a couple of roommates willing to share the rent with you).
This is how I found my current room. After two weeks of worthless calls and emails to people that were renting rooms in shared apartments, I teamed up with two other guys (yup, I met then on Couchsurfing).
We walked to an agency in Jing An, asked for an apartment in downtown with three bedrooms and a rent under 7,000 RMB (for the whole apartment) and got it in two days.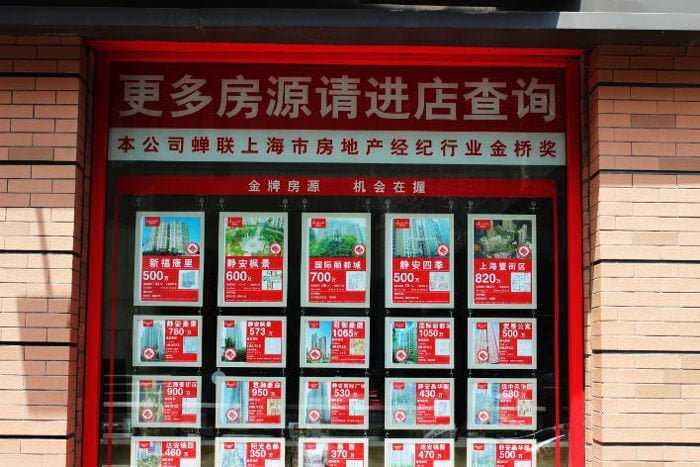 Looking for an apartment through an agency
Even if some agents can't speak English, many of them will. Remember that you are in Shanghai, not in a small Tibetan village!
In this case your best bet is to choose the zone where you want to live (Jing An for instance) and start to walk around till you find an agency. There are plenty of agencies so you shouldn't have problems to find a couple of them.
Then ask for an apartment with the characteristics you want (remember to specify your budget).
The agent will probably start by showing you an apartment that doesn't respect your budget. The reason is that they work on commission. So if he can convince you to get an apartment a bit more expensive, he will earn a slightly higher commission.
Don't freak out. Remember that you are in China : )
Be polite but inflexible. Tell him again what's your budget and that you won't accept anything more expensive than that. However remember to be realistic: find a decent room in downtown for less than 2,000 RMB/month is impossible.
Don't forget to bargain the price. This is widely accepted in China and usually you will get some small discount (within 1% and 10% according to your bargain skills).
Another tactic pretty common used by the agents is to start by bringing you to a very shitty apartment. They know you won't take it. They are just trying to scare you so that, after you see two or three flats that look disgusting, you will be happy to rent an apartment that is just so so. Don't fall for it.
If an agent brings you to a very bad apartment, tell him that you want something better. If the second flat is like the first, just tell him to fuck off and walk away.
There are plenty of honest agencies so there is no reason to deal with someone that is trying to rip you off.
What are the expenses beside the monthly rent (security deposit, agency fee, electricity and so on)
In Shanghai you should pay the rent every month or, at worst, every two months. Also, you will have to pay a security deposit. Be aware that the landlord may ask you for a two or three months rent deposit. However you shouldn't accept to pay an amount of money higher than one month of rent as a deposit.
Personally I would walk away if someone insists to want more than one month deposit as this is the standard.
When you find an apartment that you like, you must "block" it. This means that you have to anticipate a small amount of money. Our landlord asked 2,000 RMB to us but we only gave him 900 RMB (our rent is 7,000 per month). In exchange, he gave us a signed receipt.
The day after we came back to the apartment and, after we checked that everything was working (air cons, hot water and so on), we signed the contract and paid two months rent + one month deposit (all in cash, welcome to China!).
We also paid a commission to the agent, which corresponded to 35% of one month rent. If the agent ask for more just tell him that 35% is the standard fee (I suggest you to ask what the agency's fee is before you start to check apartments).
Usually you will have to pay the electricity, water, gas and internet bills. The total amount shouldn't be more than 400 RMB/month. So if you are three people it's about 130 RMB/month each.
If you live in a big building there will be some maintenance fees (which may vary but usually it's around 100-200 RMB/month). Our landlord pays it by himself, but some landlord will ask you to also pay this fee. Again, it's up to you to bargain.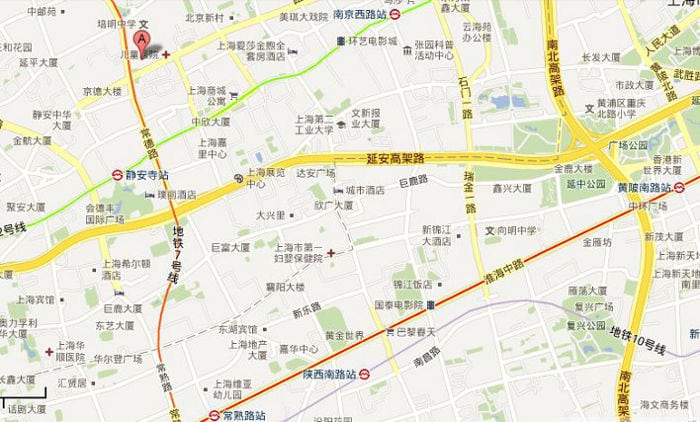 Why you need a regular contract
There are two reasons.
First at all, as soon as you arrive in China you are required to go to police station and register your address.
If you are a tourist or you are living in a students' dorm you don't need to worry about it because the hotel's or the dorm's manager will register you at the nearest police station.
However, if you rent an apartment, you need to do it yourself. It only takes five minutes and you don't need to speak any Chinese. However you need to bring the original copy of your house contract and your passport (you also need to bring a copy of the contract, of the passport's first page and of passport's Visa page).
In the past years this wasn't that important. However since this year the police is putting a lot of attention on address registration. If you don't register your address, they will call the number that you gave at the customs the day you entered China. If you don't answer, they will just start to look for you.
Again, it just takes five minutes. But you do need a regular house contract. Also, you should ask to your agent or landlord where is the police station because you only can register at the station that is responsible for your zone.
The second reason for which you need a contract is that you can't fully trust your landlord. What are you going to do if, after three months that you rented the apartment, your landlord decides to rise the price of your flat?
If you have a regular contract, you just tell him to shut up or you will go to talk with the police. But if you don't have any contract you don't own any right to stay there.
Also, how are you going to get back your security deposit? This isn't your country. So just play it safe and ask for a contract.
How should the contract looks like?
First at all, the house contract should be in English or both in English and Chinese languages. Don't sign any contract in Chinese if you don't speak the language.
The name of the landlord should be in the contract. I would also ask to see his ID card and get a copy of it.
The address of the apartment should be on the contract.
The monthly rent fee, the deposit fee and the rent scheduling (every month or every two months) should be on the contract.
The duration of the contract should be specified. And by the way, the duration is also something that you can bargain.
The contract should states that the landlord is responsible to fix major damages (like a broken fridge or air con).
The contract should state that, in the case the landlord asks you to live before the end of the contract, he should pay a penalty (at least one month rent).
The most common scams while renting an apartment in China
Read your contract and check that everything I mentioned is written there. If it's not written, it doesn't exist. And you have no power to enforce the landlord to respect his word.
Get a receipt for anything you pay. I know it seems obvious, but there are still people that forget to ask for it.
Don't accept to pay more than a month rent deposit. Anything higher than that sounds like a scam to me.
If you don't want to use an agency, avoid to sign a contract with a landlord that doesn't live in the apartment (or next door). Also, avoid intermediaries! The problem is that they could just run away with your money. And this doesn't only happen with Chinese intermediaries.

In late 2011 eighty people were scammed by Ryan Fedoruk, a Canadian guy that sublet thirty apartments in Shanghai and then flew away with the money (300,000 RMB).

So, either you go with an agency (and check if the agency is legit by visiting its office) or trust the landlord (because he will live with you or next door).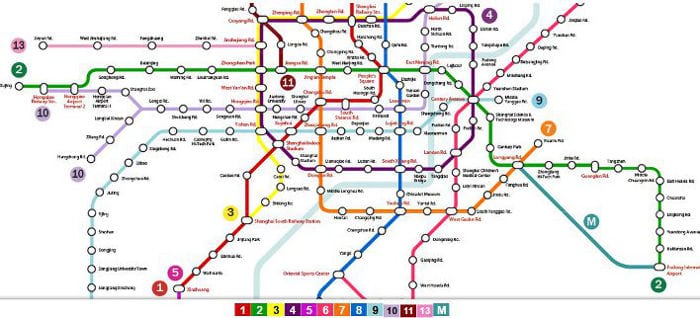 Where to live in Shanghai if you care about your social life
Many people will choose their location in order to be close to their office or university. However other people prefer to live in downtown so they can have a better social life (remember that Shanghai is huge). I'm one of the latter.
First at all, you should look for an apartment close to a subway station. Shanghai subway system is massive (the longest in the world) so you can go pretty much everywhere with it (here you find an interactive map). Also, it's quite cheap.
In particular, I advice you to live along the subway line 2 (the green one), which crosses all Shanghai from East to West. This will usually allows you to reach any part of the city with only one of two changes (and often without changes at all).
The best places to live are, in my opinion, between Nanjing East Station and Zhong Shan Park Station. Most of bars & clubs are located on the old French concession, that is on the South of these stations. But it's not only about nightlife, I like this zone because it remembers me of an European town, with a lot of tiny alleys, small restaurants and old cafés.
Be aware that the apartments inside the French concession are either bloody expensive or pretty old. If you still want to live downtown and get a modern flat but, at the same time, you have a small budget, then I suggest you to look at the North side of the line 2.
In general Zhong Shan Park and Jangsu Road are cheaper than Jing An, Nanjing West or People Square (check the map of the line 2 if you feel a bit lost).
Frequently asked questions
What's the average apartment rent in Shanghai?
Rents have increased a lot in Shanghai over the past 5-10 years. According to Expatistan and Numbeo, the average monthly rent for a 3-bedroom apartment in the central (expensive) areas is 15,000 ~ 16,000 RMB (2,235 ~ 2,384 US dollars) per month. You'll save 30 ~ 50% if you chose to live in "normal" units/outside of the city center.
The average rent for a 1-bedroom apartment in the city center is around 6,800 RMB (1,000 US dollars), while you can find apartments for half that price outside of the city center.
How much does an apartment cost in Shanghai?
Shanghai's
real estate market
is in a bubbly phase, but has started to cool down. From 2013 – 2016, the average price per square meter increased by almost 40% from 16,192 RMB to 25,910 RMB, which is kind of insane.
Nowadays, you'll find many apartments that fetch for as much as 80,000 – 130,000 RMB (12,000 – 18,000 US dollars) per square meter in the central areas, and even close to surrounding districts, like Minhang. Shanghai is not your cup of tea if you look for investment properties and high yields, but mainly if you want to buy out of personal reasons.
What is housing like in Shanghai?
Shanghai has a population of 26 million people and has a land area that's several times bigger than New York City. As such, you can find everything from shabby units in the outskirts that costs 1,000 RMB per month, to clean luxury units that costs tens of thousands of RMB.
Having travelled around Europe, I can just say that the overall standard is lower compared to Western countries. Apartments are smaller and the quality of facilities often worse. If you plan to share a regular unit, you need to get accustomed to see a couple of cockroaches from time to time.
Mold issues aren't rarely heard of (even in expat accommodations) and you shouldn't take for granted that the landlord will help you to solve these kind of issues.
How can I rent a luxury apartment in Shanghai?
You can find luxury units on websites like Smartshanghai, Flat In China, and Craigslist. Yet, there are other websites that specialize in renting out luxury units. Some of the websites you should have a look at are:
If you move as an expat, your company might work with agents in China (like my old company) and can provide you with the right contacts.
Photo Credits:

A Shanghai skyline by David Almeida