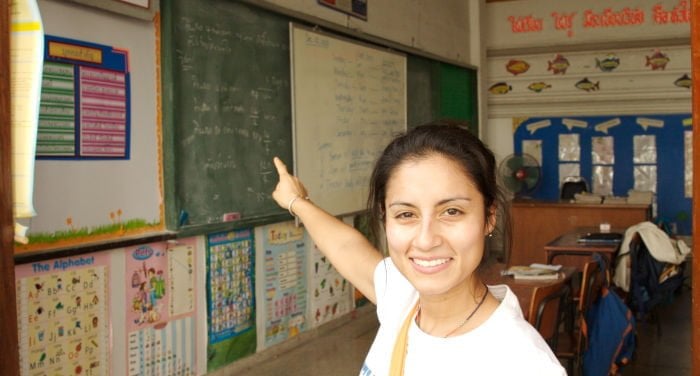 According to a report compiled by the Swiss agency Education First, Thailand places as one of the countries with the lowest level of English in Southeast Asia. Even on a worldwide level it's position isn't among the best: 64th on a list of 88 total countries analyzed.
Despite this, in the Land of Smiles it's not hard to get around without knowing the local language. Paradoxically you can even live in Thailand for decades without speaking or understanding a word of Thai.
If however you plan on settling in the country and integrating with the local people, learning Thai is an added value and not so secret ingredient for better integrating with the community.
Why learn Thai?
Learning the local language is a fundamental step for all those who decide to move to a foreign country, regardless of the language they speak. Despite being rather tricky, Thai is no exception.
The 7 main reasons why every foreigner that moves to Thailand should learn Thai are:
Being able to speak in Thai will not only let you communicate with the local population in their mother tongue, but will also let you understand the culture. Besides demonstrating that you have an interest and open mind towards the Thais, you'll also be able to respect their traditions and local values;
To be able to build friendships with the Thais. Along with being personally enriching and increasing your social network outside the usual expat community, it will also give you the chance to learn new things, considering the internal perspective;
Only if you've been to Bangkok at least one time in your life, can you understand the nightmare of finding a taxi driver that will bring you to your destination and use the meter without a lot of excuses, such as the destination is too far or there's too much traffic. There are extremely few taxi drivers that speak or understand English.

Having even just a basic knowledge of Thai, you can more easily fall into the good graces of the taxi drivers, a group that aren't particularly fond of foreigners (called Farang), besides giving instructions on how to get to your destination.

In fact there are very few taxi drivers in Bangkok that use GPS. So, often just mentioning your final destination is not enough, but requires specific well-known reference points.

My first year in Bangkok I lived on Ratchaprarop Road, and each time I took a taxi nobody know where the street was, even though it was one of the most traffic-filled. Having learned the basics of Thai, I explained to the driver that they had to take the more famous Soi Rangnam and then turn left;
More than 12 million tourists a year visit Thailand. Learning Thai gives you the chance to distinguish yourself from the crowds, as well as keep you from falling for scams designed for tourists;
Even those who know only the most popular expressions, know that speaking in Thai will have the locals appreciating you much more, who will then not only offer more generous discounts (which never hurts!) but will open up with you differently and tell you that your Thai is good and encourage you to speak with them;
Finding work in Thailand is very difficult due the tons of rules that favor hiring local people.

But if you speak Thai the number of opportunities could increase.

To interact with and understand your Thai colleagues and employees (if you're looking to open a business) it's very important. This is very important if you consider that foreign managerial figures are seen as babysitters whose only purpose is to supervise the behavior and productivity of the local staff;
Something that really motivated me to learn Thai, besides being able to communicate with the locals, is to understand the subtleties of their culture, attitudes, and even expressions that they use in English.

Some examples are their mainly saying "she", instead of using the masculine "he" when necessary, or saying "sister" even when referring to a friend. In the next chapter you'll understand why they use these expressions.
In addition to these benefits, learning Thai will also give you the chance to apply for a student visa.
If your visa is tied to a Thai language school, you'll have to renew it every 3 months. If you have a university visa you'll just have to renew it yearly after demonstrating that you've passed all your exams and paid your dues.
How difficult is Thai?
Let's grab the bull by the horns: Thai is not an easy language to learn, requiring consistency, and in order to speak on an intermediate level a lot of effort is needed, the memorization of words, and constant interaction with native speakers.
Since Thai is a tonal language, perhaps the trickiest part is learning the 5 different tones (low, flat, descending, high, and ascending) in which a syllable is to be pronounced.
At the beginning it could all seem the same, but when pronounced improperly, the entire phrase and the word itself takes on a totally different meaning and even a negative connotation.
An example of a phrase that shows the importance of tones is: mái mài mâi mâi mǎi. The meaning is: "the new wood never burns, no?".
Besides the obvious difficulty of the tones, there's also the high number of consonants and vowels that you'll have to learn to pronounce and write.
The majority of Thai schools start their courses for beginners by having them first learn the consonants and the vowels by memory, by using a card with images for each consonant, which reminds you of its syllabic sounds.
An example is "Ko Tao", represented by a turtle, with Tao meaning turtle. The Thai language in fact is considered Abugida writing, which uses a single character for each syllable.
To conclude, the numbers are written in an alphabet totally different than our own.
Regardless of the evident difficulties in writing, this language has relatively simple grammatical rules:
There are no verb tenses. Verbs are never conjugated; just add time adverbs such as "yesterday", "today", "tomorrow" and so on;
Names and adjectives have no gender and are neither singular or plural;
There are no articles.
Depending on your efforts and ability to learn, I'd say that you'll need from 6 to 9 months to have a solid basis.
How much does it cost to learn Thai
The cost of a language course varies according to many aspects – the place where you'd study is certainly one of these. Bangkok is the city where schools cost the most, but it's also where you'll have the biggest choice of institutions.
Prices vary depending on the number of total hours you want to attend. There are schools that offer the chance to attend just 60 hours, for a total of 7,000 THB for example.
If you'd rather take a private course the price obviously goes up. An hour will cost a minimum of 400 THB, up to a maximum of more than 1,200 THB.
Some schools will let you have the opportunity to study with a private teacher at your home, while others require that you follow lessons along with a teacher in one of their classrooms.
Even the time of the lessons has an influence on the price you'll be asked. Some institutions add extra costs for those who can only study at night.
How to choose the right school
If you're already in Thailand, I recommend that you personally look at the schools that you're interested in and speak with the staff to see with your own eyes how the building and environment is.
The majority of schools offer a free lesson so as to let you see the methods they use and if it works for you. Some institutions focus more on the spoken language, while others start practicing writing right away.
If you'd rather book a course from your own country, before paying it's always best to take a look at the online reviews, as well as the educational offers and the position of the school.
Always choose one that's easily reachable by BTS or the subway, both as a matter of comfort and budget.
To receive a visa the school must be recognized by the Thai Ministry of Education. So make sure that the school you choose has all their licenses, since only in this way will you be able to prepare your documents for the ED visa application.
The best schools in Bangkok, Pattaya, and Chiang Mai
At the Sandee School with branches in Bangkok and Pattaya, level I, for beginners, starts every first Monday of the month, with prices going from a minimum of 9,000 THB (250 Euros) for a 120 hour course, subdivided into 4 hours a week, to a maximum of 8 months for 15,000 THB (420 Euros).
The quality of the teachers is high. The only shame is that the branch in Bangkok is located within the Royal City Avenue neighborhood, which is hard to reach since it isn't very close to public transportation.
The Knowledge School has a price of 42,000 THB for a course lasting 14 months, for a total of 400 hours divided into 8-10 hours a week.
There are 3 levels available. One of the school's advantages is that it's also open in Saturday mornings, which is great for those who work during the week. It can also be easily reached by the BTS by getting off at Asoke station and walking toward Benchakiti Park.
The AUA Language Center, founded 1952, is considered one of the most prestigious and economic of Bangkok. Today the American University Alumni has 14 centers spread around the nation; on the list are also the cities of Pattaya, Chiang Mai, and Chiang Rai.
At the Bangkok branch the most common option is for 300 hours, for a total of 33,210 THB. There are multiple options offered by the AUA Language Center, and they'll give you the chance to try the first lesson for free (obviously this only works if you're already in Thailand), besides receiving special discounts for every 200 hours of attendance.
This branch in Bangkok is on Phayathai Road, near the Sam Yan subway stop, at the exit called Chamchuri Square.
The AAA Thai Language School, started more than 30 years ago in Bangkok, teaches lessons to a group of 10 people maximum. Here too you can have a trial lesson, choosing a day between Monday and Friday.
Also located on Phayathai Road, AAA Thai Language School offers an intensive 3 level course for a total of 180 hours and a 6 month visa for 25,700 THB. If you'd rather get a year-long visa, the course will include 5 levels divided into 300 hours at a price of 42,500 THB.
You can also take private lessons for a price going from 480 to 700 THB an hour. Once again you can apply for a student visa, paying for a package of private lessons that include 60 hours of lessons (6 month visa), for 32,000 THB, or 80 hours of instruction with a year-long visa for 42,500 THB.
Among the documents included in the price is a letter for opening a bank account in Thailand.
Walen Thai School, with locations in Bangkok, Chiang Mai, and Pattaya, is perhaps the most expensive Thai school.
50 hours is the minimum number of lessons, for 10,950 THB. The maximum number is 800 lessons, for a total of 96,200 THB.
This school has an intense program which in fact requires you attend four days a week for two lessons a day, or two days a week for two lessons a day.
The private lesson package of 30 hours costs 26,700 THB, while the maximum of 400 lessons requires a good 227,920 THB.
Some special offers also include help with opening a bank account, help in getting a Thai license, two nights in a hotel, transportation from the airport, and help in finding an apartment.
With locations around the world, In Lingua offers writing and Thai language courses in various locations around Bangkok.
There are 3 levels, each of which, besides the classic grammar, has useful subjects for everyday life; such as ordering food at a restaurant, negotiating prices, booking a hotel and others.
Thai as Second Language School with a location only in Chiang Mai, offers courses tied to a one year visa with lessons 4 days a week at a total cost of 35,500 THB. If you only want to do six months the price is 21,500 THB.
The method used by this school permits you to gain an intermediate level in spoken Thai in 10 months, while in a year and a half you can make it to level C1. It will take a year of study to reach intermediate level in writing.
If your plan is to go live on a tropical island, know that also on Koh Samui and Koh Phangan there's the option of learning Thai and getting a student visa.
On Koh Samui you'll find the Mind your Language Thailand School, which offers Thai lessons at a cost of 47,900 THB for 200 total lessons. If you only need a 6 month visa, the price goes down to 29,900 THB.
On Koh Phangan instead, you can enroll in the KPT Language School. Courses range from beginners to advanced. You can also get a student visa with private lessons: 119,900 THB, for 200 hours total.
Another resource that's useful for learning Thai from home, or reviewing subjects learned in school and learning a native pronunciation, is the YouTube channel ThaiPod101, which has more than 100,000 followers and over 800 videos.
Photo Credits:

Bangkok School by iloew