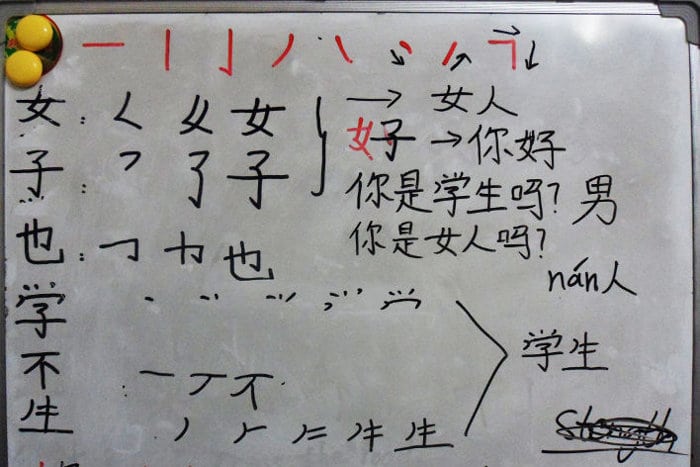 I have been thinking for a long time on the topic of my first article about Chinese learning. Finally I decided to make an interview to one of the first Chinese people I meet in Beijing. I'm talking about Luna, a Chinese language and culture teacher.
She has taught mandarin in several schools, including the Ecuador's Confucius Institute of Quito and Guayaquil. She has also collaborated with the European Science and Technology Fellowship Programme, which brought 58 European researchers to China during the period 2009-2012, and contributed on the elaboration of some HSK exams.
At the moment she is working as a teacher at the Beijing Film Academy, teaching an unconventional Chinese course that exploits Chinese movies to learn the Chinese language and culture.
For all these reasons I thought that she could share her experience as a teacher and give you some tips in the most effective way to learn Chinese.
Hi Luna, thanks for accepting to answer to my questions! Tell me, which will be your first suggestion to someone who want to study Chinese?
Chinese is not an easy language to study.
Wow, aren't you scared to lose your students after the first class? Are saying that Chinese is difficult?
Yes, I'm scared. I only want them to understand that Chinese has few in common with the Western languages, so it's better if you start to speak it without thinking too much about your mother language.
My idea is that the soon the students realize it the better. What I want to convey is that Chinese is difficult because it's really different from their mother language, not because of the language itself.
You say that because you are Chinese ; )
Now I am studying Spanish and I have the same problems that you have with Mandarin. Well, almost… I must recognize that Chinese characters are another thing. They are difficult even for Chinese people!
But you should approach the study of Chinese characters according to your goals. If you just want to communicate with other people, you should probably just learn how to read the characters.
Nowadays there is no practical need to learn how to write them as the computer or the cell phone can do the work for you. But if like them, you could approach the study of characters as an hobby: writing is an art in China.
For the people who need to write, there are some rules you can follow at the beginning. After all, learning the Chinese characters is a way to practice your patience and exercise your memory.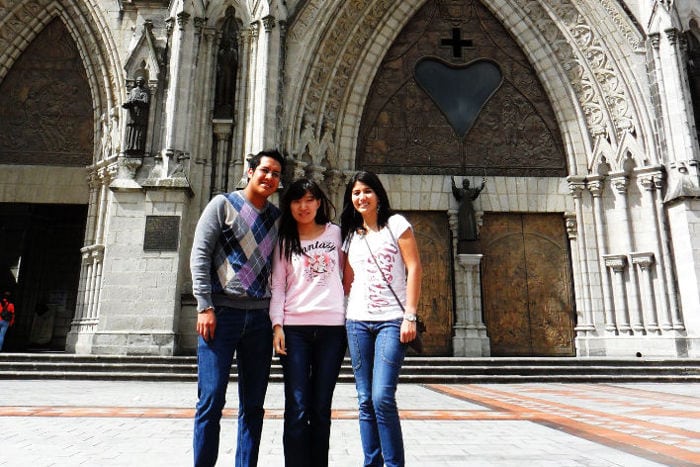 Luna with her students in Quito
In your opinion which is the biggest mistake most people do when they try to learn Chinese?
First of all, people try to understand Chinese using their own language structure. And second, they pretend to learn too fast. I always tell to my students to don't be so fast; you better review what you already learned or you'll forget it. This is especially important for the people that study Chinese outside China.
What you will suggest to all the people that have began to study Chinese a couple of months ago and now they are starting to lose their motivation?
Have a rest. Then if you want come back and we'll start it again. Just do not forget the xiexie and ni hao! So when you need to talk with a Chinese person, you can say something. Maybe it will help you to get a big deal with a Chinese company : )
Ah, I nearly forgot! Also remember wo ai ni, maybe you will needed in the future, nobody knows the paths of love.
[Sborto: "Wo ai ni" means "I love you" in Chinese].
After teaching to people of so many nationalities, what is your opinion of the western students? Which are the differences with the Chinese students?
In my opinion the westerns look at the teacher as someone that can help them to study more than someone that should "teach" them. And this is also my idea of the teacher's function. Every student knows the best way for him/her to learn (except the kids) so the teachers can't impose their ideas on how to learn.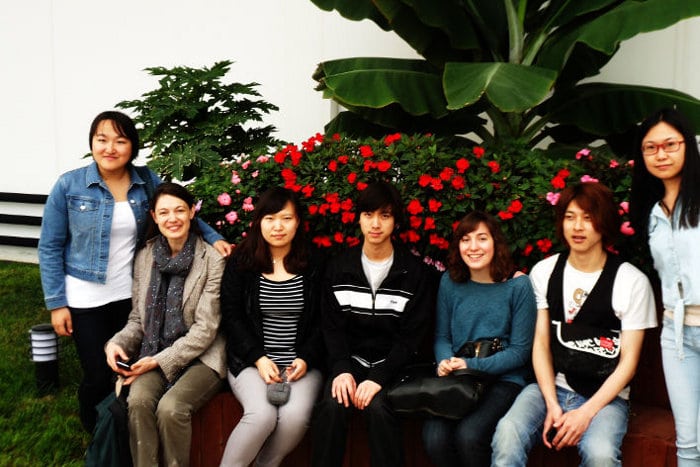 Luna and her students at Beijing Film Academy
What is the most common mistake that Chinese teachers do while dealing with western students?
Treat them like the Chinese kids and force them to accept their idea of learning Chinese.
At the present time you are teaching at the university, in your classes you use the Chinese films as a teaching material; do you think is a good learning method?

Yes, but not at the beginning. The first three months of learning is just a waste of time to use it. However as the level of the students gets better and better you can introduce first short parts of a film o video and then, after about a year of study, this can be a good tool to improve your listening, understand better how people really speak, and understand modern China.
Could you recommend any book or resource to study Chinese?
There is not one good book that fits everybody. Depending on your objectives I would recommend one or another book. The most important point, at least for the beginners, is to choose a book where the explanation are written in their mother language.
You know me quite well. Which are my main problems with Mandarin and could you suggest something to solve them?
Your Chinese level is completely unbalanced: you can listen and read quite well but you still have problems with speaking and writing. So the better you can do is to study more regularly and get a tutor to help you to improve your week points.
Thank you a lot, now I feel less confident than before!
Photo Credits: Photos by Luna Zhou