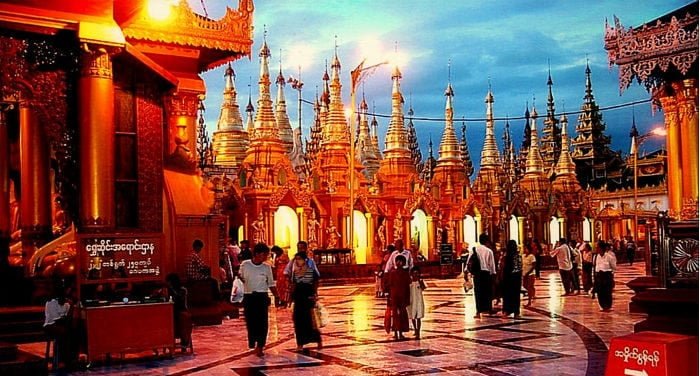 A little history of Yangon
With its 5 million inhabitants, Yangon is Myanmar's biggest city, but not its capital, (which in 2005 was moved to Naypyidaw). Yangon is also the arrival point for the majority of tourists, being well connected with the majority of major international airports.
Although it isn't the capital, the city has all the characteristics of being one: banks and businesses, modern and dilapidated skyscrapers, colonial buildings, traffic, a mix of religions and cultures, numerous Buddhist pagodas, Hindu temples, mosques and churches, an enormous China Town, markets and street food that will confuse you from the start.
I recommend that you stay in the city for at least two nights: that's the amount of time that is necessary to get to know the neighborhoods, each with its own characteristics; you can then taste its colonial past, Indian, Muslim, Chinese, British-style buildings, shining stupas and other attractions you'll discover by reading this article and walking alone through the city in its chaotic traffic.
How to get to Yangon?
Yangon has an international airport, as I said, that is well connected to the major airports of the surrounding countries, but not just those. If you're already in Myanmar, you might have to fly from Mandalay on a domestic flight on AirAsia or for about 12,000 Kyat (the local currency) you could try the experience of taking a night train (about 15 hours), seated on one of the uncomfortable but manageable cushions, that will bring you directly from Mandalay to Yangon.
If instead you're coming from Thailand, the closest and most practical border at the moment is Myawaddy-Mae Sot, which is about 400 Km away (about 10 hours of travel by minivan or bus.
Where to stay in Yangon
There are numerous hotels and guest houses in Yangon, for all budgets. I stayed at the 20th Street Hostel in China Town, a cheap hostel with room and breakfast included, with nice and welcoming Burmese staff. The hostel is located in a neighborhood with a nice mix of cultures, which teems with life and street food in the evening.
Here you'll find various options for staying in Yangon.
What to do in Yangon?
In Yangon there are things that will certainly be impressed on your memory. Here are the main ones:
Visit the Shwedagon Pagoda
Shwedagon Pagoda is the city's symbol, and is visible from every point of Yangon. The pagoda is well preserved despite having undergone earthquakes and other misfortunes over the years. I think it's one of the most beautiful and fascinating places I saw in Myanmar, even if that statement is a bit bold.
Although it was the capital of the Burmese Empire for a few hundreds of years, Yangon's roots go back thousands of years. The pagoda is a mix of shapes, rites and colors that will accompany you during a visit to its interior, for which you'll have to set aside a budget of 8,000 Kyats.
The pagoda's origins are tied to a legend from 2500 years ago, when two brothers met the Buddha in the forest while he meditated under a tree. At that time they exchanged a few gifts and received eight hairs that they brought to the sacred Singuttara hill where Shwedagon Pagoda now stands.
At the point of the stupa, on the spire, there are about 7000 diamonds, rubies and sapphires, while about 60 tons of gold adorn the pagoda's 98 meters of height. I recommend a visit a little before sunset, or at sunrise. You'll be enchanted by the lights and colors that reflect all around.
A tour of the market
There are many markets in the city, but a great place I'd recommend is Bogyoke Aung San Market, where you'll only need half a morning to visit the shops with good prices. You certainly won't be disappointed by the excellent selection of local handicrafts, one of the most vast in the whole country.
In fact, besides selling finished products, you'll meet and have the honor to see tailors while they work on a piece of material to make a long gyi, the typical Burmese skirt. The covered market numbers about 2000 shops over two floors. It closes at 5 in the evening.
Circular train
If you've just arrived in Myanmar and looking for a different experience, then the Circular train is for you: an extremely long train with frequent departures that circles Yangon, passing through the suburbs and peripheries of the city leaving from the central station, at the price of just 200,000 Kyat (tourist price).
On the train you'll get a glimpse of Burmese life, a very colorful ride with indistinct folklore. The train takes two and a half hours to go all the way around the city, and stops at many stops where you'll be overwhelmed by people, vendors and local everyday matters.
What to eat in Yangon: street food and tea houses
You'll see many places with colorful seats where you can stop to eat and drink tea; in fact, a ritual inherited from the English colonization is tea. Myanmar is a large producer of tea, which is offered everywhere and you'll never have to pay to have a carafe at your table.
In these 'tea houses' you can also eat something and have breakfast, the most important meal for the Burmese. A tea house that I'd recommend is Thone Pan Hla, right near Sule Pagoda, an octagonal pagoda going back to 2000 years ago and is located right in the middle of a grid of roads that go all the way to the water in a strange position on the traffic divider. If you have time, I also recommend that you visit here.
Burmese food
First of all, don't be surprised if you see someone eating with their hands because here it's something that is absolutely normal. Depending on where you are, the cuisine varies because there are about 70 different ethnic groups in the country that have, along with the surrounding countries, influenced Burmese cuisine on offer. In Yangon you'll find a mix of everything.
Breakfast
Breakfast in particular, as I said, is the main meal of the day. Forget croissants and simple things and open your stomach and your traveler's spirit to decidedly stronger flavors, which you'll soon get used to. I recommend that you try the Thali, a type of crêpe to be combined with curry, tiffin sambar, etc.
Then there's Pe Nan Bya, a type of bread with boiled peas seasoned with peanut oil taken from Indian cuisine, Bein Mont, a fried sweet you can find on the streets of Yangon every afternoon. This delicious sweet is made of sticky rice flour, almonds and slices of fresh coconut.
If you would like to taste a simple dish, then try Dosa: this is a type of pancake whose main ingredient is fermented rice flour that comes from the south of India. It's often eaten at breakfast or you can find it anytime on the streets of Yangon.
Lunch
There are lots of dishes that I would recommend, but foremost I'd like to mention Burmese curry. For just 1,500 Kyats, you'll be served a curry of chicken or lamb in a cup. It will be accompanied with rice, a broth, fish sauce, chutney (a fruit-based sweet and sour sauce), onions in bean sauce, tomato and cucumber salad and other little dishes depending on where you're eating.
You can certainly throw yourself into a salad of dried tea leaves, lephet, a great thing.
Photo Credits:

Gran Pagoda de Shewedagon Paya, Yangon by Jose Javier Martin Espartosa