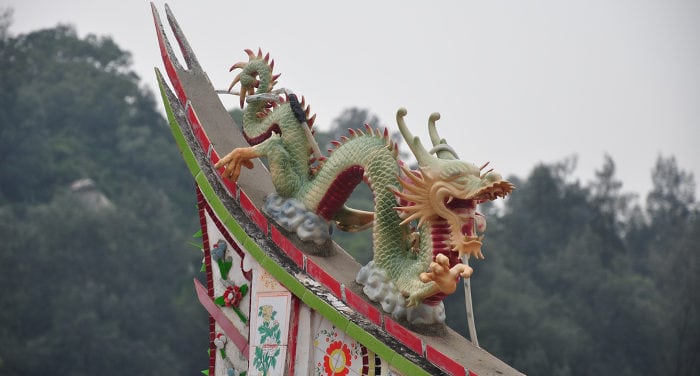 Kinmen (Jīnmén in Mandarin, also known as Quemoy in English, derived from the local pronunciation in Hokkien) is an island administered by Taiwan (the Chinese Republic) and claimed by China (Chinese People's Republic) which is only 2 km away. Access from China was off-limits to foreigners up until 2008.
So the first time I disembarked on a newly-opened Kinmen I had no idea of what to expect. I lived in Xiamen for a few years and during my summer swimming I enjoyed curiously wondering about the coast off in the distance that was visible from the beach.
I often heard about this place through stories told by the local people: I was especially struck by a few daredevils who in the past, risking bullets on both sides, went there at night by small boats to visit relatives of whom they were separated for years. I don't know how true these stories are, but they certainly left me fantasizing about this island that was so close but out of reach.
For almost 60 years Kinmen remained off-limits, with the beaches off of China completely mined and those without mines full of iron pickets. That's not exactly a post card island. The only way for me to legally approach it was by air from Hong Kong or directly from Taiwan, a torturous and paradoxical route (to reach a place 2 km away, I had to travel a thousand). But even for the Chinese it isn't easy to get to Kinmen.
In 2008 the government of the People's Republic adopted a political restriction on visas and many expats like me were forced to make the so-called "visa runs", that is, leaving China to re-enter with a new visa or entrance stamp allowing one to extend their stay for another 30 days. For me that meant 9 hours on a bus to Hong Kong, a night in a microscopic guest house and another 9 hours for the return or, alternatively, an expensive flight.
When finally the governments of China and Taiwan agreed to open access to Kinmen directly from Xiamen, it wasn't just the Chinese that were thrilled but also some of us expats: the distance of about 2 km that separated me from this territory that was "occupied" by Taiwan, now also opened to foreigners, saving us a long trip to Hong Kong.
So access to this island opened suddenly, and full of expectation I jumped at the chance to go to Kinmen armed with a body board and a towel for the usual visa run: or how to transform a boring bureaucratic errand into a carefree day at the beach.
Upon arrival I remember the enthusiasm of everyone I met: at the pier it was a succession of smiles and welcome greetings that young people offered me in English. It was a historic moment for the islanders. I returned another 5 times, then the visa situation improved, visa runs were no longer necessary and a few years later I moved to the north.
Since then much has changed, Kinmen has become an important destination for the Chinese tourist market and seeing a foreigner is no longer a novelty. Despite this the island has managed to maintain its end of the earth appeal that struck me the first time, and moved me to return repeatedly.
Kinmen yesterday
This small island was the site of a ferocious battle. In 1949 the People's Liberation Army landed and unleashed an attack, but soon found themselves up against a tenacious resistance by Taiwanese troops.
After fierce battles China retreated, leaving the land to the armies of Taiwan. In the years that followed the hostility continued with repeated bombings, especially in the second half of the 50's. Attacks went on until the 70's and then there were sporadic episodes until halfway through the 80's.
Due to this confrontational climate Kinmen remained closed to continental China for decades, which is surreal because geographically it belongs to the extremely close province of Fujian with which it shares its weather, culture and language. A top notch warm region far from Taiwan, not very attractive from an economic point of view, and heavily militarized, it couldn't enjoy the economic boom that Taiwan did during the 60's or China in the 90's.
This situation lead to slow economic growth as a result and maintained an indigenous island culture, a little like what had happened in Cuba but on a much smaller scale.
Kinmen today
A positive aspect of this forced isolation was the preservation of a good portion of traditional homes. While other places had a rapid and accelerated modernization through the butchery of artistic and cultural buildings, here, other than the damage caused by Chinese artillery, much has remained untouched and is visible and can be visited even today. In fact in the villages there are beautiful buildings that go back to the Qing and Ming Dynasties, perfectly restored and still inhabitable.
The island has a rural appearance with hills dotted by villages. The only real town is called Jincheng and it offers a little life and color to those who prefer an urban environment with shops and typical restaurants. There are a few beaches and the best is certainly the fine sand beach on the eastern coast, near the airport, recognizable by the wreckage of an old tank.
It's here that during rough seas you'll find very social local surfers. Once I had the chance to meet a group of soldiers riding the waves, who said their surfing was imported by American soldiers staying in Taiwan during the 70's.
When to go to Kinmen
Thanks to the subtropical climate you can visit Kinmen all year long, though I don't recommend either the summer months, due to the suffocating heat, as well as the period right before the rains. The best months are in the Autumn starting at the beginning of September through all of December. To swim or surf, Autumn is perfect. From June to October there can be violent typhoons, and in that event transportation connections will be interrupted, even for a few days.
Why go to Kinmen
Kinmen is an ideal place for those looking to relax and escape the crowds and chaos of Chinese cities for a few days. It's a place immersed in nature, and for this it attracts those who love natural landscapes and explorations on scooters or bicycles, or those who love taking pictures of the migratory bird life, as well as those who love the beach, obviously.
How to get to Kinmen
From China: from Xiamen by boat (30 minutes).
Fron Taiwan: from Kaohsiung and Taipei by air (an hour or less).
For fast boat timetables on the Xiamen-Kinmen route check the following site.
Travel documents
You'll need a passport that will be valid for at least another 6 months, but not a visa (so long as your passport is from a country that doesn't need a visa to visit Taiwan). Upon arrival you'll be issued a 90 day permit.
If you want to re-enter China, you'll need to have a multi-entry PRC visa that is still valid, or a resident permit.
Language
Taiwanese (Hokkien). Mandarin Chinese is spoken everywhere. English is widespread among youths, but not the older natives.
How to get around Kinmen
The island is very small and you can get around by public bus or taxi. If you have a motorbike license I recommend that you get an international license so as to rent a scooter in Jincheng and travel all over the villages, beaches and wooded hills.
Actually scooters can be rented with just a passport, so long as you up the cash. The problem is that in the event of an accident you'll give your insurance a legitimate reason to not pay you.
If you're a romantic like me, take a map at the arrival port and let your smartphone and google rest for a few hours.
Hitchhiking here is an enjoyable and safe option (I tried it personally).
Where to stay in Kinmen
In recent years there's been a proliferation of many family run guest houses, some quite beautiful since they're located in traditional homes of stone and brick, with a characteristic swallow-tail roof typical of these areas. There are then the classic hotels used mainly by tour operators for groups, a few hostels and even locals who freely host people through couchsurfing.com.
To book things in advance I recommend Agoda.com, Booking.com, or, if you have speak Chinese well, Qunar.com.
How long to stay on Kinmen
It depends on what you want to do. For a quick overview and swim one day is enough, but for a more beautiful experience I would say at least a couple of days. Obviously anyone wanting to detox from a frenetic life could opt to stay longer.
What to do and where to go on Kinmen
The best way to enjoy the island is to rent a scooter and get lost in the countryside and villages. People are courteous and happy to offer help, but even if you get lost it's very easy to get reoriented with just a few tries.
The worst thing that could happen is that you wind up at an isolated beach right in the middle of a military exercise! This happened to me once but after the initial amazement both I and the soldiers had a laugh and I quickly sneaked away.
The atmosphere is very relaxed and begs for a slow exploration: slow traveling to say it in a hip way.
Shuitou is the most distinctive village. This pleasant hamlet presents a rich assortment of buildings both in Western style as well as the typical Hoklo, with "swallow tail" roofs common in all of southern Fujian. The most interesting dwellings are the Deyue residence and Youtang Villa, an ancient scholastic headquarters. Many of these homes were built by rich Chinese merchants who made their fortune emigrating to Southeast Asia during the 19th and 20th centuries.
Wuntai Pagoda hexagonal in shape, it is considered one of the oldest buildings in Taiwan. Going back to 1387, it was built by Emperor Hongwu of the Ming Dynasty, for the purpose of honoring the heavenly divinities.
Jhaishan Tunnels are a testimony of the island's turbulent past. Carved entirely out of granite, they go as far as the sea and were conceived as a refuge and boat shelter during the Chinese army's bombings.
The Jindaodi snack shop is located inside a delicious Fujianese court called Dǐngjiè Shíbā Zhīliáng, and serves small locally raised oysters both in omelets and in soup. Both shouldn't be missed.
Jhushan Village is another example of architectural finesse and works of Chinese immigrants who got rich in the Philippines. The houses in the little center have an elegance that's hard to find in modern continental China.
For fans of birdwatching there are many opportunities to observe them in humid nature areas in the island's interior.
What to eat on Kinmen
The food on Kinmen is pretty much the same as in Fujian and Taiwan: seafood, fish, fish meatballs in soup, oyster omelets, noodles in peanut sauce, rice balls wrapped in bamboo leaves, etc. The classic triptych are the snacks:
Bànmiàn (noodles in peanut sauce)
Ròuzòng (sticky rice balls with chestnuts, pork and various vegetables wrapped in bamboo leaves)
Hǎilì jiān (oyster omelets)
Typical products and souvenirs
Sorghum liquor called Kāoliang (Gāoliang in Mandarin, a real gut-buster) and artisanal knives that are said to be fashioned by the fragments of the thousands of rockets that fell during Chinese bombardments.
Typical of the place are the sweet, sesame seed or peanut-based snacks,which are very tasty and similar to our nougat.
Dangers
The beaches aren't watched by lifeguards. Don't venture into the water if the sea is agitated or during tides, currents in the Straits of Taiwan can be very strong. Never enter the water or play at the water's edge during or just after a typhoon (it's illogical but people do it, and every year somebody dies). The natives have a curious habit of ignoring road signals and don't use seat belts.
There are areas that are not blocked off where they conduct military exercises; warning signs aren't always visible, so if you're not authorized to access them and do so by accident, smile, excuse yourself and immediately leave.
The massive mine clearing work of the past few years has cleared a portion of coastline opposite China, but as a precaution always ask locals if you intend to adventure into remote areas where it's possible that there may be leftover ordinance.
Photo Credits:

DSC_9487 by BoonHui & Sandy