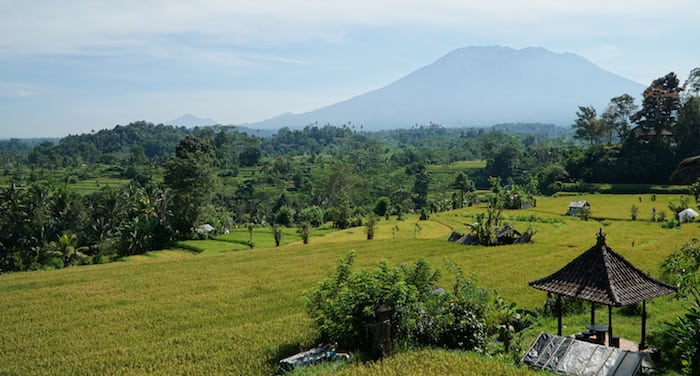 The Sidemen countryside in the interior of Bali on the slopes of Mount Agung – Photo by Matteo Bosi
It's not infrequent to hear the name Bali mentioned along with "paradise". This slice of Indonesia gained its fame as one of the most memorable places in Asia to vacation. Without a doubt, it's a marriage between a varied territory suited for all forms of tourism, and an innate hospitality that has made Bali so renowned.
Moreover, over the years its offerings have improved to the point of being suitable for all budgets. From Obama to backpackers!
An island, yes, but where
Bali is part of the Indonesian archipelago. In particular, it is located between the larger island of Java and the smaller one of Lombok. The Strait of Bali separates Java from Bali and can be easily crossed by boat. Connections with Lombok and the Gili Islands have improved and increased in recent years.
Bali is a volcanic island. A good portion of its beaches are therefore typically dark sand, while the southwest offers steep cliffs along the shore with small sandy corners. The beaches in the southeast are artificially kept, which means that they are rather tranquil, or in other terms, boring. It all depends on your point of view.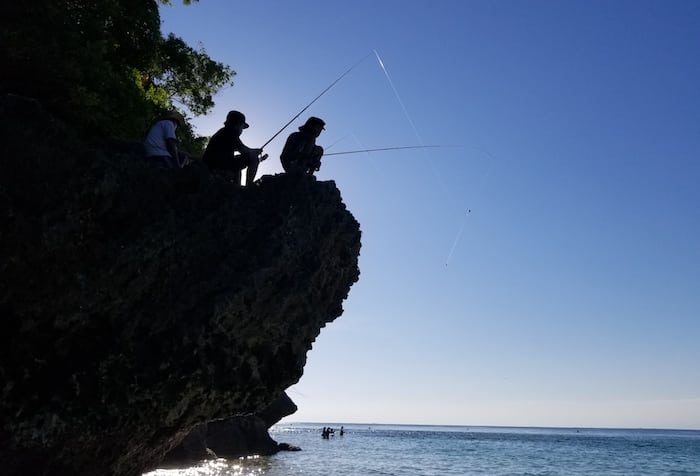 Fishermen on the cliffs near Padang Padang – Photo Matteo Bosi
Bali is also a really small island, 140 km long and 80 km wide, to simplify. Nevertheless, I can't say that you can "comfortably" tour by car, but I'll speak of this later on.
There are two active volcanoes on the island: Mount Agung is the one that recently captured attention, at the end of 2017, ruining the plans of many tourists. Along with Agung, there's Batur (which is also active) and Mount Abang. These peaks keep the interior's climate humid and rainy. And, let me warn you, potential tourist, they also keep alive alerts of eruptions and earthquakes…
Next to the mountain, an extensive tropical forest embraces the island and weaves its way into inhabited areas, creating an overall panorama that is fascinating and wild. In addition, agriculture has molded Bali's appearance and the terraced rice paddies are an attraction and beauty in certain places, such as at Jatiluwih, which is even considered a World Heritage Site.
When to go to Bali
As a very famous place that is quite popular with certain people, such as the Chinese and Australians, high season is really a rather complex calendar. First of all, summer is high season, July and August, specifically is when the dry season arrives and guarantees long periods without rain. Actually, depending on the area, there can be temporary downpours, but nothing that would ruin your vacation.
To these two peak months, you can add June, September and October, where the influx is less but the weather is still perfect. Besides these matters, you should also consider Australian school vacations and Chinese national holidays. Additionally, local tourism is growing: when I was there, in the beginning of May, besides never seeing a drop, the area was swarming with Indonesians, especially the temples. What lines!
However, in whatever period you choose or are forced to go, temperatures are mild all year long; or in other words, it's hot but not unbearable (from 24° to 32°) and this is one of the many reasons that Bali is considered such a special destination.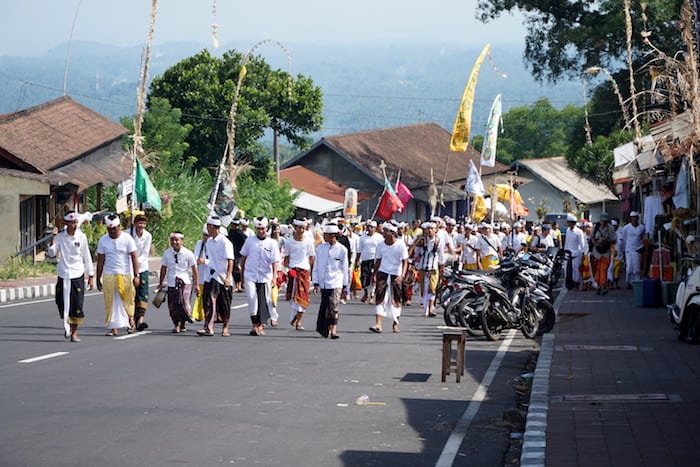 A Hindu ceremony heading to Besakih that blocks the road – Photo by Rita Andreetti
Secondly, if you're interested in visiting Bali for its numerous activities, find out well in advance when they run: there's the kite festival during the summer, the blues and food festivals in May; or, the sacred ceremonies in the temples that color and animate even the cities. And more still.
How to get a visa for Indonesia
The visa is simple but the bureaucracy is unbearable. For Italian citizens, a tourist visa is good for a maximum length of 30 days, can be acquired on arrival and doesn't cost anything (obviously unless the passport isn't valid for the next 6 months or there's other prejudicial circumstances). There are no other specific requests (passport photo or other things).
Rather, the hassle has more to do with the endless line we were caught up in once we got off the plane. Fortunately my daughter is under two years old, so we were able to take the "fast lane", which only saved us a half hour. Young couples, groups, single travelers were all tangled up in an unending snaking line that probably kept them there a few hours.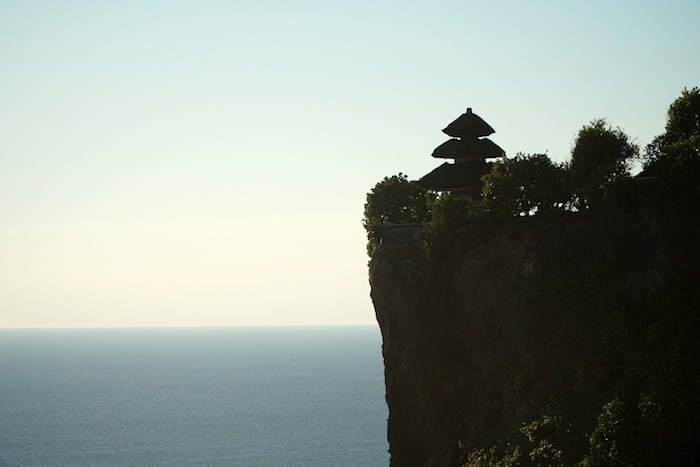 Pura Uluwatu at sunset – Photo by Matteo Bosi
If you want to avoid the arrival line, or want to stay more than thirty days in Indonesia, in that case you can (rather you must for longer stays) request a visa at a cost. If you have time to waste, you can get a thirty day visa for $35 on arrival, and then ask for an extension. Or, contact the embassy or Indonesian consular offices, or any agency that handles visas before leaving. Note that after the enactment of new standards, long term visas are tied to the port or airport of entry or exit. Check this page for more information.
Useful numbers:
Ambulance: 118
Red Cross: +62 361 480282
Police: 110
Tourist police: +62 361 754599 e +62 361 763753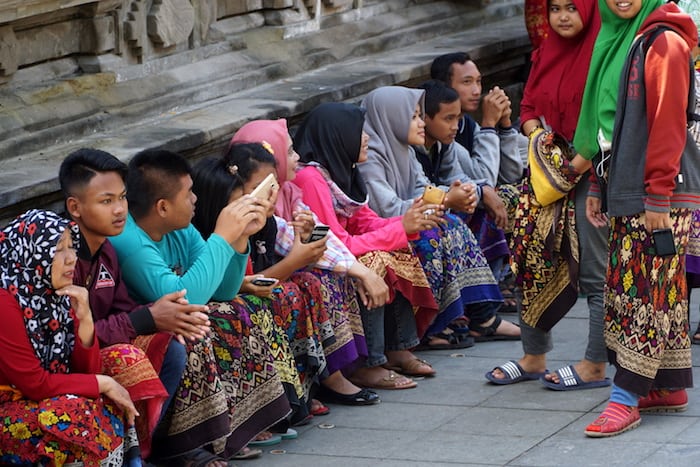 The faithful in temple – Photo by Matteo Bosi
Useful Apps
Here is a brief list of Apps that you can download on your phone before leaving; maybe you won't use them all, but some will save you time and others will save you effort:
My Blue Bird: is the most trustworthy taxi service on Bali, especially if you're looking for a ride back from Kuta late at night or you need a transfer from the airport to your hotel. Since it is widely known that it's the most popular service, sometimes cars will "dress up" as Taxi Blue Bird even if they aren't. To avoid being ripped off, use the App. Otherwise pay attention to the official logo that should be in place: on top of the "taksi" sign, on the side of the car, on the window in the passenger compartment, on the headrests and the driver should be wearing the Blue Bird uniform.

The My Blue Bird App, after an easy registration, allows you to track a taxi and get an estimate on what your trip would cost. Always check, even if you've taken a Blue Bird taxi, that the driver starts the meter. And above all, book the car in advance if you can. You can download the App here if you have an iPhone or here for your Android phone.
Go-Jek: is a multiservice platform that's a little like the Chinese Alipay or Wechat, though the core of its business began with deliveries and transport. As a tourist, I imagine that you can make use of it for a motorbike ride or having a snack delivered to you under an umbrella, or have your purchases brought to your door. Download the App here if you have an iPhone or this link if you have an Android.
Uber: if you're one of those who still don't know about Uber, this is a transportation service (car ride) offered by private citizens who transform into drivers. They also offer long trips, yet for these I invite you to also consider renting a private car with drivers who will stop you along the road or are recommended by your hotel: these are the options most used on Bali, which make them the cheapest. You can download Uber here if you have an iPhone and here for Android.
Grab: this is another taxi calling App; it works in different parts of Asia and isn't lacking in Bali. To give you an idea, it uses a system similar to Uber. This too is expanding, following the example of Go-Jek, but on Bali all of its services aren't fully operational (at least at the time of writing). To download it, click here if you have an iPhone, or click here for your Android.
Tokopedia: is the largest online Indonesian store and works like Taobao or Ebay. There are many imported products there, so if you need to look for something in particular, this resource might be for you. Obviously it refers to the internet site or, as above, to the App, for Android or for iPhone.
Travel insurance and medicine
Health levels on Bali are better than those of southeast Asia, but the standards aren't comparable to those in Italy. You can find various private or international clinics on the island, mainly concentrated in the Denpasar-Seminyak-Kuta area, but not just there. For special or extraordinary treatments, the prices can be steep and payment required in advance of hospitalization. Therefore, in this situation adequate health insurance is indispensable.
The Foreign Ministry recommends that you go to Singapore for urgent or special situations, since there are frequent and fast air connections with Singapore.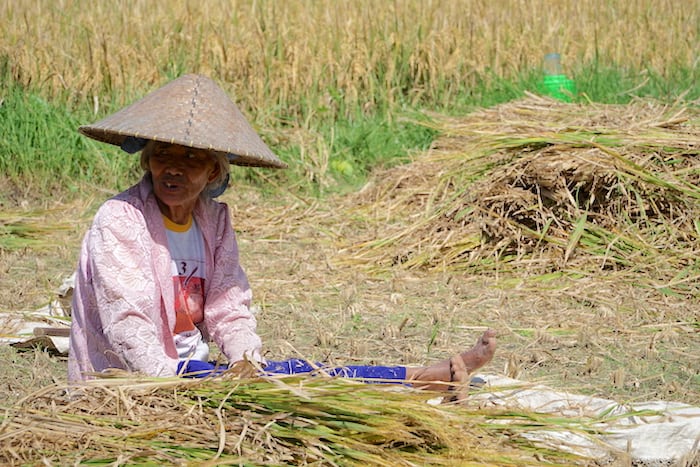 An elderly woman rests during the grueling rice harvest by hand – Photo by Matteo Bosi
Although pharmacies are just about everywhere (some look like cosmetic stores/pharmacies), certain treatments are more expensive. So I recommend that you bring a standard pharmacy kit for the trip, stocked up on medicines you specifically use. To this you should add:
a wide spectrum mosquito repellant (or tropical)
very high protection sun block
a complete allocation for traveler's dysentery (lactic capsules, an antidiarrheal, soluble minerals)
I found myself in a situation where I had to buy something for my daughter's cough (2 years old): in a pharmacy in Ubud they gave me a 125 ml bottle of syrup made of a natural local product that cost about 10 Euro. Compared to the local cost of living, it's practically the nectar of the gods!
Click here to read our advice on which travel insurance to use.
Vaccinations
The Foreign Ministry site recommends vaccinations for typhoid, paratyphoid, hepatitis A and B, and tetanus and yellow fever shots.
After the rainy season there's an increase in reported cases of dengue fever, which is transmitted by mosquito; in the past many cases of bird flu were also reported, so it would be good to avoid unnecessary exposure to henhouses or bird markets. If you also wonder if there's malaria, fortunately Bali is considered "malaria-free".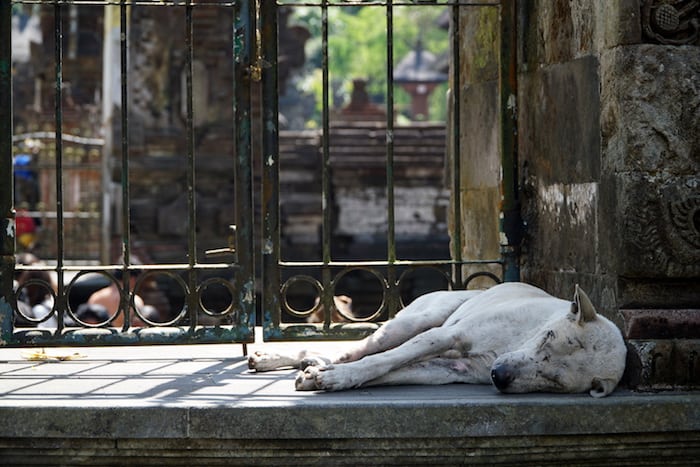 A stray dog nodding off at the temple of Tirta Empul – Photo by Matteo Bosi
Another thing, and this is a special recommendation for families, on Bali you'll see many stray dogs. The majority aren't aggressive because they're quite used to being in the middle of people; but they carry diseases, such as rabies or various skin problems. Obviously, they can change disposition if completely starving. So steer clear of them, the Balinese are the first to shoo them away and you won't find them in better hotels or resorts. Besides the dogs, there are monkeys everywhere, especially in Ubud: they seem like social and innocent animals, but as I will explain they aren't. If they become aggressive, they could be a real risk to your health.
Internet and telephone
Internet connection is generally widespread in all hotels; even restaurants tend to make their passwords available at your table. You'll never have coverage problems in luxury resorts and hotels, but it may be that homestays and bed and breakfasts won't have an adequate connection in rooms (especially if you're in the middle of the rice paddies!). This is one of the most common negative comments in accommodation reviews. Nevertheless, it's generally slow compared to ours at home.
It is almost an obligation, even for a brief stay, to get a local SIM card: firstly to be able to comfortably use the Apps that I listed above without incurring overpriced international roaming charges; and also so that if you want to freely get around by motorbike or bicycle, you won't need a map. It's not that in Bali there are all these roads, but some that might appear as mule paths without a trace of humans are actually main arteries…
Moreover, for contacting drivers, WhatsApp is widely used. So for this it is good to be reachable at any time or any place.
The first piece of advice I can give you is: avoid buying a SIM card at the airport, especially right by the exit. They can overcharge the price of the SIM something like 150.000 IDR (Indonesian Rupees), which in other words means that you can pay 13 Euro for 20 Gb of data instead of 5 Euro! A second point, carefully check what the offer includes and don't be taken in on the amount of Gb: not all data traffic is associated with voice traffic. And this means that your Indonesian phone could prevent you from making calls, only to receive them. But honestly you want to be able to make calls, even minimally; it would be useful in an emergency.
The telephone companies with the most extensive coverage are Telkomsel (the SIM is called simPATI) and Indosat (with IM3); forget about the other service providers because in remote areas they aren't active and your phone becomes nothing more than an ornament. The average price for a card with internet and a handful of calling minutes, goes from 85.000 IDR to 120.000 IDR.
Money and credit cards
In Indonesia they use the Indonesian Rupee, IDR . This currency is mostly in paper money, while you won't often use coins unless you're getting onto a bemo.
ATM services and currency changers are widespread especially in the tourist areas in the south and in Ubud. Always use official ones. I don't recommend that you exchange money before leaving, but you can withdraw some right in the airport by waiting on a bit of a line.
If you want to avoid this setback and the chance that the currency exchangers give you a dishonest price, you can leave with a minimum sum just to get you from the taxi to the hotel with a little extra. For your reference, the cost of a transfer from the airport to Ubud is 350.000 IDR while towards Nusa Dua it's 200.000 IDR.
On Bali I had the chance to use Mastercard and Visa without any trouble. The Chinese Unicom on the other hand wasn't accepted everywhere as I had imagined, so if that's the credit card you use you might want to bring an alternative.
The delicate question of transportation and roads
Getting to Bali is much easier than getting around Bali!! The island is well connected since it's an extremely popular tourist destination, but the condition of its infrastructure isn't on par with the massive influx. The roads are narrow and packed with various types of traffic: cars, buses, bemo, and a conspicuous flow of motorbikes and scooters that don't have a dedicated lane, and use the same asphalt reserved for cars. On the roads that cross population centers, it's rare to find sidewalks, and if there are, they're just on one side and badly done, so that pedestrians are forced to zig zag going up and down the street. And then let's not forget the wild fauna!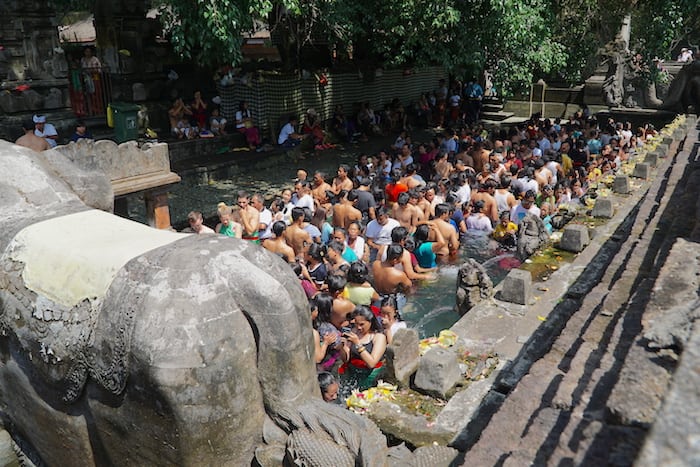 The faithful (and tourists) immersed in the sacred waters of Tirta Empul – Photo by Matteo Bosi
This lesser road network influences the speed and fluidity of road traffic. So if on the map the island looks small with only a few kilometers between places, in reality the distances are longer and the flow is intermittent. This is a fundamental detail to keep in mind when planning on getting around and arranging day tours: badly calculated or inefficient transportation could ruin your vacation! Don't be a greedy tourist thinking you can see more than one or two destinations tops on the same trip; and always check with the locals to see if those 10 km on Google Maps isn't really a path marked by CAI. Moreover, check that your driver is well-informed about the roads, travel times and has a Plan B in the event of unforeseen occurrences. Because he'll be your lifeline!
Air
To get to Bali from Italy you'll have to go through the airport in Denpasar, Ngurah Rai International Airport. It's the only destination on the island that accepts international and domestic flights. But, there's a but.
So I'll tell it to you: we're traveling about 6 hours since we're coming from Hong Kong, and my daughter begins showing signs of air sickness. I distract her when I see that we're approaching land, telling her what we see through the window: "here we go, look, we're about to land, the plane is descending, the wheels are coming out and the runway is getting close…" But really I'm having doubts because we're still pretty high up… and actually the island I thought was Bali was probably Java, since we left it behind and below us extends a expanse of blue marked the wake of boats; while the plane keeps descending.
"Ah no, that wasn't Bali, but now we're getting there, eh! There's the water, we're still over water, and more water, another bit of water…but we're pretty low, eh…" When I was wondering if by chance the plane wasn't actually a seaplane, and with my foot was nonchalantly checking that there was a life vest under my seat, a spit of land pops up and in three seconds we thankfully land on the asphalt.
Ngurah Rai's runway springs out of the blue of the water and is relatively short; to the point of having some limitations on which type of aircraft it can handle. So from Italy there aren't any direct flights to Bali, but you'll have to make a stop in Dubai, Doha or Singapore, just to name a few.
Ngurah Rai Airport is very efficient and relatively new. You're twenty minutes by car from Nusa Dua and Sanur, which is well connected via the new highway. It is also easily reached from Seminyak and the west coast, the same as with Jimbaran and Uluwatu. For Ubud, count on a trip of at least an hour and a half with traffic, and for the north up to three hours by car.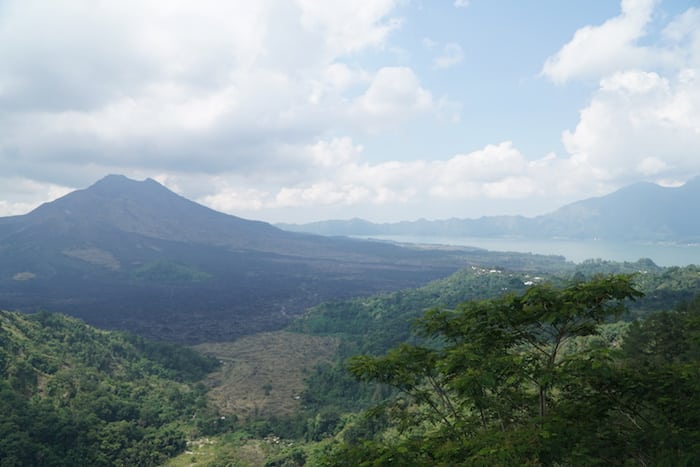 The panorama of Lake and Mount Batur – Photo by Matteo Bosi
I suggest that you arrange your transportation to your hotel in advance: many places have their own driver or a host of private cars that help them drive tourists around; so don't hesitate to ask your hotel as your first option. I really advise you not to look for a driver at the exit of the airport since it can be really crowded and confusing, especially if you come in high season, the evening, or even worse, at night. Thinking that you'll also have to figure out a ride might start your vacation of badly. The Balinese, though polite, are also very insistent. Therefore, the best option is either a pre-arranged driver or a taxi booked in advance. There's also a bus service, but it doesn't seem to cover all that much; check the three available lines at this link.
Car and driver and taxi
Yes, it is possible to rent a car and drive on Bali with an international license; but no, it's not a good idea. Traffic is too demanding and you risk an unnecessary accumulation of stress, which while on vacation isn't good for anybody. Driving is on the left, so it's the opposite of how it is in Italy. This makes the already adventurous local roads all the more challenging.
Private cars and drivers can very easily be found and there's no reason to try the local roads on your own. If you really want to rent something, you're better off renting a motorbike, which actually can be ideal for short distances.
Medium range distances and night travel are best covered by drivers and taxis. As I mentioned earlier, you can find drivers by asking your hotel or friends who have already been there and have someone trustworthy they would recommend.
If you reserve in advance, you can also get a car seat for your child, even though it isn't mandatory on Balinese roads.
A private car and driver costs about 550.000 IDR, with the possibility of a surcharge for a car seat. In many cars they have seven seats so fitting in baggage is always an issue. For a half day or an evening without too many kilometers, figure 400.000 IDR (for example, Nusa Dua to Uluwatu and back). Drivers are generally willing to wait a few hours for you; it's part of their service and is included in the price. Some of the more capable and available ones also offer:
tour guide services inside the attractions
baby-sitting while your daughter sleeps in the car
line cutting or ticket buying services for shows while you visit the temples
Discuss and decide with your driver the stops and dynamics of your tour: he'll know best about the times and areas to visit involved. Also, certain areas are somewhat "forbidden" to taxis thanks to a gang of drivers that control the area and block access. This is the same problem as in a few temples where suspicious characters start trouble looking to get an unearned tip out of you: have your driver accompany you and escort you during the ticket buying process, and don't give tips to anyone you don't feel inclined to give one to.
Lastly, visiting places of interest usually requires paying for parking, so make sure you're clear on what is and isn't included when coming to an agreement.
Motorbikes
This is the main means of transport and is perfect if you're traveling alone or as a couple, though I even saw entire families traveling like this. In particular it's good for around Ubud or the coast of Seminyak if you want to get out while staying in the area (but in the evenings traffic here is insane, so be careful!). Really, you can say that they're taking over the streets, and tourists are even choosing them for long trips (or "longer" trips, since the distances are relative). And so, by now the Balinese even use them for trips that could easily be walked on foot.
However, I can't say it is the healthiest way to get around, especially if you get trapped in a traffic jam caused by a procession or on a Saturday night heading to Kuta. You'll be breathing in the worst fumes from the cars and other motorbikes.
The use of a helmet is mandatory, they ask for it in theory at the rental agency where they also want to see your international license. In theory… prices vary but the average is around 50.000 IDR a day. Always check the vehicle you will use because they get passed around and cross all over Bali and its difficult roads, so you can never be too careful.
Most of all, if you don't have any confidence driving around on two wheels, then I don't suggest you take on this adventure. Especially if you're going to have somebody riding on the back: I saw people overtake others with only millimeters to spare, and the Balinese use a code of communication that we don't have, alternating between the horn, lights and arrow. The road, it would seem, has its own unwritten rules and requires a certain level of ability and perhaps even a reckless streak.
Do you want to bet that it's more comfortable to sit on the back and watch someone else drive??
One last suggestion: if you go outside the city, you might have to get gas from one of the household distributors. Actual stations are only in larger towns, while outside of them fuel is sold in glass bottles set up along the road, and you'll obviously pay a little more.
Bicycle
A bike is perfect in Sanur and Nusa Dua, but less ideal in Kuta-Legian-Seminyak-Canggu. It would also be a perfect way of getting around the areas near Ubud, if it wasn't for all the ups and downs that make it an option only for capable cyclists. You won't have any trouble finding a place to rent you a bike since the agencies are everywhere along the roads, and all hotels are ready to either rent you one or at least direct you to someone who can.
Organized bike tours are very popular, where a guide picks you up at your hotel and takes you on the road to explore the vegetation, hidden villages and even have a typical meal.
Bemo
Bemos are nicely-shaped multi-seat vans – made in Japan – which represent what remains of Balinese public transport. They are sadly about to be supplanted by the two wheelers that all the locals use.
Bemos are the best indigenous means of transport, so if you're a tourist they might apply a "tourist" price to you. That is why it's a good idea to watch how much others pay and get those rarely used coins ready. They usually don't leave unless they are full or nearly full of whatever form of life you need to transport… They have predetermined routes and will stop with the wave of a hand.
Where to stay on Bali
The accommodations on offer on Bali are extraordinarily varied. They go from hostels with dorm rooms, to bed and breakfasts, to homestays run by those same smiling faces, up to luxury hotels and resorts. Recently, staying in a villa, even for long periods has become widespread, where you can really feel like you're at home.
Click here to find the best accommodations in Bali.
I recommend that you do your research before booking a villa, and make sure that among the comments there aren't experiences where people were relocated at the last minute or the place is in an unfindable location. There have been cases of this.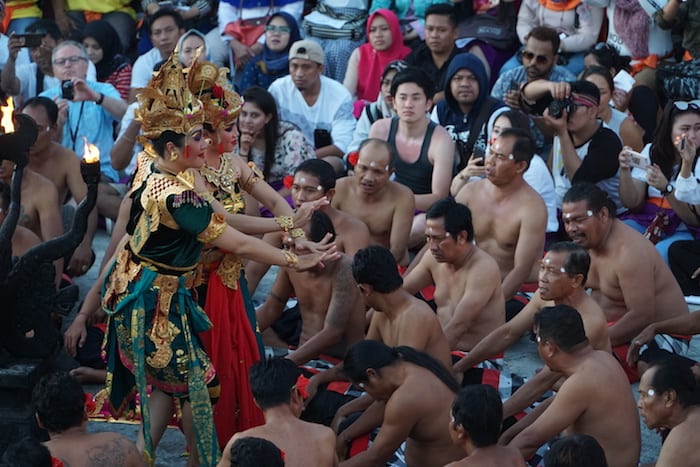 Kecak dance show at Pura Uluwatu – Photo by Matteo Bosi
The most frequent little problems in cheaper residences are with bugs and moisture. Mosquitos and ants (at least a centimeter long) are everyday companions, so make careful use of mosquito spray and keep doors closed. Additionally, there are pools everywhere, and as you can imagine there can also be water-loving little mice: it's important that you check that the water in the tank is filtered and chlorinated (the smell should be enough).
It also isn't rare that the room's bathroom is set up…in the open! Or sometimes the shower is often open to the sky. If you're worried that sounds and smells can disturb neighbors, check the presentation images first.
Where you should stay depends on what type of vacation you're looking for. My advice is not to stay at only one place, but break up your stay in a few locations. I'm not kidding! If you'd like to see the interior, don't think that you can do so while based out of Uluwatu. To be clear: you will be forced to spend half your day on the road. So decide in advance what "style" of vacation you'd like, because where you stay will determine what day trips would be available.
A last tip for backpackers: the cheapest areas are Kuta and Legian on the west coast, or the islands of Nusa Lembongan and Nusa Ceningan to the east.
Click here for the best rates in Kuta.
Click here for the best rates on Nusa Lembongan.
One island, many trips
The beauty of Bali is in the fact that it is flexible and has varied places, full of courtesy and local smiles. Services are at the highest level because the Balinese are very good at making a tourist feel comfortable. In addition, prices are decidedly affordable even for those who can't splurge on an expensive stay.
Click here for the best rates on Nusa Lembongan.
So here's the handbook for destinations based on your vacation's interests. Let it be known that the list is not exhaustive or exclusive; each area is open for anyone, it's just that they're more suited for certain types of clients compared to others. Moreover, weather conditions (and sea conditions especially), restrict options or designate a place to something in particular.
With these suggestions I intend on directing you toward the places that best suit your needs, but the advice I gave above still pertains: at least two stops for brief stays, so that you can enjoy the various aspects of the island.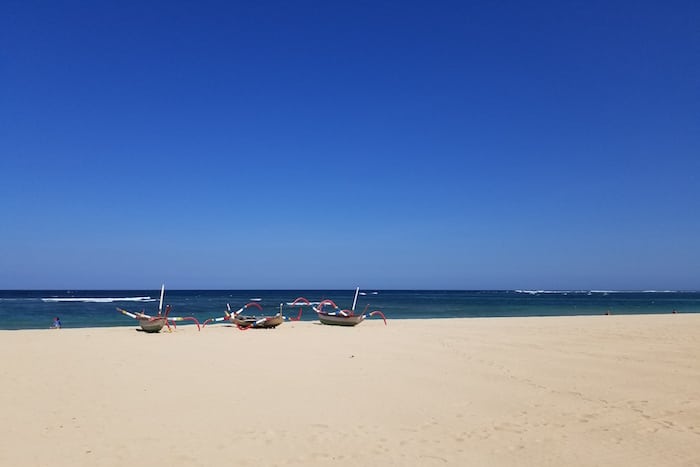 A glimpse of the beach on Nusa Dua – Photo by Rita Andreetti
So then, if you like…
Relaxing, sun and sea, whether alone or as a couple: your spot is the Kuta-Legian-Seminyak-Canggu coast, and the closer you get to Kuta the more party-like your vacation will be
Relaxing, sun and sea as a family: the two most kids-friendly spots are definitely Sanur and Nusa Dua; Canggu also has good services, but they're more suited for those with older children that might also be interested in surfing, because the sea can get rough here
Still more relaxing, sun and sea and volcanic sands: Amed is your area, because although it still keeps its appearance as a fishing village even though it is well served, it hasn't been "deformed" in the name of mass tourism like Nusa Dua has
History and culture: obviously Ubud, a World Heritage city and the ancient heart of Bali.
Trekking, rice paddies and landscapes: the rice paddies are all over the place, but Ubud and its surroundings are popular, and Jatiluwih is even more so. Mount Agung and Mount Batur are special for trekking uphill
Beginner or expert diving and snorkeling: for those who love the depths, I recommend that you don't stay on the large Bukit Peninsula, because the best is found elsewhere: the islands of Nusa Lembongan and Nusa Penida are an excellent choice (with depths between 5 and 40 mt); the coastline between Amed and Tulamben has the famous site The Wall (a wall that drops 75 mt) and the wreck of a Japanese cargo ship that is now the habitat of extraordinary marine life; lastly, Menjangan Island, a nature park to the north near the Java canal
Golf: there are a good six gold courses on Bali, mostly in the south between Nusa Dua and Sanur
Surfing: you're definitely on the right island, Bali is a surfer's paradise all year long; the west coast starting from Kuta up to Uluwatu offers waves for all levels
Spa waters: Lovina is a very peaceful alternative destination with a spa center (Air Banjar)
Spiritual vacations: besides many activities tied to yoga and meditation, Bali flaunts lots of Hindu temples, some of which are quite breathtaking; basing yourself in Ubud you're close to the most famous ones: foremost is Besakih. Nevertheless, you can count on them being spread all around the island to the east and southwest and going through the interior, so every corner has one with something special of its own. In the South, remember Uluwatu and Tanah Lot, facing the sea for perfect sunsets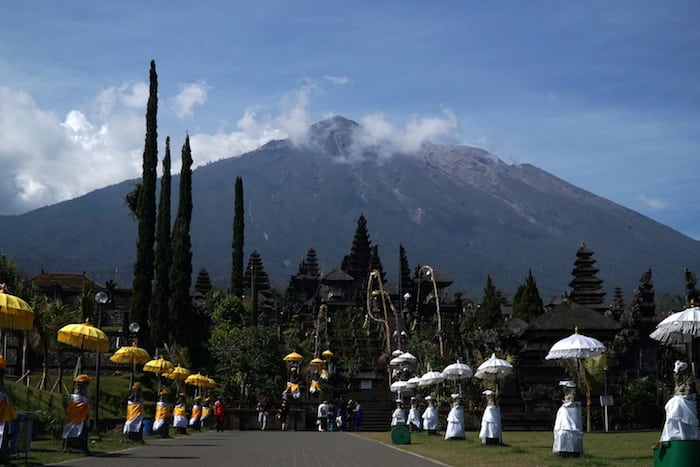 Besakih Temple on the slops of Mount Agung – Photo by Rita Andreetti
Planning your trip
As you can see, you can choose to experience Bali by visiting its attractions, or live like a lizard until the sun goes down, or hop from one activity to the next without stopping.
Here's a list of the main attractions in Bali; in a week, you can head to Ubud for some tours around there, then over to a seaside spot among the many available. The more days you have at your disposal, the further away you can go or the more stops you can add, or just rest longer.
What to see
Ubud: the cultural center of the island; you can visit the center and the temples, even if the walk is a bit tiring because it's a little uphill and full of car and motorbike traffic. Near Ubud, there's the famous Monkey Forest and a few museums of contemporary art, which is thriving in Bali because it's probably among the best places for inspiring artists. Among these there's the: Agung Rai Museum of Art, Neka Museum and The Blanco Renaissance Museum.
Around Ubud: the town is surrounded by rice paddies and lots of trails for scooters, bikes and even walking trails. On the road that goes northeast you get to Tampaksiring and the temple of the sacred waters of Tirta Empul, and if you have time, stop at the caves of Gunung Kawi. To the south, a motorbike drive away brings you to Elephant Cave and the villages of Peliatan and Bedulu.

On the roads that start from Ubud and reach other interesting places, there are tons of little villages that have the extraordinary distinction of offering a unique specialized handicrafts: wood masks (Penusuan), glazed dishes and other works (toward Besakih), large sculptures, stringed musical instruments, batik… If you'd like to know more, speak to your guide/driver about it and consider making a stop before reaching your destination.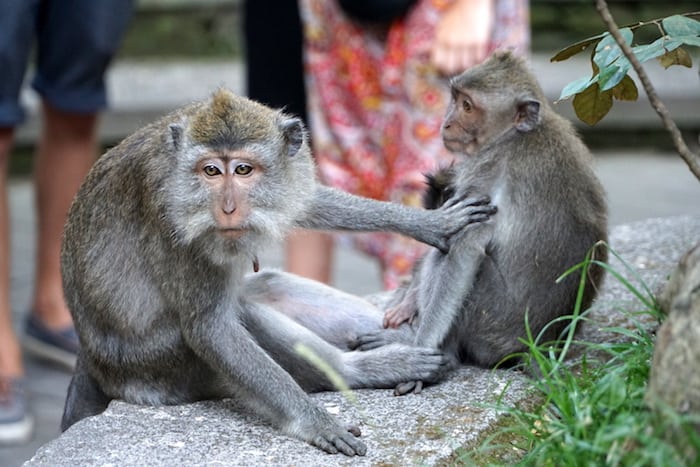 Monkeys in the Monkey Forest in Ubud – Photo by Matteo Bosi
Lake and Mount Batur: going up Mount Batur will let you – in less than two hours – climb one of the most active volcanoes in Indonesia; off its slopes hot waters go down to the valleys where you can enjoy them. So stop at Toya Bungkah (Air Panas) for the spa and the next day go back up the volcano. Strongly ask your hotel for a guided trek because, although it can be done on your own, there's the local gang that will try to trick tourists. There are different trails, but the most popular starts from Air Panas.

At the lake you can paddle a canoe or take a guided boat tour. Or if you don't have time for any of these activities, Kintamani is located on the other side of the mountain, where there's a temple that has miraculously survived the fury of lava for two eruptions in the last century: here you can have lunch with a majestic view of the landscape dominated by the great Batur.
The eastern point, from the interior to Amed: east of Ubud in the interior, is among the calmest and purest of Bali. These are the terraced fields of Sidemen, where rice cultivation is woven into the tropical forest dotted with villages where life flows at a very different rhythm than in the tourist areas. Behind them, the imposing Mount Agung.

Not too far away (as the crow flies) from Sidemen there's the wonderful and imposing three-part temple of Besakih: a thoroughly sacred place that is sadly overrun by more or less official tourist guides.

The coast between Amed and Tulamben is definitely the most popular for fans of diving. Secondly, further down, there's also the small gulf between Padang Bai and Candi Dasa that offers points of underwater exploration.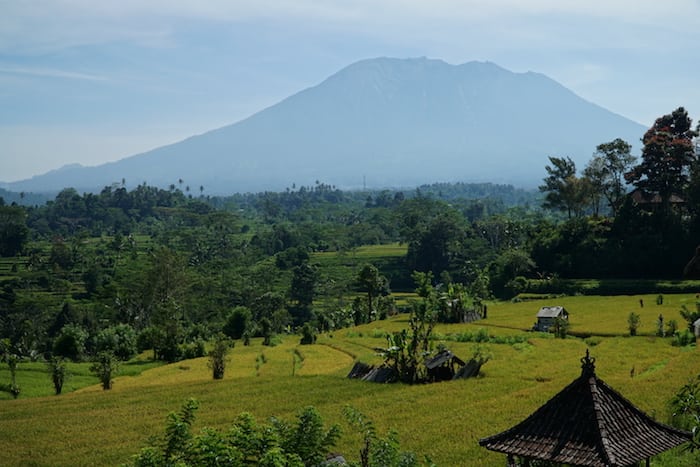 The field of Sidemen on the slopes of Mount Agung – Photo by Matteo Bosi
The sunbathing stations of Sanur and Nusa Dua: they are the most middle-class competition for the Kuta coast; they have luxury hotels and resorts, but also excellent villas for rent. In order to make the beach so livable and secure, there was a massive effort to modify the landscape. So these are areas not recommended for surfers but are better for families.
Tanah Lot and the Kuta coast: The Tanah Lot temple is quite famous and popular, but its position against the sea and its sunsets have made it an unmissable stop. The coast south of the temple…is the temple of entertainment. It is one of the best developed and organized areas of Bali: Kuta and Legian are "young", cheap and party-like; while Seminyak, Kerobokan and Canggu are better suited to families or those with a healthier budget. This is also because the ribbon of sand that runs north to south, despite being one of the best tended, is also where the water is rather rough; even the surfers in Kuta enjoy themselves, while the families do what they can toward Canggu. They are generally considered tourist sites for sea and fun with a wide choice of activities on land as well as shopping.
Uluwatu and Jimbaran: on the western coast of the Bukit Peninsula is Jimbaran, which is most famous for dinners on the beach. Some twenty restaurants, all the same, offer fish by weight and grill them right then and there, while you enjoy the arrival of the tide with your feet soaking as the sun goes down. It's best to seek advice and not choose on your own because even though all the restaurants are the same, scams are also widespread.

Further south, the area of Uluwatu and Padang Padang Beach: the former is the site of Pura Uluwatu, a cliffside temple on the water, that is also very popular at sundown; the second was a location in the film Eat, Pray, Love which turned a spotlight on this Indonesian paradise. Uluwatu is becoming ever more popular of late, especially for those looking for out of the way accommodations and little beaches tucked in between the cliffs. Obviously, if you choose these areas you're forced to have your own transport to get around.
The north and Menjangan Island National Park: usually tourist trips head north to appreciate the World Heritage rice paddies of Jatiluwih. Or, as previously mentioned, to take a dip in the thermal waters of Lovina. The beaches are not so well-kept and furnished as in the south, but it's is a different option for those looking to escape the crowds: calm, off the beaten track from the masses of vacationers and a rural and wild Bali. The best of its natural appeal is certainly Menjangan Island Park , while the best trekking is climbing Kawah Ijien; if you're looking for a temple to reconnect with your spiritual side, remember this name, Pura Rambut Siwi.
The islands, or better yet, the even smaller islands: Nusa Penida and Nusa Lembogan are fascinating places to escape the crowds, where a more genuine Bali still lives. Diving, surfing, as well as a (few) crystal clear sandy beaches for taking a dip.

There are those who while visiting Bali, go as far as the Gili Islands, by Lombok, because on these little corners of white sand paradise there's perhaps something that's missing on Bali. There are three: Gili Trawangan, the most active and best developed, Gili Air and Gili Meno, where this last one is truly just a little island in the middle of nowhere for those who only want some sun and sea. These islands can be reached by sea or air: fast boat, public ferry or airplane to Lombok from Denpasar. It's no easy stroll, a half day trip by sea and thirty minutes by air, so it's best to escape there for a few days if these spectacular destinations appeal to you.
What to do
Dance: something you can't miss if you'd like to immerse yourself in the traditions of Bali, are the traditional dance shows; they're just about everywhere in Ubud, but the most accredited companies are those of Ubud Palace (Legong dances), of the Agung Museum (Kecak and Legong dances) and the impressive show in the south near Pura Uluwatu (Kecak dances). The dances all begin at sundown, tickets go fast and places are "first come first serve".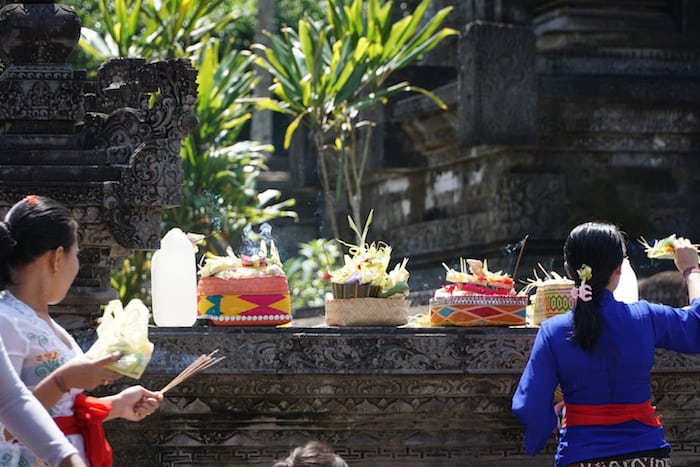 The famous votive baskets that are offered at temples in the morning near entrances, on the street; you'll see them all of the place in Bali – Photo by Matteo Bosi
Animals: the fauna of Bali, especially marine life, is quite varied. Monkeys will be your curious companions (and also quite bold, so be careful!) for your days in Ubud. While sadly stray dogs will be everywhere on the island.
Snorkeling and diving will show you amazing and colorful marine life. But besides this there are other widely advertised activities that aren't very respectful of the environment. One such is dolphin watching by boat, because from peaceful "watching" it has become a motorized following. Another situation where tourists wind up being complicit, even unintentionally, is the segregation of the Luwak (civet cats): they are little nocturnal creatures that are part of the production of a prized sort of coffee. Force-fed coffee beans, the Luwak don't digest the beans but excrete them through their feces which are then gathered and treated for the production of a very expensive coffee with an intense aroma. It is undoubtedly a prized beverage, but the way it is obtained would even make the least animal rights activist shudder…
Massages and body care: Bali has the highest density of aesthetic centers in the world! And the quality is the highest. A body massage costs between 100.000 IDR to 1.000.000 IDR at the most chic hotels, but there are a variety of treatments and you can come out feeling renewed and cleansed. There are lots of centers in the tourist zones located all over the place; if you don't have any friends who have gone before who can advise you or the staff where you are staying, just try one by chance.
Yoga: what better place to look to reconnect with body and spirit! There are about fifty registered yoga centers, with a dense concentration in the area of Ubud. There's something for all levels and budgets. Actually, some organize regenerative retreats where they essentially act as travel agents and plan your week by integrating the practice with visits and good food.
Watersports: using this term improperly I can list all activities from kite surfing or windsurfing, to banana boats. Along the beaches you'll find booths where they offer playful activities in the water, just like the hotels which are very well organized in this regard.

Given Bali's reputation, you can consider using your vacation as a chance to learn how to surf: the best waves for beginners (and therefore surf schools) are found in Kuta, Legian and Seminyak Beach. If instead you prefer the bottom to the surface, there are many diving schools and all offer PADI and SSI certification. The best time for these type of experiences are from September to November.
What to bring
Although the climate is "summery" all year long, remember that if you plan on trekking on a volcano, flip flops and shorts are definitely not in order. You'll need solid walking shoes even if you're thinking about visiting Ubud completely on foot.
If you're more inclined towards nights out, consider that in certain clubs there is a dress code, so then again bring an alternative to flip flops and corduroys.
In the water, if you want to participate in sports, a Lycra shirt is a wise choice even if it isn't absolutely necessary. The same for headwear, especially for kids.
If you're traveling as a family with small children, you'll need a sling or backpack for carrying your kids around. In a few areas, very few, you can do so with a stroller. Parts of Ubud, for example, or the Tirta Empul Temple. It always come back to the same issue: the roads are a mess. Moreover, pushing a stroller through Ubud means traveling sidewalks that go right up against the only arteries open to cars: in other words, it means having to breathe everything the cars emit, especially when sitting in traffic. And if this bothers you, think of your child in the stroller that's at the same height as the exhaust pipes…!
Cultural issues
The most frequent cultural exchanges actually happen on the road: the rules of the road that you're used to don't apply on Bali and disputes are never taken too personally. Generally anything in front of you is your responsibility, even those who pull in front of you without looking. So approach Balinese roads with slower speeds and spirit and without arrogance. If you overtake someone, you have to use your horn. If the person in front of you turns, they could use their turn signals. So just breathe.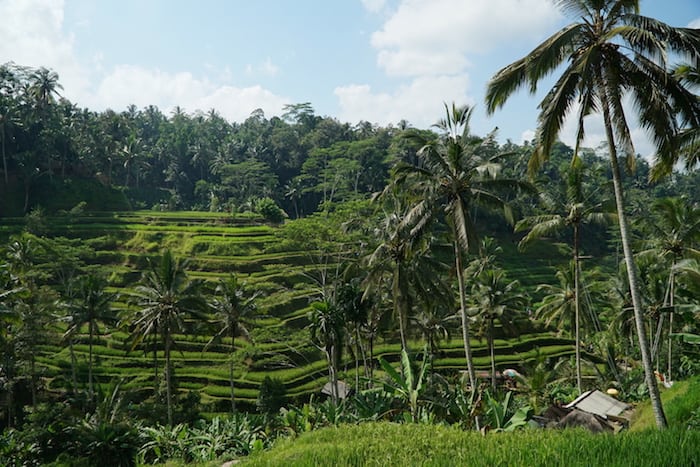 A glimpse of the rice paddies around Ubud: to explore the area we had to make "voluntary" donations many times along our route – Photo by Matteo Bosi
Modest dress and behavior are required, even in party towns like Kuta. Other than on the beaches, bathing suits are not appropriate, and going topless is not looked upon kindly. In many temples a sarong (a typical skirt/tunic) is required, or a bright orange belt, which is lent or rented at the entrance. My advice though is to get your own sarong right away and always put it on before visiting sacred sites. I simply reused a Burmese longy that I bought on an earlier trip: it won't always go perfectly with current fashion but the function is the same.
Avoid displays of affection: the Balinese are conservative and modest, there's no need to "challenge" the common morality. Also avoid touching a person's head, which is a frowned upon gesture.
If you intend to visit Bali in March, pay attention to the Hindu holiday Nyepi, or the Balinese New Year. If on one hand it's an occasion to better get to know the local folklore, on the other, the strict rules that govern this sacred occasion also include tourists, so you really should be informed. Nyepi means "to make silence", and that's exactly what happens the first day of the year according to the Balinese calendar: all activities are prohibited and families gather at home for a long prayer, fasting, and remembrance. The stores are closed and on the roads there are patrols sent to maintain the tranquility of the holiday. If you're on Bali the third of the six days of the festival, all you can do is comply. No excursions, no restaurants, all you can do is enjoy your hotel room and the sun.
During the other days of the festival, prepare to see colorful parades and chaotic moments.
Typical products and scams
On Bali handicrafts are of the highest quality. As I said above, the best selection is in the villages that specialize in a certain product.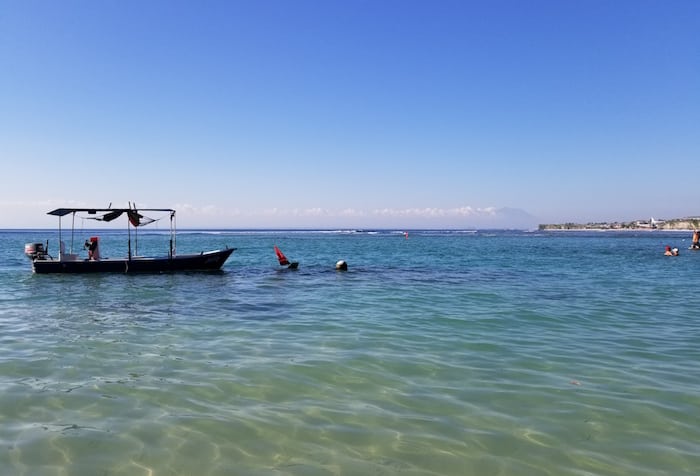 The sea from the beach of Padang Padang – Photo by Matteo Bosi
What are the area's products? Here's a list of the most important:
silver: usually sold by weight; the best place is the village of Celuk.
batik: decorated material colored by a traditional method of immersing it in the color, where the designs are created thanks to the artisan's great ability. The largest production center is Yogyakarta.
knives: they are called kriss and they are finely worked objects from serrated to straight blades that are part of Balinese tradition; an excellent souvenir.
wood: extraordinary works and figures of this material; wooden masks are the rage as are animal reproductions. The biggest centers are around Ubud.
clothes: in Kuta there are tons of shops and boutiques with fashionable and refined products.
Haggling is permitted, even required. The first price a merchant offers is often much higher than the actual value of the merchandise. Nevertheless, always respect the fact that even 10.000 rupies are of enormous value in a land where there's still a battle to rise out of the deepest poverty. And if you're really not interested in the item, don't waste time haggling, it isn't respectful to the person doing the selling.
Particularities
Tap water is not potable, but the daily use of plastic bottles (and not just these) has created, and is still creating tremendous recycling problems in the island. Disposal capability is limited, so I recommend that you "refill" your bottles and don't buy new ones day after day.
Local restaurants and street food are called warung: there are warung of varying qualities, in tourist areas there are the usual family run restaurants and all the effects. But warung is also the cart on the sidewalk selling typical soups and rice noodles served in a plastic bag… In general the food is safe; but as for snacks sold on the streets, personally I never tried it.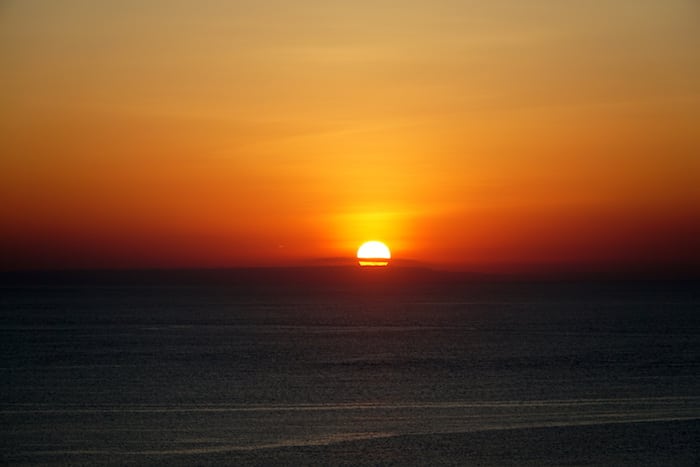 And example of the sunsets you can experience on Bali – Photo by Matteo Bosi
In closing, one personal note. The smiles of the Balinese will remain in your heart, there's no doubt; but if you go to Bali to look for the same magic of Southeast Asia, you're making a mistake: there's an enormous difference between the Buddhist culture of Thailand, for example, or Burma, and the Balinese Hindu tradition. My personal opinion is that I did better in Thailand: more pampered, revered and never threatened, not even from an "economic" point of view. So if you've seen other parts of Asia, you'll probably also have your opinion on the subject. I'm not trying to discourage you from visiting this sunny land, but have to admit that it isn't the destination of my dreams, and if I had to choose, I would prefer…Indochina".
That said, enjoy Bali and respect it!