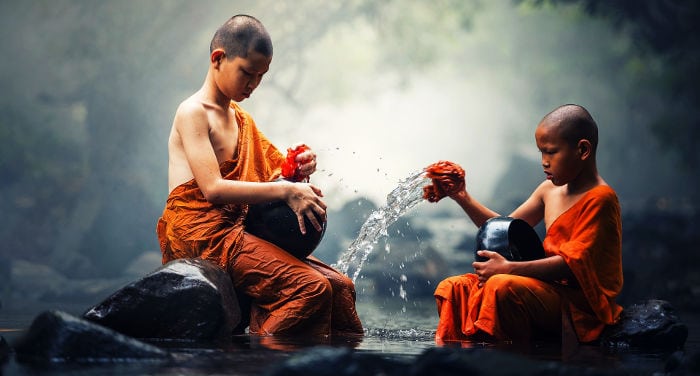 Most popular tours in Thailand
The best of Thailand

Classic Thailand

Beaches and Jungle

Complete Tour

Other popular tours in Thailand
Classic and family tours
Thailand is much more than tropical beaches and all-inclusive resorts. It's a country with a diverse culture, refined cuisine and immense natural beauty. For people traveling as a family, people who don't have a lot of time, or people who don't want headaches, the tours below are a good way to be able to experience everything that Thailand has to offer.
Bangkok – Kanchanaburi – Ayutthaya – Chiang Mai

Description: This itinerary lets you visit all of the essential spots north of Bangkok in a short time and to therefore get to know the diverse culture and history of Thailand.
Duration: 7 days
Price (approximated): 500 – 600 USD for a tour in a small group.

Bangkok – Kanchanaburi – Ayutthaya – Chiang Mai – Ko Chang – Bangkok

Description: This itinerary is especially intended for families, so that both children and adults can enjoy the trip. In addition to visiting the most important historical sites, it includes a visit to Ko Chang, one of the most beautiful islands in Thailand, as well as activities such as a cooking workshop in Chiang Mai.
Duration: 12 days
Price (approximated): 1,000 – 1,100 USD for a tour in a small group.
Hiking in Chiang Mai
Chiang Mai is the largest city in northern Thailand and due to its ease of access, it is the starting point for many tours exploring the tropical monsoon jungle and the communities living in it. If you love nature and hiking, Thailand and in particular Chiang Mai offers incredible itineraries that you can't miss. Below, we detail some suggestions.
Chiang Mai – Ban Pha Mon – Ban Muang Pam – Ban Jabo – Chiang Mai

Description: This tour lets you explore the monsoon jungle, the rice fields and the small towns to the north of the city of Chiang Mai. In addition, you can stay with Lahu ethnicity families and get to know their culture.
Duration: 5 days
Price (approximated): 300 – 350 USD for a tour in a small group.

Bangkok – Chiang Mai – Ban Mae Jok – Pa Khao Lam – Chiang Mai – Bangkok

Description: This tour is similar to the previous one, with the difference that it includes transportation from Bangkok and a visit to the city of Chiang Mai
Duration: 8 days
Price (approximated): 400 – 500 USD for a tour in a small group.
Islands of Thailand
Thailand is famous for its beaches and tropical islands. For fans of water sports and beaches in paradise, below you will find some suggestions to be able to explore areas that are hard to access without the help of a travel agency.
Ko Phi Phi – Ko Racha Noi – Ko Yao Yai – Phuket

Description: This tour is designed for people that don't have a lot of time and want to explore something more than just the famous islands of Ko Phi Phi and Phuket. In it, you'll be able to explore the remote islands of Ko Racha Noi and Ko Yao Yai and to go snorkeling.
Duration: 4 days
Price (approximated): 450 – 550 USD for a tour in a small group.

Phuket – Phang Nga Bay – Railay Beach – Koh Haa – Ko Phi Phi – Ko Racha Noi – Ko Yao Yai – Phuket

Description: If you only have a bit of time and want to visit remote islands in addition to Phuket and Ko Phi Phi, this route definitely won't let you down.
Duration: 7 days
Price (approximated): 950 – 1,150 USD for a tour in a small group.

Bangkok – Khao Sok – Khao Sok – Ko Samui – Koh Tao – Bangkok

Description: If you're looking for an alternative to the extremely developed coasts of Phuket and Kho Phi Phi, this convenient route starting in Bangkok is an alternative for water sports lovers.
Duration: 9 days
Price (approximated): 550 – 650 USD for a tour in a small group.
Adventure tours in Thailand
Thailand offers a unique opportunity for fans of nature and cycling. Below are suggestions to visit Thailand in a different way.
Bangkok – Kanchanaburi – Ayutthaya – Chiang Mai – Pha Lho – Ban Mae Ma – Chiang Mai – Ao Nang – Andaman Sea – Bangkok

Description: if you're looking for a bit more of an active tour, this route includes bicycle trips, hiking, and kayaking, and will let you experience Thailand from north to south in a different way.
Duration: 14 days
Price (approximated): 1,400 – 1,600 USD for a tour in a small group.
Note: the cost of the international flight to get to Thailand isn't included in the prices shown on this page.
Do I need a tour to travel to Thailand
Thailand is one of the countries that attract the most international visitors in the world and tourism is a very important portion of its economy. The country has been very successful in adapting itself to meet the needs of all of these travelers, and like many Asian countries, it's a relatively safe destination. It's because of this that traveling to Thailand is relatively easy, even for less experienced travelers. As a result, it's not absolutely necessary to book a tour to enjoy your trip to the Land of Smiles.
Even so, this huge influx of tourism has made it so that certain places have lost the charm that they once had, especially during the last few years, during which Thailand has become one of the preferred places for budget Chinese tourism.
Despite the excessive development of the most famous areas, there still exist many natural areas of great beauty that have not yet been destroyed by the mass tourism industry and where you can relax while surrounded by nature and the friendly local population. For the majority of travelers, accessing these places can be complicated and in many cases dangerous, as they are remote.
For people who want to enjoy the other Thailand, in the majority of cases, a tour might be the best option, even if it only covers a portion of the trip.
Last, of all, you need to keep in mind that organizing a trip to Thailand takes quite a bit of time (choosing an itinerary, booking hotels, booking transportation, etc.), and getting by in a culture as different as Thai culture isn't always that easy. Because of this, if you don't have much time to prepare for the trip and visit the country and/or you want to avoid unnecessary problems, it's obvious that an organized trip is your best option.
How to choose a travel agency
As we mentioned in the previous section, Thailand is one of the main tourist destinations and because of that, there are huge number of travel agencies offering tours in Thailand. Even so, not all of them offer good service, and some are even scams. Below, we list some points that you should keep in mind before choosing an agency.
What payment methods do they offer?
One of the aspects that can tell you whether you're dealing with an agency of doubtful trustworthiness is the payment methods that they offer. If the only methods are Western Union or a transfer to a bank account in a tax haven, you should be really careful, as this transfer won't offer you any type of guarantee and it's very likely that your money will disappear and you will be left without a tour, or if something happens, you won't be able to get your money back. Therefore, make sure that your agency offers secure payment methods and their refund policy is clear.
What is the travel agent like?
Good agencies have travel agents who are very familiar with the destination that they're offering, who are willing to answer all of your questions, and who don't rush you to pay for the tour. If you run into an excessively aggressive agent or one who isn't willing to help answer your questions adequately, it's very possible that this is a poor quality agency that doesn't have the resources or the desire to offer a good service.
What does the agency's website look like?
Currently, web pages have become the cover letter for many businesses, especially in the travel industry. Even a small agency that wants to offer good service will take a great deal of care in having a well-designed and functional webpage. A poorly-designed webpage or one with confusing information should make you doubt the reliability of the agency.
What are the prices like?
Despite being a relatively cheap country, in Thailand, as is true everywhere, you get what you pay for. One of the most common "scams" in Asia is that agencies offer very low prices and complement their earnings by taking travelers from store to store (where they will earn a commission on every purchase made by their "customers"). Unless you want to go to Thailand to be scammed, compare the prices of multiple agencies, and if one offers prices that are excessively low for the same services, ask them why.
What do previous customers say?
In the end, the only way to know if the travel agency is trustworthy or not is to see what other customers are saying. Take some time to read the reviews that can be found directly on the agency's website and on its accounts on Facebook, Twitter, Trip Advisor, etc.
What to take into consideration before booking your trip to Thailand
There are other aspects that you can take into consideration before booking a tour in Thailand.
Does the agency has experience in Thailand?
If the agency has experience in Thailand, it will offer you a certain degree of flexibility in its itineraries or will offer a large number of itineraries. If the agency only offers you two or three tours to choose from, it's likely that it has little experience in the country or few resources.
Does the agency take care of my internal trips?
One of the ways to offer cheaper prices is to not include transportation within the country. Unless you want to save money by making the bookings yourself, make sure that the agency includes plane or train ticket bookings in the price.
What is included in the tour price?
When evaluating an option, it's very important that you make sure of what's included in the tour. It's normal for a tour to include transportation, lodging, agency fees, the entrance to places of interest, certain meals, and certain activities. International plane tickets are normally not included in the price.
What is the quality of hotels?
The price of the tour can vary significantly depending on the quality of the hotels. Even if you choose to stay at budget hotels, the quality of the hotels can vary substantially. It's never a bad idea to take a look at the ratings of the hotels that the agency is suggesting on portals such as Agoda or Booking.
How to prepare for your trip and what to take
Visa
Thailand allows visits to the country of fewer than 30 days without the need for a visa for many nationalities. Here you can check out the complete list. If you plan to stay for less than this time and your country is on the list, make sure that your passport has at least 6 months of validity remaining.
On the other hand, if you're planning to stay in Thailand for more than 30 days or your country isn't included on the list, you need to apply for a visa.
Do you need help to get your visa for Thailand?
Click here to see the agencies that we recommend!
Travel insurance and vaccines
It's important that you check with the agency to find out if it offers travel insurance and what type. If you want more information on the subject, we have published a complete article on the topic. Click here to find out why it's important to have travel insurance in Asia.
It's not obligatory to get vaccinated to go to Thailand (unless you are coming from a country where yellow fever is endemic). Even so, I recommend that you check with your doctor to see if you're up to date for tetanus/diphtheria/pertussis (Tdap), polio, typhoid fever, hepatitis A and hepatitis B. If you're not up to date, I suggest that you update your vaccines.
In some parts of the country, there's a risk of getting malaria, cholera, and Japanese encephalitis. It's advisable to ask your agency if you're traveling in a risk zone and what measures to take.
Internet
If during your stay in Thailand, you need to stay connected to the Internet or to manage important matters, I recommend that you take a look at this article.
International flight
For the moment, we are recommending Expedia to book international flights, because in our experience, it's normally where we get the best prices.
What to take to Thailad
You don't need to bring anything special other than a few basic medications (aspirin, antibiotics, anti-inflammatories, and antidiarrheal pills), waterproof clothing if you're traveling during the rainy season, and a few books if you like to read. Here you can read some suggestions of what to take to Thailand.
If you've already decided that you want to buy a trip to Thailand but you're not sure what travel agency to choose, we can help you. Click here to get a quote with no strings attached.
Frequently asked questions
When is the best time to visit Thailand?
Thailand has great weather all year around. Having that said, you will most likely experience more rain during the rainy season which stretches from around May – October. Generally speaking, the best time to visit Thailand is from November (when the rainy season ends) until April. During this time, the weather is dryer and cooler.
How much money do you need per day in Thailand?
Very hard to say of course. Do you travel alone or with family? Are you a backpacker and will live in a hostel or live in a high-end hotel? Having that said, if you're a backpacker, you need around 30-40 US dollars if traveling a day. Traveling with family is another story, of course, and can set you back hundreds of dollars a day.
Do they speak English in Thailand?
People in Thailand have a very low English proficiency, unless you visit tourist areas, hotel receptions, busy night markets and similar.
Is Bangkok worth visiting?
If you visit Thailand, it's not a must to go to Bangkok if you stay on the islands. However, being one of the most visited cities in the world, Bangkok is fairly developed, has plenty of good restaurants, bars, shopping and more. You should definitely give it a try if you have the chance!
What is the cheapest month to fly to Thailand?
Europeans and many other nationalities living in colder countries love going to warmer countries during the Winter. As such, flight tickets to Thailand are usually cheaper from May – October (during the rainy season) and when the weather is pleasant back home.
How much Baht (THB) can I take to Thailand?
Up to 50,000 THB per person or 100,000 THB per family that holds one passport. There's no limit to the amount of foreign currency you can bring, but if the total value exceeds 20,000 US dollars, you need to declare the amount at the Customs when arriving at the airport.
Is Thailand safe for solo travelers?
Solo travelling is considered safe for both genders in Thailand. Of course, some precautions apply such as not getting too drunk and too late at night, not following strangers home and only take licensed and registered taxis (Grab is okay).
Get a quote for your tour in Thailand
Are you looking for a reliable travel agency to organize your trip to Thailand? Fill out the form below to get a quote with no strings attached from the travel agency that we are currently recommending.
[Photo Credits (Creative Commons CC0): Pixabay.com & Unsplash.com/
Photo Credits: Cover Photo by Sasin Tipchai on Pixabay
1st Tour Photo by David Gardiner on Unsplash
2nd Tour Photo by The DK Photography on Unsplash
3rd Tour Photo by Boudewijn Huysmans on Unsplash
4rd Tour Photo by Samuel C. on Unsplash