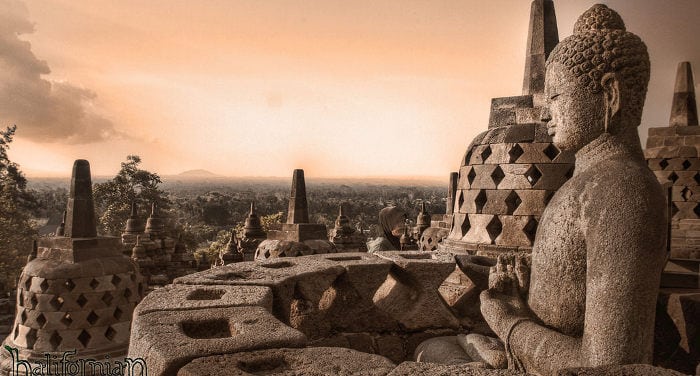 Once used as a military outpost during the Dutch East Indies colonial era, Magelang still maintains the legacy of its military past by being home to the only National Military Academy in Indonesia. However, it never ceases to amaze tourists with its beautiful scenery, the hospitality of its locals and its tranquility, cool air, and delicious food.
It is probably the only city in Indonesia that has a mountain right downtown, called Mount Tidar. In addition, Magelang is also surrounded by seven mountains: Mount Merapi, Mount Merbabu, Mount Sumbing, Mount Sindoro, Mount Andong, Mount Telomoyo, and Mount Gilipetung, making it a perfect destination for people who love hiking!
How to get to Magelang
There are several options for getting to Magelang. Since there are no direct flights to Magelang, you will need to switch over in Yogyakarta, the nearest transportation hub.
You can fly either from Jakarta, Singapore, or Malaysia to Yogyakarta Adisucipto International Airport (JOG). From Yogyakarta Adisucipto International Airport, take the Damri Bus available at airport, which will take you to Magelang. The bus is available from 7 am to 8 pm and leaves every hour. The Damri Bus costs around 35,000 IDR per person. You will arrive in Magelang in 1 to 2 hours, depending on the traffic. Because the Damri Bus serves various destinations, you need to ask the driver if the bus is going to Magelang.
In the event that you arrive at Yogyakarta Adisucipto International Airport after 8 pm, you can take a taxi from the airport. However, a taxi will be much more expensive (around 200,000 IDR).
On top of flying, you can also take a train from Gambir Station (Jakarta) to Tugu Station (Yogyakarta). It will take you about 8 to 9 hours to get to Yogyakarta. Then, you can take the Damri Bus to Magelang.
When to visit Magelang
Since Indonesia is a tropical country, there isn't an exact best time to visit Magelang. However, you might want to avoid the rainy season to ensure that you can visit all the places on your list. The best is to visit Magelang during the dry season, which is between April to October.
Where to stay in Magelang
Magelang offers a wide range of accommodations, from cheap hostels to expensive hotels. It's a good idea to stay downtown, as that way it's easier for you to find restaurants, shopping malls, and transportation. Below are some nice hotels:
Puri Asri Hotel
This is the best choice for people who love nature, tranquility, and scenery. Located downtown, this four-star hotel is surrounded by mountain ranges and wonderful scenery. You can spend your time swimming in the outdoor swimming pool, enjoying its spa, rafting in the river, playing outdoor games provided by the hotel, or taking a walk gazing at a beautiful paddy field.
As this hotel provides outdoor games, it is a perfect choice for families. This hotel also serves Chinese food, Western food, and Indonesian food. It is a good idea to book the hotel via online booking websites to get a better price. If you book via online booking, the room price ranges from 500,000 IDR to 2,500,000 IDR per night depending on the room type. This hotel is a 30-minute drive to Borobudur Temple.
Grand Artos Hotel
This four-star hotel is also located in downtown. Because it is located next to Armada Town Square Mall (Artos Mall), it will not be hard to find restaurants and supermarkets at this mall for your daily needs. This hotel serves various types of cuisine, and namely Chinese food, Western food, and Indonesian food. It is also a good idea to book via an online booking site for a more reasonable price. Booking online offers rooms starting at 500,000 IDR per night. This hotel is a 22-minute drive to Borobudur Temple.
Sriti Hotel
Sriti Hotel is a three-star hotel located downtown. This hotel is close to Borobudur International Golf and Country Club, which can be reached only by a 10-minute walk. This hotel is a 30-minute drive to Borobudur Temple. Booking online offers rooms starting at 400,000 IDR per night.
Click here to discover the best offers for hotels in Magelang
What to see and do in Magelang
Borobudur Temple
Borobudur Temple is a well-known 9th-century Buddhist temple that was declared one of UNESCO's Seven Wonders of the World. The temple is divided into three zones: Kamadhatu, Rupadhatu, and Arupadhatu. Each zone has its own philosophy: Kamadhatu represents the current state and condition of humanity, which relates closely to human lust; Rupadhatu represents the transition phase in which humans are free from worldly things; and Arupadhatu represents the highest condition of humans, or where God lives. The temple consists of numerous stupa and Buddhist statues distributed in all three zones. The temple is also adorned by relief sculptures that narrate Buddha's teachings.
You can do many things inside the temple complex, which are not only limited to seeing the temple, as you can also go on an elephant safari. The elephant safari offers both short routes and long routes; the short route takes around 10 minutes and the long route takes around 30 minutes. The short route costs 50,000 IDR and the long route costs around 500,000 to 700,000 IDR.
Borobudur Temple provides a tour guide service in various languages, such as English, Spanish, Japanese, and some other languages. The tour guide will explain the history of Borobudur Temple, the meaning of the sculptures, and everything you need to know about Borobudur Temple. The cost of this tour guide service is around 150,000 IDR for one hour for five people. You will need to pay a bit extra if your group has more than five members or if you take longer than an hour with the guide. The extra fee is negotiable with the tour guide.
Borobudur Temple's entrance fee for foreign tourists is around 25 USD and must be paid in IDR. In case you don't bring enough IDR, there is a currency exchange near the ticket counter.
Borobudur Temple is very beautiful to see at sunrise. If you want to catch the sunrise, you need to be ready in the temple before 5 am and you also need to spend a night at Manohara Hotel, because it is the only hotel that provides the sunrise tour. However, there is another option for you if you do not want to stay at Manohara Hotel and still wish to see the sunrise: hiking Punthuk Setumbu.
Punthuk Setumbu
Punthuk Setumbu is a beautiful place to catch the sunrise and to see Borobudur Temple at sunrise if you are not staying at Manohara Hotel. Tourists visiting Punthuk Setumbu have increased since it was filmed for Ada Apa Dengan Cinta, a famous Indonesian film.
OHD Museum
OHD Museum, which stands for Oei Hong Djien Museum, is a private museum exhibiting modern and contemporary Indonesian art. This museum was officially opened in 2012. The museum is open every day except for Tuesday and public holidays from 10 am to 5 pm. The last admission to the museum is at 4 pm. The admission fee for foreign tourists is 100,000 IDR and for foreign students is 50,000 IDR. Foreign students might need to show their student card as a proof.
Candirejo Village
Candirejo Village is one of villages in Indonesia that is designated to welcome tourists. This village is located 3 kilometres from Borobudur Temple. This 300-hectare village promotes community-based tourism through which tourists can feel close to the villagers' culture and do what the villagers do. Tourists are also welcome to stay at villagers' homes. Tourists can choose the type of tourism they would like to do, including cultural tourism, nature tourism, and adventure tourism.
For those who choose cultural tourism, they will be have the opportunity to visit villagers' homes and to see how pottery, ceramics, tempeh, and tofu are made by them. They can also try out their own hand at making pottery, ceramic, tempeh, and tofu if they want to! They can make handicrafts with the villagers and also learn how to play gamelan, a traditional Javanese musical instrument. For those choosing adventure tourism, they can enjoy an off-road experience crossing the river and challenging terrain.
The off-road fee ranges from 750,000 IDR to 1,000,000 IDR depending on the route. Aside from off-roading, tourists can rent bicycles for only 150,000 IDR per bike or can use delman, a traditional Indonesian vehicle operated by a human and a horse. Candirejo villagers can speak English and they can be your personal tour guide!
Biography
This article was written by Syera Anggreini Buntara, who was born and raised in Indonesia.