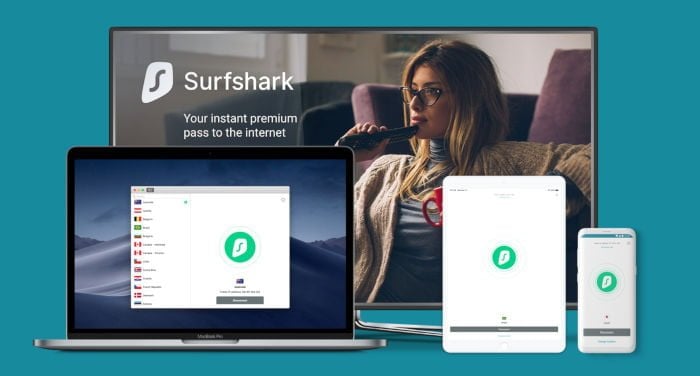 Created in 2018, Surfshark is definitely one of the most promising VPNs at the moment. Despite not having been around for a long time, Surfshark has a broad network of physical servers across the globe, excellent security and privacy services and a broad offering of extra options, all at a very competitive price. Without a doubt, Surfshark is a premium VPN at the price of a budget one.
For users in China, Surfshark offers excellent connectivity but doesn't offer the services of the most popular VPNs currently used in the country. In any event, this VPN is definitely an excellent alternative to large-scale VPN providers, especially if you consider that it's one of the few VPNs that includes the possibility of using Shadowsocks.
Click here to try Surfshark!
Features
Encryption protocols: IKEv2/IPSec, OpenVPN TCP, OpenVPN UDP, "Shadowsocks".
Simultaneous connections: Unlimited.
Number of servers and location: Surfshark offers more than 800 servers in more than 50 different countries.
Server changes: Unlimited.
Applications: Windows, Mac OS, Linux, Android, iOS, FireTV, Apple TV, Xbox, Playstation.
Trial period or guaranteed money back: It offers a free trial period of 7 days and 30 days guaranteed money back.
After-sale service: It has a 24/7 seven customer service system via live chat or email.
Extras: CleanWeb (ads and malware blocker), Whitelister (allows certain applications or websites to ignore the VPN), Kill switch, Multihop (connect to multiple countries at the same time), NoBorders (avoid restrictions).

What we like the most about Surfshark VPN
Quality/price ratio: Surfshark offers a high-quality VPN at one of the lowest prices on the market (if you choose an annual or biannual subscription).
Easy to use: Its software is easy to use both for beginners and more advanced users. However, its advanced options aren't very flexible.
Extra options: Surfshark offers the majority of the extra options of a premium VPN, such as split tunneling, a kill switch, an ad blocker or an anti-malware system.
Connectivity: The VPN tends to connect very quickly and is quite stable once connected, even in countries like China.
Shadowsocks: Even though this is in the trial phase, Surfshark is one of the few VPN providers that offers the possibility of using Shadowsocks. This is one of the most effective systems for getting around the restrictions imposed by the Great Firewall of China. However, we only recommend using this system in special cases that involve privacy risks.
Simultaneous connections: Surfshark theoretically offers unlimited simultaneous connections (we haven't tested this). While on certain occasions this can be very useful, in the majority of cases, the 5 connections offered by the majority of providers tend to be more than enough for personal use.
What we like the least about Surfshark VPN
Streaming in China: The ideal configuration for connecting the VPN in China doesn't usually allow access to the most popular streaming platforms. While the VPN can be adjusted to allow access to these platforms, its speed and/or connectivity tend to be problematic.
Speed in China: Even though it offers good connectivity and an acceptable speed in China, it is still far from attaining the speed offered by other providers that are popular in the country.
Private IP addresses: It is unfortunate that Surfshark doesn't offer the possibility of purchasing exclusive IP addresses. If it offered them, it would definitely be one of the most complete VPNs on the market.
How much does it cost and which option should I choose?
Currently, Surfshark offers three types of plans:
Monthly plan: 9.89 EUR or 11.95 USD per month.
Annual plan: 59.88 EUR or 71.88 USD (4.99 EUR or 5.99 USD per month).
Biannual plan: 42.95 EUR or 47.76 USD (1.79 EUR or 1.99 USD per month).
The biannual plan is without a doubt the only one that makes sense. The monthly plan doesn't save you any money compared to other VPNs with better services. On the other hand, if you take into account the special offer, purchasing 12 months is more expensive than 24 months.
Recommended uses of Surfshark
Surfshark is a VPN with high-quality services at a very low price, and is a good option for people looking for the best quality/price ratio.
Because of its low price, it is also an ideal VPN to use as a backup for the
VPN that you usually use in China. Surfshark offers good connectivity in China, decent speeds and the possibility of using Shadowsocks. Because of that, if your main VPN is temporarily blocked, as has been happening recently, you have an alternative VPN to be able to continue enjoying unrestricted internet access.
I don't recommend using it as your primary VPN in China, as there are other VPNs with better services, and its streaming configuration is too slow in China.
Click here to try Surfshark!