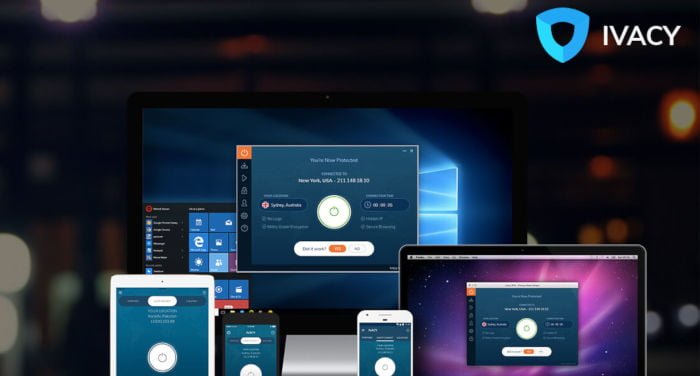 Use de coupon code "saporedicina" to get 25 USD off in your 5 year plan
Created in 2007, Ivacy is one of the oldest VPNs on the market and one of the first VPNs to incorporate interesting options such as Split Tunneling in its applications. However, despite all of this, it continues to be unknown among many VPN users. In short, Ivacy is a complete and cheap VPN with acceptable services.
Features
Encryption protocols: PPTP, SSTP, L2TP, OpenVPN and IKEv2.
Simultaneous connections: 5 simultaneous connections.
Number of countries with servers: Ivacy has more than 1000 servers located in 50 different countries.
Server changes allowed: Unlimited.
Applications: Windows, Mac, Linux, Android, iOS, Kody and Xbox.
Customer service: 24/7/365 via live chat or email.
Guaranteed money back: 30 and 7 days for monthly subscriptions.
Special functionalities: Split Tunneling, Kill Switch, Secure DNS, IPv6 Leak Protection, NAT Firewall.
The best of de Ivacy
A very complete VPN: Ivacy offers a multitude of extra options so that its users can have a customized VPN. Some options are incorporated into the standard subscription, such as Split Tunneling, Kill Switch, IPv6 Leak Protection and Secure DNS, meanwhile others have to be purchased separately, such as NAT Firewall (1 USD/month) or dedicated IP addresses (1.99 USD/month).
Dedicated IP: Ivacy offers the possibility of acquiring your own dedicated IP address in Hong Kong, Canada, Australia, Germany, the United States, Singapore or the United Kingdom at a very affordable price (1.99 USD per month). Having a dedicated IP address is ideal for making sure that your VPN isn't blocked, either by streaming services such as Netflix or censorship in certain countries. In addition, it lets you enjoy a more stable connection than when using shared IP addresses.
Countries with servers: Despite not having a broad network of servers, it is one of the few VPNs that includes servers in China.
Easy to use: Despite the fact that the VPN offers a large number of options to customize your connection, it continues to be quite easy to use thanks to the user-friendliness of its applications. It offers different connection modes depending on why you want to use the VPN (quick connection, streaming, getting around geographic restrictions or censorship or downloading files).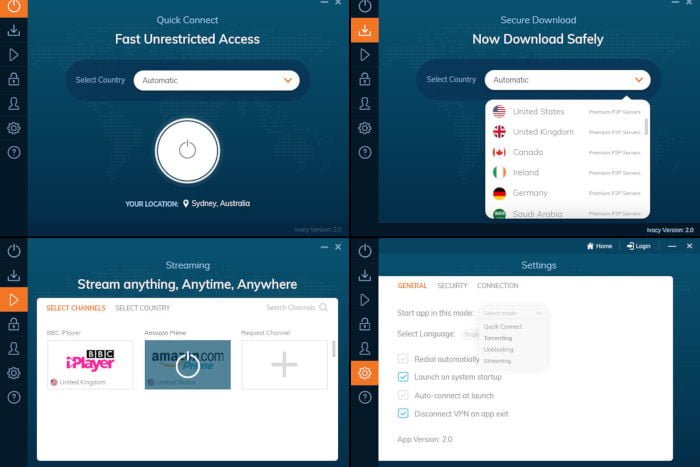 The worst of Ivacy
Website: Even though the website is well structured and has a lot of useful information, its banners and pop-up ads are extremely annoying. In addition, it has a security system that blocks access to its website extremely easily. If you try to open up multiple windows on the website at the same time, it's highly likely that you will be blocked and won't be able to access its website for a few hours.
Performance: Although its speed tends to be acceptable, the VPN takes a while to connect and can be unstable at times. However, considering the price, its performance is more than acceptable.
Customer service: Despite the fact that many users speak quite positively about its customer service, our experience has been quite bad. We recommend not using its live chat for technical problems.
Plans and prices
Ivacy is a relatively cheap VPN if you choose the annual plan. Its monthly plan has a price similar to other VPNs with much better services.
Monthly plan: 9.95 USD per month
Annual plan: 40 USD (3.33 USD per month)
Biannual plan: 54 USD (2.25 USD per month)
5-year plan: 65 USD with the coupon saporedicina (1.08 USD per month)
Nat Firewall: 1 USD per month
Dedicated IP address: 1.99 USD per month
When to use Ivacy
If you're looking for a quality VPN at the lowest possible price, Ivacy should definitely be one of your options, as it is a VPN with a lot of experience that is very complete and has acceptable services and performance.
In addition, if you're looking for a VPN that also offers servers in China in order to be able to access the Chinanet, Ivacy is undoubtedly an excellent option.
Use de coupon code "saporedicina" to get 25 USD off in your 5 year plan
Click here to try Ivacy now!