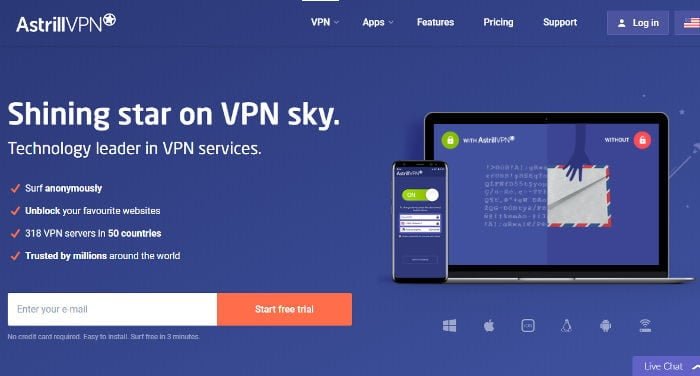 Astrill VPN, which was founded in 2009, for years it was one of the most popular VPNs in China because it was cheap and very effective at getting around Chinese restrictions.
However, in 2017-2018, it was one of the targets of the Great Firewall of China, during which it stopped working for days or offered very poor performance. Because of this, Astrill reinvented itself to offer a premium VPN, making it currently one of the most complete VPNs on the market, but also the most expensive.
Click here to try Astrill VPN for free!
Features
Encryption protocols: OpenVPN, OpenWeb, Wireguard, OpenConnect, L2TP/IPSec, PPTP, Cisco IPSec, StealthVPN, SSTP and IKEv2/IPSec.
Simultaneous connections: Up to 5 simultaneous connections.
Server count and location: Astrill has more than 300 servers in 64 different countries with more than 3,000 different IP addresses.
Server changes: Unlimited.
Applications: Windows, Mac OS, Linux, Android, iOS.
Trial period or guaranteed money back: It offers a free 7-day trial period.
After-sale service: It has a 24/7 customer service system that uses tickets and live chat. It also has a support forum where you can ask the community questions.
Extras: Kill switch, DNS Leak Protection, Split Tunneling, VPN sharing, Double VPN, Onion over VPN. Inoltre, mette a disposizione indirizzi IP privati con NAT Firewall e piano VIP con server esclusivi.
What I like the most about Astrill VPN
Encryption protocols: Astrill offers a broad range of encryption protocols and is one of the few VPNs that offers the new Wireguard protocol. Among its protocols are OpenWeb and StealthVPN, two protocols that are very effective at getting around the Great Firewall of China.
Easy to use: It offers highly-intuitive applications that combine simplicity of use with the possibility of personalizing the VPN with numerous options for the most advanced users.
Private IP addresses: One of the most effective ways to get around geographic restrictions and censorship is to use a VPN with a private IP address (as public IP addresses are easier to identify). Astrill offers some private IP addresses at a very good price (5 USD per month).
Speed: For a long time, AstrillVPN was one of the fastest VPNs on the market, although recently, only its VIP connections have been offering fast speeds.
Additional options: Astrill is a premium VPN with all the options you could need.
What I like the least about Astrill VPN
Price: Its new pricing system implemented in fall of 2017 has turned it into one of the most expensive VPNs on the market.
Server count: Despite the fact that Astrill VPN offer servers in many countries, the total count is much less than other VPNs with similar services. While Astrill only has 323 servers, ExpressVPN has more than 1,000 and VyprVPN has more than 700.Because it's a popular VPN, it's normal for many servers to be saturated with users (except for VIP servers).
Refunds: Astrill is one of the few VPNs that clearly states that it does not give refunds. The majority of VPNs let you get your money back if the VPN stops working for any reason.
After-sale service: Many users in China have complained that when the VPN stopped working, there was no way of obtaining any compensation or the possibility of canceling the service (it does not offer any money-back guarantee).
Privacy policy: Its privacy policy isn't very clear, and doesn't contain many security details regarding its protocols.
How much does it cost and what option should I choose?
Currently, Astrill offers three types of plans:
Monthly plan: 15.90 USD per month.
6-month plan: 69.90 USD (11.65 USD per month).
Annual plan: 99.90 USD (8.33 USD per month).
It also offers private IP addresses starting at 5 USD.
Important: Currently, Astrill is offering its VIP connection for 10 USD/month, which will give you priority access to servers, exclusive servers and the Double VPN. Given its small server count, this means that you will only have a VPN with good services if you choose the VIP plan (18.33 USD per month).
Who do I recommend this VPN for?
Astrill VPN continues to be quite popular among users in China, and it is still one of the VPNs that offers the best performance in this country. However, you should choose the VIP plan if you want to get all of its potential.
Without a doubt, Astrill is one of the best VPNs for people who aren't worried about paying more money to get the best services.
Click here to try Astrill VPN for free!