This article's goal is to list the points that you should keep in mind before choosing Chinese classes and to give a small review of what are in our opinion the best schools in the city to learn the language.
Click here to request a quote for your Chinese classes in Barcelona
Should I try to learn Chinese?
Before starting to look for Chinese classes, you should ask yourself whether you really want to learn Chinese. To learn Chinese, you will need to be consistent and make an extra effort compared to other languages.
Learning Chinese is possible and is simpler than what people think. Like any language, Chinese has its difficulties (writing and tones) and its easy aspects (there are no conjugations, prepositions or genders).
The main challenge of learning Chinese is the fact that it is so different from our language. The majority of Western languages share the same logic, grammar and even vocabulary, which makes learning them a lot easier. On the contrary, Chinese has practically nothing in common with these languages. Just like it's very difficult for Chinese people to learn English or Spanish, it's very difficult for us to learn Chinese.
This contrast with our language means that you will need to make an extra effort to learn Chinese, and should be especially aware that you will need to dedicate a lot of time to it and be very consistent. If you're not capable of ensuring that you can dedicate a certain amount of time to it over a long period of time, in my opinion, you should reconsider studying Chinese, and maybe choose a less demanding challenge, such as learning French or Spanish.
If you're still reading after this point, maybe you do want to study Chinese, but considering the sacrifice that it implies, it's very important for you to start out on the right foot.
It's very common for people to abandon learning Chinese after a short time and to say that it's because the language is impossible to learn. The main reasons are a lack of commitment and more importantly, the lack of professionalism in the majority of classes taught.
Private schools for studying Chinese in Barcelona
EsChina Space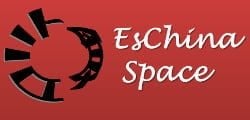 EsChina Space is a small academy founded in 2016 by a Chinese student and a Chinese teacher who was disappointed with the quality of Chinese language education in the city. EsChina Space specializes in offering personalized Mandarin classes to adults, children and companies. In addition to offering language classes, this small academy also offers cooking and Chinese painting workshops, among other cultural activities related to the Middle Kingdom.
This small center is specialized in offering customized training to small groups or individual classes for all levels.
Its teachers are all native speakers and are selected and trained by the school director to ensure the maximum educational quality.
Curricula follow the official methodology of the Chinese government, but also incorporate specific materials to maximize practical learning of the language.
Considering the quality of its education, its prices are quite low, although they are higher than at public schools.
More information on Chinese classes at EsChina Space (in Spanish)
Hexagrama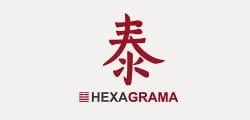 Hexagrama is a private school specialized in teaching Chinese with more than ten years of experience. Hexagrama offers intensive or semi-intensive annual classes divided into six levels with its own teaching methodology.
Hexagrama was one of the first places to teach Chinese in Barcelona in small groups, has a good reputation and has native speaker teachers with experience teaching Chinese.
However, Hexagrama only offers annual classes with two annual admission periods, its prices are a bit high and some of its former students complain about the classes not being particularly demanding, which make them not particularly stimulating.
Public schools for studying Chinese in Barcelona
Escola Oficial d'Idiomes (EOI)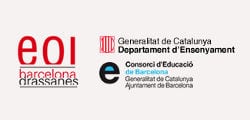 The Escola Oficial d'Idiomes (EOI) is a public educational institution financed by the Generalitat (province government) responsible for teaching language classes. This institution is without a doubt one of the most prestigious language schools in the city, and is currently definitely the one that attracts the most Chinese language students.
EOI offers Chinese classes at a very low price, following the European regulatory framework, meaning that you can obtain European official language proficiency certificates there.
Because it is one of the most popular schools, a lot of people apply to it and at times it can be difficult to get a spot, especially at the beginner level. You are only allowed to sign up twice a year, the registration period is very short and few schedules are offered (especially for advanced levels).
The majority of teachers at the EOI are not native speakers, although they are education professionals.
A common complaint among students is that because it follows the European regulatory framework, the classes are very demanding when it comes to formal aspects of the language (writing and grammar, among others) and are not demanding in terms of practical aspects (like speaking).
Fundació Institut Confuci Barcelona and Casa Asia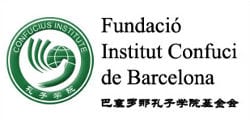 The Confucius Institute is a part of the China National Office for Teaching Chinese as a Foreign Language (Hanban), a body of the Ministry of Education of the People's Republic of China responsible for promoting Chinese language and culture across the globe. The Confucius Institute of Barcelona teaches Chinese classes both at its school as well as at numerous educational institutions in the city, such as the University of Barcelona, the Autonomous University of Barcelona or Casa Asia.
The Confucius Institute is a part of the Hanban, which is responsible for designing study programs for learning Chinese across the globe, is the publisher of many of the best books on the market as well as is responsible for organizing official HSK exams. Without a doubt, there are a large number of Chinese teaching professionals behind this organization. In addition, studying here can make it easier for you to access scholarships for studying in China.
Even though its prices are more expensive than the EOI, they are quite a bit cheaper than at private centers.
At the Confucius Institute, the majority of teachers are native speakers, but many of the teachers giving classes are volunteers, in other words, university students that are coming to do internships and who don't have experience. In addition, the high degree of politicization of the center sometimes causes problems.
Common problems with Chinese language education in Barcelona
We have definitely not included all of the schools that offer quality classes in the previous list. However, there are certain things that you should keep in mind before choosing a Chinese school. Below I list three of the most common problems encountered with the classes available in the city, which have a decisive effect on quality.
1. Teachers
One of the main problems that many language academies have is their inability to evaluate the quality of Chinese teachers. Finding good Chinese teachers in Barcelona is quite complicated, mainly for two reasons:
As opposed to the case of native speakers of other languages, the Chinese people who live in Barcelona are mainly from rural areas, they have a relatively low level of education and they don't usually dominate standard Mandarin.
Being Chinese does not mean that you are a native Mandarin (official Chinese) speaker. In Barcelona, the majority of the Chinese people are from the Zhejiang province, where the dialects are very different from standard Mandarin. Many of these Chinese people don't speak Mandarin correctly and/or speak it with a very strong accent.
Just because a school teaches multiple languages doesn't mean that it's qualified to teach Chinese, especially if it doesn't have someone capable of being able to evaluate the teacher's skill level in the language. Because of this, I recommend that before choosing a class, you ask yourself who selects the teachers.
2. Curricula
As I have said, Chinese is a language that is very different from Western languages, because of which learning it means you can't use the same system as other languages. One of the common problems at educational institutions is that they copy the study programs that have given them good results with other languages, such as English or French.
If you combine this with the fact that the majority of Chinese teachers have not been trained in teaching Chinese to non-native speakers, it's very likely that they won't have a teaching method and will follow the center's curriculum, which has been designed by someone who doesn't even speak Chinese.
3. Wages
As opposed to the case of English teachers, who tend to earn good wages due to the high demand for quality professionals, Chinese teachers tend to receive quite low wages. Chinese is a language that isn't yet very popular, and students tend to not have much continuity, making it difficult to fill classes. Because of this, academies tend to pay very low wages to teachers.
Like any professional, highly educated Chinese people with experience teaching are not willing to work for just any salary.
So, I recommend that before choosing cheap classes, you ask yourself: how much could they be paying the teacher? If their wages have to be very low for the school to make money, don't expect the teacher to be very committed to their job, as they won't care whether they lose it or not.
Frequently asked questions
Is it hard to learn Chinese?
Learning Chinese is a lot easier than what many people think. Despite being a complicated language for native speakers of European languages, its grammar is very simple.
However, writing and pronunciation tend to be quite complicated.
Do I need to go to classes to learn Chinese?
Many people can teach themselves Chinese, and there are excellent tools to do so.
However, especially for beginners and advanced students, having a professional teacher to advise and guide you is essential to make proper progress.
How long does it take to learn Chinese?
There is no one answer to this question, because it depends on how many hours you dedicate to it, your environment and your consistency and motivation while studying.
For adults studying outside of China taking classes that last a minimum of four hours weekly and who spend adequate time studying on their own, it will take at least 4 or 5 years to achieve an intermediate-advanced level.
What is Mandarin Chinese?
Chinese is a language with multiple dialects, some of which are mutually intelligible, such as Mandarin and Cantonese.
Mandarin is the official dialect of the People's Republic of China and is the standardization of the dialects spoken in northern China.
What are the differences between simplified and traditional Chinese?
Traditional and simplified Chinese are two variants of Chinese writing. Because of this, traditional and simplified Chinese are not spoken but rather either of these two systems can be used for writing. On the contrary, you can speak Mandarin or Cantonese, which are two variants of spoken Chinese.
Simplified Chinese is the result of a standardization and simplification of writing by the People's Republic of China which took place in 1956 to promote literacy in the country.
Currently, simplified Chinese is used in mainland China, Malaysia and Singapore. On the contrary, traditional Chinese is used in Hong Kong, Macau and Taiwan.
Get a quote
Do you want to study Chinese in Barcelona and don't know what school to choose? Fill out the form below to receive quotes for the schools that we recommend for studying Mandarin in Barcelona.
Photo Credits:

Yum Cha by Phil Whitehouse