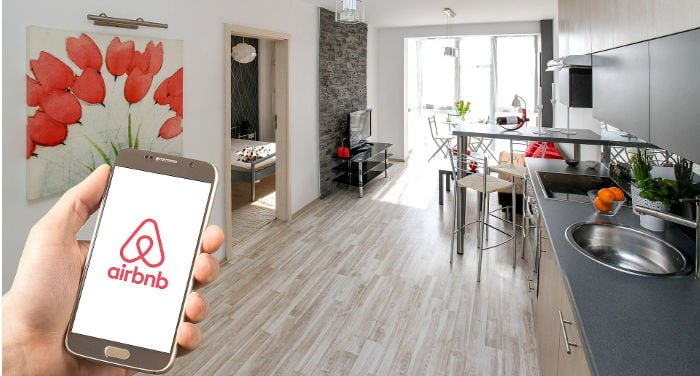 Airbnb and other Chinese home-staying websites become increasingly popular in China. Even if Airbnb's current market share is as little as 7%, China will be its biggest market by 2020.
Truth be told, you don't need a big slice of the pie in a country with 1.4 billion people.
Still, the Chinese authorities have put more pressure on home-staying websites with requirements to ensure safety and to disclose information about tenants. Simply put, it's not like it used to be a couple of years back.
As such, it's important that you understand how it works when staying on Airbnb in China, if you can even get a tourist visa when staying with Airbnb, what other options you have, and more. Let's start and see if Airbnb is even legal in China.
Is Airbnb legal in China?
Airbnb is still legal and becomes increasingly popular. In 2018, there were more than 3.3 million guest arrivals in the local market alone, which speaks for itself. Still, the website has been under scrutiny by the Chinese authorities recently.
To make a long story short, it's been forced to comply with local regulations, that hostels and hotels have followed since long back.
After long discussions, Airbnb finally decided to comply with the Chinese authorities' demands and has started to hand over the following guest details since March 30th, 2018:
Your name, phone number and email address
Booking dates;
All messages between you and the host;
The names, nationality(ies), passport/national ID details and passport expiry date(s) of all guest(s) staying in the listing, including yourself.
The regulations apply to local residents as well as to tourists, who wish to stay in an Airbnb unit.
Can foreigners stay in Airbnb in China?
Yes, foreigners can stay in Airbnb, but it can be tricky, if not impossible, to receive a tourist visa (more about that below).
Getting a tourist visa with an Airbnb booking
As you might know by now, foreigners need an invitation letter or a hotel/hostel booking to get tourist visas in China. When you arrive in hotels/hostels, they always make a copy of your passport and a digital registration with the local police.
One problem with Airbnb bookings is that you can't use the reservation as "booking" for getting a tourist visa.
There are some loopholes around this issue, however we can't recommend them.
A common way is to first book a refundable reservation at a hotel/hostel. Once you've received your tourist visa, people cancel the reservation and book an Airbnb unit.
I know this sounds shady, and that's why we don't recommend it, but that's how many people do, at least at the moment.
Of course, if you already have a visa (because for instance you already live in China) this won't be a problem.
Registering with the police (PSB) when using Airbnb
According to the Chinese law, tourists need to register at a local police station within 24 hours in urban areas and 72 hours in rural areas. One of the main issues here (and something you should confirm in advance) is whether your host will help you with the registration or not.
Not to forget, keep in mind that the host should be allowed to rent out his or her unit.
Hosts sometimes say that a registration is not necessary, or that they simply won't help you with the registration. It's simply too much work bringing tourists to local police stations, time after time, and manage all the paperwork for short term stays.
However, the registration is necessary.
So, it's important that you confirm that you'll get help you with your registration at a police station, before you depart for China.
Sure, China is big and laws are enforced differently. Some people claim that the police can be pretty strict with Airbnb rentals in Beijing and that it's more relaxed in other cities. Yet, many say that the authorities has become stricter nationwide, at least compared to some years back.
As China quickly becomes a digital society, it will just become easier for the authorities to check what you're up to and see if you comply with the local laws.
What happens if I don't register with the Chinese police?
It depends. As mentioned, the laws are enforced differently and it's often up to the person who catches you to decide. This can happen at the airport when leaving, or if you get caught for other offenses in China.
So far, the worst consequence we heard is that you won't be able to re-enter China again. Sometimes, people end up with a fine of RMB 1,500. On many occasions, people just end up with a warning. But as said, it's difficult to assess the exact consequence you will face, if you get caught without being registered at the PSB.
As a matter of fact, there are other regulations that permanent resident foreigners and tourists aren't aware about and that they rarely comply with. For example, did you know that you need to bring your passport all the time when being outside?
I never brought my passport or a copy of my passport during my 3 years in China, and never got in trouble.
Sometimes, it happens that foreigners experience random checks where police officers ask to see their passports. At the same time, they might also ask where you live (not good if you're not registered at a local police station). Still, many foreigners and tourists manage to talk themselves out of these kind of situations and just end up with a warning.
If you tell the police officer to come to your place to see your passport, they often just decline and leave you although, as far as we know, by law you shall always carry your passport with you. But this is a different story.
What's the equivalent of Airbnb in China?
We've seen many Chinese copycats of successful foreign companies popping up over the years. Baidu and Bing are by far the biggest search engines and Google has been blocked since years back.
YouTube is another example, which is currently blocked and replaced by the Chinese equivalent called Youku.
Not surprisingly, a couple of identical Chinese versions of Airbnb have risen to fame and where the two most popular are Xiaozhu and Tujia.
Tujia (途家)
Tujia is one of the two major Chinese companies that has a similar, if not the same, business model as Airbnb. Founded in 2011, it's become one of the to-go website for domestic and overseas travelers.
So how did it start? Melissa Yang and Jun Luo, a former Microsoft executive and Expedia executive came up with the idea of starting Tujia after they went to Hainan and saw that all the hotels were full while many homes were empty.
In 2016, Tujia acquired Qunar's and CTrips's homestay and apartment businesses. As late as 2017, Tujia raised 300 million US dollars from investors and currently has a valuation of 1.5 billion US dollars.
A noticeable difference between Tujia and its competitors is that it mainly acquired vacant units and hotel rooms in the past. Of course, this is a great way for developers and hotels to get rid of vacant rooms.
Tujia later manages these units themselves, hiring staff that care of the facilities, welcome travelers, and more.
Interestingly, the company even collaborate with developers to design the interior and the exterior of new buildings. It's been more like a B2C service than a C2C service, like Airbnb.
Let's see it as a hybrid between B2C and C2C, as it's started to become significantly more focused on C2C.
Should I use Tujia instead of Airbnb?
Tujia has started to target mainly Chinese travelers who wish to travel overseas. Having that said, it still has around 700,000 listings in China, while Airbnb only has 150,000 listings.
As both Airbnb and Tujia need to comply with the same Chinese laws, and you'll need to register at a local police station when using the websites, there are no particular benefits when it comes to the booking and post-arrival process.
Pros of using Tujia:
Tujia has almost 5 times more listings than Airbnb. Having that said, Airbnb focus more on quality than quantity.
Cons of using Tujia:
Tujia.com is only available in Chinese and mainly for locals, while Airbnb.com is available in both English and Chinese, targeting foreign travelers. As such, we should expect that more Airbnb hosts are more well-versed in the English language.
Xiaozhu (小猪)
Xiaozhu started out in 2012 and is the main rival of Tujia in the Chinese market. As late as October 2018, it got around 300 million US dollars in funding and is backed by Yunfeng Capital (co-founded by Jack Ma), which speaks for itself.
I've never used Xiaozhu myself, but my feeling is that the website looks more intriguing and personal.
While Tujia is similar to HomeAway, offering accommodation in many tourist-dense areas, Xiaozhu mainly has listings in tier 1 and tier 2 cities (tier 1 cities are bigger cities, like Shanghai, Beijing, Shenzhen, and Guangzhou).
The pros and cons of staying in Xiaozhu versus Airbnb are basically the same as for Tujia.
Pricing, standards, and market shares
Xiaozhu offers lower prices than both Airbnb and Tujia. While Airbnb offers more high quality listings and Tujia has 24/7 staff taking care of units, we can expect higher prices on these sites.
When it comes to market shares and the number of units, Airbnb has (as mentioned) only around 7%, while Tujia has around 41%, and Xiaozhu 23% of the market.
But don't stare blindly at the numbers.
Airbnb has claimed that they focus primarily on the quality of units, and not to maximize the number of listings. It spends much time working closely with the Chinese government and to train local landlords in providing high quality services.
Tujia and Xiaozhu, on the other hand, try to find new sources of income and now focus on promoting value added services. You can already find such value added services on Airbnb for a couple of years back, like cooking classes, tea tasting, culture walks, and more.
Should I use Xiaozhu instead of Airbnb?
Both Tujia, Airbnb, and Xiaozhu need to comply with local Chinese laws. There are no particular benefits of using Xiaozhu in that sense, you'll still need to register at a local police station as a foreigner.
The new face scanning services and its impact on foreigners
Interestingly, Tujia and Xiaozhu have started to roll out a service where tenants will be able to unlock doors by using face scanning. It's still in a pilot mode and has been tested in places like Chengdu and Shenzhen.
Naturally, this satisfies local authorities even more, who look for better compliance to ensure personal safety. With the new face scanning services and the possibility for travellers to "check-in" by using QR codes in units, the authorities will instantly know more about the tenants in a convenient and efficient way.
Yet, this won't replace the process and hassle where foreigners need to register at local police stations. It will primarily benefit local travellers.
Other competitors to Airbnb, Xiaozhu, and Tujia in China
A more convenient option than home-staying websites is to use established hotel and hostel booking websites, that operate in China.
In this case, you won't need to spend hours collecting keys, registering at local police stations, or deal with repairs while your landlord is traveling 1,000 km away (I've been there myself).
Let's have a look at some of the most popular websites when booking accommodations in China.
Agoda.com
Agoda is one of the biggest accommodation booking websites in the world, and focuses mostly on the Asian market. As a result, it's one of the biggest hotel booking websites for travellers in China. You'll have no issues to find accommodation that suits your needs pretty much everywhere here.
A great benefit of using Agoda is that they pre-negotiate deals with hotels and pass over lucrative prices to clients. They're also well-known for using two different business models, a so called Merchant model and an Agency model.
So what does it mean?
With the Agency model, Agoda simply pass leads/buyers from their website to different hotels and you pay at checkout. Simple as that. With the Merchant model, Agoda buy rooms/bookings with a great discount from the hotels and in turn sell these to customers on their website.
Agoda is the preferred choice in Asia, while Booking is bigger in Europe, for example.
Booking.com
Booking.com is very similar to Agoda, and many people don't know the differences between the websites. In fact, the companies are owned by the same holding company and offer pretty much the same services.
However, the main difference between Agoda.com and Booking.com is that the latter one only works with the Agency model. Many people find this convenient, while others like the many accommodations and discounts found on Agoda's website.
Should I use home-staying websites (like Airbnb, Xiaozhu, or Tujia) or just go for a hostel or hotel?
Personally, I'd chose to stay at a hostel or hotel while travelling in China.
This will remove hassles such as not being able to get a tourist visa, dealing with registrations at local police stations, unexpected repairs, and to handle over keys when leaving units.
At the moment, I believe that there are more benefits and convenience of staying in a hostel or hotel, at least short-term.