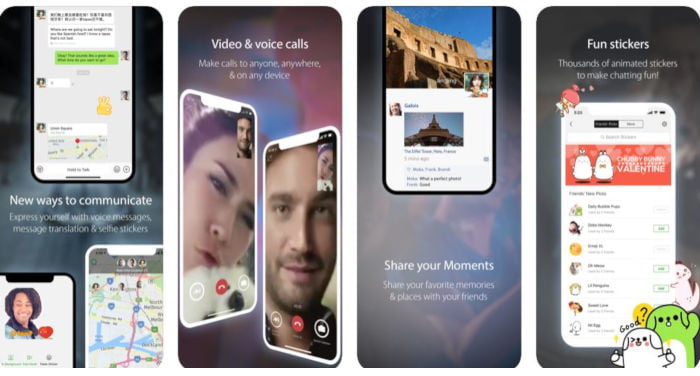 How to Promote Your Business on WeChat – Index
What is WeChat?
WeChat is the biggest social application in China and was founded as late as 2011. The application has grown significantly over the years and is used by more than 1 billion people, primarily in China.
Owned by the large conglomerate Tencent, WeChat has evolved into more than just a social application where friends chat. Nowadays, you can even browse the net, buy cinema tickets, pay for various goods and services, and book taxis through the application.
Some even claim that WeChat has its own 'ecosystem' and users don't even need to leave the application as practically anything can be found via the application.
If you ever visit China, you'll notice that it's crucial to use the app there. Not only do friends use the application for informal conversations, it's widely used among business professionals and top executives as well. Thus, many conference calls and important matters are discussed via the application.
Not to forget, keep in mind that WhatsApp, Skype, and plenty of other applications and websites are blocked in China. This leaves you with the only choice to use domestic versions of these applications, including WeChat, Weibo, and more.
Why should I market my business on WeChat?
As mentioned, WeChat is used by more than 1 billion users, which makes it a gold-mine for businesses who wish to promote their products and services online. Promoting your business and selling your products on WeChat is generally cheaper compared to setting up a store on eCommerce platforms like Tmall.
This can cost you tens of thousands, and sometimes hundreds of thousands of dollars just in the first year. Besides, Tmall has introduced an invitation-only policy which makes it difficult for foreign brands to sell on the platform unless you have decent revenues and brand recognition in China.
What official accounts exist on WeChat?
There are three different official accounts available on WeChat:
Subscription Accounts
Service Accounts
Enterprise Accounts
Today, we'll look at the subscription account and service account. The reason is that the enterprise account is primarily used for internal management of businesses. Let's review the two and clarify which one you need when promoting your business on WeChat.
Subscription Accounts (订阅号)
WeChat subscription accounts are similar to a daily news feed and focus on brand communication and to provide information/news. Companies who have subscription accounts can publish to subscribers once every day, including 1 to 6 articles at a time.
As the name says, the articles will be stored in the users' subscription folders.
The reason why companies can only publish articles once a day is to avoid spamming and so that companies would maintain at the top place in the WeChat search engine.
On the contrary to service accounts and enterprise accounts, individuals like celebrities and bloggers are allowed to use open subscription accounts to market themselves and provide information.
Subscription accounts are suitable for brands and individuals who drive traffic via content, such as media publications.
As subscription accounts don't allow any push notifications and the articles are stored in a subscription folder, you'll experience less visibility than service account holders.
Service Accounts (服务号)
This solution is more suitable for companies that work with eCommerce, customer service, need API integrations, and customer solutions. Thus, the service accounts have more advanced functionality compared to the above-mentioned account.
The main advantage for companies is that they can open so-called WeChat stores and receive payments from Chinese customers via WeChat Pay. These services are not available via the subscription accounts.
Besides, companies who use service accounts can use 9 APIs that give you the opportunity to create more functions and applications. Compared to subscription accounts, service account holders can only publish content four times a month and 1-6 articles at a time.
A difference is that the user will receive a push notification in the chat list (similar appearance and layout as Facebook Messenger). Due to the increased visibility through push notifications, companies can only publish content four times a month.
Companies with big customer databases and audiences are most suitable to use WeChat service accounts.
Enterprise Accounts (企业号)
As mentioned, WeChat is not only used by individuals who chat with friends. Nowadays, many companies use WeChat as the main communication solution internally. Enterprise accounts are not open for the public or marketers, instead, these accounts are for internal communication within enterprises.
Millions of businesses use enterprise accounts and it's widely popular in China.
The accounts allow businesses to have video conferences, chat rooms, and the possibility to share documents and resources.
How to set up WeChat Official Account
Opening a WeChat official account isn't as easy as it sounds, but can indeed be manageable if you're serious about promoting your business to the Chinese market.
What you need to open a WeChat Official Account are:
A Chinese Business License, which can be obtained from a WFOE (Wholly Foreign-Owned Company) in China
You also need a Chinese ID of a Chinese national who has a WeChat payment account
You can then open an official account in three different ways:
1. Use your overseas business license
Since 2018, WeChat has started to allow foreign companies to apply for WeChat official accounts directly, without the need of having a Chinese company. That said, they only accept cases manually and on a case-by-case basis. Thus, you cannot take for granted that they will accept your application. Besides, the functionalities are restricted if registering with a foreign business license.
2. Open a Chinese company
Registering a Chinese company, such as a WFOE, can be beneficial if you want to employ people in China, compete on the same level as Chinese companies, and perhaps import products and equipment.
If you open a Chinese company, you'll also have the opportunity to apply for a WeChat official account by using your Chinese business license. This will give you access to more functionalities within WeChat and cases are not treated in a case-by-case scenario.
That said, for many foreign companies it doesn't make sense to open a Chinese company just to get access to WeChat official accounts. Therefore, the third option might be more suitable for you.
3. Use a third-party business license
Your third option is to use someone else's Chinese business license and register the account that way. As companies can have up to five official accounts, it's not uncommon that the Chinese sell the slots they don't need.
Even if the costs can be comparatively low, there are some risks. You see, the account will be linked to the company that owns the Chinese business license you registered the account with.
Thus, the owner must be reliable and credible. Having said that, you can still make the account look like it belongs to your entity, including your company introduction, logo, and more.
Generating traffic on WeChat
In order to benefit from WeChat and to build up a strong base of followers, there are a number of things you should have in mind before setting up the account.
1. Create valuable WeChat content
In order to drive traffic, you have to publish a fair amount of valuable and interesting WeChat content. This is often done with the help of online eCommerce and digital agencies. The key here is to make the readers share the content, which can add to the number of visitors.
Video is becoming significantly bigger on WeChat and you should have the following in mind when creating content:
Create fun and engaging content (including stickers and gifs)
Be creative with headlines to create curiosity
Try to create content that brings positive emotions
Make the content unique and useful for the readers
2. Attract users by promoting your QR code
Each official WeChat account receives a QR code and users can scan these codes with the built-in QR code scanner. A great way to promote your business is to post the QR code in your social media network, brochures, and other places.
To entice people to scan the code, you can offer promotions, free WiFi access, promotions, or free gifts. This is a great way to drive traffic and to establish a strong brand presence.
3. Take advantage of using KOL (Key Opinion Leaders) when marketing your business
It's become widely popular among brands to work with KOLs when promoting their products and services. In short, the KOLs have a big fanbase and many subscribers and you can utilize their network to promote your business.
The price to hire a KOL can differ greatly depending on their fanbase. For example, hiring a movie-star can cost significantly more compared to a regular person.
In the past years, many celebrities have earned extra incomes by charging money to companies who want to utilize their network.
Thus, the effectiveness of KOLs will most likely drop in the coming years.