In this chapter of the saga dedicated to South West China I want to tell you about our stay in Lugu Lake, a volcanic body of water that separates the provinces of Yunnan and Sichuan. I will tell you about its stunning colors, its barbecues, the Grassy Sea and Zhaxi, legendary playboy.
If you want to know how did we arrive to the 2,700 meters of Lugu Lake, homeland of the (almost) matrilineal Mosuo tribe, read From Lijiang to Lugu Lake: chronicle of a hectic trip.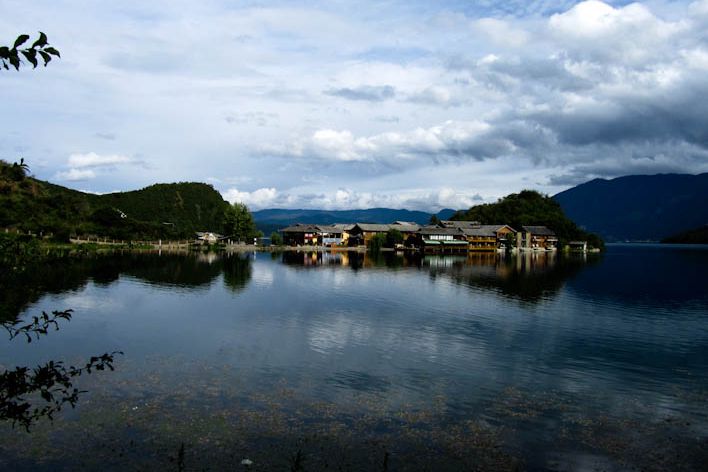 Lugu Lake: Lige Village.
What's there for dinner?
After the ritual pics and the adieu to our travel companions we tell the querido driver to let us in Lige, the village of our hostel, the Youth Hostel. The name is so original that in the only Lige there are two hostels with the same name…
We check in and then go looking for a bit of local flavor, that is dinner. The task is not that difficult as all the restaurants are aligned along the only street of the village, a tiny alley that borders the beach. We discover that in Lige people eat barbecue. Period.
We sit at one of the street restaurants. They all offer the same spit-roasted pork and chicken meat with vegetables, mushrooms and eggplants you can comfortably cook on the barbecue you find at the middle of your small table… a paradise!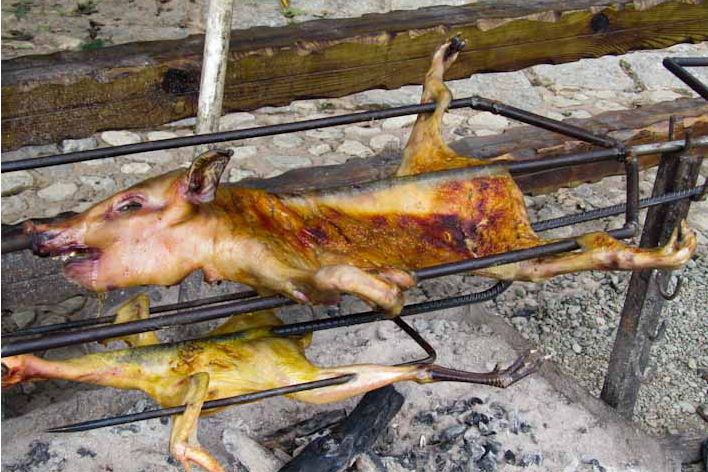 Exploring Lugu Lake
The morning after we wake up early to find a car or something for exploring the lake that, looking closer to the map, resembles to a bear paw…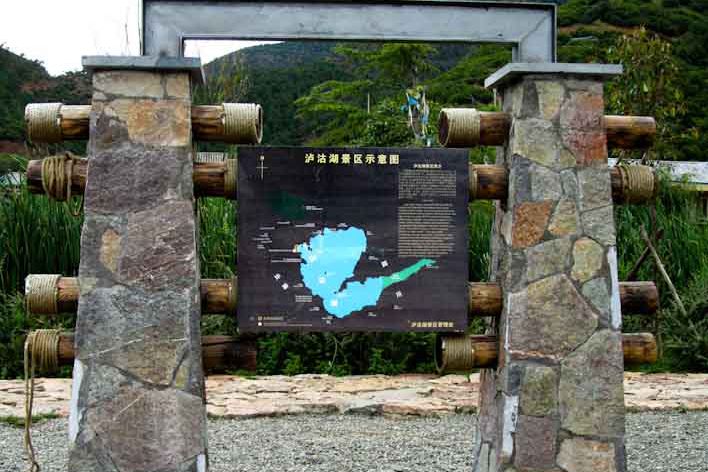 As usual, as long as you pay find a solution is easy. We contract a woman willing to drive us around the lake with her minivan. However she wants three hundred kuai, a bit too much…
This is when Feng, wonderful girl, goes back to the hostel and recruits four aspirant Indiana Jones so that the price decreases to fifty kuai per person.
So let's go (even if is pouring down)!
We enter Sichuan province and stop several times. Everybody got the same illness: photography.
How to resist? Even if it keeps rain the landscape is just… too much, difficult to describe with words or with a capture-light-machine…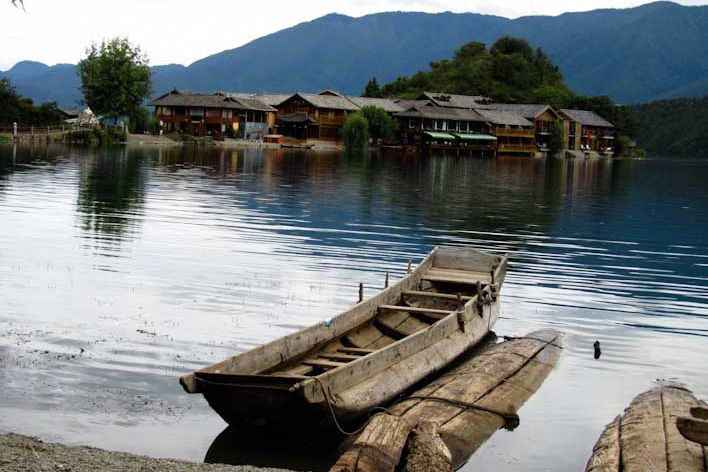 The Grassy Sea
We pass through Xiao Luoshui and Zuosuo (where I buy the bus ticket that the day after tomorrow will allow me to reach the north of Sichuan) and arrive to Caohai Qiao (Grassy Sea Bridge), also known as the Walking Marriage Bridge. We shamelessly cross it without getting marry.
In fact Mosuo people don't get married neither; the walking marriage tradition is a ceremony where the Mosuo girls choose (or change) their sexual partner.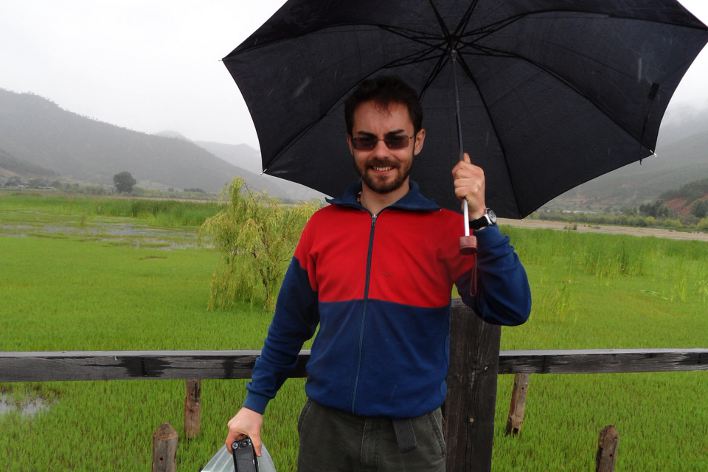 At the end of the bridge there is a small market where one of our fellow travelers buys a giant toad to make his girlfriend happy: they will eat it for dinner if, they explain, they will be able to kill it. It seems that toads are among the most difficult edible animal to slaughter (their words, not mine), especially because of its characteristic to squirt blood everywhere as soon as you pierce it.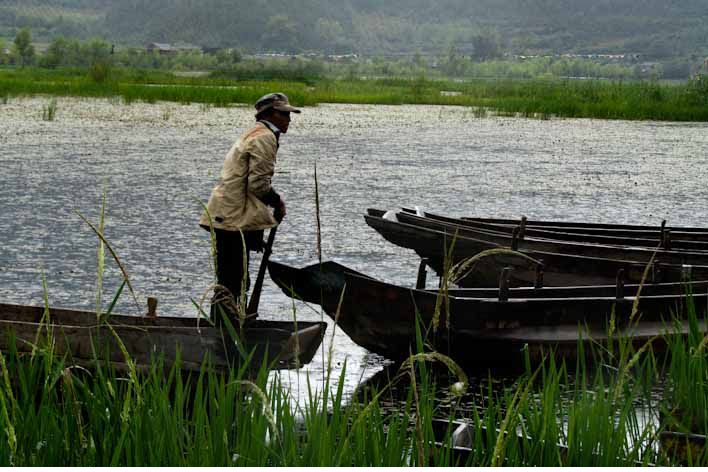 The border between Lugu Lake and the Grassy Sea.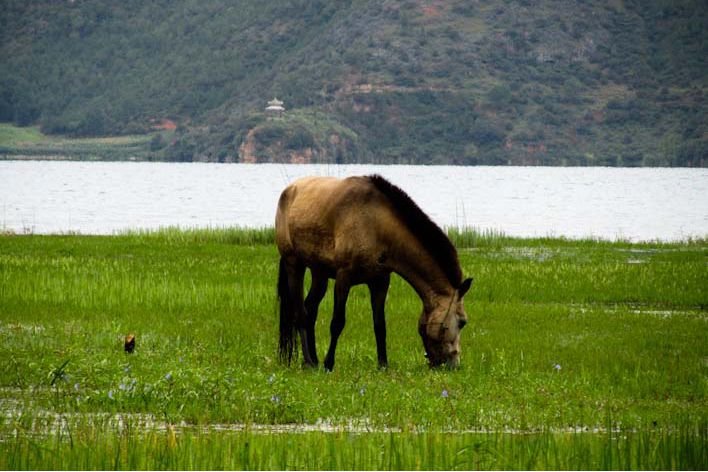 We then let the electric green of the Grassy Sea and come back to the sullen blue of the lake, which mirrors a capricious sky.
We reenter Yunnan going through Luoshui, where the South East Asia immigrants pretend to be Mosuo prostitutes, and end the tour of the lake with a (well deserved) dinner. What do we eat? Roasted meat and eggplants, of course.
The legend of Zhaxi
The waitress, who looks like Moby, is trying to get Feng's attention with some fantastic pearls such a:
"Hey meinu ni de yingyu bu tai hao ma!"
that I would translate as "Hey miss, your English is really bad!"
to which Feng answers with a spicy:
"Is your English any better?"
And him:
"Shide," (that in this case just means "yes"), managing to never speak an only word of English along all the evening.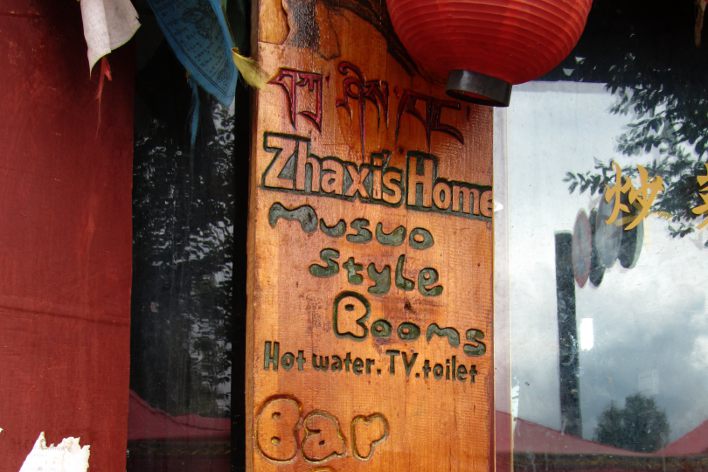 It's during this funny exchange that Feng realizes we are eating at the restaurant of Zhaxi, the legendary playboy of Lugu Lake.
She tells me how Zhaxi became the most famous Casanova on the West side of Kunming:
"His name is Zhaxi, but people call him the Prince of Mosuo. He's famous for his beauty and his Ars Amatoria. If you ask him how many girls he had, he will show a pearls bracelet and explain to you that every time he conquers a new woman he adds a pearl."
It seems that right now the bracelet contains one hundred eight pearls. We ask to Moby if it's possible to meet him (I know it's a giddy request but, well, whatever) but he tells us that Zhaxi is out.
Ah ok, now people say "he's out"… My opinion is that he's probably trying to enter the underwear of some matriarch.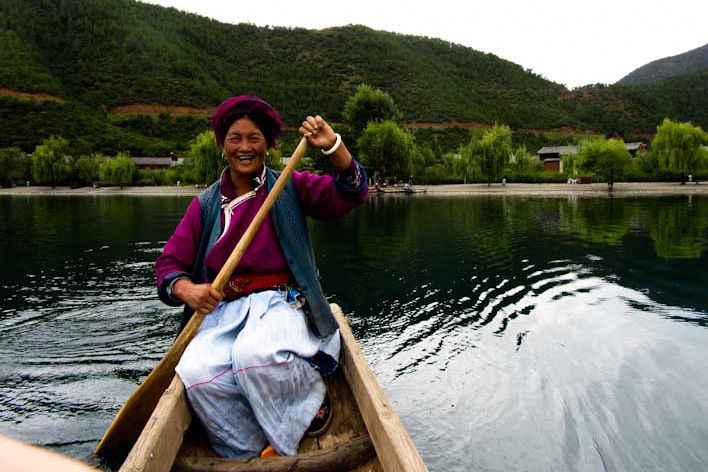 A cruise on the lake
The day after flows quietly between a bike ride and a boat "cruise" with a Mosuo woman (half an hour for twenty kuai).
At night we enjoy the traditional Mosuo dance (it's the video at the beginning of this article) and then we are ready for sleeping as tomorrow we need to wake up at six. Destination: Emei mountain, the giant Buddha in Leshan and, finally, the pandas!
To know more about Mosuo people and their traditions read Mosuo, the last (almost) matriarchal tribe.