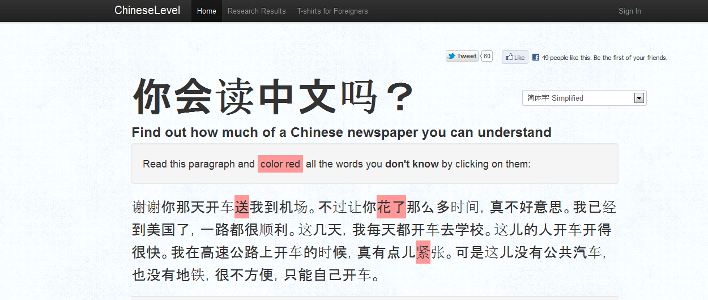 Two months ago I started to study Chinese (here my plan: How to learn Chinese fast: my (lazy) way) and decided to share my progresses on this blog as an extreme attempt to keep motivated. However, a post only talking about me and my studies would be so boring for you to read!
How much of a Chinese newspaper can you understand?
Thus I decided that every month I will share a useful resource to learn Chinese and only at the end of the post I will detail my progresses. Today I want to talk about Chinese Level, a website that promise to estimate how much of a Chinese newspaper you can read and then suggest you some stories in Chinese language that fit your current level so that you will not get bored reading a bunch of stuff you do not understand (the website is quite new and if I understood well this features is not ready yet).
The author, Herman Schaaf, has a very good point when he explains how the common wisdom of knowing about 2,000 characters will allow you to read 95% of a newspaper is maybe true but still useless. And we poor Western trying to get along with Mandarin are all aware of this paradox.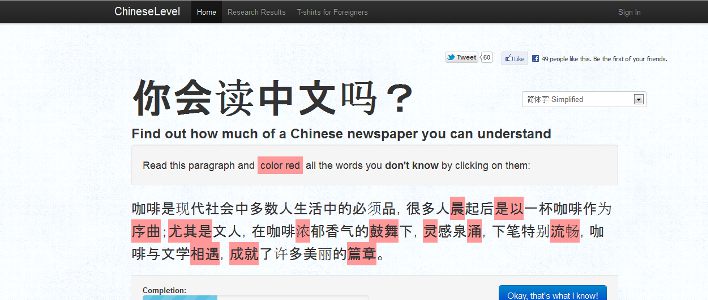 The point is that modern Chinese doesn't work with characters, conversely it is based on words and abstract concepts composed by two, three and, sometimes, four characters. This means that the same characters will assume a different meaning depending on the context. Don't believe me? Here an example: 小 means "small" and 心 means "heart". However 小心 means "be careful."
You are not convinced yet? What about that: 意 means "idea", 大 means "big" and 利 means "advantageous". You put them together and get 意大利, which means… "Italy".
See, since I know the most common characters I'm able to read panels and newspaper titles quite often. However I (almost) never get the meaning of that particular combination of characters. And I guarantee you this is pretty frustrating.
You will agree with me then that to understand Chinese comes down to know words in a given context, not characters.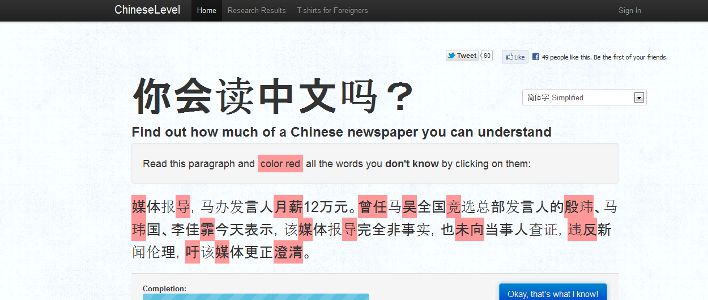 Herman Schaaf crawled about 7,000 newspapers, finding about 60,000 different words. Those are the words you need to know to understand Chinese newspaper! Wait, don't panic.
The reality is you can get along with much less words as long as you don't pretend to understand EVERYTHING Chinese people write. In particular, the most common 1,000 words represents 50% of newspapers. With 5,000 words you will understand 80% of a newspaper and with 10,000 words you will cover 90% of a newspaper meaning, which is probably more of what I get from English newspaper. The remaining 50,000 words cover the longtail, mostly composed by obscure words that not even Chinese people understand.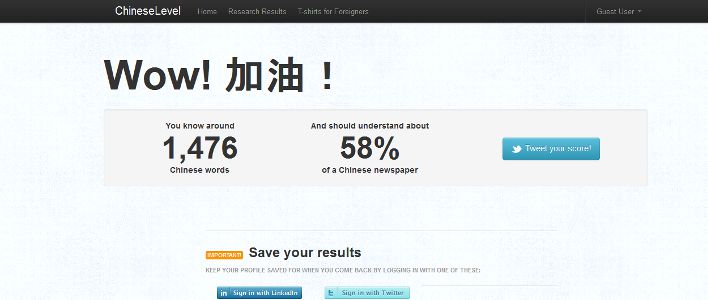 Chinese Level promises to estimate how much of a newspaper you can read through a five minutes test. I just took it and learned that right now I can understand 58% of a newspaper, which means I know around 1,500 words. I will take the test again next month and check my progresses.
Learn Chinese: my lazy way monthly results
Two months ago I've started to study Chinese. The idea is to spend only one hour per day on Chinese learning and yet be able to communicate in a decent way, understand Chinese television and newspapers within the end of February 2013.
If you want to check my original plan, which detail HOW I plan to do it, read Learn Chinese fast: my lazy way.
What I did this month

I've been studying the lessons of the Chinese course I bought (Rocket Chinese), but I didn't really put too much time on that this month. However I started to add to my Anki's deck the flashcards corresponding to the sentences of the course containing words I didn't know.

I've updated the music on my iPod moving from 50 to 90 percent of Chinese music. However I only watched two movies this month.

I talked more Chinese than last month, but I guess it was more because I was traveling than because of my willing to talk more. I'm still lazy with that. The good news is that I found myself using more and more the constructions I learn during my study sessions. For instance, yesterday the hairdresser kept looking at me and laughing with his neighbor (in China there are always a lot of hairdressers working close to each other). At some point I got tired and asked to him "你喜欢嘲笑我,对吗?" ("You like to laugh at me, don't you?"). He became red and stopped it. Of course I don't know what they were talking about…

Also this month I was able to finish my Anki's deck (I plan to study ten decks of about 1,500 flashcards within a year). I must say that adding new cards to my deck becomes every day more challenging as I stumble more often in characters I've never seen before. However the fact I've already dealt with about 3,000 cards in two months was a great gym for my brain as I have the impression that I need much less effort for memorizing a single character or word.

Since I've lost my old phone (a Nokia from Qing Dynasty) I've invested in a smart phone with Android Operative System so that now I can study my daily flashcards everywhere (taxi, train, queuing for paying the bills, waiting for my lunch and so on) instead of having to switch on my laptop. This is a huge improvement on my scheduling. I will try to keep the same pace also on May but, given the increasing difficult of the characters I'm encountering, I'm not sure I will be able to. Let's see what's up…

Some details on my deck
When I told to a friend that I was studying fifty new flashcards per day, he told me it was not possible. Now let's specify that each new sentence is composed by five flashcards (the order may change):
With the first flashcard you can only listen the sentence and have to get the meaning and right pronunciation (pinyin more tones).
With the second flashcard you can only listen the key character of the sentence and have to get the character shape, the meaning and right pronunciation.
With the third flashcard you can only see the sentence and have to get the meaning and right pronunciation.
With the fourth flashcard you can only see the key character of the sentence and have to get the meaning and right pronunciation.
With the fifth flashcard you can only see the translation of the key character and have to get the character's shape and its pronunciation.
Thus fifty new flashcards correspond to ten new sentences per day, which is still a lot but feasible.