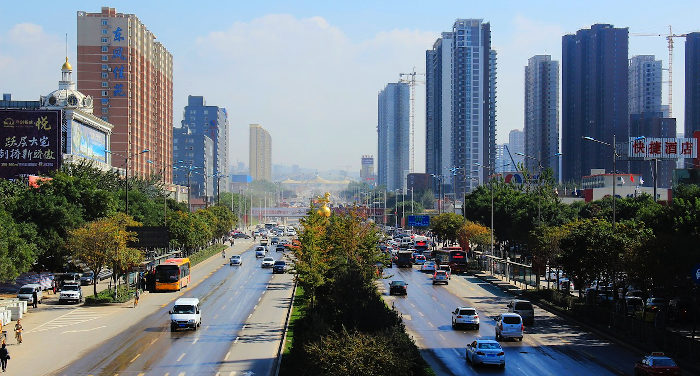 This guide is a collection of resources and practical advice for living in Taiyuan, a city located in Shanxi Province. Here are the subjects we're going to cover:
Taiyuan's transportation system
Taiyuan Wusu International Airport
The only airport in Taiyuan is Taiyuan Wusu International Airport, which handles both domestic and international flights.
It's about 15 Kilometers from the city center and is easily reached by taxi (which should cost about 40 Yuan from the city center), taking bus number 201, or the shuttle which makes several stops in the city.
Taiyuan train stations
In Taiyuan there are two train stations: Taiyuan Railway Station (太原站)and Taiyan South Railway Station (太原南站).
Taiyuan Railway Station
Taiyuan Railway Station is in the Yingze district, near the city center and reachable by taxi for about 10 Yuan in 10 minutes, or on buses 1, 10, 21, 10, 308, 618, 804, 848, 866 (Railway Station stop, 火车站). From here there are departures of slow trains to many destinations throughout China.
Taiyuan South Railway Station
Taiyuan South Railway Station is located in the Xiaodian district and from here many high speed trains depart, including those for Beijing, Xi'an, and Pingyao (which takes only about half an hour).
You can get to the station via buses 51, 807, 813, 824, 849, 861, 868, 901, and 902 getting off at the South Railway Station (火车南站) stop.
Taiyuan's Metro
Taiyuan's metro system is presently under construction, and will likely become active in the next few years.
Taiyuan public transportation cards
You can get (and recharge) public transportation cards (公交IC卡) in authorized stores, leaving a deposit that will be returned when you turn the card back in. This card will give you a discount on the base price of tickets (which is halved).
At special offices, you can also enable (with another security deposit) a service that will allow you to use public bicycles found in every corner of the city at a price of 1 Yuan an hour, after the free first hour.
Buses in Taiyuan
Not yet having a working metro system, the bus service in Taiyuan is rather efficient and connects the city well. The cost of an urban ticket is 1 Yuan, while for an extra-urban band it can go up to 4 Yuan. You buy your tickets when you get on the bus.
Taxis in Taiyuan
Taxis are a very convenient way for getting around the city, both for their low prices and the ease of finding one (with the exception of rainy days when getting a taxi is a more difficult undertaking). The vehicles, once red and dilapidated are gradually being replaced. Almost all vehicles in fact are blue electric cars, with a base daytime rate of 8 Yuan (8.6 for nighttime).
Taiyuan's weather
Taiyuan has a semi-arid climate. Winters are cold and very dry, and temperatures often get to 10 degrees below zero in January. Autumn is dry, but with milder temperatures, making it an excellent time to visit the city.
Summers are hot and also the time when the rains come, often without notice and very strong. In Spring the weather is nicer but still dry. During this time you can observe the trees of the city in bloom, as well as the occasional sand or dust storm that renders the sky a yellow-gray color.
Where to live in Taiyuan
Though the city has become more international in recent years, the presence of foreign citizens is extremely low. The majority of taverns and restaurants are found near the intersection of Changfeng Street and Pingyang Road. Here you'll find shopping centers, restaurants, pubs, and discos.
The city center, which corresponds with Liuxiang Road, is also characterized by the presence of shopping centers and international restaurants.
Tourism in Taiyuan
Jinci Temple
Jinci Temple (晋祠寺) is the main attraction of the region and is located about 25 kilometers southeast of Taiyuan. This is an ancient ancestral temple made up of many halls, pavilions, bridges surrounded by gardens.
Temple of the Twin Pagodas
The Temple of the Twin Pagodas (双塔寺) is found in the Yingze district and is known, as the name suggests, for the pair of octagonal pagodas that define it.
Giant Buddha
Meng Mountain is famous for its Giant Buddha (蒙山大佛). After a walk through the mountain paths, you can admire this enormous statue of Buddha carved into the stone.
Yingze Park
Located in Yingze district, in the city center, Yingze Park (迎泽公园) is a refuge from city traffic. Here you can admire the Chinese as they sing, dance, or play musical instruments. Besides walking under the trees you can also rent a boat to take a tour of the lake inside the park.
Fen River
Fen River (汾河) crosses the city of Taiyuan, and you can stroll along its banks or go jogging without being disturbed by cars and bicycles, which do not have access to this area.
Street of foods
In the Yingze district, very close to central Liuxiang Road, you can taste local delicacies along the street of foods (食品街), which has a greater atmosphere at night with its lights and crowds of people coming for dinner.
Shanxi Museum
On Binhe Bei Road there's the Shanxi Museum (山西省博物馆), where you can lose yourself in the history of the province's rich culture.
Hospitals and clinics in Taiyuan
Health services in China require payment, and for this reason, it is strongly recommended that you take out medical insurance before leaving.
International hospitals and clinics in Taiyuan
As was already mentioned, Taiyuan is not yet an international city and for this reason, it is difficult to find services offered in English. The only hospital where there are doctors capable of communicating in English is the following, though it is possible to find one also in other hospitals:
No.1 Hospital of Shanxi Medical University
Address: 85 Jie Fang Nan Road
Telephone: +863514044648, +863514044111 Ext. 25463/26706
Local hospitals
The following is a list of Chinese hospitals where you can receive medical services, but don't count on English as a means of communication (source: www.cina.org.cn).
Shanxi No.3 People's Hospital
Address: 3, Zhigongxin Street
Telephone: +863514425911
No. 2 Hospital of Shanxi Medical University
Address: 382 Wuyi Road
Telephone: +863513074231
Shaanxi No. 109 Hospital
Address: 73 Taibao Street
Telephone: +863517042363
Shanxi Eye Hospital
Address: 252 Fudong Street
Telephone: +863512028215
Shanxi Railway Central Hospital
Address: 27 Fudong Street
Telephone: +863513172499
Taiyuan Central Hospital
Address: 1 East Sandao Alley
Telephone: +863513040040
Taiyuan No. 3 People's Hospital
Address: 285 West Huangta Street
Telephone: 03517229293
Taiyuan No.2 People's Hospital
Address: Taoyuanyi Alley
Telephone: +863514221242
Shanxi Ronjun Hospital
Address: 7 Rongjun South Street
Telephone: +863517122576
Shanxi People's Hospital
Address: 99 East Huangta Street,
Telephone: +863514045761
Shanxi Charity Hospital
Address: 85, South Jiefang Road
Telephone: +863514082700
Schools and universities in Taiyuan
International, private and public schools
If you want your child to go to school in China, the first decision to make concerns the type of institute in which to enroll them. Your choices are international schools (the most expensive), private schools (less expensive than international schools), and public schools (free).
There aren't many international schools in Taiyuan, with the exception of a few private schools where English is taught. Among the public institutes there's the Taiyuan Foreign Language School, known for it's teaching of foreign languages.
Universities in Taiyuan
North University of China (中北大学)
Founded in 1941, it offers a vast gamut of courses including its well-known course in engineer (especially mechanical engineering).
Shanxi Medical University (山西医科大学)
An institute founded in 1919, its principal materials are clearly centered around the medical field.
Shanxi University of Traditional Chinese Medicine (山西中医学院)
The predecessor of this institute was founded in 1978, and since then it has always centered on medicine with particular attention given to the field of traditional Chinese medicine.
Founded in 1902 as Shanxi Grand School, it covers a wide array of subjects, varying from economics to literature and the sciences.
Shanxi University of Finance and Economics (山西财经大学)
Founded in 1951, its focus is primarily the study of economy and finance, to which they are adding new specializations such as management, law, literary arts, science, engineering, and teaching.
Taiyuan Normal University (太原师范学院)
Three proceeding schools (Normal College of Shanxi University, Taiyuan Teachers Training College, and Shanxi Educational Institute) brought about the current Taiyuan Normal University, which was approved by the ministry of education in 1999. Its main subjects: economics, law, education, literature, history, engineering, management, science, and the arts.
Taiyuan University of science and technology (太原科技大学)
The Taiyuan University of Science and Technology sprung from the Shanxi Machinery School, founded in 1952. Among its various courses, mechanical and material engineering of a scientific bend stand out.
Taiyuan University of Technology (太原理工大学)
The origins of this school go back to 1902, with the institution of the Western Learning School of National Shanxi Grand Academy. The main subjects of study are engineering and science, but this university boasts many other departments in various fields such as art, language, and economics.
Shopping in Taiyuan
Finding international products in Taiyuan is not always easy, especially when it comes to fresh products. In the city it is however possible to find several large supermarket chains and even little shops that sell imported goods. Below is a list of the main ones.
Foodstuffs (even Western)
Carrefour
Address: 115 Changefeng Street (长风街115号千禧世纪广场地下1层) 
Wal-Mart
Address: 705, Changfeng Street (长风大街705#和信商业广场地下一层)
Wangfujing
Address: Qinxianbei Street (亲贤北街99号)
Meet All
Address: they are literally spread throughout the city but their selection of international products isn't always very good.
Clothing
Fashion Walk (Bei Mei Xintiandi)
Address: Intersection of Changfeng Street and Changzhi Road (长风街与长治路交汇处长风商业区)
Maoye
Address: Intersection of Qinxian Street and Tiyu Road (亲贤街与体育路的交汇处)
Wanda Plaza
Address: 175 Jiefang Road (杏花岭区解放路175号)
Restaurants
Amber
Address: Beimei Xintiandi Number 1 – Intersection ofc Tiyu Road and Jinyang Street (体育南路晋阳街口北美新天地N1)
Banana Leaf
Address: Intersection of Qinxian Street and Tiyu Road (亲贤街与体育路的交汇处)
Ciao Pizza
Address: Intersection of Pingyang Road and Qinxian Street (平阳路与亲贤街交叉口西北角)
J's Kitchen
Address: Beimei Xintiandi Number 1 – Intersection of Tiyu Road and Jinyang Street (体育南路晋阳街口北美新天地N1)
La Cucina
Address: Beimei Xintiandi Number 1 – Intersection Tiyu Road and Jinyang Street (体育南路晋阳街口北美新天地N1)
UK Impression
Address: 325 Pingyang Road (平阳路325号)
Pubs
Cd pub
Address: 12 Liunan Xiaoqu North (柳南小区北12号楼一层)
New Waldens Bar
Address: Changfeng Street West Road (西路长风街百盛背后)
Old Waldens Bar
Address: Binhe 1, Qinxian Street North (亲贤北街滨河一号)
UK Impression
Address: 325 Pingyang Road (平阳路325号)
The Six floor
Address: Building 6, Room 603, 6 Pingyang Jingyuan (平阳景苑6号楼6层603)
Werne – German bar
Address: Building K, Intersection of Nanzhong Chuangyu Street and Dianzi Road (南中创意街电子路K座)
1950
Address: a chain of taverns that can be found in other cities as well
Discos
Mix
Address: 111 Changzhi Road (长治路111号)
Myst
Address: Changzhi Road (长治路阳光银座底商)
Muse
Address: Shimao Center, Ground floor, Changzhi Road, (长治路世贸中心一楼)
S-Muse
Address: 111 Changzhi Road (长治路111号)
Useful addresses and numbers in Taiyuan
Taiyuan Entry-Exit Inspection and Quarantine Bureau
To convert your student or work visa into a permission of residence, you'll need to subject yourself to a series of medical exams with this agency.
Address: 8 Yifen Street (漪汾街8号)
Telephone: +863516163715
Forums and directories on Taiyuan
On eChinaCities you can find entertainment and events for expats.
Photo Credits: Photo by chasecaicai13 on Pixabay