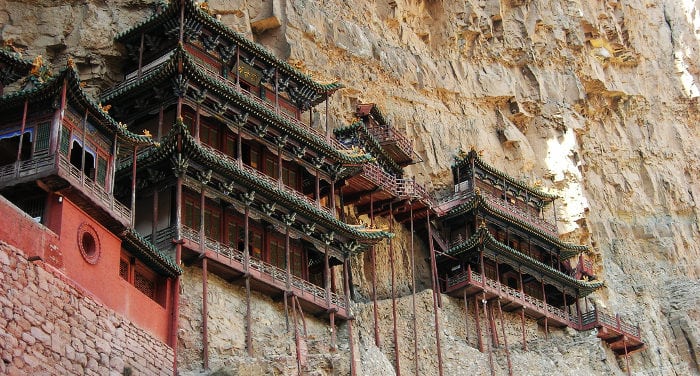 The Hanging Temples in Datong
This travel guide was co-authored by Helen Wang and Harley Greenberg of WindhorseTour.com, a local China travel agency developed to help guide travelers across China including Tibet and less visited destinations like Datong and Pingyao.
Datong and Pingyao are both located within China's Shanxi province. Both areas are of great historical significance. These historic landmarks in China are filled with beautiful classical Chinese architecture from the Ming, Qing and Zhou dynasties.
You can take this opportunity to experience a large range of different climates, architecture, and culture.
If you are planning a visit to China, these locations would be high on the list of choices. I personally love the rustic charm and classic look of these cities. The cobblestone roads are always a great touch. Unless you happen to have to drive on that cobblestone, that can be annoying (luckily there won't be too much of that).
In this guide I will highlight:
A little history of Datong and Pingyao;
How to get to Datong and Pingyao.
What a tour to these locations will include;
Where to stay in Datong and Pingyao;
The four renowned ancient cities of China.
The weather in Shanxi province;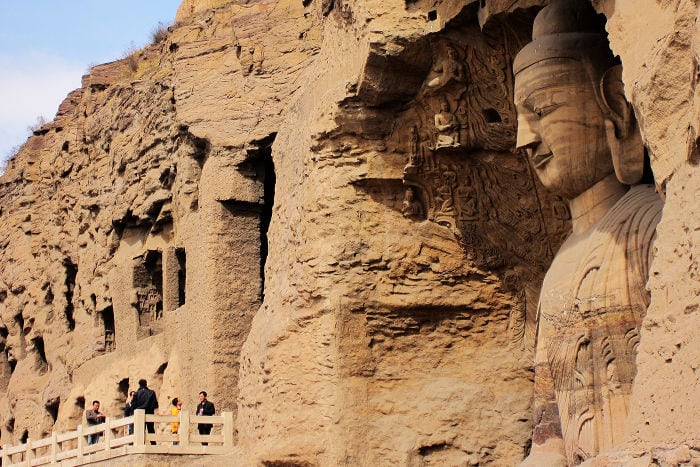 Yungang Grottoes in Datong
Travel to Datong
When traveling to Shanxi Province, you should starting with Datong, a very beautiful and picturesque city in northern Shanxi province, with a lot of different experiences to offer.
How do you get to Datong?
Datong has a population of over three million and is easily accessible by plane as well as by a K train from Beijing. If you enjoy sightseeing, the train is meant for you. It travels through some very scenic mountains and small towns along the way. If you just want to get there without the scenic route, then by all means, take an airplane. Although the train is a lot cheaper.
A little bit of history
Datong was formed in 200 BC during the Han Dynasty and is in close proximity to the Great Wall. The city was renamed Datong, after formally being known as Xijing, in 1048 AD after the Mongols sacked it.
Where should you go in Datong?
Yungang Grottoes: These ancient Chinese Buddhist temples first started in 465 AD and were not completed until 1621 AD, taking one thousand one hundred and fifty six years to complete. The Grottoes are filled with many carvings, statues and impressive temples. It is a constant effort to preserve the Grottoes and to protect them from the harsh weather. Since the 1950's they have been consistently sealing cracks in the sandstone. Yungang is located 16 km outside of Datong.
Hanging Temples: These temples, which are built into the cliffs of Mount Heng, are located just 64 km from Datong. They are amazing to behold, beautiful and majestic. The original temple was built sixteen hundred years ago by just one single man, a Buddhist monk named Liao Ran. Since then there have been many repairs and extensions affixed to the structure. The temples are held into place by oak crossbeams inserted into holes, that are then chiseled into the side of the cliffs. It is an amazing type of structure very rarely seen today. The temples are surreal looking and seem like they should not exist where they are. The China travel agency will also provide you with your own private car for the one hour car ride to the Hanging Temples.
And where to stay in Datong?
There are several options for lodging; you can save some money by taking the overnight train straight in to Pingyao, while using the convenience of the sleeping on the train. This is perhaps the most popular way that I suggest to my clients.
Another great option is to stay at one of the many hotels that Datong has to offer, and there are a lot of them.
Some of these hotels include:
Garden Hotel: Located in the heart of Datong, Garden hotel is staffed with a friendly staff and is equipped with a westernized breakfast that includes coffee and milk. What is more Western than coffee?
Weidu International: Also located in the heart of Datong and staffed with a friendly staff. This hotel also has complimentary bottles of wine, Chinese breakfast and dinner, and a swimming pool for both recreation and relaxation.
These are just a couple of the many wonderful hotels that Datong has to offer. Best of all, most are for well under 100 USD.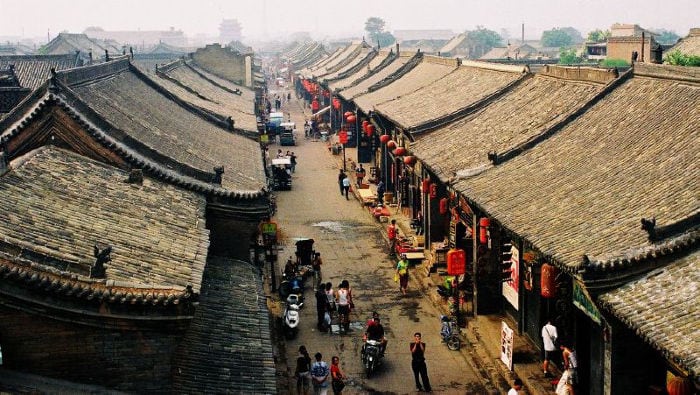 East Street in Pingyao
Travel to Pingyao
After Datong you will head to Pingyao:
Pingyao, located in the middle of the Shanxi province, dates back more than two thousand five hundred years. The city is surrounded by a large, sturdy wall extending twelve meters high (almost forty feet).
Along with the wall, Pingyao is also protected by a moat four meters (thirteen feet) wide by four meters deep. The massive wall includes seventy two watchtowers and one tower in each corner (totaling four).
You may simply choose to observe the wall, or use it for a stroll, while embracing a wonderful view of the city. The Pingyao wall is an incredible attraction, one you should definitely visit while there.
This once financial center of China has now become a major hotspot for tourism and for good reason. Despite all of the tourism and the bustling economy, Pingyao is still a comfortable and thriving community and home to many. The real feeling of neighborhood unity adds much to the comforting feel of this region. There is a quite a bit to see in Pingyao; including ancient streets, beautiful architecture and fascinating temples.
While there is a lot to see in Pingyao, I suggest that you only spend a maximum of two days there as to not run out of things to do.
Some of the popular attractions:
Qiao family compound: A must see in Pingyao. The estate is an impressive five thousand square meters, has three hundred and thirteen rooms, six large courtyards and nineteen smaller courtyards. This once private residence has become a museum filled with unique period furniture that gives you a true feel for the time period.
Wang family compound: If you think that the Qiao compound is big, this compound is four to five times larger still. The Wang family compound is one of the largest of Ming Dynasties era architectural masterpieces; at forty five thousand square meters. Wang compound is also known as the Forbidden Temple of Shanxi province. On August 18th of every year there is a tourism festival held at the compound that will allow you a chance to see, and take place in, many traditional Chinese activities. The Wang family compound is mind boggling big.
City Wall of Pingyao: A must see in Pingyao, the city wall was built in the 11th century and surrounds the whole city. For a small fee you can walk along the top of the wall, and the ticket will last you three full days, so if you only have time for part of the wall, you are able to just come back to finish the hike the very next day if you so choose.
Just like Datong, Pingyao has some great hotels (click here to learn more).
Also with amazing prices that will not leave you unsatisfied with your choice. You can choose from many comfortable and locally run family guest houses, or even a five star hotel like:
Harmony Guesthouse: This guesthouse offers a full restaurant, internet access and free and convenient parking. It's located within the walls of Pingyao and is only a 10 minute drive from the train station. You can enjoy some traditional Chinese dishes at the restaurant or you can choose from a variety of westernized dishes. This restaurant also includes a full service bar.
Pingyao Yunjincheng Folk Hotel: Located within walking distance from famous Mingqing Street and the Pingyao Bus Station, and just a short drive from Pingyao Railway Station. Also including both Chinese and Western restaurants as well as local cuisines. You will not be short on choices.
If you decide to just skip Datong and head straight to Pingyao (but if you do you're missing out), you can take a bullet train from Beijing, a trip that only takes three hours, and if you depart on the afternoon train then you will be arriving in Pingyao right around dinner time and just in time to check into a hotel room for the night. Then just grab some food and get ready for the next day.
If you are coming from Datong you can take the K train in to Pingyao. This train takes somewhere between seven and eight hours in total, just grab a quick nap and like magic you're in Pingyao!
After your stay in Pingyao you can simply hop on another bullet train and take the two hour trip to Xi'an, another great and beautiful city.
The four renowned ancient cities of China.
Pingyao is just one of four renowned ancient cities in China, the other three being:
Langzhong, a beautiful ancient city, with narrow streets and small, charming courtyards, as well as amazingly stunning architecture. It is China's fourth largest, unspoiled, and most well preserved city. This is no doubt due to the lack of tourism and well maintained traditions.
Lijiang, once the political, commercial and cultural center for the Naxi people, along with other ethnic groups, for around four hundred years during the Tang Dynasty (618 AD to 960 AD). Lijiang was also a big part of the Silk road and was quite famous for their stunning silk embroideries.
And last but not least is Shexian, also known as She County. Located in Anhui province, Shexian was established during the Qin Dynasty between 221 BCE and 208 BCE. It is a huge producer of tea as well as a tourist hot spot. It is filled with ancient towns and streets that attract people of all cultures and personalities.
Weather in Datong and Pingyao
Shanxi province is magnificent all year long, but can be quite cold in the winter and receives snowfall during the winter months.
Datong has very long winters with temperatures potentially reaching as low as -10°C (12°F), and about as high as 22°C (71°F). Datong has a relatively dry climate and is almost always sunny.
Pingyao receives a lot more rain and snow throughout the year, great if you want to maybe build a Chinese snowman. It also gets hotter during the summer in Pingyao; it can get up to 33°C (91°F).
The temperature difference between the daytime and the nighttime is also drastic, sometimes a difference of around 15°C (almost 50°F). Pingyao also receives extreme fog and very high humidity. So be sure to plan and pack accordingly. No one likes to be left out in the cold with no jacket, or to be stuck in extreme heat and a mixture of high humidity with nothing but long sleeve shirts and jeans.
In conclusion
Datong and Pingyao are beautiful and full of insurmountable amounts of history. No matter what you do you are sure to have a good time. Whether you are a history nut, or want to go for a hike, maybe you just want to experience some culture. Datong and Pingyao will not disappoint you.
A last thing. Most hotels and restaurants in these areas also speak English, at least the ones in the tourist areas. But not everyone does, so invest in a translation app or book.
If you want to get in touch with me, just head to WindhorseTour.com or let a comment below!
Photo Credits:

Datong, China, DSCN4119 by Dan


Yungang Grottoes Exterior by ccdoh1


Pingyao East Sreet by Graeme Nicol