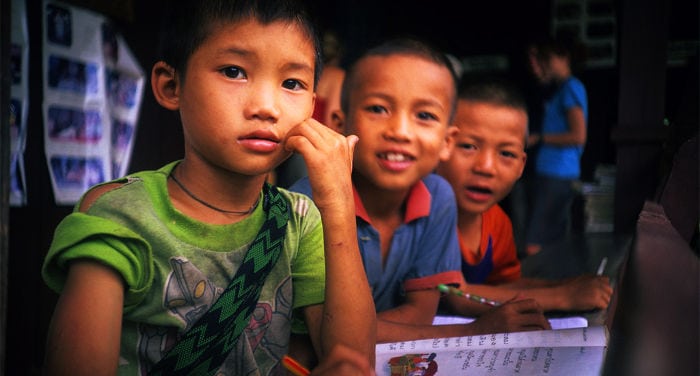 Are you looking for a way to finance your adventures in Thailand, or a new life or work experience?
In this guide I will explain how to teach English in the Land of Smiles as one of the most popular jobs with strong demand for those looking to earn a living and live almost like a Westerner in a land where traditions, culture and lifestyle are totally different than what we're used to.
Note that everything you read in this article is derived from my own personal experience as an English teacher in Thailand.
Why you should teach English in Thailand?
The country is situated in the center of Southeast Asia and borders with Myanmar, Laos, Cambodia and Malaysia, which allows those living in Thailand to travel and not only discover its own wonders but also those of other countries.
The majority of people that come to teach English belong to one of the following categories:
Newly-graduated students looking for a well-paying job; for example in my school there was a pair of foreign girls who attended university in Bangkok and took this occasion to do it as a summer job before school restarted;
People tired of the monotony who want to try something new;
Retired people looking to earn a little something extra; in my school there was also a retired Australian who taught English for four years;
People interested in a new career;
People who, like me, want to live in Asia, immersed in a different culture.
If you fall into one of these categories (or even if you don't) at least think about it in the near future.
Another big reason for which many teach English in Thailand is the high demand for teachers; English is the most widely spoken language in the world and a country like this doesn't want to stay behind the times.
Moreover, as the only country in Southeast Asia that was never colonized, such as Vietnam (occupied by France and the USA), Cambodia (France), and Laos (France), in Thailand there is no second language.
The demand for teachers is therefore high and the conditions are more than just acceptable; you must however know how to adapt and have a strong character to teach a class of no less than 35-40 kids.
If you're a little bit intrigued keep reading to see what you'll need to be an English teacher in Thailand.
What are the requirements to teach English in Thailand?
If you do an online search for what the minimum requirements are for teaching English in Thailand you'll be amazed because they vary from school to school and there is no official list of what you need to have.
Some sites list various necessary conditions, such as proof of a Thai culture course, an adequate grade on a test of knowledge of the English language (IELTS or TOEFL, but also TOEIC) for those who aren't native speakers, and a criminal record report, while others require only a diploma and or some small experience in teaching (even privately).
Writing of my own experience, I can tell you that any person looking to undertake this career in Bangkok (where I currently find myself) must have four basic requirements which are listed below.
These are just guidelines: remember that as was mentioned, requirements vary from school to school and city to city.
First Requirement : Three-year degree or equivalent title
Any graduation diploma is one of the most important requirements to keep in mind; those with a three-year degree can teach in the high schools while those with a masters can even teach on the university level (without competitive exams, ranking, etc).
It's even better if you have a degree in the subject you'll be teaching. More specifically they're not only looking for teachers of the English language but also the arts, science, geography, math and other subjects to be taught in English.
Second Requirement: Teaching English with a teacher's license (TEFL, TESOL) or not
A TEFL or TESOL certification is not a basic requirement for teaching in Thailand, but many schools treat it as an additional requirement. It furnishes the fundamental basics of teaching for those who have no previous experience, such as creating "lesson plans" and keep students engaged in a lesson.
Since having a TEFL is not a requirement for teaching in Thailand, employers seek candidates with previous teaching experience, education or a degree in English.
For example, if you have some years of experience teaching English in an Asian country or a degree specifically in the English language, the agency or school that will hire you can ignore the fact that you don't have TEFL or TESOL certification.
When you don't have a teaching certification, when applying for a Work Permit, the school will have to fill out a document to obtain a license from the Teachers' Council of Thailand.
Third Requirement: Non-Immigrant business "B" type visa
To teach in Thailand you'll need a B-type Non-Immigrant visa, which is for work and not for tourism or as a student. With this type of visa you can work for three consecutive months, after which the school will send a request for a work permit which will let you extend this visa for a year.
The Non-Immigrant B-type allows you to work regularly in Thailand, open a bank account and not feel like a tourist but part of the society.
Here's my personal experience with visas (which will help you work regularly without breaking the law):
After a successful interview with the school using Line (here they don't use Whatsapp or Skype but Line, an app similar to the others) I went in one of the two Thai consulates in my country with my passport and acceptance letter sent by the school to apply for a visa.
After providing all the documentation and paying around 60 Euro, they gave me a visa. Arriving in Bangkok, I showed my visa to the customs official along with the acceptance letter and passed through without a problem.
Many young foreigners (mainly Americans and English) don't waste time on gathering documents and arrive in Thailand with a tourist visa, with which you can only stay one month and can't legally work.
The majority of schools will have you work all the same and while you're working will request a work visa for you on-site. This conduct is still illegal since, as was mentioned, with a tourist visa you can't work.
Fourth Requirement : A good image and attitude
As in many other parts of the world, the eye too plays its part; and Thailand is no exception. Unfortunately this also means that some people will be turned down for a job simply because of their appearance.
Discrimination is rather common phenomenon in Thailand, and it isn't rare for a school to choose its candidates on the basis of age, race or sex. For example in the school where I work, the director wants only male teachers and no women. Or what happens if you don't wear a collared shirt in your résumé photo. If you're a calm person with self-control and a good sense of humor, you'll surely go far in Thailand.
Which school to choose?
There are public/government-run and private schools. State schools offer a weekly teaching program from Monday to Friday without extra lessons in evenings and weekends. Plus, being government-run they'll celebrate national holidays, which means paid vacations.
Language schools and private schools often pay more and offer better benefits, but require that you work in the evening and weekend since the majority of students are workers or students that study English after the normal school day.
In addition, the chances that a private school will be run by a native English speaker are higher, there will be a ton of other expats compared to a public school where there will be few foreign teachers.
Types of contracts
Contracts vary if you are hired directly by the school or an agency. The school proposals last for a year with the possibility of being renewed; those of the agencies are on-call contracts where the school will call you when they need you and you need to be ready to teach.
A positive note for working for an agency is that they don't have so-called "office hours" so whenever you finish your work hours you can go home without the boredom of having to stay in the office; the bad news is that the salary is much lower compared to being hired directly by a school.
Cash or debit in a Thai checking account?
Ask yourself: what will you do with your first month's pay? How will it be paid? The majority of schools want a trial period of two or three months; during this interval, unless you already have a B-type visa, your salary will be paid in cash in an envelope with your name on it.
Obviously having 30,000 or 40,000 Baht in cash at home isn't always a good idea. If as in my case you arrive already having a work visa you can go to any bank (check with your Thai colleagues) and open a bank account.
There are various banks, each with different credit/debit cards; it's up to you which you want to choose. Once your account is opened you'll be given a "book bank"; a small book where you'll have information about your account where you can also see the withdrawals that have been made.
You should pass this little book on to the school's secretary, who will take note of the checking account number so that at the end of each month the school will deposit your salary directly into your account.
Useful sites for looking for work as a teacher
The site www.ajarn.com can give you a big boost in finding your first job as an English teacher or any other subject requested, so long as it is taught in English. This site is used by the majority of people who are looking for work and in the "jobs" section you can see the latest openings or use the search filters depending on your needs.
Like all other job openings they'll list the requirements, type of school and salary.
Another useful site is th.jobsdb.com/th; it's a portal with job offers of every sort but with the search filter you can insert "education" and;"teacher" and see which openings are available at the moment.
A bit of advice that I feel I should write is this: search before going to Thailand but don't expect that all will respond to you; if they respond prepare to be interviewed via Skype or Line.
If you don't find work before leaving, look once you get to Thailand or, if you have a Thai friend, get them to help you; you'll save yourself a big headache.
Good luck!
Photo Credits:

Thai School Boys by Koen Bok