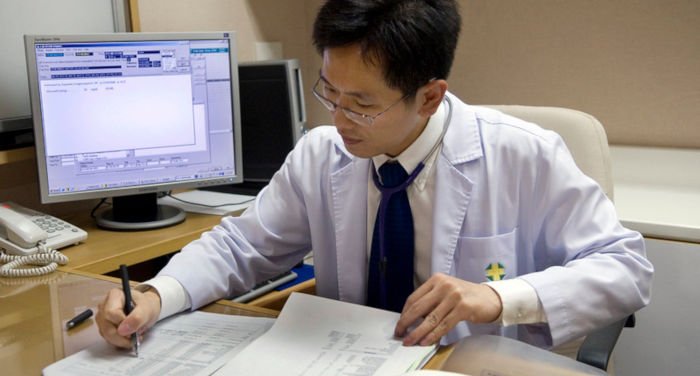 This article was written for foreigners that will relocate to Thailand and need to find an expat insurance. In this article, we provide information that will educate you and make it easier for you to decide whether a medical insurance policy is the right thing for you and how you can choose one.
Therefore, we will cover the below topics (you can click on the index to jump directly to the section that you are interested in and want to read about).
If you only want to read about travel insurance suitable for Thailand, please check this article instead.
Medical attention in Thailand
Thailand provides public healthcare through three different programs, including:
The civil service welfare system for civil servants and their families
Social Security for private employees
The universal coverage scheme (introduced in 2002)
Thanks to the introduction of the universal coverage scheme (see third bullet point) around 99.5% of all Thai citizens are covered by public healthcare. Before that, the country suffered from an inefficient healthcare system with coverage beyond the reach of low-income citizens.
Due to this, around 25% of its population was left uninsured. Nowadays, public hospitals offer treatment completely free of charge to local citizens with Universal Coverage Health Cards (except on Saturdays).
Yet, even if public hospitals and health facilities offer decent medical care in Thailand, it's not on par with hospitals in Western countries, or in Japan and Korea. The hospitals are often crowded and the waiting time can be lengthy.
At the same time, doctors often prescribe Thai-medicines that you find little to no information about online. This is not good as you might end up with serious side effects (I got a blood clot in my leg after eating 6-7 different medicines in Thailand).
You should also be careful hospitals that try to convince you of staying overnight for treatment, even for minor issues. Oftentimes, they ask whether you have insurance or not first, as they believe that your insurance company will pay.
Over the years, we've also seen increasingly more private hospitals popping up in Bangkok and other major cities, making Thailand one of the world's leading medical tourism destinations.
This is something we see in countries like Malaysia as well, where foreigners get access to superior healthcare for a fraction of the cost compared to Western countries.
Why do I need health insurance in Thailand?
If you move to Thailand to work, you need to pay 5% of your salary to its social security scheme, which gives you access to public hospitals. However, as mentioned, these can be overcrowded and don't take for granted that nurses and doctors speak English.
Therefore, companies generally allow expats to opt-in for insurances that give access to private and international and hospitals, not only the public ones. If you're not working in Thailand and don't contribute with monthly payments to its social security program, you can also pay for medical services out-of-pocket or buy medical insurance yourself.
Lengthy treatments for unpredictable illnesses and diseases can be costly and I would never live in Thailand without having proper insurance. Not to forget, facing a serious accident might result in a scenario where you have to be evacuated to Singapore, for example.
And as we all know, Singapore is not the cheapest place on earth to receive medical treatment…
Hospitals in Thailand
There are three different kinds of hospitals available in Thailand. Let's review each one and what the benefits and disadvantages are when choosing one.
Public hospitals
Public hospitals might be cheaper than the private and international dittos, but they also come with significant drawbacks. Worth reiterating, the hospitals are often crowded and it can take a long time to get treatment.
On top of that, not all doctors and nurses speak English, which can be a hustle, of course, if you don't speak Thai. The hospitals also have greater sanitary problems and equipment that don't reach the standards of the private and international hospitals'.
Even if there are around 10 times more public hospitals compared to private ones, staying as an in-patient in a public hospital is not a preferred option among many foreigners.
Private international hospitals
Private international hospitals offer a higher quality of medical care and often meet Western standards. These are the kinds of hospitals that foreigners visit for plastic surgeries, cancer treatments, that can be comparatively costly back home.
Many of the doctors in these hospitals are fluent in English and received education from renowned faculties abroad. The waiting time is also way shorter and you can expect attention 24/7.
The best private international hospitals are found in Bangkok, for sure. One of the best hospitals in the world, Bumrungrad Hospital, is located here and treats an astonishing amount of foreigners each year.
In 2017, it welcomed over 350,000 patients from over 180 countries!
That said, private international hospitals can be costly, a reason why you want to have good insurance from the day you arrive in Thailand.
Health Insurance for Retirees
In comparison to other countries in Southeast Asia, Thailand offers many different visas for foreigners, including:
The Thai Investment Visa
The O-A Visa (Retirement Visa)
Thailand Elite Visa
This is not the case in Vietnam for example, where foreigners can only get hold of tourist visas and business visas.
Today, I will explain more about the second option in Thailand, the Non-Immigrant O-A Long-Stay Visa, what changes the Thai government has made to the visa, and what insurance requirements that have been implemented.
New insurance requirements for the O-A Visa
Since October 2019, it's mandatory for retirees (50 years and above) to obtain health insurance from an approved insurance company. Why is this the case?
The background of this new implementation is that according to an official of the International Health Division, foreign retirees have incurred non-paid medical bills amounting to THB 349 million Baht in 2017 and THB 305 million in 2018.
Several hundreds of thousands of visitors haven't paid their medical bills and the Thai government has now made it mandatory for everyone to have insurance to cover these costs.
Which companies offer approved insurance?
Companies that offer approved health insurance for foreign retirees include:
Thai Health Insurance
LMG
The Viriyah
Pacific Cross
Falcon
Thaivivat
AXA
Navakij
Dhipaya
Asia Insurance
Aetna
Sompo Insurance
How much does the insurance need to cover?
According to the new regulation, the applicant/visa holder must have health insurance that covers THB 40,000 or more for outpatient treatments and THB 400,000 for inpatient treatment.
Here, inpatient care refers to the care of patients whose condition requires admission to a hospital.
What is the premium?
The premium differs depending on your age. According to Thailandlife, premiums start getting more expensive after you turned 60. After that, the premiums increase much, the difference between a 70-year old and a 65-year old can be double, according to some readers.
Some claim that the premiums can reach up to THB 60,000 – THB 80,000 yearly.
If you don't want this kind of insurance, you can try to opt-in for other visa options. Here, the Non-immigrant O visa or the investment visa can be interesting.
What is a broker and why you might need one?
Working with an insurance broker is a recommended choice if you have little or no experience in the insurance market. This is especially the case if you wish to purchase insurance to cover you in a foreign country like Thailand.
The primary role of an insurance broker is to act as an intermediary between the insurance company and yourself. They can provide you a list of the most suitable insurance companies and packages, based on your budget and needs.
My personal experience of working with insurance brokers is that they are helpsome and can save you a great amount of time, as you won't need to do all the research on your own.
Some of the main benefits of working with insurance brokers are:
They are experts in the field: Insurance brokers need licenses to be accredited as insurance experts. Thus, not anyone can do this job. The broker can explain different terms used in the insurance market, list the best companies, send quotations for the most suitable packages, and more.
Brokers don't charge for consultation: Insurance brokers don't charge anything for the consultation provided. They only act as intermediaries between you and the insurance company, for you, this is free of charge.
They are independent and neutral: Broker's are (most of the time) neutral and serves the interests of the clients. They work with a dozen insurance companies and have a neutral role in the quotation and selection process.
Table comparing health insurance types for Thailand
| Features | | | |
| --- | --- | --- | --- |
| Main Advantage | Basic plans very affordable | Direct billing network | Coverage and services included in standard plans |
| Name of plan | Global Medical Insurance | International Medical Insurance | Comprehensive |
| Geographic coverage | Global | Global excluding the United States | Global excluding the United States |
| Annual limit | from 1,000,000 USD to 8,0000,000 USD (lifetime limit) | from 1,000,000 USD to unlimited | from 1,500,000 USD to 2,400,000 USD |
| Minimum deductible | 0 USD | 0 | 160 USD (once per year) |
| Hospitalization (In-patient) | Covered | Covered | Covered |
| Out-patient services | Depends on the plan (either everything covered or a maximum of 500 USD pre- and post-hospitalization, and 300 USD for tests) | Covered (some aspects are optional) | Covered (including traditional Chinese herbal medicine) |
| Emergency assessment | Included | Optional | Included |
| Dentist | Optional | Optional | No, Prestige Plus plan |
| Annual medical checkup | Not mentioned | Optional | Included |
| Coverage of chronic conditions | The same as pre-existing medical conditions | The same as pre-existing medical conditions | Included, some exceptions |
| Coverage of pre-existing medical conditions | Depends on the plan (covered or moratorium of two years) | Reviewed on a case-by-case basis | Not included |
| Pregnancy | Only under the Platinum plan (10 month wait period) | Depends on the plan (12 month wait period) | No, Prestige Plan |
| Approximate annual cost (35 year-old) | From 1,100 USD to 5,000 USD | From 2,500 USD to 4,000 USD | 2,700 USD |
| Online quote | Available upon filling out a form | Available upon filling out a form | Available upon providing personal and contact information |
| Pros | Basic plans very affordable | Very complete plans and very good coverage in Thailand | Standard plans include many benefits |
| Cons | Limited coverage in Asia | Extra benefits somewhat expensive | Limited coverage outside of large cities |
| | Request a quote from IMG now! | Request a quote from Cigna now! | Request a quote now! |
The information contained in this table is for information purposes only and is a simplification of the information obtained on the websites of the insurance providers. Due to the complexity of health insurance policies, we recommend that you thoroughly read the conditions of the policy that you will choose, before purchasing it.
How to evaluate the features of a health insurance policy
If you're new to the insurance market and find many of the terms confusing, don't worry. We've all been there. To make things a bit easier and to help you on the way, I've listed some common wordings and the meaning below.
Annual Limit: The annual limit is the amount that the insurance company will cover in a given year. When the limit is reached, you will pay from your pocket.
The annual limit is sometimes unnecessarily high for some premium insurances and can be in the hundreds of thousands of US dollars, which isn't necessary if you reside in Thailand or Vietnam, for example.
Copay: You can decide whether you want to pay for the fees partly, for example, 20%. This is referred to as copay and added on top of the deductible (see below). This will result in a lower premium.
Deductible: This is the amount you have to pay before the insurance provider starts covering the costs (at least partly) for you. Let's say that you have a deductible of 2,000 US dollars.
You will then need to pay all medical treatment and bills up to 2,000 US dollars after the insurance company will start covering the following costs.
Direct Billing: This simply means that the bills are sent directly from the hospital to the insurance company, you won't need to pay them in advance.
In-Patient Coverage: In-Patient coverage is the most important coverage you need. This will cover the costs in case you get hospitalized and need to stay in the hospital for a night or more. Serious injuries or illnesses normally require that you stay in the hospital overnight, thus, the expenses can be high.
Out-Patient Coverage: Out-patient coverage means that you get reimbursed for treatment that doesn't require hospitalization (i.e. that you stay in the hospital overnight).
Out-of-Pocket: Out-of-Pocket refers to the total amount of the copay and deductible.
Photo Credits:

hospital by ILO Asia-Pacific