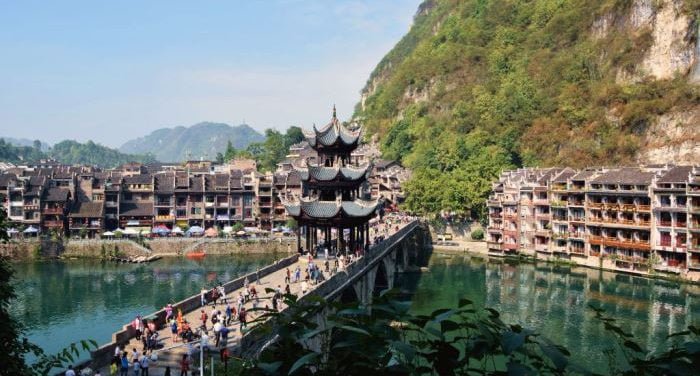 Guizhou might not be the obvious choice for the average traveller, trust me it wasn't my first choice either, but let me tell you this, Guizhou will soon become one of China's most popular travel destinations.
This fairly unknown province offers some breathtaking scenery, proper street food and an interesting, friendly and diverse population. Furthermore, hiking up into the fresh green hills between the rice paddies is a great way to escape the crowds. Allow me to convince you why you should travel to Guizhou before everyone else does.
Journey to Guizhou
Together with three friends of mine, I wanted to plan a trip for the National Holiday in October. However, since the whole of China is on the move to get home that week and it was already halfway through September, there were no train tickets left to any of the popular travel destinations. We decided we didn't want to stay in Beijing all week, so we checked which provinces still had tickets left.
Two weeks later, with very little preparation we got into a sleeper train to Changsha where we switched trains and got into a K train. If you know anything about trains in China, you would know that K trains are super cosy and usually full of 老百姓 (common people) from all over China.
Next to me sat a 60-year old woman and she started speaking to us in heavy accented Chinese. I had trouble understanding her, but she asked where we were going, whether we had booked a hotel yet and about a thousand other questions. When we answered that we hadn't booked anything yet, she urged the girls who sat across from us to help us book a hotel in Zhenyuan, our first destination.
The woman did not know these girls, nor did we, but to our complete surprise they willingly started looking on their phones for a hotel. Then a third girl, who was about 5'1″ who had a standing place and had listened in on the conversation started helping too. She was from Zhenyuan and it turned out that she had been to high school with one of the two girls, what a coincidence! She called up a hotel for us, we made a deposit through WeChat pay and we were all set! At least, that's what we thought.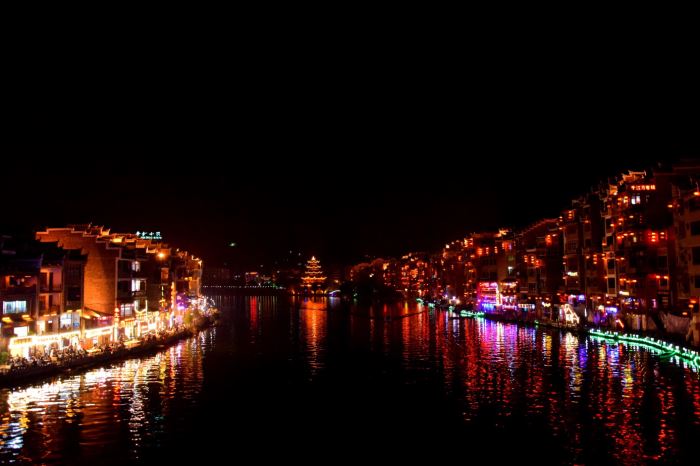 We arrived in Zhenyuan around 7 o'clock in the evening. The girl who was from Zhenyuan got off too and she went with us to our hotel. Even though, it was her birthday, her mum was waiting for her with dinner and we told her ten times she should really go home and celebrate she insisted she'd take us. To top it off, we didn't fit in one taxi so my three friends went ahead and the girl and me took another one.
Of course, as is Chinese custom she paid the taxi, trust me, I fought for it, but it was no use. When we got out of the taxi I did get a little bit uneasy as my friends were nowhere to be seen and my phone battery had just died so I had no way of communicating with them. But before I could worry about that, our Chinese friend was already in a heated discussion with the boss of the hotel.
She told me they didn't accept foreigners. To host foreigners in China you need a certain license and since Zhenyuan doesn't receive a lot of foreigners, most hotels don't have this license. To avoid the problem we were experiencing it's best to book a hotel in advance that is known to receive foreigners.
All in all, it was a very strange situation, since our Chinese friend had made it very clear on the phone that we were foreigners and they didn't seem to have a problem with it then. I guess they had changed their minds. Only problem was, initially they didn't want to give our deposit back.
At that point my friends appeared around the corner, no idea where they'd come from, but I was relieved to see them. After a long discussion with the female owner, we decided it was enough and gave up. Then all of a sudden, the man ran after us with our deposit, followed by shouting from his wife. Confused about everything that had just taken place we got into another taxi, this time to the police station. And yes, the girl still insisted on coming with us.
After the sticky situation we had just had, the police station felt like a warm hug. Everyone was so friendly and we were received with smiles and a drink while they took our passports to register us. They were very helpful and found us a hotel where we could stay. One of the policemen even drove us there in a police van with the sirens on!
Slightly after 10 pm we finally said goodbye to our Chinese friend who had gone through such lengths to help us find a hotel. My first impression of Guizhou was a good one. The people were so friendly and kind and their willingness to help us astounded me.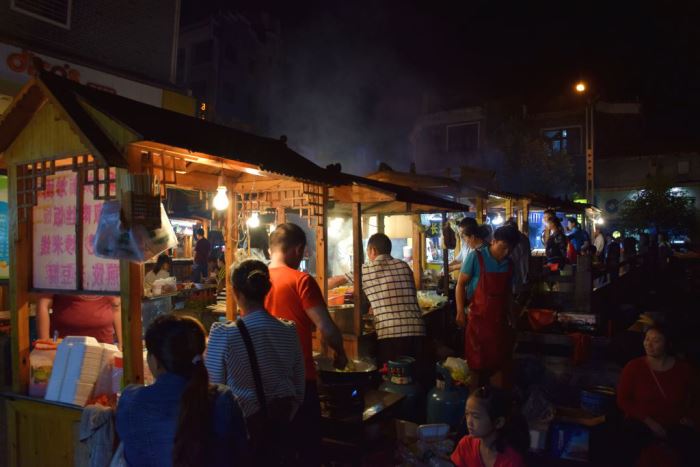 Zhenyuan – Venice of the East
The next day we finally got to explore Zhenyuan. Even though this ancient town is small, it blew our minds. It has so much to offer and its size might even be its strong suit. There are plenty of places to visit all within hiking distance, which means you don't need to hassle with buses or metros. If you are not big on walking you can always hop in a taxi. It will only be a short ride and it's cheap, just ask the driver to use the meter so you know you're not overpaying.
However, if you can, I suggest you walk. The old streets of Zhenyuan hold an atmosphere that you won't find in many other towns in China. Zhenyuan is cradled by mountains on both sides of the Wuyang river, which flows straight through town. You can also embark on a small cruise in one of the wooden boats and view Zhenyuan from the water. This is one of the reasons why Zhenyuan has earned the nickname Venice of the East.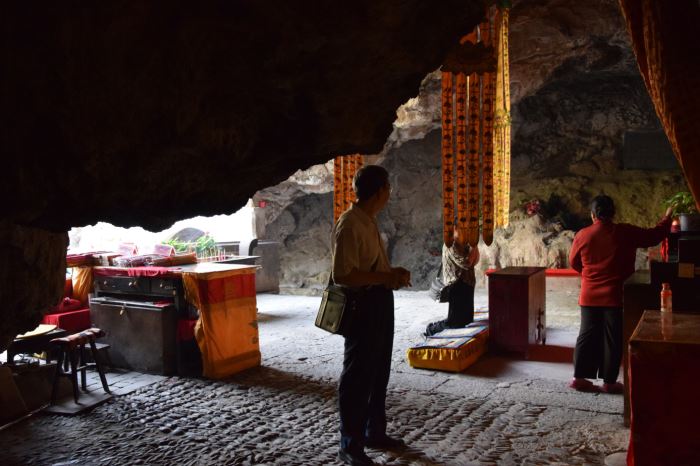 One of the main attractions in Zhenyuan is the Black Dragon Cave, a temple complex that looks like it is built into the side of the mountain. It is a combination of temples, little shrines and nature. It also offers a perfect view over Wuyang river and Zhenyuan town.
This might surprise you, but there is a southern section of the Great Wall in Zhenyuan, Miaojiang Great Wall (苗疆长城). Some people argue it's more of a city wall than a part of the Great Wall, but it's definitely worth a visit.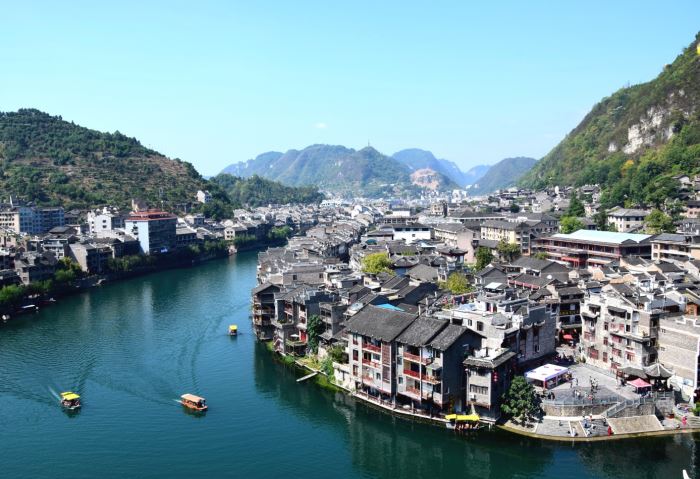 You can easily combine your visit to the Black Dragon Cave with a visit to the Wall. Miaojing Great Wall requires an entrance fee and a climb up the 200m stairs, but you'll be rewarded with an even better view over Zhenyuan town from atop Shiping Mountain (石屏山). Also, if you visit outside of the opening hours you can skip out on the entrance fee. There is no gate stopping you.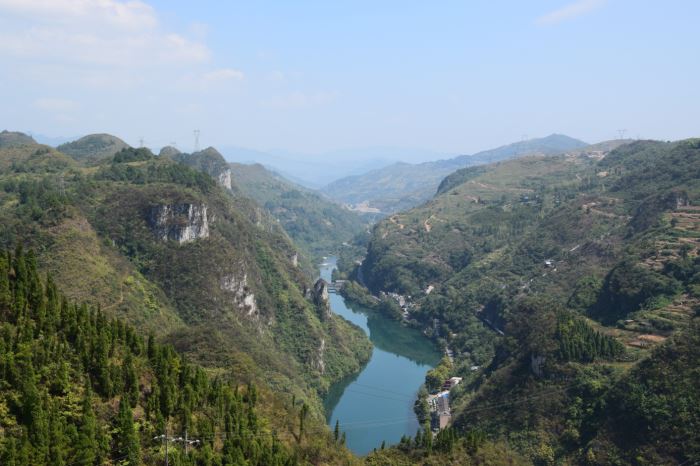 In the afternoon we lazily strolled through the town's old streets and visited some of the tourist shops after which we sat down in one of the many eateries by the river to have a well-deserved beer. In the evening Zhenyuan lights up with the brightest and most colourful lights as it slowly unfolds into a big street food market.
If you're a fan of street food and Chinese snacks on sticks, Zhenyuan by night is the place to be. However, the lamb skewers and the pumpkin balls had to wait. First we were having dinner with the girl who helped us the night before. She had brought her little brother with her, which we thought was super cute and she took us to a local restaurant where we had a delicious hot pot and one of the famous local dishes: hot and sour fish.
Guizhou cuisine may remind you of Sichuan cuisine sometimes, but it's not as spicy and definitely has its own distinct flavour. As we had already anticipated she wanted to pay for dinner, but this we didn't let her. My friends had already shoved a couple of hundred RMB's in my hand so I could pretend to go to the bathroom and pay the bill.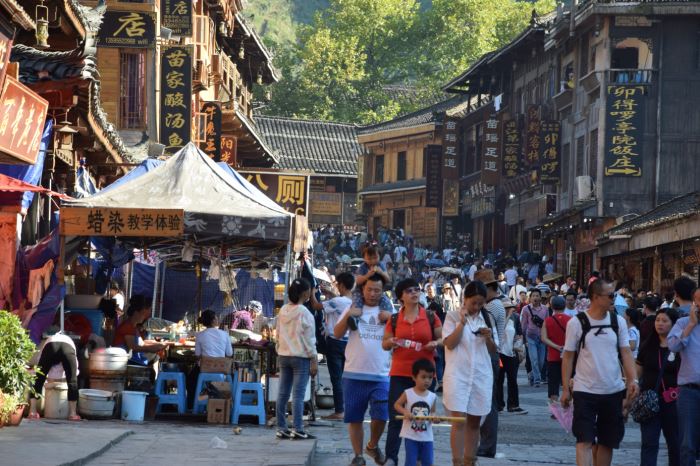 Xijiang
After Zhenyuan we went to our first and also China's biggest Miao village. Guizhou is a very diverse province and it's home to several ethnic groups, such as the Miao and Dong minorities. You can easily reach Xijiang by bus from several places. However, we decided to take a taxi since there were four of us and the price of a taxi for four was almost the same as the bus.
As for the hotel, Xijiang does attract quite a large crowd of Chinese tourists and as we discovered upon arrival, most of the hotels were fully booked, so I recommend you to book your hotel in advance. To get into Xijiang town you have to pay an entrance fee. If you're a student make sure to bring your student card, students, teenagers under the age of 18 and seniors receive a big discount.
The best way to visit Xijiang is just to wander around the village. During the day there is enough going on in the village. You can go see a Miao singing and dancing performance on the village stage (for free) or dress up in the traditional Miao clothes for a memorable and typically touristy picture. However, make sure you don't just stick to the big street. If you wander through the small streets uphill you get to see how the people live, you will be treated to some good views and if you walk far enough uphill you can escape the busy crowds of people.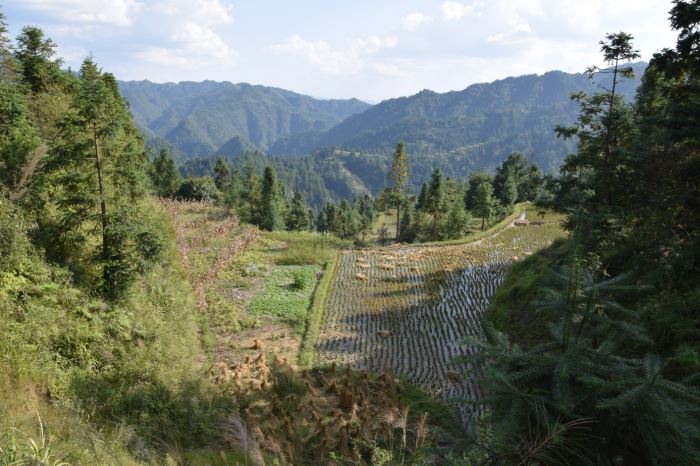 Langde
Our next stop was Langde, a small Miao village surrounded by green hills with rice paddies and a river at the foot of the village. During the day the village attracts quite a few tourists. You can see Miao women wearing the traditional dress and jewellery, people selling all sorts of souvenirs and pots and pans with mysterious brews inside. However, most tourists just stop by for the day and move on before dinner time.
We decided to spend the night in Langde and stayed in a guesthouse at the top of the village overlooking all the lovely Miao houses. Again we didn't book anything beforehand, but we arrived quite early in the day and started looking straight away. I recommend you to book beforehand or come early in the day, because if there is no accommodation left and you come late in the day, you'll be stuck in Langde or you'll be paying a high price for a taxi.
After we had found a place to stay we decided to escape the throngs of tourists, so we fled to the green hills. It was so serene walking between the rice paddies, there was nobody up there except for some farmers. I really recommend you going up into the hills, not only is it peaceful and quiet, you will also be offered a great view of Langde.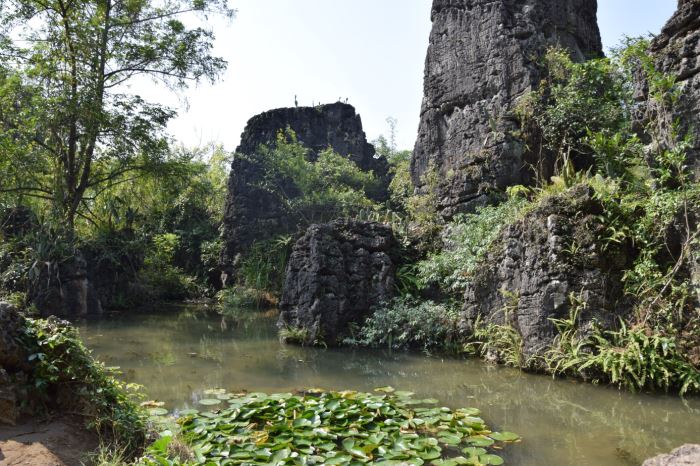 Huangguoshu Falls
Our next stop were the Huangguoshu Falls. We stayed the night in Anshun from where you can easily catch a long-distance bus to Huangguoshu Falls Scenic Area. Just go to one of the train stations in Anshun. The entry fee is quite high, but it also includes entrance to Tianxingqiao Scenic Area.
We decided to leave the waterfalls for later and start with Tianxingqiao Scenic Area. Right away we regretted coming to the park during Golden Week. After we had entered the park, we basically joined a big queue of people, slowly shuffling forward. If you ever decide to visit, do not visit during Chinese national holidays!
Fortunately, further on in the park it got better and we could actually walk freely without having to stop all the time. It even felt serene at times walking the narrow paths zigzagging through the trees, rocks and pools of water. Also, the flora and fauna is really amazing in this part of the park, which attracts loads of birds and butterflies. The park is quite big and the scenic spots are not all located close to each other. At the ticket office you can buy a shuttle bus ticket which you can use all day to get from one scenic spot to the other.
The biggest attraction of the park is definitely the Huangguoshu waterfall. With its 78 meter plunge and 101 meter width it is the largest waterfall in Asia. It is a very impressive sight and you can get up close and walk behind the waterfall. If you're lucky a rainbow will hang low in front of the waterfall making the sight even more enchanting.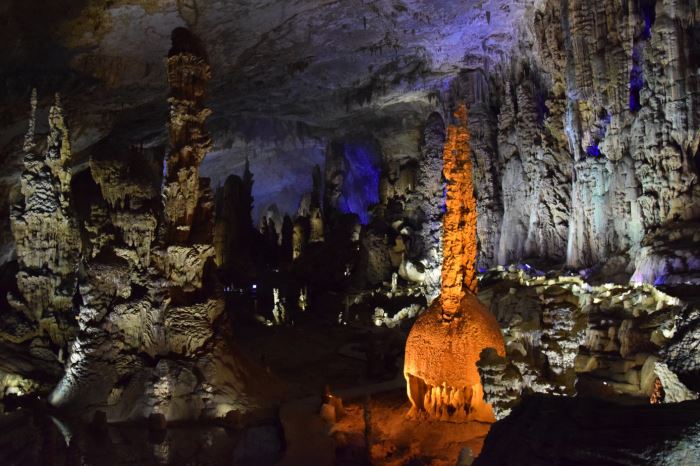 Zhijin Cave
Guizhou's scenery above the ground is amazing, but it doesn't stop there. Zhijin Cave is known as China's most beautiful cave. This is of course a subjective perspective, but I was impressed by how big the cave was and how beautiful everything looked. The cave stretches for 6.6 kilometres and the visit takes a good 2 hours.
You can reach Zhijin cave by bus from Anshun or Guiyang or you can take a train to Zhijin County first and then take a bus from there. Inside the cave you can wonder at the amount of stalactites, stalagmites and even underground lakes and rivers. Do not forget to bring a coat or jacket! Even in summer it will be cool in the cave.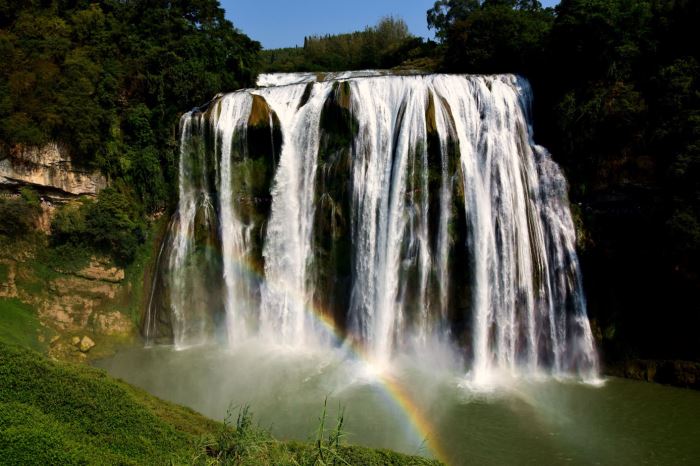 Chishui
If you're still not amazed by the variety of scenery Guizhou has to offer, let me tell you about Chishui, our last destination.
It was quite a hassle getting to Chishui. There were no direct buses from where we were going, so we decided to bargain a taxi since there was a group of about twenty taxi drivers outside the bus station waiting for customers. We got a pretty fair deal that wasn't much more than the two different buses we would have had to take to get there.
It should have only taken him 3 hours, unfortunately our taxi driver didn't know the way. After about 2 hours I recognised a bit of highway that I remembered passing about 1.5 hours before. When he exited the highway for the third time, turned around and drove for 30 minutes in the opposite way we started to get a bit worried.
We asked him if we could help, naturally he refused at first while he drove on with 150 km/h. Eventually, navigated to Chishui on Baidu Maps and we were finally on our way. The drive took us almost 7 hours! To be honest, we felt really bad for the driver who probably thought he could earn some easy money, but lost it all by driving around for an extra 3.5 hours. On top of that, he still had to drive back at 12:30 in the night after already driving for 7 hours. However, he didn't complain once and he bore it all without saying a word.
We arrived in Chishui at night, but we could already tell this city did not have much to offer. The streets were empty and everything was closed apart from a small supermarket. The hotel we stayed at probably did not have much clientele either. He charged us so little, while the rooms were big and quite luxurious. The next morning we went out to get some breakfast and walking the streets in this city still felt a bit strange. Even though there were some small restaurants open, there were no people inside and the streets were quite empty too.
The main (and probably only) attraction in Chishui is the Danxia Landform. Danxia landform refers to a red rock landscape and you can find several of these in China (be aware, it is not as red as the pictures on Google have you think it is). The Danxia landform in Chishui is quite unique and it is set in a unique landscape.
The Danxia landform has high cliffs and waterfalls and it is the only Danxia landform made up of pure sandstone. Thanks to its humid climate it is set in a green and lush forest landscape with endangered plant species and rare animals. It might have been our timing or because we had picked a rainy day, but we practically had the park to ourselves.
However, I'm sure it won't take long before Chishui is put on the tourist map. It might be a completely different place when you go for a visit, but one thing is for sure the Danxia rock formation will still be there.
Biography
Inge is a real foodie, she loves travelling and enjoys taking pictures, you can check them out here. She has just finished her bachelor's degree in China Studies and she's enjoying life as an intern in Shanghai right now.
Photo Credits: Photos by Inge