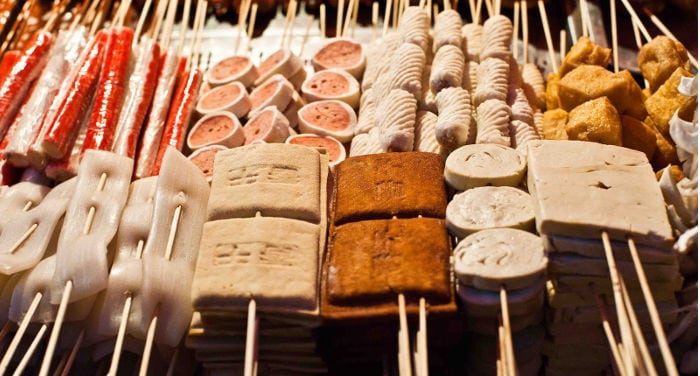 Today I've the honor to interview Fiona, the soul of Life on Nanchang Lu, the place where you shall go if you want to learn more about food – especially street food, – in Shanghai.
Food
Fiona, you define yourself as a Foodie, Writer, Photographer and Expert dumpling taster. I want to start with the most important question: What is, in your opinion, the best dumpling's fanguanr of Shanghai?
I have a soft spot for The Humble Room at 601 Nanchang Lu. Now it's opposite the bright and shiny IAPM Mall so it looks even more humble, but it has some of the very tastiest (and cheapest) xiaolongbao in the city.
In your series about Shanghai Street Food, you list 36 different kind of street foods. Let's say I'm in Shanghai only for a day and my goal is to learn as much as I can about the topic. Where should I go and what would you suggest me to taste?
The great thing about street food is that you can begin your education at any time of day!
Early morning until 10am – walk along Xiangyang Lu between Changle Lu and Fuxing Lu. Loads of great breakfast foods including jian bing (big pancake folded into a small package) and you tiao (fried breadsticks) as well as noodles, dumplings and congee. Lovely little Xiangyang Park between the two with early morning tai chi and dancing.
Lunchtime – Sipailou Lu, near Fangbang Lu – short walk from Yu Gardens (by the way there is a great foodcourt at Yu Gardens where you can try loads of local foods cheaply without a word of Chinese, and can see them all on display including GIANT xiaolongbao with straws in them).
Evening – Kunshan Lu/Zhapu Lu area in Hongkou, from about 5pm onwards lots of vendors set up. This is a really great local spot.
Huanghe Lu north of People's Square, on Huanghe Lu you'll find the famous Jia Jia Tang Bao and across the road Yang's fried dumplings – so two of Shanghai's most famous street foods in one spot.
Southeast of People's Square is another little food area I like for snacks: Yunnan Nan Lu south of Yan'an Lu, lots of little street food eateries.
If you don't feel that keen heading out on your own, my good friends at Untour Shanghai do street food tours in small groups (usually less than five) and are great fun.
Do you know how to cook Chinese food?
I spent a lot of time hanging around kitchen doors in China, just watching. I still have a lot to learn, but I can reproduce simple dishes and make dumplings. My Chinese cooking is very homestyle, but my kids love it! We're also slowly introducing Australia to the concept of Chinese hotpot – every Sunday night is hotpot night at our place and we have a bunch of friends, a lot of cold beer, and a steaming pot full of tasty things.
Life
Click here to watch Fiona's talk at Brisbane TEDx event. During her talk, Fiona explains how medicine taught her to be intuitive, but China taught her to live intuitively.
How and when did you arrive in Shanghai?
I arrived in Shanghai in 2009, when my husband Matt (who is an artist) won a design competition for Shanghai Expo.
What do you do in China?
I now live between Australia, where I work in my usual job as a specialist doctor in a big children's hospital, and China, where I pursue a number of creative projects. It's like the perfect blend of two halves of my personality. In China I'm currently shooting a series of short travel and food documentaries, and have just finished a project working with Miao artisans in Guizhou, helping them introduce their work to a wider audience. It was a very satisfying and interesting project.
All expats have some funny story that relates to China face culture (well, I have a ton myself). What's yours?
When my girls were in a Chinese school I lost face so often, I took to leaving it at home to save everyone the bother. Usually it was because I was inadequately prepared as a Tiger Mother. I came to think of myself as the Sacrificial Lamb Mother, the clueless woman who knew nothing about College entrance scores, or the relationship between musicality and maths ability, or where to find a summarized guide to the seven books in the Harry Potter series. The woman who put her hand up in front of the whole school because she thought ten minutes per week was perhaps too little play time for seven year olds. Oh, the shame. My cheeks burn now with the retort from the headmaster, "Mrs Reilly. School is for learning. Home is for play."
Why Shanghai and not, say, Beijing?
Shanghai is where I first settled in China and it just feels like home to me now. Beijing has much to recommend it, but I think for most expats it just comes down to where your plane landed.
Traveling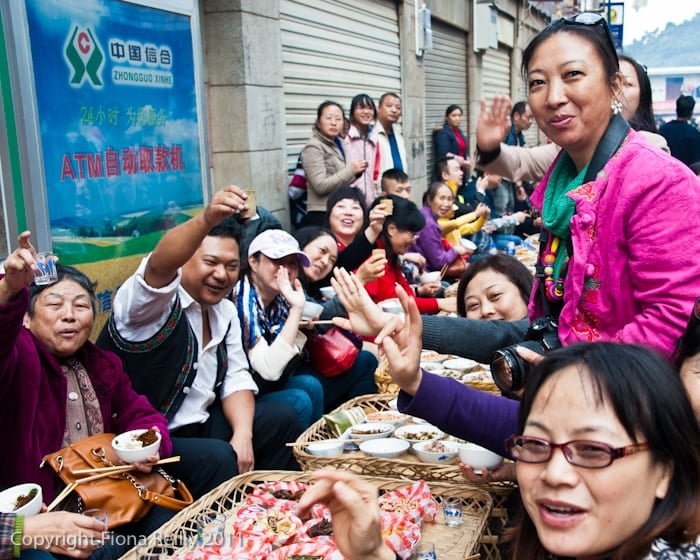 Hani Long Table Feast, Yunnan Province
Our readers like to hear about off the beaten places. Can you tell us three spots in Shanghai that you love and that aren't on the Lonely Planet? No, it can't be a restaurant nor a food stall!
1. Hongkou – it has some of the most beautiful old buildings in Shanghai. I just love to wander the back lanes and see life being lived.
2. The bath house on Hongmei Lu – I go there for five hours of soaking, scrubbing, wandering about in Hawaiian pyjamas, dumplings, fruit smoothies, and a floor show. It represents excellent value.
3. The Shanghai wholesale food market – it's a nocturnal world of vegetables and shady deals. Enter at your own risk.
Your favorite Chinese province and why.
I love Guizhou. It's still wild and unspoiled, and incredibly beautiful. Random and interesting things seem to happen every time I visit. One time it will be an invitation to a once-every-thirteen-years ancestor festival, another time it will be finding a dragon boat about to be launched in the river.
The Miao people of Guizhou live very traditional lives, but I love visiting them because (like Australians) they love a drink, a feast, a celebration and a dance.
In your About Page, I noticed a photo about Hani Long Table Feast, which made me curious. Can you tell us something about this Feast?
The feast is a celebration of the autumn rice harvest for the Hani people in Yunnan. They line the main street of their village with hundreds of tables and host guests with a fabulous night of eating and drinking. The food is all very local; lichen salads, preserved salted fish, roast duck, wild herbs; and there is dancing and singing until very late at night. Everyone walks home full and happy.
I read somewhere on your website – can't find where anymore – that this year you crossed all China by camping van. And I'm so jealous. Can you tell us something about this adventure?
In 2012 the craziest idea I've ever had came true. My husband and two children and I circumnavigated China in a campervan. It took us six months, and we covered 30,000km in total around china's remote borders. We had a pretty wild adventure doing it – military arrest, landslides, earthquakes, altitude sickness and breakdowns (both psychological and mechanical!) but it was actually the most meaningful and wonderful thing we have ever done as a family. I'm currently writing a book about the journey, called The Uncharted Kingdom.
Fiona, thanks a lot for your time!
My pleasure!
Photo Credits: Photos by Fiona Reilly