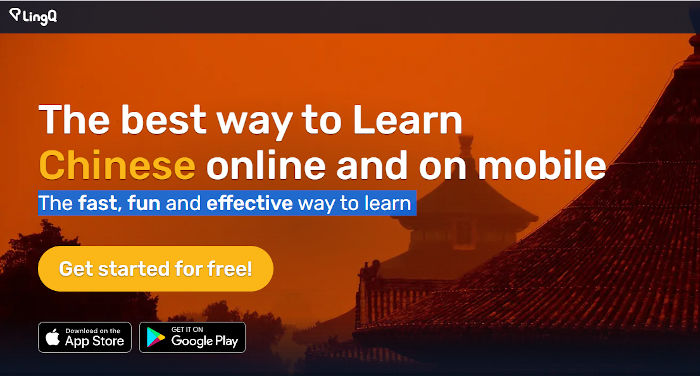 What is LingQ?
LingQ is a platform created by polyglot Steve Kaufmann, for the purpose of learning one or more languages in an interactive way.
What impressed me, compared to the many other courses that I've used or reviewed here on this site, is the level of interaction the platform allows, which offers sort of an "open system" for importing study material and using it the way you want.
For example, you can import an entire book in PDF, click on words you don't know to find the meaning and pronunciation, save those words to a list of flashcards (or "LingQ", as the platform is called), which you can then use to review the new words.
But let's go in order…
How do I start studying with LingQ?
To start off, just go to the LingQ site and create a free account. It only takes a minute: all you have to do is choose the first language you want to learn (Chinese, for example) and your knowledge level of the language.
The platform initially asks you to choose from 3 knowledge levels: Beginner, Intermediate, and Advanced. You can then choose to start from the level you feel is best suited to you (and modify it later on if you think you chose a level that's too easy or too hard).
Once you've created the account, on the left you'll see a menu called "Library", where you'll find "already prepared" material, like you would in any traditional language course.
From this list you can choose between lessons, courses, podcasts, books and more; the list of study material available changes according to the level you choose.
Note that you can change the level of difficulty (like from beginner to advanced), at any time by clicking on the button that indicates your current level.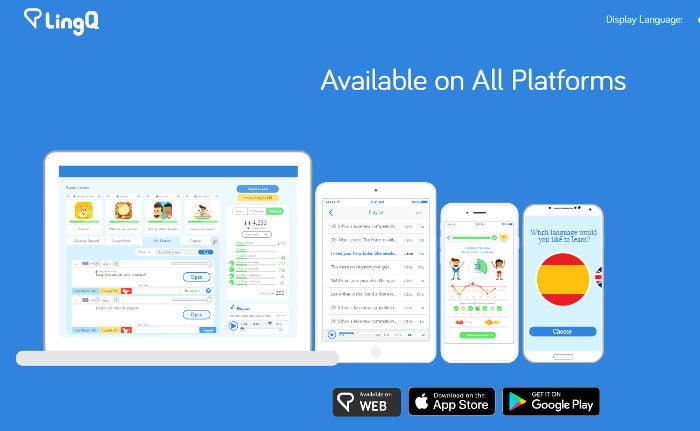 How can I import study materials into LingQ?
What makes LingQ different than the majority of other courses is the fact that you can import your own study material into your account (for example a book in PDF or Kindle format that you're reading in Chinese, or an article taken from a Chinese website).
Once imported, you can tag the words you don't know the same way that you can with the material already on the platform. You can also quickly find the pronunciation and definition and, if you want, save it to a list of personalized flashcards.
To import vocabulary words, texts or lessons, just click your mouse on the "+" button on the upper right after logging in.
What do I like about LingQ?
As you may have already figured out, the feature that in my opinion makes LingQ so interesting is the fact that you can import your own study material and integrate it quickly and intuitively into the platform.
In addition, the platform uses a SRS system (Space Repetition Software) for reviewing vocabulary words. And here at SDC we've been recommending the use of a SRS system since we first started publishing articles about learning Chinese (more or less since March of 2012).
I also like the fact that you can choose between various translations: aside from checking the translation chosen by other users, you can in fact access the Jukuu database (an excellent site, take a look), and the translations offered by Baidu and Google Translate.
It's been my experience that often it's useful to consult various translations and opinions, so as to first get an idea of the meaning of a phrase, especially when translating from Chinese!
Once you're satisfied with the translation, you can save it and create a new flashcard, which will become part of your personalized list.
To conclude, in my opinion, the fact that LingQ allows you to track your progress is very important. This way you'll be motivated not to give up on your study of the language which, despite being fascinating, takes lots of patience and consistency.
What don't I like about LingQ?
LingQ's defect is the same as all other platforms that don't specialize in any specific language. Chinese is a language that is very different than Western languages, so in some cases, a platform built to run any type of language could be a bit "tight" for learning Chinese.
I do have to say that LingQ has done a great job, especially because it offers direct integration with Jukuu and Baidu Translate.
To conclude, I have to say that when I logged in for the first time I was a little confused as to how to use the platform since there are so many options available. If you're reading this article, you shouldn't have any problems!
How much does the Premium version of LingQ cost?
At the moment LingQ offers three versions:
Free Version: As it mentions in its name, this version is free. The advantage is that it lets you see if LingQ is a platform suited to you. However, has certain limitations since it does not allow you to import words and allows you to save only 20 flashcards;
Premium Version: This version costs 12.99 USD per month (8.99 USD on the annual plan) and includes unlimited flashcards and vocabulary. In addition, you will have access to the Apps off-line and detailed statistics of your progress;
Plus Version: This version costs 39.99 USD per month (34.99 USD billed annually) and offers all the advantages of the Premium Version. In addition, it gives you the right to "3.000" points a month; you can then use these points to "buy" advanced services such as corrections to your manuscripts or live conversations with tutors made available by LingQ. Keep in mind that points can also be bought separately without having the Plus Version.
Personally, I recommend that you start with the free version and see if LingQ can help you reach the objectives you've set for yourself for learning Chinese (or one of the other languages, since there are lots to choose from).
Click here to try LingQ for free!