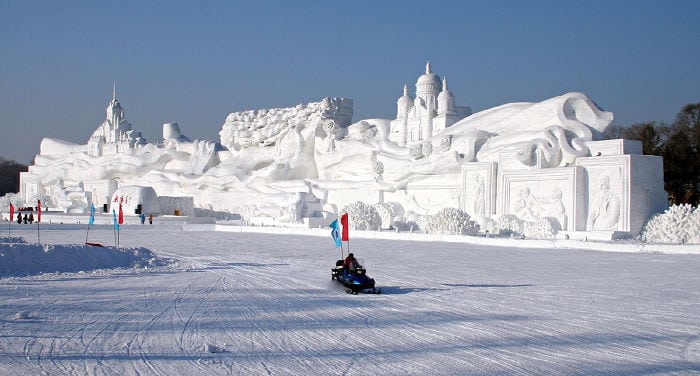 China's very own winter-wonderland Heilongjiang, literally meaning "Black Dragon River," boasts some of my favorite scenery in all of China. If you're a fan of the cold and appreciate the beauty that snow adds to a landscape, then Heilongjiang is the place for you.
In this guide you will find information about:
How to reach Heilongjiang Province;
When to go there and what to bring;
Ice and Snow Sculpture Festival;
Yabuli, the best ski resort in China;
Jing Po Lake, the largest mountain lake in China;
How to reach Heilongjiang Province
The fastest and easiest way to reach Heilongjiang is by plane. Flights to Harbin Taiping International Airport (HRB) are available from both Beijing and Shanghai. The flight from Beijing to Harbin takes approximately 2-3 hours and the flight from Shanghai to Harbin takes approximately 2 hours.
You can also reach Harbin by train by travelling from Beijing. The exact station for both arrival and departure depends on your particular ticket option.
When to go and what to bring
The best time to visit Heilongjiang is definitely during the winter. The snow covered landscape and multitude of winter based activities on offer will make you forget about the well below freezing temperatures.
Be warned though; if you are not prepared your time in Heilongjiang will be extremely cold and miserable. Make sure to bring the following: A wind-resistant down jacket, thermal underclothing, beanies and/or winter hats, scarfs, gloves and warm comfortable shoes/boots.
I also advise that you also bring a little extra cash just in case it is necessary to buy extra clothing. Most buildings in Heilongjiang are very warm inside but as soon as you step outside it becomes apparent why Heilongjiang is famous for its cold weather.
The City of Harbin
Often referred to as, "the Paris of the East", the city of Harbin serves as the provincial capital and with its unique blend of Chinese and Russian architecture it is a must-see for anyone visiting Heilongjiang.
Harbin was officially founded in 1898 with the arrival of the Chinese Eastern Railway. During these early stages of the city, Harbin's population was made up of mostly immigrants from the Russian Empire, this is evident in the numerous examples of Russian architecture found throughout the city.
Looking for where to stay in Harbin? Click here to read our guide on the best hotel of the city.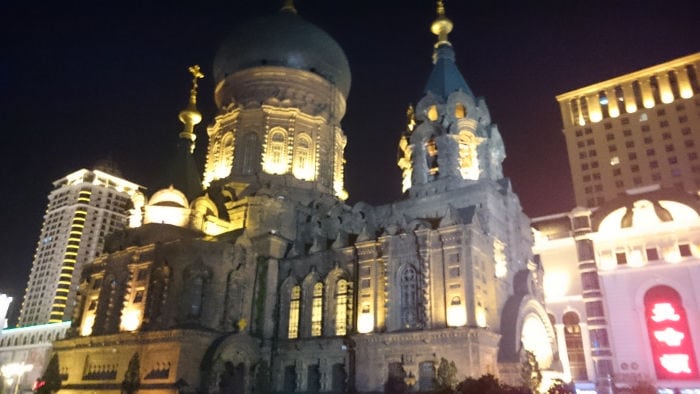 Saint Sophia Cathedral
The best example of the Russian architecture found within Harbin is the Eastern Orthodox Saint Sophia Cathedral, located in the city center. The church is over one hundred years old and a local legend says that it is so beautiful that God himself must have made it. Saint Sophia Cathedral should be top of the list of things to see for anyone visiting the Ice City. Today the church serves as a museum showcasing the fascinating history of Harbin. The site is a very popular stop for tourists and is very easy to get to. Hop onto any one of these bus numbers and get off at Zhaolin Street Station: 1, 5, 20, 53, 61, 85, 113, 114, 130 or 206.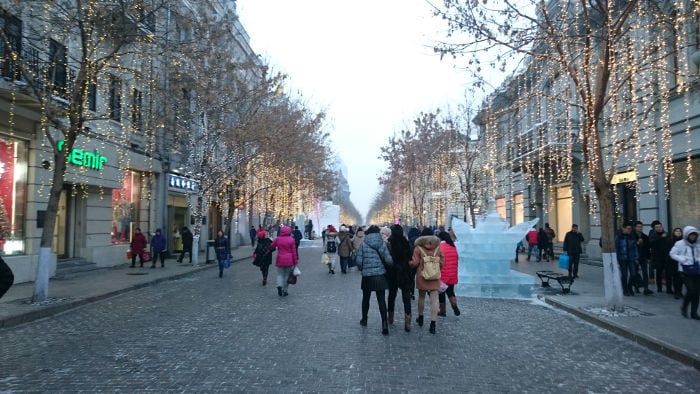 Zhongyang Dajie (Central Street)
The Central Street (中央大街) is a one and a half kilometer fusion of Russian and Chinese culture with a hint of Western influence. Strolling down Central Street one would be forgiven for thinking that they are in the heart of Moscow or even Paris. The European architecture is truly a sight to behold and visiting this place in winter makes it all the more special as the Central Street becomes dotted with marvellous ice sculptures.
All sorts of shops can be found throughout Central Street, from Russian goods such as exotic vodka and trinkets to Thai art and toys. There is also a huge selection of restaurants and bars. Being one of the longest pedestrian streets in the world, Central Street attracts thousands of visitors each year. If you are a foreigner you should be warned; locals will ask you to pose in photos with them!
To get to Central Street get onto one of the following busses and get off at Parkson Shopping Plaza Station: 2, 4, 23, 24, 56, 65, 74, 79, 85, 126 or 201.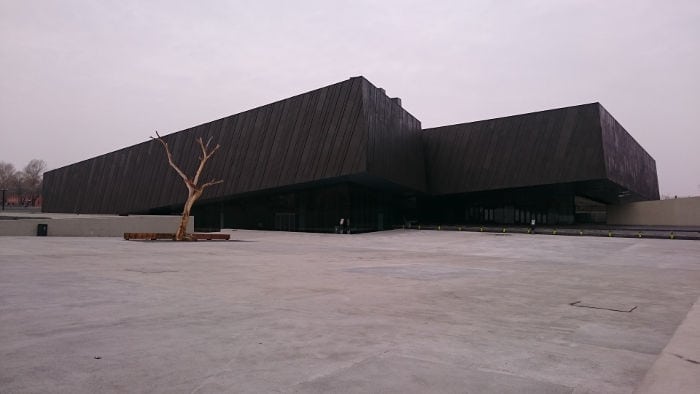 Unit 731 Museum
Not everything about Harbin is so wonderland-ish, unfortunately the city has endured some very dark times. During World War II, the Empire of Japan invaded and occupied many parts of Asia and China, in the early 1930s. Harbin was one of the occupied cities and in 1935 the Japanese Empire decided to make Harbin the headquarters of its infamous Unit 731.
The purpose of this Unit was to test and develop methods for chemical and biological warfare; the main source of their research was through the use of human test subjects. The Unit 731 museum was built to remember the victims of these crimes and although it may not be the most pleasant place to visit, if you have any interest in history or humanity, the modern museum is definitely worth it.
To get to the former site of the Headquarters of Unit 731, take bus number 338 or 343 from the Western Train Station (the fee is 2.50 Yuan as opposed to the usual 2 Yuan).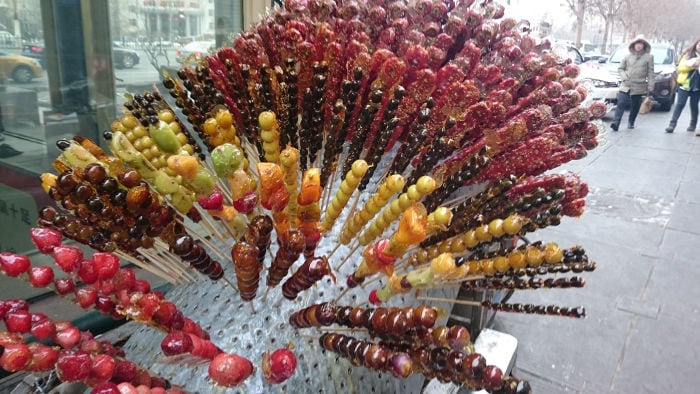 Tanghulu
While exploring the streets of Harbin you are very likely to come across these beauties. Known as tanghulu (糖葫芦), this local favorite is essentially candy coated fruits. Ranging from hawthorns to kiwis and even pineapple, the combinations are almost endless.
Notice that, although originated from northern China, nowadays you can find it everywhere in the country.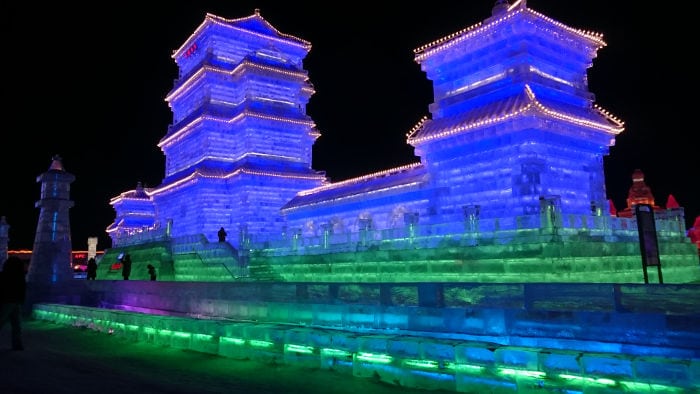 The Harbin International Ice and Snow Sculpture Festival
Every year Harbin plays host to Heilongjiang's biggest attraction; the International Ice and Snow Sculpture Festival. Artists from all around the world are invited to Harbin to collaborate and create some of the largest and most spectacular snow and ice sculptures found anywhere in the world.
In 2016 the festival reaches its 32nd edition and is expected to draw at least 10 million visitors from all corners of the globe. The theme is "Pearl on the Crown of Ice and Snow"; 2016 saw the creation of the world's highest snow sculpture, which required over 35,000 cubic meters of snow to be construct.
The festival in its entirety takes place in four different locations: Sun Island International Snow Sculpture Art Expo, Harbin Ice and Snow World, Songhua River Ice and Snow Harbin Valley and the Zhaolin Park Ice Lantern Fair. It's the biggest event that takes place in Harbin and as such if you do not plan properly, getting to the event can prove difficult.
Finding a taxi in Harbin can often be all but impossible and this undertaking becomes even more difficult during the festival. The best option is to book a mini bus cab in advance, which you can hire for the duration of your visit to the festival. You will be able to do this through most local travel agencies and is definitely worth the cost if you want to avoid any hassle.
You do not truly understand the meaning of "cold" until you have visited the International Ice and Snow Sculpture Festival at night time. Harbin is also known as the "Ice City", and being surrounded by icesculptures more than 45 meters tall, just adds to the chill.
So, if you are planning a trip to the festival please ensure you wear an heavy jacket, snow boots and thermals!
Yabuli Ski Resort
Host to the 1996 Asian Winter Games, Yabuli is certainly China's best and most impressive ski resort. If, like me, you have any interest in skiing or snowboarding, then you couldn't ask for much more than Yabuli.
The resort has no less than ten different ski slopes, ranging in difficulty from a gentle 500 slope for beginners to an advanced Alpine slope measuring 3 km! And, if like me, you are absolutely hopeless on the snow, the resort employs around 50 ski instructors that will just about bend over backwards for you until you can confidently call yourself a decent skier (meaning you don't fall over every five seconds).
Also, the resort has accommodation options to suit any budget; from youth hostels to fully equipped hotels.
The easiest way to get to Yabuli is by catching the two and a half hour train from Harbin Railway Station.
In order to get to Harbin Railway Station you need to get onto one of the following buses: 2, 6, 11, 13, 14, 16, 21, 28, 32, 64, 101, 103, 107, 108, 109, 110, 111, 115, 120, 301, 336, 338, 343, 551 or 601, and get off at Hazhan station. From Hazhan station take bus 96 or 888 and get off at Hazhan Daifaqu station. Once here you will need to find the 118 bus and get off at Hazhan (Tielujie) station. Finally hop on the 551 bus and get off at Harbin Railway Station.
If this looks too complicated, just get a cab till the railway station.
Jing Po Lake
Heilongjiang has numerous spots that nature lovers will appreciate but perhaps none as good as Jing Po Lake.
Created over 10,000 years ago after volcanic eruptions in the area blocked the flow of the Mudanjiang River, Jing Po Lake offers majestic waterfalls, crystal clear waters, grand mountains and pristine forests. Visiting Jing Po Lake will prove to be a welcome break from the hustle and bustle that is life in modern China and will give you a chance to reflect on the breathtaking natural beauty that the Central Kingdom has to offer.
To get to Jing Po Lake you first need to get to Mundanjiang. You can do this by catching a bullet train from Harbin Railway Station to Mudanjing Railway Station, which this takes about 4,5 hours. Once in Mudanjiang there are buses that connect tourists directly to the Jing Po site. A local travel agency will be able to assist you further.
The food
Of all the mouthwatering dishes on offer in Heilongjiang, none stand out quite as much as guo bao rou (fried pork cooked in a sweet and sour sauce). The locals have a joke saying that if a foreigner walks into your restaurant; they will ask for guo bao rou, as most foreigners seem to have an obsession for it – and rightfully so!
If you are looking for something to satisfy your sweet-tooth then ba si is what you seek. Ba si usually consists of fried chunks of sweet potato tossed in molten caramelised sugar. As the dish is enjoyed, trailing threads of sugar filament follow the chunks anywhere they go.
Conclusions
Many people that I speak to about China have never even heard of Heilongjiang. If you want to truly see the big picture that is China you cannot do so without spending some time in this winter wonderland!
Photo Credits:

The world's largest snow sculpture, 'Romantic feelings', at the Harbin Ice and Snow Festival 2008 by Emma Gawen
Other Photos by Daniel Schroeder