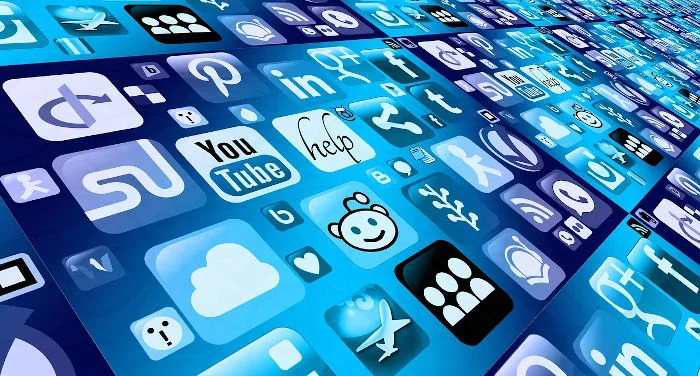 Apps have turned into one of the most useful formats for learning Chinese (and any other language), as they offer an efficient way to establish knowledge, keep motivated, and study in any place and situation.
However, today there are hundreds or even thousands of applications, and the majority of them are ineffective or even useless.
In this article, we evaluate some of the best apps for learning Chinese, depending on which aspect of the language you want to improve.
Mejores apps para aprender chino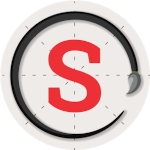 Skritter: The best app for learning how to write Chinese characters.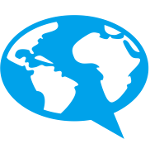 FluentU: The best app for learning Chinese via interactive videos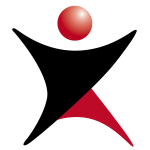 ChinesePod: The best app for learning Chinese through podcasts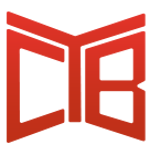 The Chairman's Bao: The best app for learning adapted reading of texts in Chinese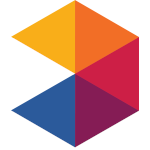 Memrise: The best app for learning vocabulary using mnemotechnics.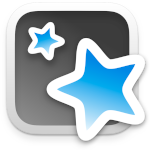 Anki: A reference app for flashcards.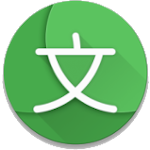 Hanping and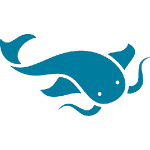 Pleco: The best English-Chinese dictionaries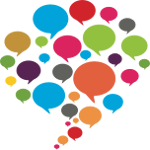 Hello Talk and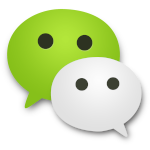 WeChat: The best apps for chatting with native speakers.
The features of a good app for learning Chinese
Active learning: A good app should involve active learning. This means that the app should ask you questions and force you to remember the correct answer. You can read more about this topic by clicking here.
Customized product: A good app should let you the flexibility to choose the settings according to your needs. For instance, you should have the opportunity to choose to study the lessons or the vocabulary that matches your interests and proficiency level. The best way to keep your motivation is to study only things you are interested in and you can use in your daily life.
Learn from your mistakes: A good app will "learn" from your mistakes – by recording them – and force you to review what you forgot while skipping the parts you already know. I recommend you find an app based on spaced repetition software (SRS). If you want to know what an SRS is just click here.
An app should cover a specific need: A good app is going to be helpful (and a wonderful tool) to review your lessons or learn new vocabulary; however to master a new language you'll need more than that. Never trust a developer that claims his app is the only tool you need to learn the Chinese language.
In my opinion at the moment the best apps for learning Chinese are Skritter, FluentU, The Chairman's Bao, Memrise and Anki (they are both SRS based). Additionally, Hanping, Pleco, Hello Talk and WeChat are apps that anyone aiming at learning Chinese should have.
Skritter: Learn how to write Chinese characters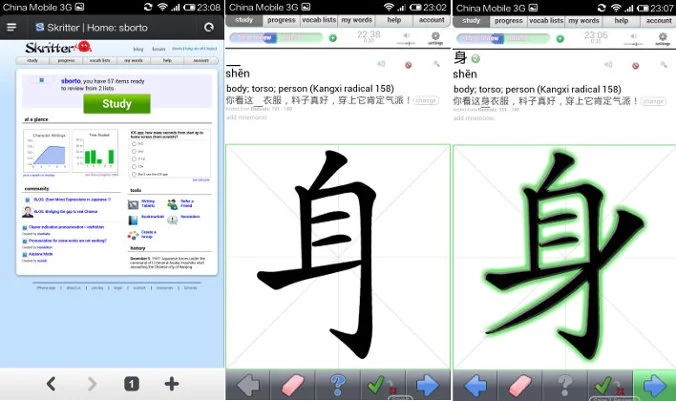 Skritter is the best application there is for learning to write Chinese characters, and is available for Apple and Android devices. You can try Skritter for free.
Some of the noteworthy features of Skritter are:
SRS flash card system
Writing tests directly on the touchscreen
Thousands of vocabulary lists
The possibility of creating your own vocabulary lists
Graphic and mnemotechnic representations to help you remember characters
Traditional and simplified characters
Video lessons to introduce new vocabulary
Animations of the order of the strokes for writing each character
Detailed statistics on your progress
Audios of characters
Tests on tones and the meaning of words
Price: $14.99 USD per month.
Discount code: "SDC3952″ (10% discount in all plans, only for new users).
If you'd like more information, you can find a complete review of Skritter here.
Important: Some old iOS devices are not compatible with the latest version of Skritter. You can download an older version of the app if you do it directly from your device (don't use the link on the Skritter website).
FluentU: Learn Chinese with videos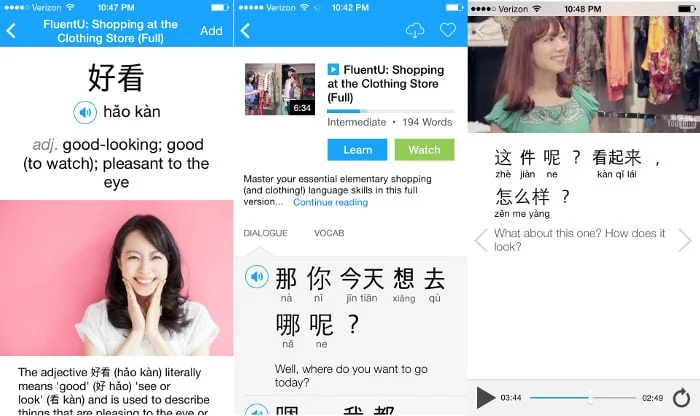 FluentU is without a doubt one of the best Chinese learning courses that exists on the market. The main goal of FluentU is to improve your language level through immersion in the language. To do this, they have designed a learning system whose main learning material is a selection of videos with subtitles adapted to all language competency levels.
FluentU developed a perfect app to complement its study program, which is available for both iOS and Android devices.
The app offers all of the platform's videos with interactive subtitles (you can click on a word to see the definition), flashcards based on the videos, audio tracks of the vocabulary and much more.
Price: $30 USD per month or $20 USD per month with a one-year subscription.
Chinese Pod: Learning Chinese through podcasts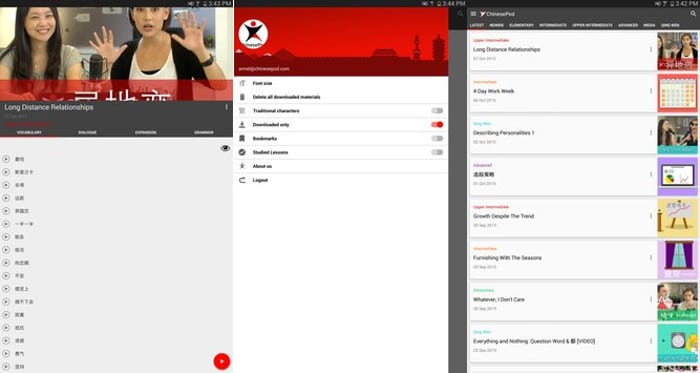 ChinesePod is one of the most prestigious and oldest platforms for learning Chinese, and has recently developed an excellent app that allows you to follow their study plan regardless of where you are. Its system is based on high-quality podcasts although the platform is much more than just that.
The app offers all of the services of the platform, which includes videos and podcasts organized by levels as well as supporting materials such as review exercises for lessons and flashcards with personalized vocabulary lists. The big advantage of the app is that you can download all of the content so that you can use the app even without an Internet connection.
Price: A subscription to Chinese Pod costs 14 USD per month for the basic plan and 29 USD per month for the premium plan.
For more information, click here to read our complete review of Chinese Pod.
The Chairman's Bao: Read in Chinese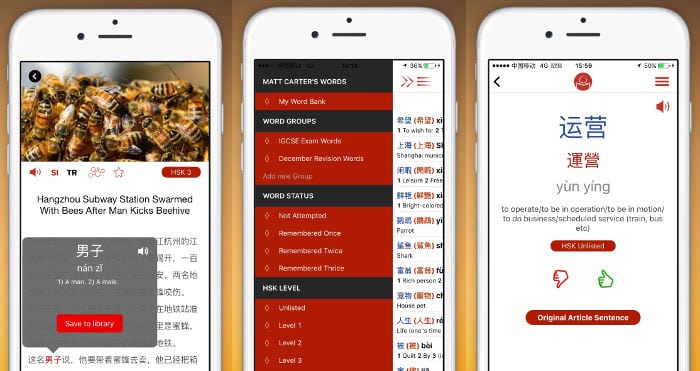 The Chairman's Bao app (TCB) is one of the best apps for students with a more advanced level, but also can be a good resource for beginners.
TCB is an online newspaper that has been simplified for people learning Mandarin. The newspaper publishes news on very diverse subjects which are written in Mandarin by native Chinese professors using the HSK vocabulary list.
The app has a very elegant design and is available both for Android and iOS. Some of this app's more interesting options are:
Thousands of available articles: TCB has written a large number of articles over the years, all of which are accessible and classified according to their level (HSK1 to HSK6+);
An interactive dictionary: While you are reading an article, you can click on any word and it will show you the pronunciation, definition and the possibility of adding it to your vocabulary list;
Flashcards system: Once you have a vocabulary list, you can use a flashcard system (with an SRS system) to study vocabulary;
Writing characters: You can watch animated videos of how to write characters and there is also a tool to test if you remember how to write them.
Simplified or traditional Chinese: As opposed to many other apps, TCB offers the possibility of reading and studying in both simplified and traditional Chinese;
List of key vocabulary and idiomatic expressions: At any time, you can consult the key vocabulary list and idiomatic expressions in the article so that you don't miss any details.
Price: $10 USD per month or $25, $45 and $80 USD for 3, 6 and 12 months, respectively ($8.50, $21.25, $38.25 and $68 USD with our exclusive discount).
Discount code: sdctcb1523 (15% off).
For more information, click here to read our interview with Sean, its marketing director.
Memrise: Learn efficiently new vocabulary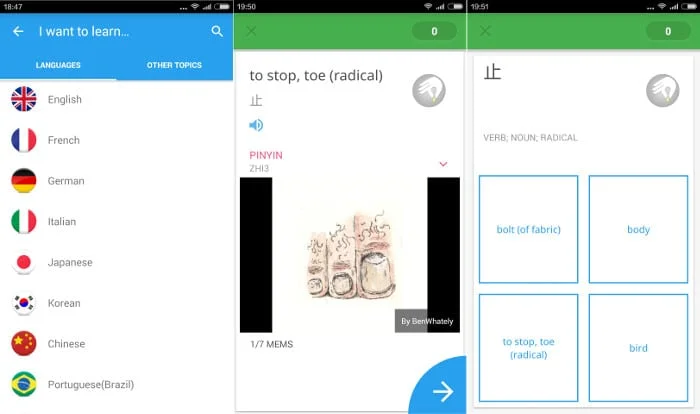 At least once a year, we update our articles on learning Chinese to include the new resources we have found. When we add new apps, new free online resources, or new Chinese courses, we normally tend to put aside those that teach multiple languages. The reason is very simple: the majority are designed to learn Western languages (English, German, French, Spanish, etc.) and as Chinese is very different from these, it requires a different approach. However, there are exceptions, such as Memrise, which offers no less than 88 languages to learn.
The Memrise app is based on its popular learning website and offers numerous lists that you can include in your study program, such as: the complete list of radicals, all of the HSK vocabulary lists, the lessons from Chinese Grammar Wiki, and vocabulary from the most popular textbooks, among others.
However, the strong point of Memrise is not its list but rather its mnemonic rules and its community, which is all integrated into an SRS software so that you don't forget anything. Basically, the software is designed to help you remember words by using visual or conceptual mnemonic rules that are created and tested both by the developers and the enormous community of students that it has. So, when you are using Memrise, you are taking advantage of the experience of students that have gone through the same process.
While the basic version of the app is very high quality, there is also a Pro version that is quite a bit better (according to the authors, it increases the speed of learning by 60%). The Pro version also includes unlimited access to all of the learning modes, the ability to personalize your lists and difficulty level, specific statistics on the rate of your leaning and finally, video support and the ability to practice with native speakers.
Price: Merise is free for both Android and iOS and the Pro version costs 8.99 USD per month or 59.99 USD per ear.
Anki: Review your vocabulary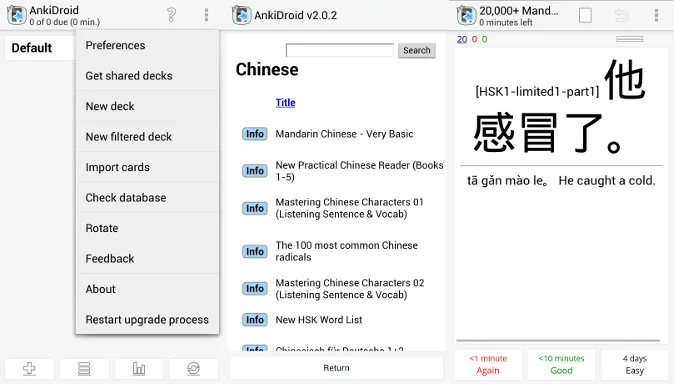 Anki is the most popular SRS based software to study using flashcards and probably one of the best apps to review your lessons or/and learn new words. With Anki, you can create your customized decks or download decks from the public database. At the time I'm writing this article there are nearly eight hundred decks to study Chinese (and you can download all of them for free). I'm sure you can find one that suits you!
I won't talk much about Anki because we already published a review of the software.
Price: Anki is free on Androidand costs $24.99 USD on iOS.
Duolingo: Memorize vocabulary and learn grammar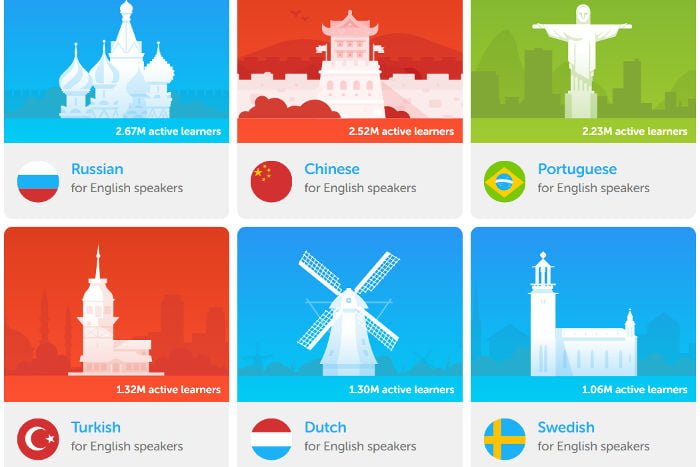 Duolingo is a software program that offers lessons for learning a vast number of languages.
Even though Chinese was added relatively late (compared to other languages) it has already become one of the most popular languages among students using this platform.
Besides having a usage style similar to Memrise and Anki, in my opinion, Duolingo is also great for learning grammar, since many exercises ask you to order lists of words to create full sentences, translate phrases, et cetera.
Right now Duolingo is free and can be used both as a smartphone app (iOS or Android), as well as a software program on your PC. Note that so long as you log in with the same account, the app and PC version automatically synchronize.
Hello Talk and WeChat: Chat with Chinese native people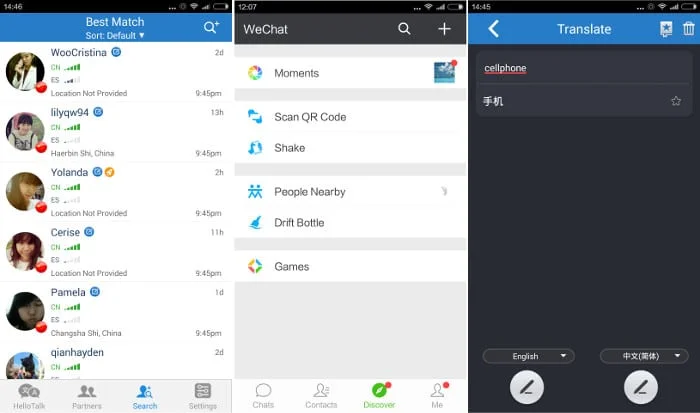 Hello Talk is without a doubt an ideal app for people who have already been learning Chinese for a while and are not able to use it in real-life situations. The app uses the new possibilities provided to us by new technologies to get in contact with language students in the whole world.
Hello Talk is similar to Whatsapp, but with the peculiarity that you can chat with people you don't know and who are native speakers of the language you are studying. The only thing you have to do is to download the app, sign up for the platform, say what your native language is and what language you are studying (and your level); then, you will be able to see a list of native speakers (in our case, Chinese) who are studying your language and chat with them. In other words, Hello Talk is an advanced search engine for language exchanges.
Also, Hello Talk offers other options, among which its instant translator stands out, as it is very useful when you are chatting in a language you don't know very well.
While Hello Talk is particularly designed for language students, if you want to get into contact with native Chinese speakers near you, I would recommend that you try WeChat (Weixin in Chinese), a sort of Whatsapp that is extremely popular in China but much more advanced. WeChat allows you to meet new people, it works as a social network (similar to Facebook) and much more. The good thing about WeChat is that it is mainly used by Chinese people and allows you to contact people depending on the distance between you and them.
Hello Talk and WeChat are both free and available for both Android and iOS.
Hanping: The best dictionary for Android devices
Hanping is, in my opinion, the best offline Chinese/English dictionary for Android devices.
Hanping "Lite" version includes a complete Chinese/English dictionary where you can search words using pinyin, characters, or English. At the present moment, the Lite version also offers you the audio and handwriting recognition functions.
The last versions of Hanping also feature two interesting tools: the first one is free and allows you to copy your searches to the clipboard or send them to eStroke (to know how to write the word), Skritter, Nicku (an online dictionary), Google translator and many other online resources. The second tool is an optical recognizing software that costs 9.99 USD and allows you to get an instant translation from any text using your cell phone's camera (it only recognizes short texts and standard characters).
I recommend taking a look at its add-ons, as it is constantly adding new functions, some of which are free and others of which are paid. Some of the recent interesting add-ons are animated videos of how to write characters (only for the 3.99 USD pro version), an app to practice pronunciation (free), and a Cantonese dictionary (9.99 USD).
Pleco: The best dictionary for iOS devices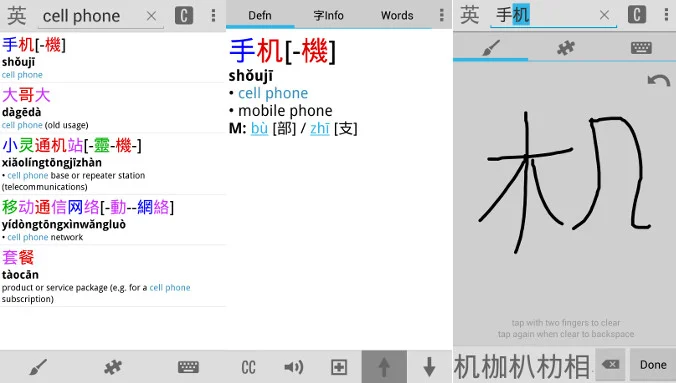 Pleco is available on Android and iOS devices and is an all-in-one app: off-line dictionary, flashcards, optical character recognizer, handwriting recognizer, stroke order diagrams, audio pronunciation, and text reader. Here a short description of each feature:
Off-line dictionary: Pleco is, in my experience, almost as good as Hanping and the best Chinese/English dictionary for Apple devices (Hanping only works on Android devices). Additionally, it offers specific dictionaries (such as a traditional Chinese medicine dictionary).
Flashcards: Pleco Lite's version offers a basic software (it lacks the SRS) to review your flashcards. The SRS based software is an add-on and cost 11.29 USD.
Optical character recognizer: Probably one of the best in the market and quite similar to Hannping's recognizer. You can test it for free, but if you want to link the tool to Pleco's dictionary you'll have to download the add-on (it costs 11.29 USD).
Handwriting recognizer: This tool is available on the Lite version; it's really useful if you want to know the meaning of a character you know how to write (but you ignore its pinyin).
Stroke order diagrams: You can use this tool to learn how to write a character stroke by stroke. This option is an add-on and costs 5.64 USD.
Audio pronunciation: Also available in the Lite version with both male and female pronunciation of individual characters. There are some paid add-ons more complete, such a full word pronunciation, synthetic audio for sentences, and Cantonese pronunciation audios.
Text reader: It's available for the Lite version; if you copy a text in Chinese on the clipboard and then you go to the Text reader it will appear there. At this point you can click on the words you don't know to get the pronunciation and the translation.
Other apps
Du Chinese
Du Chinese simply translates to "Read Chinese" and can help you to instantly translate sentences or words with just a tap. The app presents a text and a voice simply reads out the words, making it easy for foreigners to learn the correct pronunciation and grammar.
The app has a modern interface and layout with thousands of positive reviews. On Google Play, for example, the app has received around 6,000 reviews with a rating that is close to 5/5. More than 300,000 students have downloaded the application, and I am one of them.
With such a good rating, it probably doesn't come as a surprise that it's a freemium app. The subscriptions available are currently as follows:
Basic: Free with limited lessons
1 Month: USD 11.99
6 Months: USD 54.99
12 Months: USD 89.99
What I like about Du Chinese is that it's highly flexible and you can choose both the topics you want to learn about, but also the difficulty. This makes it easy to tailor-make your learning experience and to learn Chinese, step-by-step.
Worth mentioning is also that Du Chinese allows you to save words for later review by using a similar system as Pleco, namely with flashcards. You can use both simplified and traditional characters when learning Chinese with the app, making it useful if you plan to live in Taiwan, Hong Kong, or mainland China.
In short, this is a must-have application if you want to learn Chinese on-the-go and enjoy a fun experience. Du Chinese adds 5 to 6 lessons each week and there are currently more than 1,000 lessons available, categorized by topic and difficulty.
Hello Chinese
Hello Chinese is an acclaimed and easy-to-use application that has received hundreds of thousands of positive reviews on Google Play. The app has a rating of almost 5/5 on Google Play and the Apple Store.
What sets HelloChinese apart from other apps is that it provides game-based learning, which is fun and interactive. Besides, it offers different neat and useful features that help you improve your learning. For example, HelloChinese can correct your pronunciation so that you improve your tones and speaking, which is important to get understood by Chinese people.
The app also offers courses that are built according to HSK training and levels, helping you to prepare for your next HSK exam. Not to forget, you can use the application offline and track your progress on multiple devices thanks to the internet-of-things employed.
Even if the app is free, it also comes with different in-app purchases as follows:
HelloChinese Premium: USD 8.99
HelloChinese Premium+: USD 19.99
The application is useful for persons that want to learn basic Chinese (up to 1,000 words and 350 characters). Students who only want to learn speaking and conversational Chinese also find the application useful as you don't necessarily have to learn writing characters.
This application is definitely worth a try if you want to learn Chinese while on-the-go, no matter if you're just starting out or just want to improve your vocabulary and speaking skills.
Chinese Skill
Chinese Skill is an "all-in-one" app. In other words, it more or less covers all of the aspects of learning in just one app. It is well-designed and its graphics and games make it quite appealing.
However, I think that the previous apps are a lot better for different aspects of the language.
The free version of the app only covers basic aspects and is somewhat incomplete, which means that if you want to use all of the potentials of the app, I recommend opting for the premium version, which costs 5.42 EUR per month for an annual subscription or 9.99 if you pay month-to-month. Keep in mind that this app is not a substitute for studying and regardless of what it says, you will not be able to learn Chinese in 3 months.
HSK Locker
Despite being very simple, this app can be very useful for people who want a quick review before writing an official HSK exam.
The app is based on test-type questions from official HSK vocabulary lists and has a good SRS algorithm. The main problem that I see is that the vocabulary is slowly unlocked, starting with HSK1-level words, which means that if you have a higher level, in the beginning, it might be a bit annoying to go over all of the basic vocabulary.
The app is free.
Frequently asked questions
Is Pleco free?
Pleco is one of the best Chinese translation applications and a freemium product. The free version is sufficient for many people, but it can make sense to opt-in for the additional packages offered if you're serious with your Chinese.
Pleco has two bundled packages, the Basic Bundle package that costs USD 29.99 and a Professional Bundle, sold for USD 59.99. The first option includes all of Pleco's non-dictionary add-ons, such as enhanced handwriting, flashcards, OCR, text file reader, and all four audio pronunciation add-ons, and more.
The Professional Bundle is different in the sense that it also includes the ABC English Chinese, ABC Chinese-English Comprehensive, Guifan dictionary, OCR, enhanced handwriting, and more.
Having said that, you can also buy single add-ons, such as individual dictionaries.
How does Skritter work?
Skritter is great in the sense that it allows you to practice your Chinese hand-writing, at the same time as you get feedback from the application. You can use it on your smartphone or iPad and teaches you standard character composition and stroke order.
The difference between Skritter and many other applications is that you will understand if you're correct or not. The application has a scratchpad that allows you to write and practice the characters you want. Skritter is comparably expensive, even if you get a week for free. The plans are as follows:
1 Month – USD 14.99
6 Months – USD 59.99
1 Year – USD 99.99
2 Years – USD 179.99
What is the best free app to learn Chinese?
It's hard to say as it boils down to people's preferences and what language you study. Pleco is one of the most popular freemium applications for sure where you can learn handwriting, practice new words, and pay for add-on features. It's easy to use and comes out handy if you stumble upon a Chinese word that you don't understand.
HelloChinese is another great freemium option that has received plenty of positive reviews online. Out of around 235,000 ratings, it averages at 4.8/5.0. It's a great tool and resource for people who just started studying Chinese and gives you an introduction to correct pronunciation.
There are plenty of options available in the market, a recommendation is that you try a handful to see which one suits your taste.
What is ChinesePod?
ChinesePod helps you learn Chinese online, including multiple functions: Audio and video lessons, mobile apps and exercises for characters, dialogues, pronunciation, and more. You can also have private lessons with native Chinese teachers in virtual classrooms. As mentioned, ChinesePod comes with a Basic Plan and a Premium Plan, ranging between USD 14 to USD 29.
Photo Credits: Photos by Sapore di Cina