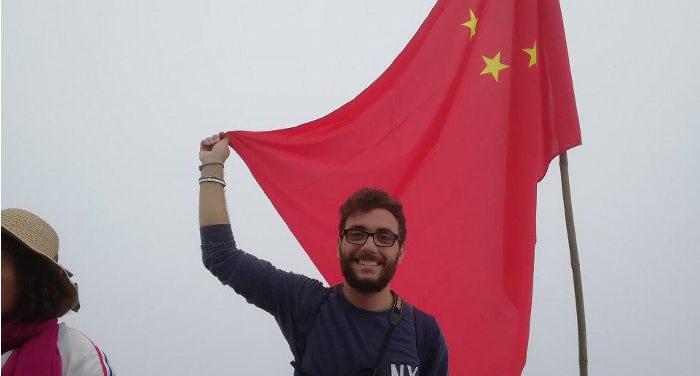 If you're thinking about visiting China during the major Chinese holidays, stop and think about it for a moment.
Are you really sure that traveling alongside almost a billion and a half Chinese and a few tens of thousands of foreigners is the right thing to do?
Let me tell you a story.
Xi'an and the army of cars
I was in China for a little more than a month. It was my first time in the Middle Kingdom and I couldn't wait to travel far and wide. Seeing Xi'an with its terracotta warriors (considered by many to be the eighth wonder of the world) was always one of my dreams… until it changed into a nightmare.
Xi'an is the capital of Shaanxi Province, and one of the historic Chinese cities that were once called Chang'an, literally meaning "Perpetual peace", and is a stupendous city (from what others have told me).
These simple reasons were more than sufficient to make Xi'an the perfect destination for our first Golden Week.
As I already said, I was in China for a little more than a month. I came at the end of August to take a Chinese language course in Beijing and the first chance to take a vacation was the famous Golden Week (1 – 8 October), for which all were waiting impatiently, including Taobao.
That year (2017) Golden Week, besides being the vacation for the Chinese national holiday, also included the Mid-autumn Festival, making it even more golden. So we decided to leave on an organized trip.
We couldn't have made a bigger mistake.
It didn't cost much, included two nights hotel, entrance to the Qin Shi Huangdi mausoleum and entrance to Mount Hua, one of the sacred Chinese mountains, as well as round trip travel by bus.
At this point it was nothing strange. We knew that there would likely be some traffic but they assured us that everything was factored into the timetable. Fifteen hours of travel wasn't a problem since we would leave at night and could sleep peacefully during the trip.
But twenty-three hours at a snail's pace is another story.
Just getting out of Beijing's rings was an undertaking. After two and a half hours we finally left the capital behind. Only thirteen hours of travel remained until we could finally take pictures of the terracotta army. Or at least, so I thought.
I have never traveled so slowly in my life, through unending lines of cars, buses, trucks, 18 wheelers and carts. The entire population was traveling to enjoy the well-earned vacation. All on the same week, the one I chose for my first Chinese vacation. When we got up from thirty to fifty kilometers an hour, a glimmer of hope filled our eyes, leaving us to believe that from then on we wouldn't be traveling in slow motion.
We arrived twenty-three hours later, our bones broken from the trip. The dream was about to come true, so I had already forgotten the trip that had just finished so that I could calmly admire the eighth wonder of the world.
Only thirty minutes remained before closing.
The only thing I really wanted to visit, I saw on the run. I saw a glimpse of the immense terracotta army that observed me running along the perimeter, more skittish than the naturally large horses protecting the Yellow Emperor. I couldn't wait to get back to the hotel and see the city at night.
If only.
There was too much traffic to get to the hotel in time and we were too exhausted to go out at night. Ah… on the ride to the hotel, we stopped for twenty minutes to see the pagoda in the center of the city. I saw it. From afar. There were too many people to get close to it.
Taking the fast train would have been the better choice for covering such distance, but we still would have met up with the same crowds of people arriving there. No longer an army of cars, but an army of flesh and bone.
Mount Hua and the wait for the cable car
A comfortable bed (more unique than rare in China) and a good night's sleep made me "forget" the day before and the army of automobiles. Now it was time to climb Mount Hua. The vacation could still be saved.
We get there early and it's raining. That's not a problem, we're not going to let a few drops stop us. We enter right away and take the cable car without any problems.
Maybe it was because it was still early, maybe because it wasn't too sunny, but the fact was there weren't any crowds. Incredible. The vacation was ending "well".
After a day spent climbing stairs wrapped in clouds and eating roujiamo, those magnificent meat sandwiches typical of the area, finally the sky graces us with its presence. The fog lifts and we can truly admire the beauty of these mountainous peaks. It's a spectacle for the eyes and the lungs (remember that I was coming from Beijing).
A beautiful day in the middle of nature, just how I like it. This happiness however, didn't allow me to see a small detail. As the hours -and clouds – passed, the number of nature "lovers" increased dramatically. What made my eyes pop was when we were heading to the cable car to go back down to the valley where there would be a party organized by the hotel. We got in line armed with patience, thinking we'd have to wait an hour tops to take the cable car.
When the gates open, an army carrying instant noodles was ready to load. We couldn't help but follow the wave and try to at least stay on the crest to breathe a little bit, like real surfers.
With long steps like grains of rice we reach the halfway point. By now we've gotten to know our fellow line-mates, always attentive to not allow anyone to steal those five centimeters we've conquered between pushing and shoving. The agitation is palpable and the nervousness triggers a brawl among the Chinese up ahead. Incredible.
Five hours later we're still two hundred meters for our turn. A nightmare. We can't take it anymore. Finally we arrive at the doors of the cable car almost by inertia, without even knowing it.
We get to the hotel, shower, sleep and get ready for our return trip. This time it's fifteen hours.
A vacation I looked forward to for years was transformed into a nightmare.
Traveling during Chinese holidays, such as the national holiday or Chinese New Years, means arming yourself with patience, figuring on two/three days extra, but it especially means dealing with the entire population visiting the most famous places, the big cities, the major parks.
Perhaps a fast train could have helped, a plane would have been better, but there's no avoiding the throngs of people at the entrance of places to visit. This, besides the brutal wait, makes it so you can't enjoy what you came to see, even from afar.
Just taking a simple photograph becomes a titanic undertaking. The best times for traveling in China are during the holidays – ours I mean. Christmas and Easter are perfect, but this means losing days of study or work.
Sometimes sacrifices have to be made, so long as you don't spend the day with your feet on the glass of a double-decker bus that goes as slow as a water buffalo.
Photo Credits: Photos by Manuel Recchia