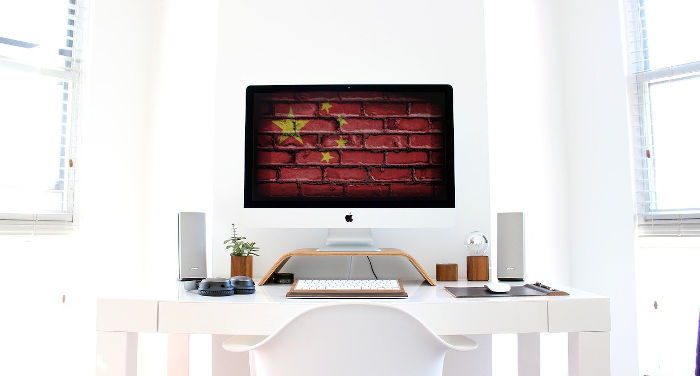 This article contains a list of free resources to learn Chinese online. Click on one of the following links to "jump" directly to the section of the article that interests you most:
Free Resources to Learn Chinese Online – Index
When we first published this list, in June 2012, it contained 25 resources. However, we update it every year with the best websites and free apps that we "discover" (many of which were suggested to us by your readers).
Our goal is not to list all the free resources dedicated to learning Chinese; rather it's to present to you the best of each of the categories listed above.
Keep reading to find a brief review and corresponding link to the web site of each resource cited.
Enjoy!
Dictionaries
Line (ex Nciku)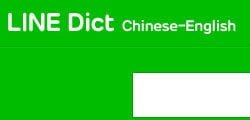 For years we have always recommended Nciku as a desktop dictionary, which has howeverbeen acquired by Naver and rebranded as Line Dictionnary (Line is an application similar to WhatsApp, leading the sector in Japan, Thailand, Taiwan and other Asian nations).
Naver has preserved the most important characteristics of the dictionary, especially the database that, each time you search a character or word, suggests various phrases that illustrate the different meanings of a given character in a well-defined context. It also preserved the Character Recognizer Tool, which allowed you to discover the pronunciation and meaning of various characters that you encounter by reproducing them with the mouse. In order to use it, just click on the "brush" icon on the search bar.
Another great dictionary is MDBG.
Pera Pera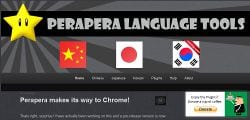 Pera Pera is a pop-up dictionary and study tool available as free add-on for both Mozilla Firefox and Google Chrome. After you install it (if you follow the link, it will take you less than a minute), activate it by clicking on the star that will appear on your browser, go to a webpage in Mandarin and point at a character you don't know with your mouse. A small grey window will appear with the pronunciation and meaning of the character.
Zhongwen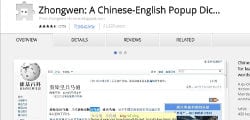 If you use Skritter to learn and write Chinese characters, then I also recommend that you take a look at the pop-up dictionary Zhongwen since it allows you to import words directly into your Skritter account; just click the letter "S" on your keyboard.
Click here to install Zhongwen on Chrome and here to install it on Firefox.
Hanping (for Android)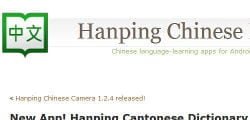 Hanping is one of the best Chinese/English dictionaries for Android devices. The free version, called "Lite", includes the Chinese/English dictionary and the option to "send" characters to Skritter, eStroke (to learn the order of strokes that make up the character) or Google Translator.
To use the audio or video recognition functions, you'll have to get the "Pro" version of the app. Click here to read our reviews of the best apps for learning Chinese.
Pleco (for iOS)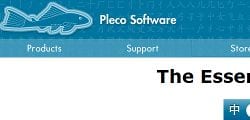 Pleco is another excellent dictionary for smartphones. While Hanping works only on Android, Pleco works both on Android devices and iOS. If you have an iPhone, this would be your best option.
Note that both Pleco and Hanping work even if you're not online.
HanziCraft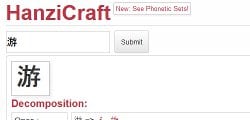 HanziCraft is a software developed by Niel de la Rouviere. I find it especially useful for people who are learning how to write Chinese characters, as it breaks down a character into its main components. For each character, it also provides the pronunciation, the meaning and a list of words that use that character (in combination with other characters).
For example, take the character 游. You will learn that 游 is made up of 氵 (water), 方 (square/raft), 丿 (bend), 一 (one) and 子 (child); it's pronounced you2; it means "to walk/to tour/to roam/to travel" and it's used to create two high-frequency words (旅游, which means "trip" and 游戏, which means "game") and a bunch of medium frequency words.
Grammar
Chinese Grammar Wiki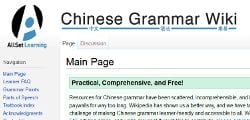 Chinese Grammar Wiki was launched by AllSet Learning in early 2012 and despite is young age, has become my main reference when it comes to Chinese grammar, as the explanations are pretty impressive. You don't believe me?
Check out the page dedicated to the particle "了". What I also like is that the resource was released under a Creative Commons License and everybody can contribute to improving it (like a true "wiki" should be).
MIT OpenCourseWare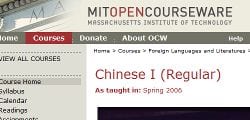 If you are looking for a more traditional course, the Massachusetts Institute of Technology has released their Chinese courses for free through the MIT OpenCourseWare platform. I didn't test the course myself as I prefer to follow a more unstructured path. However, MIT is quite well known, so I don't doubt the quality of the course. Here you find the complete list of their offer for Chinese language courses.
Coursera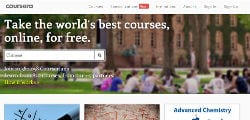 Coursera is a digital platform founded by two professors from the University of Stanford that offers an enormous amount of courses in physics, medicine, information etc freely accessible online. The courses last from six to ten weeks, with about two hours of video lessons – held by university professors – every week. Besides lessons, the course includes quizzes, exercises, and sometimes a final exam. Could they possibly not have a Chinese course? No! Click here to sign up for free!
Jukuu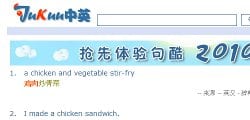 Jukuu is a database of sentences in English and Chinese. Its interface is very simple and very similar to Google's.
Once you enter a word into Jukuu and click on the search button (called 句酷一下) you get a list of sentences in English and Chinese that contain the word you entered. It can then be quite useful to understand the context in which you can use a given word. The database seems quite complete too: for all the words I tried I obtained 100 sentences.
Taoteba Project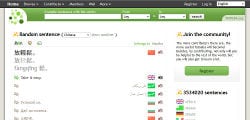 The Taoteba Project is a database that catalogues phrases in different languages. If for example you enter "他最近從法國回來了" in the search bar, you'll see the same phrase appear in 14 different languages (among which is also English).
This is a useful tool for those looking to translate entire phrases. In my opinion, a tool like this is particularly helpful for translating slang expressions for which a dictionary is rarely useful.
Duolingo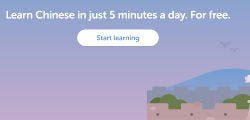 Duolingo is a software program that offers lessons for lots of languages, including Chinese (which was inserted relatively recently).
Duolingo offers lessons on grammar, vocabulary and much more. Personally I've used it to learn the basics of German and it worked well.
Compared to other apps, I think that Duolingo is particularly interesting for learning grammatical structures (for vocabulary I think that software like Memrise or Anki better instead).
Note that Duolingo offers both a desktop version and a smartphone version (you can also use both versions since the software synchronizes automatically).
Audio and Video
Popup Chinese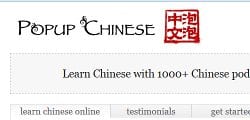 Popup Chinese offers podcasts and tools for learning Mandarin.
It's the most highly rated Chinese teaching series on iTunes and it's recommended by the heads of all four major Chinese immersion programs in Beijing.
You can easily create a free account to check the entire archive, which doesn't only contain podcasts in mp3 format but also mobile apps, HSK tests, and other study tools.
P.s. On Chinese Podcasts you'll find a long list of podcasts released by Chinese native speakers. Even if those podcasts don't focus on Chinese learning, they may be useful to the most advanced students.
Talkify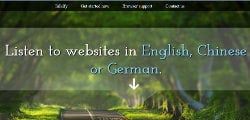 When I heard of Talkify for the first time I was a bit skeptical. The site, in appearance is very simple: there's just a bar to insert a link to a web page in English, German or Chinese. The promise is that once the link is inserted, the web site will begin to read it for you with an accent comparable to a native speaker.
To test it I went to the BBC Chinese webiste. I then copied and pasted the link into the bar on Talkify and… nothing happened. After twenty seconds the speakers began spitting out audio in Chinese, while the page came to life: the parts being read were highlighted in orange. I paid real attention to what I heard and to my extreme surprise, the audio being created in realtime corresponded exactly with the page that I had chosen.
Another interesting feature is that by clicking the mouse, you can jump from paragraph to paragraph without having to wait until the software arrives at the paragraph you're interested in (just beware that if you switch paragraphs every three seconds you'll have to wait a few seconds until the site "downloads" the new paragraph). Such functionality is extremely useful if you want to "listen" to a page that contains both material in Chinese and other languages.
While if you're a beginner student listening to a web page is a fine exercise in and of itself (you won't understand much), for intermediate or advanced students Talkify offers infinite possibilities.
CNTV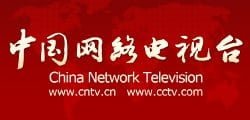 CNTV is the website of the national Chinese television network, where you can find a ton of Chinese news and TV shows.
The only "drawback" is that the website is in Chinese so unless you can already read Mandarin, it becomes difficult to find the kind of programs you want to watch. A possible solution is to check the English version of the website (however here some videos are in English).
Also, in the French version of CNTV I was able to find a wide selection of Chinese TV series, which are available in streaming.
Finally, among the many available, PPTV and Hunan TV are other two excellent stations that offer a wide range of video in streaming.
Baidu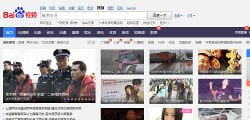 Baidu is the Chinese Google. Yes, China not only has its own system of characters, its own ATM circuit (Union Pay) and its own eBay (the mythical TaoBao). It also has its own research engine, Baidu.
It differs from Google in that, if you go to the video section of Baidu (just click the link above) you'll have an infinite supply of movies, TV movies, songs, and much more available to you. Much of the audio and video material that you'll find is protected by international Copyright, so use it at your own risk. Others instead are Copyright-free. You'll also notice that you'll be redirected to a third-party site, many of which are visible only in China.
Tudou and Youku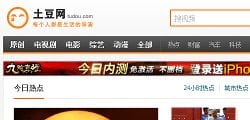 Tudou and Youku are the two Chinese clones of YouTube where you can find virtually any kind of videos you want in Mandarin, and they often come with subtitles. Even if you have a VPN and can access YouTube, the same video in Tudou or Yukou will often load much faster.
If you live outside China, the majority of videos on these platforms will be blocked (unless you have a VPN with a server in China).
Audacity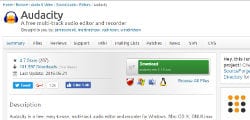 Audacity is a free, user-friendly software that you can download and install in your laptop for recording yourself and listening to audio files in a more "visual" way. Audacity makes it it easy to repeat passages you didn't understand or even slowing down the pace (just use the function "Change Tempo").
It works for Windows, Mac OS X, Linux, and other less common operative systems and it supports the following audio formats: WAV, AIFF, FLAC, MP2, MP3 or Ogg Vorbis.
Everyday Chinese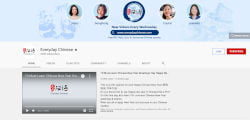 Everyday Chinese is a Youtube channel with more than 300,000 subscribers, that publish new videos in a weekly basis.
In the channel, they claim that all the teachers are native-speaking Chinese with years of teaching experience.
The videos cover the most important macro topics such as lessons especially designed for beginners, pinyin and pronunciation, grammar, listening, and more.
Learn Chinese with Yi Zhao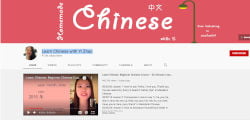 Learn Chinese with Yi Zhao is a Youtube channel with around 100,000 subscribers that published videos in the following topics:
HSK 1, 2, 3
Grammar
Characters
Travel Mandarin
Yi Zhao especially focuses on fixed sentence patterns to provide a good learning foundation to beginners.
Learn Chinese with Litao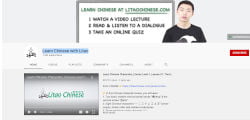 Learn Chinese Litao is a Youtube channel with more than 100,000 subscribers that focuses on teaching Mandarin to foreigners.
Litao believes in a systematic approach that can also help you to achieve the requirements to pass the HSK tests.
The channel features specific playlists for the HSK1 and HSK2, pinyin, and Q&As.
Netease Cloud Music (网易云音乐)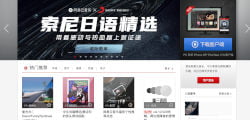 One of the best ways of learning Mandarin is by listening to Chinese songs. Netease Cloud Music is owned by Tencent Inc. and a freemium music streaming service, as such, it has both a free and a paid version. Artists can choose which songs they want to restrict to paying subscribers only.
With more than 300 million users and 10 million songs, it's one of the most popular music streaming applications in China. I recommend you to give this application a go, if you want the opportunity to listen to Chinese songs for free!
QQ Music (QQ音乐)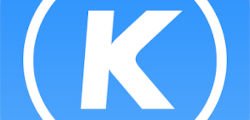 QQ Music is another freemium music streaming service owned by Tencent and that was launched in 2015. With 700 million users and 120 million subscribers, it's one of the biggest applications of its kind in China.
QQ Music has three kinds of subscriptions:
QQ Music Free
QQ Music VIP
QQ Music Luxury
The free version allows you to listen to selected songs, but you cannot use it overseas. Also, it doesn't allow customization or that you purchase songs.
KuGou Music (酷狗音乐)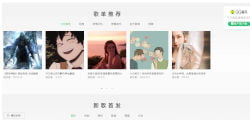 KuGou Music was launched as early as 2004 and is one of the oldest music streaming services in China. The same as it goes with QQ Music and Netease Cloud Music, it's owned by Tencent Inc., one of the biggest companies in China.
At the time speaking, KuGou is the biggest service provider in this industry, having around 800 million users and more than 450 million monthly active users. I recommend you to download the music streaming applications presented and then you can decide which one that suits your taste the most.
Kuwo (酷我音乐)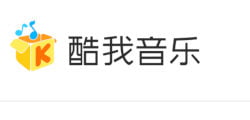 Kuwo Music belongs to Tencent Music Entertainment Group (TME), a joint venture between Tencent and Spotify. They also manage QQ Music and Kugou, explained in this article.
What makes Kuwo different is that they primarily focus on KTV streaming, having KTV tournaments with rewards. They also let rising Chinese DJ's to enter the application and offer their music.
Reading
The Chairman's Bao – Simplified Newspaper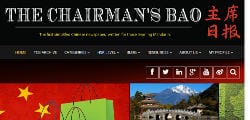 The Chairman's Bao defines itself as the first Chinese simplified newspaper dedicated to those learning Mandarin. The newspaper published news on many topics, such as business, science, sport technologies and other, all written in Mandarin by Native Chinese teachers in accordance with HSK (standard Chinese language proficiency test) word listings.
Every Chinese language student, even pretty advanced ones, knows the frustration of opening a newspaper and not being able to understand the meaning of any article because there are always too many words, often slang, that he doesn't understand.
Since on The Chairman's Bao each article states the targeted HSK level, you'll know in advance whether you'll be able to understand an article or not.
Besides this, you can create an account on the website in order to accede to the live dictionary, your own personalized words library and flashcard system, article keywords, grammar points, and idiomatic phrases.
UPDATE: Note that, at the moment, only a few articles are available for free; if you want to have access to the whole articles' database, you'll have to open a premium account (which is not free).
Decipher Chinese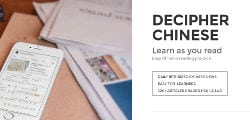 Decipher Chinese is a resource similar to The Chairman's Bao, in the sense that it also focuses on graduate reading, classifying the difficult of the articles/texts according to the HSK lists.
Decipher Chinese provides a free app for both Android and iOS and also a free web version (if you prefer to read in your laptop). In order to access all the features (for instance the audio), you shall open an account and log in, which at the moment is also free.
FlipWord (Passive Learning)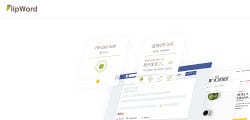 FlipWord is a Chrome extension that allows you to learn passively, replacing a few English words with Chinese, while you're browsing the web.
If you hover over the replaced word, you will have access to a corresponding bite-sized lesson, ranging from vocabulary to fun communication practice. As you progress, gamified quizzes and interactive challenges will automatically be added to your experience.
I find this approach quite interesting, also because so far I had never heard of similar software. Even if for the moment FlipWord is only available as a browser extension, they are working on an Android and iOS app as well.
BBC (in Chinese)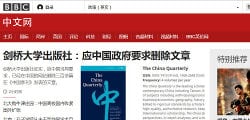 For advanced learners that want to practice their Chinese by reading newspapers but are tired to read Chinese newspapers, the Mandarin version of BBC's Website offers a valid alternative.
We chose the BBC as it's widely known, however, if you prefer another newspaper, you could check if they also offer a Chinese version!
Foreigncy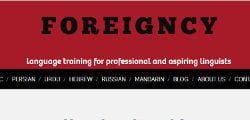 Foreigncy is a web site that publishes select articles in Chinese and other "critical" languages (Arabic, Persian, Urdu, Hebrew and Russian) providing a brief summary of the article (in English) and a list of key vocabulary words, flashcards and quizzes to prepare you for the reading.
This is a resource that I only recommend to advanced students seeking to expand their vocabulary and Chinese comprehension ability.
Marco Polo Project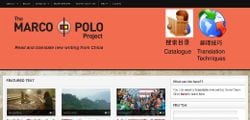 The Marco Polo Project is a website that offers a selection of new literature from China (short fiction, opinion pieces and social commentary by intellectuals and popular bloggers). It's open to language students and enthusiasts who want to collaborate on the translation of the texts.
Through the Marco Polo Project, Chinese learners can practice their language skills, read new Chinese texts and join a community that actively promotes cross-cultural dialogue. Also, non-Mandarin readers can discover the voices of Chinese writers. Even if you decide to not actively participate, you can still go there to read "real" Chinese material with translations into English, French, and Spanish. Click here to read my interview with the founder, Julian Leyre.
Du Chinese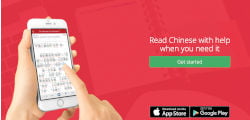 Du Chinese is a great application you can use to improve your reading skills. It comes with a modern and clean user interface. The application allows you to turn on and off the supporting pinyin and to switch between traditional and simplified characters.
Also, you can listen to audio recordings and read along, or simply read by yourself.
The reading material includes daily Chinese conversations, covers Chinese culture, stories, and more. A good part is that the texts are labeled according to difficulty, ranging from HSK 1-6.
Pronunciation (pinyin)
Pinyin.info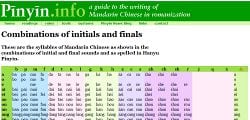 Pinyin.info is a guide to writing pinyin, that is, the official transliteration of Mandarin characters to the Latin alphabet. You will find a chart containing all the possible combinations of initials and finals, the basic rules for writing pinyin, where to place tone marks, information about the history of pinyin and other romanization systems (MPS2, Wade-Giles, Yale) and so on. Also, the website is home to a funny article, Why Chinese is so damn hard, by David Moser.
Chinese Pronunciation Wiki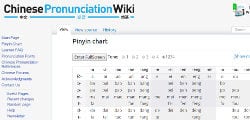 Have you ever heard that Chinese has an extremely limited number of sounds? It's true! In fact, all Chinese sounds can be summed up in the so-called "pinyin chart".
Chinese Pronunciation Wiki is yet another free resourced offered by AllSet Learning. Here you will find a detailed explanation of all Chinese sounds and tone. Beside this, you will find a complete pinyin chart where you can listen to each sound (click on the link above).
Pinyin Chart by Yo Yo Chinese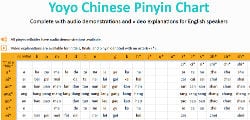 Among the many available, besides the one on Pinyin.info and Chinese Pronunciation Wiki, we chose the Pinyin chart on Yo Yo Chinese, because it offers the possibility to hear every sound (just click on the syllable and chose the tone in which you'd like to hear it). Also, if you click on the sounds featured on the first column (the one in yellow), you can accede to short videos (around 30 seconds each) that explain how to reproduce the specific sounds.
Praat (Doing phonetics by computer)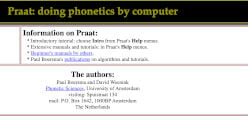 Praat is a scientific software program where you can analyze sounds and speech in phonetics on your computer. It's a great tool for foreigners who want to improve their tones and pronunciation. You can also find tutorials on YouTube and the web page for information on how to use the software.
It works like this; foreign learners can first hear Mandarin native speaker phrases and words, at the same time as they see a display of the pitch curves. After, you can record your voice to see how your pitch curves compare to a Chinese native speaker.
Characters, flashcards and SRS
Understanding Chinese Characters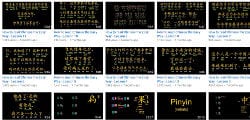 Understanding Chinese Characters is the Youtube channel of Vladimir Skultety who, beside graduating on International Relations and Chinese Studies, has a passion for Chinese character history and etimology.
In the channel you will find in-deepth guides on Chinese characters order strokes, how to read Chinese characters, etimology, phonetic rules, radicals and how to write specific characters.
Anki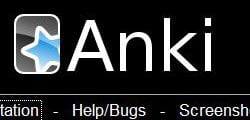 Anki is the most popular spaced repetition software (SRS), which allows you to review flashcards with a clever scheduling. Its code has been released under a GPL v3 license and it can be downloaded for all the most popular platforms. While the version for Windows, Mac OSX, Linux and Android is free, then one for iOS costs 24.99 USD.
You can use it to review your lessons by inputting your own flashcards or to study new vocabulary by choosing among the hundreds of free decks already present in Anki's database. Another feature I like about Anki is the opportunity to open a free account on the Ankiweb platform so that you can synchronize all your devices (laptop, smartphone, whatever you have) and won't lose any information in the event your hardware stops working or gets stolen.
Memrise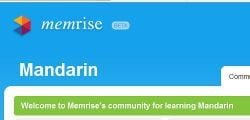 Memrise, which I discovered thanks to Nrupesh (a reader of this blog), is a community of language learners that share mnemonics, pictures, videos and audio material. Most of the site is freely editable. Anyone can make and share sets of flashcards, add words or create mems.
As a big fan of mnemonics (and especially of the ideas described in Quantum Memory Power by Dominic O'Brien), what I like about Memrise is the fact that people can vote up and down the "mem cards" so that the best ones will gain precedence (at least this is what I have understood so far).
Just like with Anki, you can find a lot of "already made" decks (HSK, most common words, and so on). During the last years, Memrise added a lot of great decks (such as the ones of the HSK words). For this reason, if you want to for "already made" decks, I'd suggest you to go for Memrise (instead of Anki).
Finally, you can use Memrise both on your laptop or as a smartphone app.
Hacking Chinese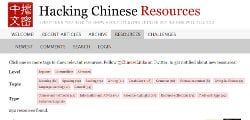 Hacking Chinese is the website of Olle Linge, a passionate language learner. I quote Olle: "In my language learning life so far, I have been taught a lot about grammar, words and culture, but I have seldom been taught the most important thing of all: how to learn these things. Most textbooks and teachers focus on the language itself and present material for students to learn, but forget that there are lots of things to say about how one should go about to learn that material in an efficient way." Efficient language learning is indeed the core of Hacking Chinese.
Click here to read my interview with Olle and here to read our review of his e-Book "Hacking Chinese – A practical Guide to Learn Mandarin".
Olle has plenty of good tips on SRS, and this is why I preferred to add his website to this section (instead of adding it to the "Motivation" section with the other general websites about Chinese learning).
The most common Chinese characters in order of frequency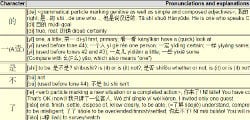 The most common Chinese characters in order of frequency has a quite self-explainatory title: here you'll find the list of the 3,000 most common Chinese characters (starting from the most common, which is "的", and then going through all the others), with a fairly detailed explanation of the meaning of each character.
This resource is hosted on Patrick Hassel Zein's website, who explained that he created the list by using statistical sources (to determine what were the most common characters) and a number of thick dictionaries. The pronunciation of characters is specified according to Pinyin, and for some characters, a number of different possible pronunciations are given.
Chinese Etimology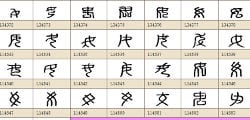 Chinese Etimology is a web site run by Richard Sears that I discovered thanks to Sinosplice, a blog that I'll speak more on later.
Just insert a Chinese character in the space on the left (under the photo) to find out its origin (with lots of pictograms).
All Japanese All The Time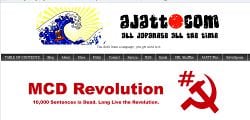 All Japanese all the time is a blog written by Khatzumoto, who learned Japanese by himself until reaching such a level that he could get a job as a software engineer in Tokyo through a phone interview.
I believe that SRS is great but in the beginning, it's easy to make mistakes, get bored, and give up. So, you should read about what other people are doing before attempting to memorize 2,000 cards in a row. Even if Khatzumoto talks about Japanese and it doesn't seem to update his blog anymore since October 2014, his blog is so far the most comprehensive resource I found for people getting into SRS.
HelloChinese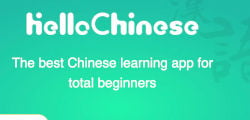 With more than 230,000 reviews and an average rating of 4.8 on Google Play, HelloChinese is by far one of the most popular Chinese-learning applications available. It comes with the following features:
Game-based learning: For a more fun user experience and to motivate the learner to study Chinese through playing.
Speech recognition: As it speaks, you also get help with speech recognition to improve your tones and pronunciation.
Handwriting: You also get help to improve your hand-writing.
Systematic Content: You'll learn everything you need about reading, writing, speaking, vocabulary, and grammar.
HelloChinese is free but comes with ads and you can also make in-app purchases.
The software has shown great results as around 16% of tones that were incorrect in the pretest saw a 50% correction in the post-test!
Motivation and advice (personal blogs)
Sinosplice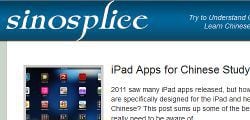 Sinosplice is the blog of John Pasden, the founder of AllSet Learning. John arrived in China in 2000 and, since 2002, has been sharing his tips on learning Chinese. The blog has a huge archive, so I suggest that you start with the entry "How I learned Chinese." If we could develop (yeah, "we" because I'm still battling with myself over Mandarin…) even a small fraction of John's motivation, I'm sure we would be half way along the path of mastering the Chinese language. John is a linguist, so his explanations tend to be technical and precise. Click here to learn my interview with John.
Dig Mandarin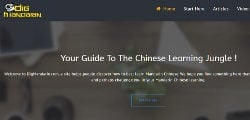 Even if Dig Mandarin started to publish only in 2013, it quickly became one of the most visited blogs, within the ones that only focus on Chinese learning.
Unlike the other websites featured in this section, Dig Mandarin can't be classified as a "personal blog" because it has already welcomed more than 30 contributors. Thus, here you'll find a wide array of styles and ideas.
Besides the blog, Dig Mandarin also features an elementary Mandarin video course taught by Zheng Tao, who has been teaching foreigners Chinese since 2005.
Living a dream in China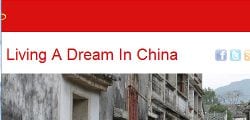 Living a dream in China is the blog of Sara Jaaksola, who is studying Mandarin at Sun Yat-Sen University in Guangzhou. What I especially like about Sara's blog is her enthusiasm for the Chinese language and China in general and the idea of sharing her goals and achievements monthly in order to keep her focus and motivation (even though she's not doing it anymore).
Carl Gene's Blog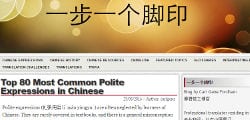 Carl Gene Fordham is NAATI-accredited and HSK6 certified Chinese-English translator based in Melbourne, Australia. He started to learn Mandarin when he was 10 years old, and he has keeping learning Mandarin until now. As he said himself, his blog is an "accumulation of his years of learning the language, and his aim is to meet more people like him who are young professional bilinguals so he can learn more from them."
This aim reflects on the content of the blog, which is usually aimed at advanced students: here you will find information about Chinese Expressions, Chinese History, Translation, and much more.
Fluent in 3 Months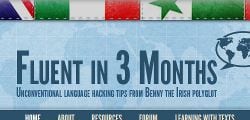 Fluent in 3 Months is the blog of Benny Lewis, who can speak eight languages and is in the process of learning Mandarin. You may like or dislike his approach. However, I speak a fair amount of languages myself (Mandarin will be the sixth) without having really studied any of them, and many of the things Benny suggests make perfect sense to me (especially "speak from day one" and "aim at making mistakes").
The Polyglot Dream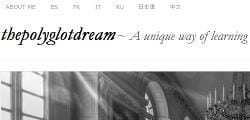 The Polyglot Dream is the blog of Luca Lampariello, an Italian guy that speaks eleven languages.
I still have to finish exploring his blog but up until now, my favorite article is Tips on how to learn Chinese tones, where Luca explains why a top-down approach is more effective than a bottom-up approach (that is, the way you learn in any traditional Chinese language school), when it comes to learning Chinese tones.
Motivation and advice (company blogs and Youtube channels)
These days foreign languages represent an enormous business. And Chinese is no exception. One of the best ways to advertise yourself, especially for firms that offer Chinese courses online, is that of having a blog that captures the attention of readers interested in knowing more about the study of Chinese (that is, potential clients). This is why many private companies have started blogs that are often well-done and interesting. I've decided to recommend four of them:
Skritter's Blog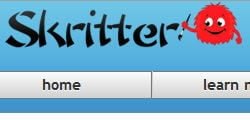 Skritter offers, in my opinion, the best product for anyone who wants to learn how to write Chinese characters. The reason I don't review it in this article is that it is a "premium" product (that is, one you have to pay for). Here you'll find my review. The Skritter's blog has been around since 2008 and there you'll for the most part find articles having to do with the study of characters (both Chinese and Japanese).
FluentU's Blog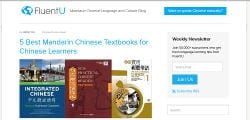 FluentU is another excellent company active in the foreign language learning sector (seven languages in all, including Chinese). The FluentU blog has been around since 2011 and covers a wide range of subjects. Seeing that their focus – and experience – is in the video sector, I particularly recommend to you their TV programming guides, such as "The Ultimate Guide to Learning Chinese through TV Shows" published in March 2014.
GoEast Mandarin Blog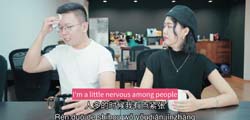 GoEast Mandarin is an online Chinese language school in Shanghai. GoEast Mandarin Blog offers over 200 articles on grammar, characters, vocabulary, and more. There are also free materials such as the new HSK vocabulary lists, and short stories with Hanzi/Pinyin/English PDF.
There's also their YouTube channel with listening practice stories (together with DuChinese), and over 200 episodes of 'Beyond Class', sketches with daily life Chinese words.
Yo Yo Chinese's Youtube Channel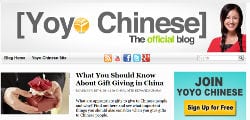 Yo Yo Chinese is a company specializing in video courses. Despite their offering paid courses, Yo Yo Chinese also publishes free video lessons – conducted by founder Cheng Yang Yang – on her own Youtube channel. With more than 60,000 subscribers, the Youtube channel of Yo Yo Chinese is, as far as I know, the most popular among those specializing in teaching Chinese. Beginning in 2013, Yo Yo Chinese also has a blog, which you'll find here.
ChinesePod's Youtube Channel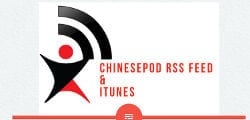 ChinesePod is my favorite podcast of those dedicated to the learning of Chinese. Click here to read my complete review. As with Skritter, I didn't include ChinesePod on this list because they don't offer a free version of their product.
Starting from 2014, Chinesepod does however have both a Youtube channel and a blog.
HSK (standard Chinese language proficiency test)
China Edu Center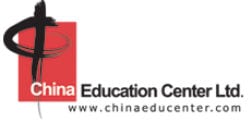 HSK (Hànyǔ Shuǐpíng Kǎoshì, 汉语水平考试) is the only Mandarin certification recognized by the Chinese government (let's just say it's the equivalent of the American "TOEFL" or English "Cambridge"). On the China Edu Center site you can download a free example of the test for each level of the HSK (available in both PDF and MP3 files). Why would you need such certification? If for example you want to study law, engineering or any other subject in a Chinese university, then such certification is obligatory.
HSK HSK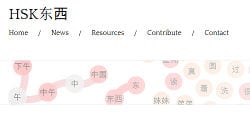 HSK HSK is a web site completely dedicated to the test. Here you'll find various resources among which are graphics that show the relationship between various words that you'll have to know in order to pass the HSK test, and lists of those words in order of difficulty (HSK haas six levels).
HSChinese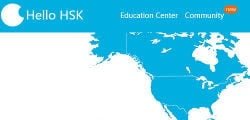 HSChinese is another web site where you will find free exercises to help you pass the HSK test.
As opposed to the other two resources I mentioned earlier, HSChinese also offers a free app that works on both Android and iOS systems.
Determine your HSK level (Test)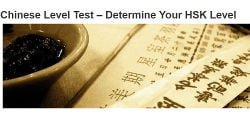 Since 2018, Sapore di Cina has been offering a free test to determine your HSK level.
At the moment we only offer the test for levels HSK1, HSK 2, and HSK3. It takes about an hour to complete the test, which is made up of 11 exercises.
Once you finish the test, you'll get your results (and our advice to improve) directly via email.
Forums and Social Networks
Chinese Forums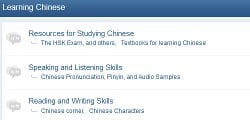 The Chinese Forums are, as far as I know, the most popular forums that specialize in the Chinese language. They have 360,000+ posts and 57,000 members.
The main sections are "Learning Chinese," "Studying, working and living in China," and "Chinese culture." They seem especially useful when it comes to asking for advice.
If you aren't satisfy with Chinese Forums, here other three forums that are also very active: Chinese Stack Exchange, Reddit's Chinese Language Subdirectory, and WordReference Chinese Forums.
Lang-8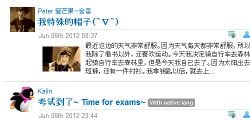 Lang-8 is a website where you can post a text in the language you are learning and get feedback from native speakers and other students of the same language. There are several communities that offer more or less the same service, however the Lang-8 crew seems quite active and you get fast answers even if you post relatively long essays.
Lang-8 also powers an app for both iOS and Android, HiNative, where you can ask native speakers any language and culture questions.
WeChat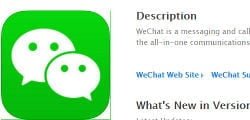 Even if WeChat (or Weixin, in Mandarin) is not so popular in the West, pretty much every person that lives in China and owns a smartphone, knows and use WeChat.
At the first view, WeChat may just look like "the Chinese version" of WhatsApp. However, WeChat is much more than that, as it's an ecosystem of functions that may be compared to Whatsapp, Facebook, Paypal, and much more, all within the same app!
If you want to learn more about this chat / social network, click here to read our article about WeChat.
For those looking for a more specific resource
If you're looking for a more specific resource I recommend that you start with the following databases:
Hacking Chinese Resources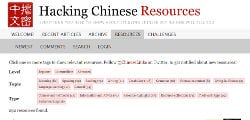 Hacking Chinese Resources is a database that catalogues resources dedicated to the study of Chinese. The database is hosted by Hacking Chinese, Olle Linge's blog (of which I've already spoken). The resources are arranged by category (vocabulary, grammar, reading, etc), type of resource (textbook, app, etc) and level (beginner, intermediate or advanced). You'll have no problem finding what you're looking for.
Learning Chinese Online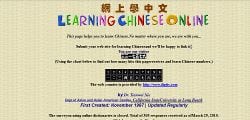 Learning Chinese Online was founded by Dr. Tianwei Xie in 1997 and is the oldest resource listed here. The website is a directory that contains an impressive number of links regarding online Chinese schools, pronunciation, conversations, characters, grammar, reading, listening, dictionaries, translation and other learning materials. The problem – common to almost all directories – is that there is no way to evaluate which is the best resource on a given topic without exploring all of them.
Mandarin Weekly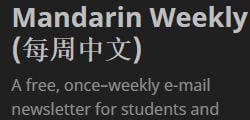 Mandarin Weekly is a free weekly newsletter dedicated to students and teachers of Mandarin Chinese. The founder of the website, Reuven Lerner, is an American programmer and author that monitors on a weekly basis around 100 websites that publish articles, videos and other online resources on Chinese learning (here the full list of monitored websites), select the best articles of the week and then publish the selecion on his website.
The newsletter is no longer active in the sense that Reuven no longer publishes new weekly emails, however, you can still consult past editions directly on the site.
Conclusions
Through a series of random events, Chinese isn't exactly the first foreign language that I've tried my hand at.
Even if technology is making things easier – if only due to the possibility of communicating with people who have been born and live in another part of the world without leaving home, – I personally believe that the "secrets" to mastering a foreign language are always the same:
Find the right motivation. If you start studying Chinese only because it will be the most widely spoken language in the future it's likely that you'll give up at the first sign of difficulty.
Conceive ambitious long-term projects, and at the same time, focus on short-term goals that are easily measurable.
Dedicate yourself to the language you want to learn in a balanced and sustainable way so as to not burn through the original enthusiasm (and I guarantee you that the rush of adrenaline due to its newness tends to cool off very quickly with Chinese).
Expose yourself as much as possible to the language. If you don't have the opportunity to interact in person with native speakers, you can always apply yourself to Chinese cinema or become an active user in a linguistic exchange community such as Lang-8.
Don't be afraid to speak even if you're convinced your grammar and pronunciation are terrible.
加油!
Are you learning Chinese? What is your preferred online resource?
Photo Credits: Derivative from photos by Nick and Pexels on Pixabay