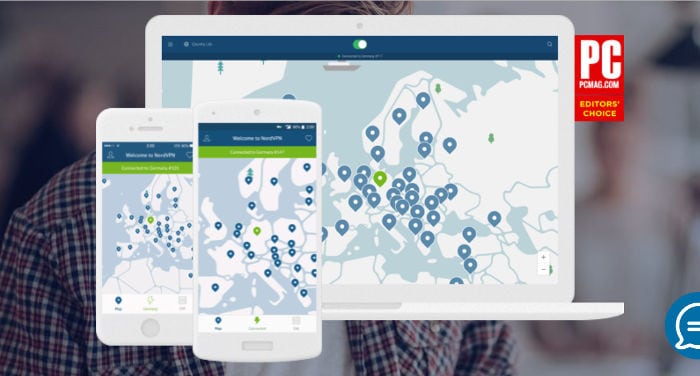 Born in 2012 as a modest project, NordVPN has become one of the most complete and popular VPNs on the market. Currently, this VPN provider (whether fortunately or unfortunately) is competing to be one of the leading VPNs in China, which is quite possibly the hardest test of the reliability of any VPN service.
Below you will find a complete review of NordVPN.
Features
Encryption protocols: OpenVPN, PPTP, L2TP/IPsec and IKEv2/IPsec
Simultaneous connections: 6 simultaneous connections.
Number of countries with servers and server count: 5,118 servers in 62 countries, including 2,314 in the USA, 2,319 in Europe, 461 servers in Asia and the Pacific and 50 servers in Africa, the Middle East and India.
Server changes: Unlimited.
Applications: Windows, Linux, Mac, Android and iOS.
Customer service: Service 24/7/365 through live chat, support tickets and contact forms.
Free trial period or guaranteed money back: It offers guaranteed money back for 30 days.
Extras: Dedicated IP addresses, Smart DNS, DDoS protection and web proxy extensions. It also offers the CyberSec function (which helps to block suspicious websites and malware) and the Double VPN function (double encryption that goes through 2 servers).
The best things about NordVPN
Simultaneous connections: Nord VPN lets you connect up to 6 different devices from the same account, whereas the majority of similar VPN services offer between 3 and 5.
Easy to use: NordVPN's applications are well-designed to be intuitive for users that aren't experts at using VPNs.
Advanced functions such as CyberSec, Double VPN and Automatic Kill Switch: If you're worried about security, CyberSec helps you automatically block suspicious websites, malware and DDoS attacks to keep your device safe. The Double VPN routes your connection through two servers, encrypting it twice and thus providing an additional layer of security to your connection. Last of all, the Automatic Kill Switch automatically blocks your connection or closes certain programs if you VPN isn't connected, guaranteeing that certain pieces of data are never exposed.
The worst things about NordVPN
Customer service: Certain users complain that at times their support service isn't exactly perfect.
Fluctuating speeds: It's common for there to be fluctuations in connection speed, as some servers are relatively slow and the connection to certain servers disconnects frequently.
Software: Some users complain that NordVPN's applications sometimes block their computer.
Usage recommendations
Although NordVPN's applications are designed to be easy to use, users who need to be able to browse without restrictions in countries such as China will need to use advanced functions.
If you're in a country with Internet use restrictions, it's recommendable to use Obfuscated servers. To do so, go to Settings -> Show Advanced Settings, and click on the I know what I'm doing button. A bit lower down, you will see Obfuscated Servers. Set this to ON and look for the server that works the best.
Prices and plans
NordVPN offers 3 different plans:
Monthly plan: 11.95 USD per month.
Annual plan: 6.99 USD per month (83.88 USD).
Bi-annual plan: 4.99 USD per month (119.76 USD).
Tri-annual plan: 3.49 USD per month (125.64 USD).
Dedicated IP: 70 – 140 USD per year
Given that it has a 30-day period for guaranteed money back, it's worth choosing annual or biannual plans, as they are a lot cheaper.
Recommended uses
NordVPN offers a ton of extras such as CyberSec, Double VPN and Automatic Kill Switch, which makes it an excellent VPN for people who are worried about their security when browsing the web.
It can also be useful for users who want a dedicated IP, that is an IP address that only one user use and therefore it is much more difficult to be detected.
Frequently Asked Questions
Does NordVPN work in China?
Yes, NordVPN works in China and as a matter of fact, at the moment it's one of the best VPNs for China. Note that here we offer a comparison of the best VPNs for China, and NordVPN is one of them.
Is NordVPN trustworthy?
Yes, NordVPN has been in business since 2012 and over the years has built a reputation as a serious and trustworthy VPN.
Is NordVPN worth the money?
Although NordVPN is certainly not one of the cheapest VPN on the market, we think it's worth the money, especially if you are looking for a VPN that offers dedicated IP addresses (which makes it much more difficult for others to detect your VPN).
Is NordVPN easy to use?
Yes, compared to other mainstream VPNs, we think NordVPN is quite easy to install, set up and use on a daily basis.
Is NordVPN really safe?
Yes, NordVPN increases security by offering dedicated IP addresses and advanced functions such as CyberSec, Double VPN and Automatic Kill Switch.
Which is better, NordVPN or ExpressVPN?
They are both great VPNs with a similar price! So, it really depends on what you want. In our opinion, NordVPN is more interesting for people who are looking for more security, while ExpressVPN is probably more suitable for people who just want a fast VPN that is also easy to use.
Click here to try NordVPN now!