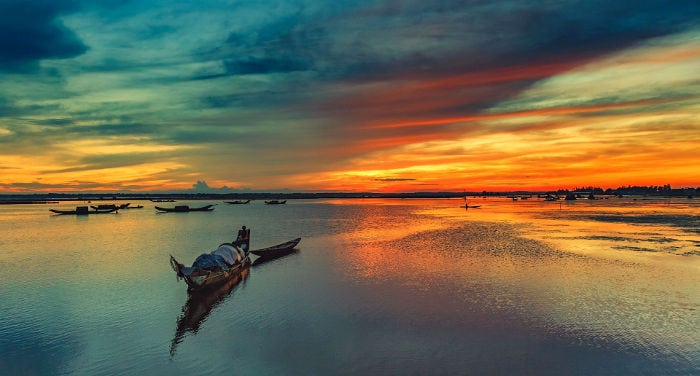 What are the most popular tours in Vietnam
Unless you have specific things you want to do, if this is the first time you're going to visit Vietnam, I recommend that you start with the classic route, which runs from north to south connecting the country's two main cities of Hanoi and Ho Chi Ming (Saigon).
In addition to the diverse culture of the country, Vietnam also offers spectacular natural environments that are ideal for people who want to enjoy the outdoors and not just tourist activities.
Best of Vietnam tour

Description: Tour offering the opportunity to discover Vietnam's most popular and impressive sites. Discover the vibrant cities of Hanoi and Ho Chi Minh (Saigon), the historic Hoi An, and the spectacular landscapes of Halong Bay and the Mekong Delta.
Itinerary: Hanoi – Hoi An – Ho Chi Minh City – Mekong Delta
Duration: 10 days
Price (approximate): 2,100 USD (private tour for 2 people in 4-star hotels)
Classic tour

Description: A complete tour that lets you enjoy everything Vietnam has to offer, including vibrant and modern cities such as Ho Chi Minh City (Saigon) and Hanoi, historical cities such as Hanoi and Hue, and beautiful natural environments such as Lao Cai, Sapa, Halong Bay and the Mekong Delta.
Itinerary: Ho Chi Minh City – Mekong Delta – Hoi An – Hue – Hanoi – Lao Cai – Sapa – Halong Bay
Duration: 13 days
Precio (orientativo): 2,300 USD (private tour for 2 people in 4-star hotels)
Other tours
Note: The cost of international flights to Vietnam is not included in the prices indicated on this website.
How to identify an honest travel agency
Currently, there exist hundreds of agencies offering spectacular trips at very good prices, but many of them are not entirely trustworthy. Below are some recommendations to keep in mind when choosing a tour operator:
Is their payment method secure?
One of the aspects that can give a clear idea of the reliability of an agency are the payment options they offer. If their only payment methods are Western Union or a transfer to a bank account in a tax haven, you should be really careful, as this transfer will be traceable and therefore it's very likely that the agency is a scam artist. So, ask your agency if you can pay via bank transfer or via PayPal.
What does the agency's website look like?
Websites are a good reflection of the quality of an agency. A functional website with good information takes a lot of time and money. If the agency has a good website, it's an indication that they take care to offer a quality product to their customers. Scam artists don't tend to invest time in creating a good webpage, because it's likely that they'll have to close it shortly afterward.
What is the travel agent like?
Aggressive travel agents are usually an indication that the agency doesn't have enough customers. A good agency doesn't have trouble finding customers, making it so that they don't need to be very insistent; rather, all they have to do is offer good service without pressure.
What are the guides like?
Travel agencies offering very low prices need to complement their earnings by other indirect methods. It's common for guides to take travelers to stores or businesses with inflated prices that will later pass on a commission to the guide and/or the agency if one of the travelers buys a product.
If you don't want to spend your trip running from store to store, be careful who you book your tour with.
What do previous customers say?
In the end, the only way of knowing if the travel agency is trustworthy or not is to get the opinion of other customers. Take some time to read the opinions of previous customers. Normally they can be found directly on the website of the agency. A good agency will be interested in showing positive reviews from previous customers.
In addition, you can look at the agency's accounts on Facebook, Twitter, Trip Advisor, etc. Do they have followers? Do they interact with them? What are people saying? What are the comments of previous customers on social media?
Last of all, you should keep in mind that even the best agency in the world isn't able to satisfy all of their customers. The presence of one negative or not very good review is a sign that the rest of the opinions are real. If an agency only has a few reviews and all of them are very positive, it's highly likely that they are "false" reviews.
What to consider before booking your trip to Vietnam
In addition to the honesty of an agency, there are other aspects that can let you know about the quality of the agency:
Is there flexibility in my itinerary?
If the agency has experience in Vietnam, it will grant a certain degree of flexibility in its itineraries or will offer a large selection of itineraries. If the agency only offers you two or three tours to choose from, it's likely that it has little experience in the country or few resources.
Does the agency take care of my internal trips?
Tourist destinations in Vietnam are located somewhat far away, making it necessary to move around by train or plane. A good agency will take care of booking plane or train tickets for you.
Does the agency pick you up at the airport?
One of the main reasons for booking a tour is to minimize the inconveniences of traveling in a country that you don't know. During the first hours after arriving in a new country, it's common to feel a little lost. Asian airports tend to be filled with people that will try to take advantage of your initial disorientation to rip you off. Good agencies will offer to pick you up at the airport to make your first contact with the country easier.
Can the agency help you with your visa?
Getting a tourist visa for Vietnam is relatively easy, and for time periods of less than 15 days, on many occasions, they can be obtained directly at the airport. Even so, a good agency will make the effort to provide updated information on visas, and will therefore be capable of providing all the information necessary. Note that, in some cases, you can even get a visa exemption.
What does the price of the tour include?
When you evaluate a tour, it's really important that you make sure what it includes. It's normal for a tour to include transportation as well as train and plane tickets, lodging, agency fees, entry fees for places of interest, and some meals. International plane tickets and visa costs are usually not included in the price.
What is the quality of hotels?
The quality of hotels is something that can cause the price of the tour to vary significantly. Despite this, if you choose to stay at two- or three-star budget hotels, the quality of the hotels can vary significantly. Just take a look at the reviews of the hotels that the agency is offering to get an idea of what to expect.
Once again… What do previous customers say?
When to book a tour and when to travel independently
Below you will find the situations in which in our opinion it's better to book a tour:
You don't have a lot of time
Organizing a trip to Vietnam takes time. You'll have to look up information on the visa, choose an itinerary, book hotels, and book internal transportation, among many other things.
In addition, if you only have 7-15 days to spend in Vietnam and you want to visit the main tourist attractions, a tour or an organized trip will let you make much better use of your time and will allow you to visit more places. With a tour, you're not going to waste time looking for tourist attractions, finding out how to get to the train station or the hotel, etc.
Obviously, if you have time and a tight budget, a tour might not be the best option for you.
You've never traveled outside of your country
Asia is a continent that can overwhelm you the first time, especially if you don't have a lot of experience traveling in culturally different countries. Traveling in Vietnam is safe, and in the main cities or tourist destinations, it's not hard to find people who can speak English (or even French). Even so, little scams and cultural differences are commonplace.
There's a lot of information on the Internet (you can start by reading our guide to the country), so if you're open to the unknown and you have patience, you don't need to book tour.
However, if you don't have traveling experience or you don't think you're capable of adapting to a different lifestyle, booking an organized tour is your best bet.
I want to do "special" activities
Do you want to go kayaking in Halong Bay? Do you want to hike across rural areas? Would you like to travel across the country on a bicycle? In this case, it would be best for you to look for a specialized agency to help you organize these activities.
Although it's possible to organize them yourself, in my opinion, it's not a very good idea, as you can get lost, hurt yourself, or even worse. An accident under these circumstances can be very costly, even if you have a good travel insurance policy. No insurance will cover your medical expenses or repatriation if you decide to participate in potentially dangerous activities with no type of supervision.
How to prepare for your trip and what to bring
Visa
If you're planning to stay for less than 15 days and you have a passport
from one of the countries on this list, then you don't need a visa. All you need is a passport with at least 6 months of validity.
On the other hand, if you're planning to stay in Vietnam for more than 15 days or your country isn't on the list that I linked to above, you need to apply for a visa.
In any event, ask your agency whether you need a visa or not.
Note that visa exemption rules may change, thus always make sure to confirm it with the Vietnamese Consular Office in your country, before booking your trip.
Travel insurance and vaccines
It's important to ask the agency to find out if it provides travel insurance and what type. If you want more information on the subject, we have published a complete article on the topic. Here you will find all of the information you need on travel insurance and why you need it.
The only vaccine necessary for entering Vietnam is yellow fever (only for travelers from countries where there is a risk of contracting the disease). Even so, I recommend that you see your doctor and check if you're up to date on vaccines for tetanus/diphtheria/pertussis (Tdap), polio, typhoid fever, hepatitis A and hepatitis B. If you're not up to date, I suggest you update your vaccines.
In some areas of the country, especially during the rainy season, you run the risk of getting malaria or dengue. Considering that there are no effective vaccines for these diseases, the best strategy is prevention.
Internet
In Vietnam, there are restrictions on Internet use. Some social networks, such as Twitter, are blocked and therefore inaccessible in the country. If you need to stay connected to the world, I recommend that you take a look at this article.
International flights
For the moment, we are recommending Expedia to book international flights, because in our experience, it is generally where we get the best prices.
What to take to Vietnam
You don't need anything special other than a few basic medications (aspirin, antibiotics, anti-inflammatories, and antidiarrheal medications), waterproof clothing if you're traveling during the rainy season, and a few books if you like to read.
If you have already decided that you want to book a trip to Vietnam but you're not very sure which agency to choose, I recommend that you click here and take a look at our suggestions.
Frequently asked questions
Can you drink the water in Vietnam?
You can't drink the tap water but need to buy water in stores instead. Common water brands are Dasani, Aquafina, and La Vie. However, most of these brands are currently owned by established brands like Coca Cola and Nestle.
Do I need a visa when travelling to Vietnam?
Most nationalities can get
visa on arrival (VOA)
. Yet, just keep in mind that you need to have a return ticket booked.
How long can you stay in Vietnam with a US passport?
US citizens can be granted 1 year visas. Having that said, you need to leave every third month.
What do tourists wear in Vietnam?
Shorts and t-shirt for most of the times. However, if you plan to go to clubs, skybar hotel brunches and more exclusive dinners, you better dress up in a pair of pants and regular shoes (i.e. no flip flops or sandals).
What plug adapter do I need for Vietnam?
Americans and Europeans have no problems travelling in Vietnam in general as you can use sockets with two flat vertical pins or two round pins. However, it's recommended to bring a universal adapter, to avoid coming across places where you can't charge your devices.
What's the emergency number in Vietnam?
In many countries, there's only one number to dial for all kinds of emergencies. In Vietnam, that's not the case. There you need to write down (or remember) different numbers depending on if you want to contact the fire department, get medical assistance, or contact the police, for example. The numbers are as follows:
112 – Search & Rescue
113 – Police
114 – Fire
115 – Ambulance/First Aid
Get a quote for your Vietnam tour
Are you looking for a reliable travel agency to organize your trip to Vietnam? Fill out the following form to get a quote from the agency that we are currently recommending, no strings attached.
Photo Credits: Photo by ThanhNamNguyen on Pixabay
Halong Bay Photo by Gary Cacciatore on Unsplash
Rice Terrace Photo by Hai Tran on Unsplash